How was your week?
Ours was fun. As usual. Seriously- we do have a great job. It's exhausting at times but going around and making people laugh while mostly raising money for amazing charities is pretty awesome.
And now, with the advent of "Drag Queen Bingo: The Home Game" I am learning an entirely new sector of the business world. Commerce. I am making mistakes left and right but still, it's pretty awesome to actually see the product after so long in development and also the positive reactions to those who discover it.
On Wednesday night at Hamburger Mary's several people bought the game and I can't wait for them to actually play it!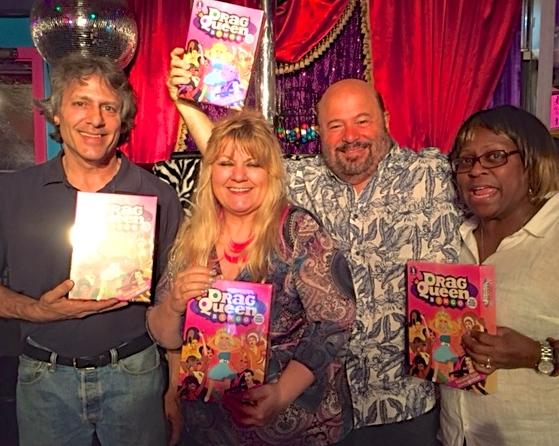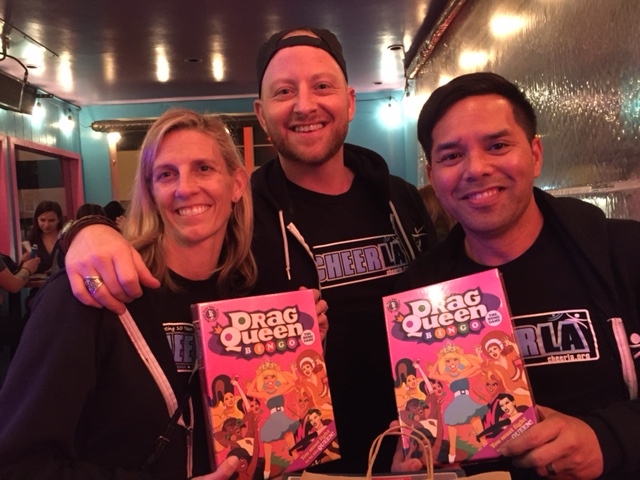 Look how happy they are! And of course I made up a new t-shirt for the occasion-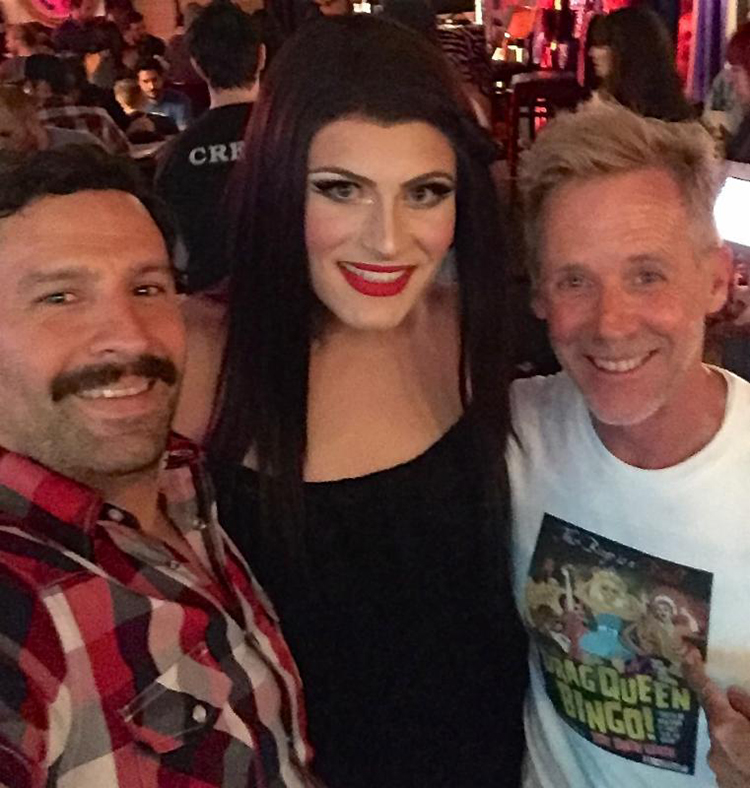 That's Mary manager Andy with Porsha Hayy and me doing shameless advertising.
As of right now you can buy DQB The Home Game at Mary's in WeHo, at all Hustler Store locations nationwide and also two cool places in Pasadena- The Lincoln Store and Little Flower Candy Company. And also online of course. Each day brings new places and offers. So cool.
On Saturday night, Roxy and I did an event for Planned Parenthood. it was the 13th Annual (!) "Bingo For Choice" and it was held at The Angel City Brewery in downtown LA. Such a cool place! Instead of having a restaurant, they have food trucks! They actually brew the beer there and also have a very cool bar (packed) and event space.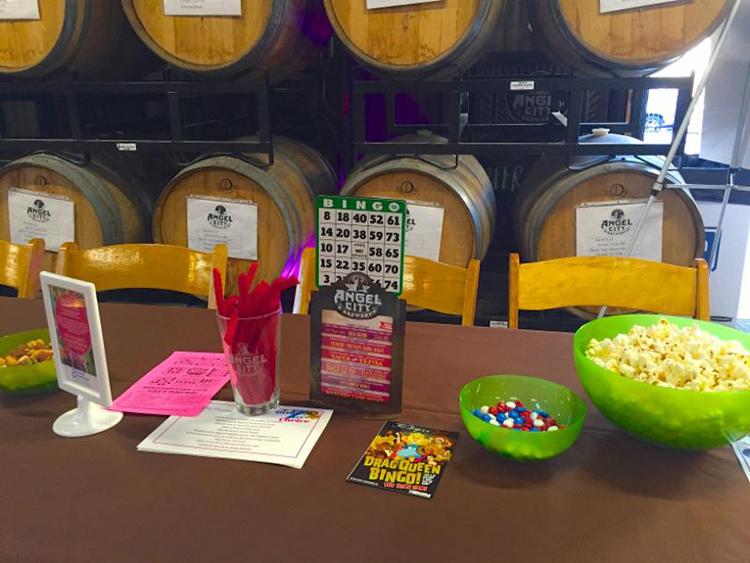 You could drink right from the barrel at your table! Not really.
At one point I could not find Roxy so I went searching for her…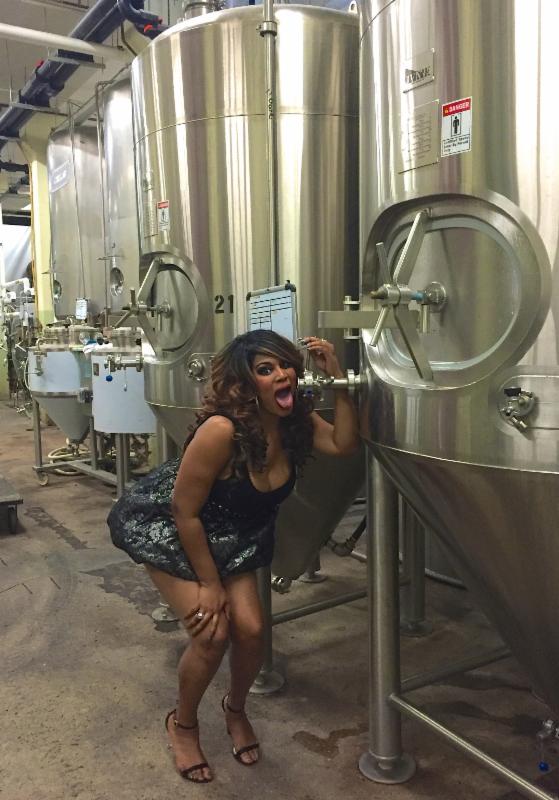 Yeah- the girl does like her beer.
There was a silent auction at the event and I went home with a very cool portable BBQ (summer is coming!) but this item struck my eye-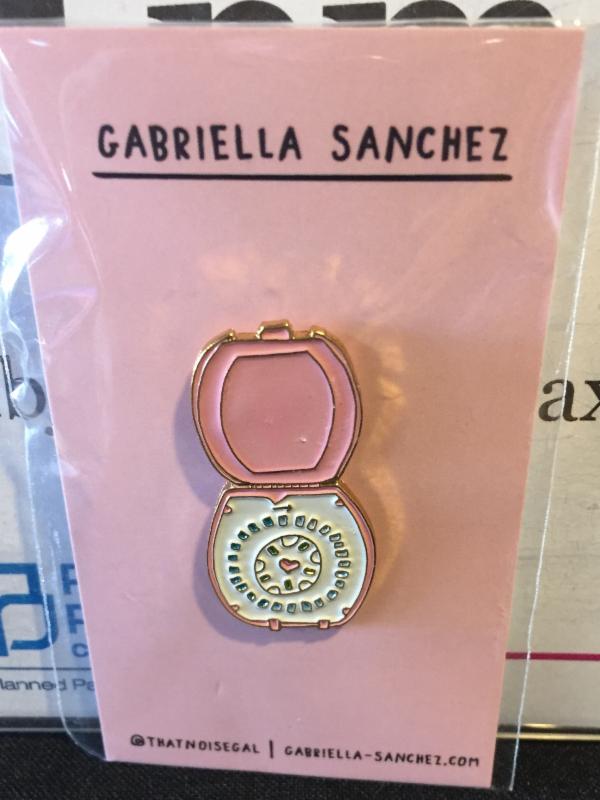 It's a pin that looks like birth control pills! I have no idea who would actually wear one but it might save you time if you are on a date and want the other person to know that you are on….you know…the pill.
PASADENA TUESDAY NIGHT!
Yep- we are back at Edwin Mills tonight for Canine Angels (service dogs for disabled kids) and looking forward to one of their Shirley Temples and perhaps some salmon (they have the best salmon). A few seats left and the reservation link is below. Hope to see you there!
On Wednesday night we have a special guest for the 9 pm show! Her name is Karlee Perez and she is a WWE Diva!
Don't be fooled by her beauty. She could kick your ass.
And finally- a reminder that daubers are not toys.
Now, in addition to "Drunk Dauber Face" we now have "Drunk Dauber Hands." The disease is spreading.
Also in the category of "Upcoming Events"—
We will be at Grand Central Market once a month beginning Thursday June 16th and also looks like Deven and I will be back at the Americana At Brand in August for at least three nights! So stay tuned for more info!
And see you this week at BINGO!
xo Bingo Boy

Tuesday Night- May 24th!
starring Bingo Boy & Roxy Wood!
7 pm show benefiting – Canine Angels!
EDWIN MILLS (formerly Equator)- Pasadena Ca.
22 Mills Place- in historic Mills Alley across from Burke Williams
Must make a reservation to attend!
Full menu and bar | All ages welcome | Pay lot and street parking available

Here's what's coming up in WeHo this week!
Wednesday Night- May 25th
Starring Bingo Boy & Porsha Hayy!
7 pm show benefiting – Carpenter Community Charter School!
9 pm show benefiting – AIDS Lifecycle!
Sunday Night- May 29th
Starring Roxy Wood & Joel "69"!
6 pm show benefiting – Girl Scout Moms!
8 pm show benefiting – Ruff Patches!
HAMBURGER MARY'S – WEST HOLLYWOOD
8288 Santa Monica Blvd- At Sweetzer | Reservations for parties of 3 or more- 323-654-3800
Full menu and bar | All ages welcome | Valet and street parking available