Fake news! The story above is fake news, I have to admit. Emma is not really directing the film. Sofia Coppola is. Damn it! Fake news again! It's so easy to do, I don't know why everyone doesn't do it.
Anyway, the Emma Stone Bingo Night for Planned Parenthood was a huge success. We raised more than $30,000.00 for the cause! Hamburger Mary's was packed and everyone seemed to have a great time.
Emma (DYK she likes to be called "Emily"?) is one of the nicest people you could ever meet. She came in and just mingled, took photos, called bingo games, laughed and acted like she hadn't just won best actress at this year's Oscars. She was the best.
Enough talk- here are some photos.
Before the show- Willam and Roxy lubed up in the dressing room. Now I know why drag queens are so shiny!
It was great having three of my "girls" on hand. I don't think they had all been together since our 15 year anniversary which was almost five years ago!
Guess who they are? They are G.L.O.B! Glamorous Ladies Of Bingo! And guess what our next photo shoot (for our upcoming 20 year anniversary) will be? I am atwitter with creative ideas!
When Emma arrived, I introduced her to Roxy and she was very impressed with Roxy's "assets." Which are now pressed against Emma.
Planned Parenthood set up a backdrop in the private room so we all went in and took a group photo (Calpernia was still getting ready).
Sarah Silverman arrived and was sweet and kind and….well honestly a lot of things I did not expect. No offense, it's just that her comedy is a bit rough and she is just a nice person! Sorry Sarah, don't get mad that I told on you.
We are so happy that after her health scare Sarah is back and amazing.
Sarah called bingo with Roxy. 
As you probably expected, Sarah was an excellent ballcaller.
Also on hand to call a few games was one of my favorites from "Parks & Recreation" Aubrey Plaza!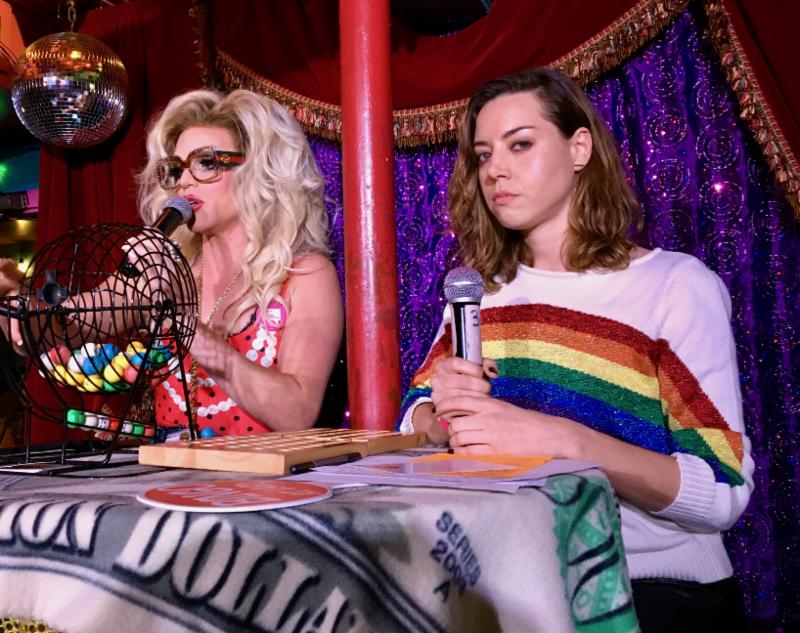 Okay- I know she looks miserable but…well I think she may have been. Or that's just the way she is. Aubrey flipped everyone off and after a while started calling numbers like "P-157 F*ck You!" I don't think those are really numbers but still I saw some people looking down at their cards trying to find them. Still a big fan. And also she was the only person in the room who had made out with Chris Pratt so that is something.
Another one of my favorites from "P&R" is the guy who played "John Ralphio" Ben Schwartz! Ben was attending and I asked him to call a game of bingo with Roxy.
Just like Emma Stone, Ben was mesmerized by Roxy and her "friends."
One of my favorite people in the world is Beth Grant. Not just because she is a great actress who has appeared in many of my favorite films such as "Little Miss Sunshine" and "Donnie Darko" but because she is a wonderful person. Beth was at our 15 year anniversary and we became friends. When she showed up on Monday night she said to me "I'm here for you!" I mean really.
We both wore blue to match my eyes.
Anyway, the night was amazing for so many reasons and we appreciate all who came to support. Emma stayed till the very last and was nice enough to take a photo with the very hard working Hamburger Mary's staff.
Emma says she wants to do another night and we are all in!
A reminder-
REAL HOUSEWIVES OF ORANGE COUNTY!
Our episode is this month! So let us know when you see it!
DEVEN AND BINGO BOY AT AMERICANA AT BRAND!
Coming August 10, 17 and 24th! I don't think tix are on sale yet but I will let you know!
BINGO BOY & INGENUE ON KINGS ROAD!
Literally "on" Kings Road! Ingenue and I will be doing a bunch of free bingo games for the "National Night Out" event on Tuesday August 1st! They are closing off Kings Road above Santa Monica Blvd for a giant block party! More info to come! Exclamation point!
BINGO BOY & INGENUE AT DOMAIN APARTMENT COMPLEX!
This brand new exclusive complex on Santa Monica Blvd (across from new Trader Joe's) has asked us to do a "kick-off" event for them on Sunday, August 13th and you are all invited! And it's free! And there will be "refreshments"! There will also be tours of the amazing luxury units! We may do this once a month if all goes well. More info to come!
OUR NEW THURSDAY NIGHT BINGO IS SELLING OUT!
So thank you.
PASADENA BINGO THIS TUESDAY!
Join Bingo Boy & Roxy! See below for reservations.
Don't forget to print out your DOUBLE GAME COUPON below!
And see you this week at BINGO!
xo
Bingo Boy
COMING THIS WEEK in Pasadena!
Tuesday Night-
July 25th!
Starring Bingo Boy & Roxy Wood! (And maybe shirtless men!)
EDWIN MILLS RESTAURANT
22 Mills Place- in alley across from Burke Williams
Click on charity name for reservation site. Must make a reservation to attend this event! 
Full menu and bar
All ages welcome
Pay lots and street parking available
Here's what's coming up in WeHo this week!
Wednesday Night- July 26th-
Starring BINGO BOY & WILLAM BELLI!
Thursday Night- July 27th-
Starring ROXY WOOD & INGENUE!
Sunday Night- July 30th-
Starring BINGO BOY & CALPERNIA ADDAMS!
6 pm show benefiting – 
HAMBURGER MARY'S – WEST HOLLYWOOD
8288 Santa Monica Blvd- At Sweetzer
reservations for parties of 3 or more- 323-654-3800 
Full menu and bar
All ages welcome
Valet and street parking available
DOUBLE YOUR CARDS! DOUBLE YOUR FUN!

Present this coupon at Legendary Bingo on Wednesday, Thursday and/or Sunday night and receive DOUBLE THE AMOUNT OF REGULAR BINGO CARDS & ONE EXTRA GRAND PRIZE CARD!

Must make $20.00 donation to charity in order to use this coupon. One coupon per person. May also show coupon on your phone.

Offer Expires: 7/30/17