Legendary Bingo Blabber:
DRUNK WEDDINGS, THE KARDASHIANS & MORE!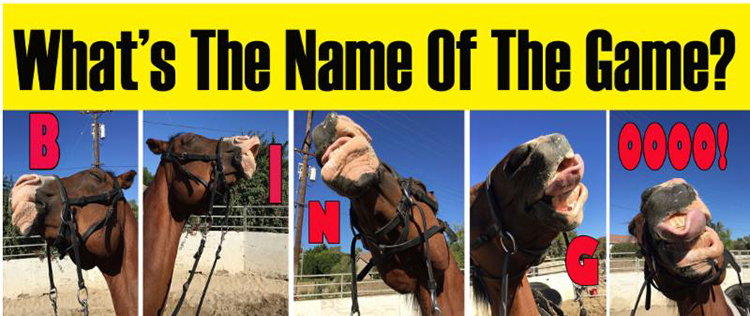 This Wednesday is Veteran's Day and no, we are not having a sale. But we are presenting LEGENDARY BINGO! Okay, just like we do every Wednesday night. But it might be a good time for you to come on out and support our charities and also wrap up your holiday with some real fun. We have done bingo events for several veterans organizations in our long history and we want to give a big shout out to all of our veterans who have served our country.
So yes, sort of a sale. If you are a veteran of a military service, bingo is free on Wednesday night! I assume that no one would lie about that so just come and tell the people checking everyone in that you are a veteran and your bingo for that show is free ( 7 or 9 pm show). And again, we thank you!
I didn't do so well with photos this week but here's what I have:
On Wednesday night of last week we had a great time and one of our guests was our friend and frequent "Celebrity Ballcaller" Thomas Dekker who you may know from "Heroes" (see, a Veteran's Day reference- sort of), "Backstrom," "Terminator: The Sarah Connor Chronicles" and that great movie about the Loud Family "Cinema Verite" (which also starred our very own Willam Belli!). Thomas got paddled for being a bad boy but that is nothing new for him. He also told me that he just auditioned for the role of "Brad" in the upcoming remake of "The Rocky Horror Picture Show"! Fingers crossed Thomas!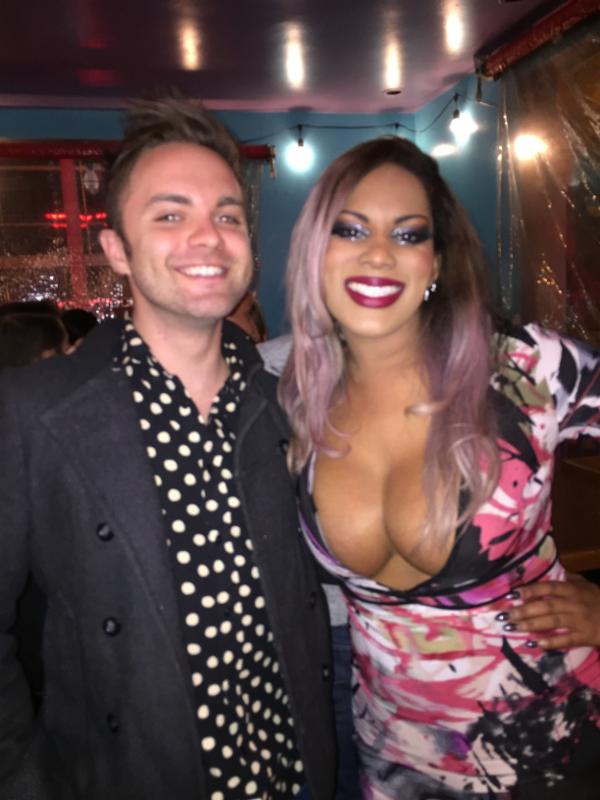 On Friday night, Roxy and I drove ALLLLLL the way out to Redondo Beach for a gay wedding rehearsal dinner and I gotta say this- it was wonderful. And what what was wonderful was that it was so- normal! There were grandmas and parents (and their spouses) and friends and siblings and it all seemed…well, normal! Please understand that I do not mean that gay marriage is abnormal. I mean that it was great to see an entire family and friends supporting these guys and showing their love. And here is the best part- these guys had their first date at Legendary Bingo! We are like the E-Harmony of bingo events! This is maybe the fifth couple that I know of that met at bingo and ended up getting married- both gay and straight! See, normal!
Here is a photo of Roxy with the happy couple-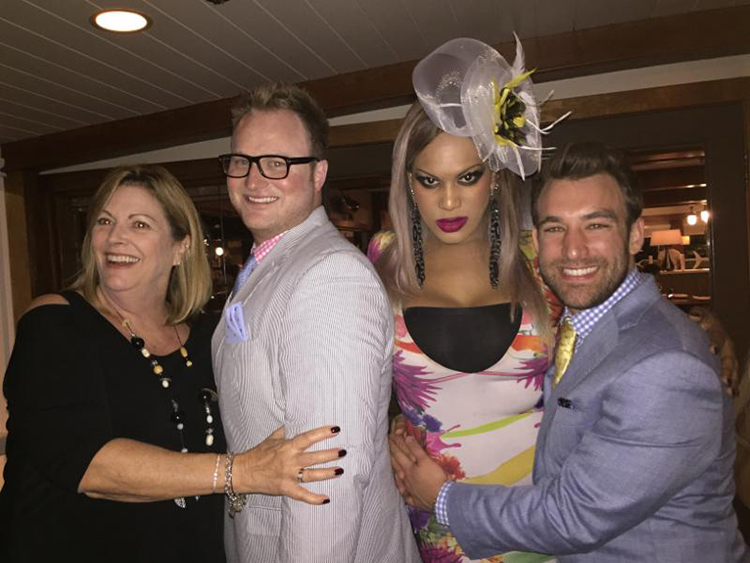 I don't know who the lady on the left is- someone's aunt I guess who insisted on being in the photo. Then there is Scott (one of the grooms), Roxy (she's single) and Trent (the other groom). Love these guys and their event was a blast. Lots of alcohol.
Mostly drunk by Trent's brother Trevor…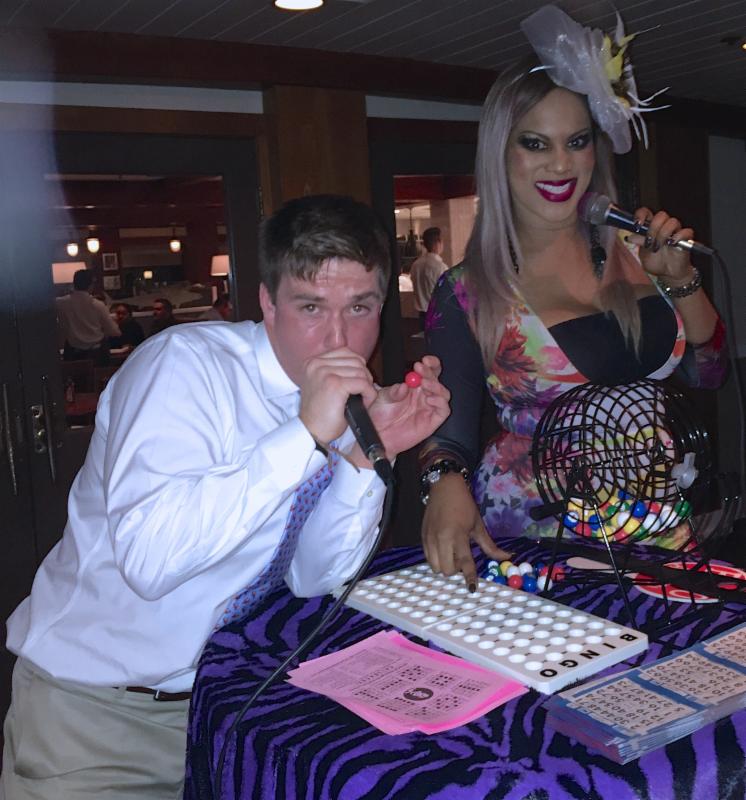 …who is, I believe, scaring the crap out of Roxy right now. Actually he was very good at ballcalling although I doubt he remembered any of it the next day.
Speaking of families- I am really mad at Cosmo Magazine for putting the Kardashians on the cover and calling them "America's First Family." What the what? How is that even possible? Even though I did do the "Workout for an Epic Ass" I then threw the magazine in the garbage. Seriously.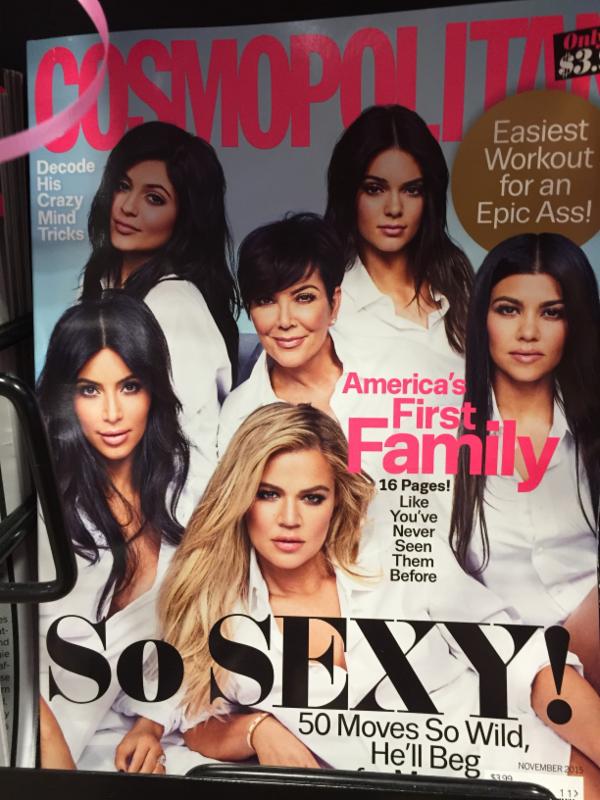 And then I rushed to the bathroom to be sick-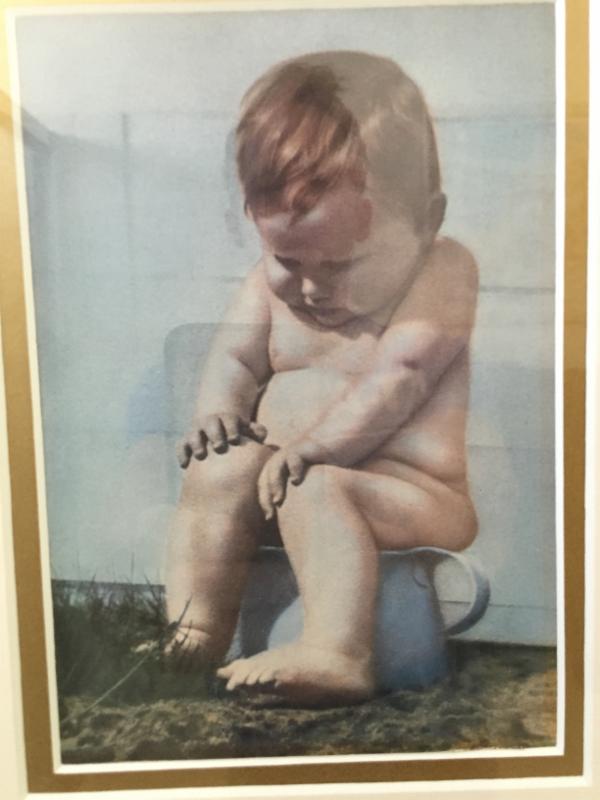 Ha! That's not even me! It's actually hanging above the toilet in my parent's upstairs bathroom. I suppose it is there for inspiration.
That's about all I got for this week. I hope all is well with you and yours and we hope to see you soon!
P.S.- That is my horse Buddy-boy spelling out BINGO at the top of this email. So talented! Next I am teaching him to do the callbacks and then comes the wig and dress and- tada! Our newest drag bingo hostess! Any ideas for his drag name?
P.S.S.- ONTARIO BINGO IS THIS COMING MONDAY NIGHT! SEE BELOW FOR DETAILS!
And see you this week at BINGO!
xo, Bingo Boy


Here's what's coming up in WeHo this week!
Wednesday Night- November 11th
Starring Bingo Boy & Calpernia Addams!
7 pm show benefiting – Operation Smile!
9 pm show benefiting – Awaken Arts!
Sunday Night- November 15th
Starring Bingo Boy & Porsha Hayy!
6 pm show benefiting – The Ozzy Foundation!
8 pm show benefiting – Beauty Gives Back!
HAMBURGER MARY'S – WEST HOLLYWOOD
8288 Santa Monica Blvd- At Sweetzer | reservations for parties of 3 or more- 323-654-3800
Full menu and bar | All ages welcome | Valet and street parking available

Here's what's coming up in Ontario!
Monday Night- November 16th
Starring Bingo Boy & Roxy Wood!
7 pm show benefiting – Canine Angels!
HAMBURGER MARY'S – ONTARIO
3550 Porsche Way- just off of the 10 fwy. | reservations for parties of 2 or more- 909-944-9400
Full menu and bar | All ages welcome | Huge parking lot available