Three Very Different Events.
I have always been grateful for the diversity of events and people that we are exposed to on a weekly basis. And this week's events were DIVERSE!
Let's start with Wednesday night.
While Joel and Ingenue were entertaining the crowds at Hamburger Mary's, Roxy and I were off on a yacht with The Real Housewives Of Beverly Hills! Yes, that's what I said! RHOBH season 8 baby!
We were booked to host and MC and not for bingo which I have to admit was scary (how can we do our famous schtick without our balls?) but I knew we would be fine.
Dorit Kemsley (one of the Housewives) was throwing a birthday party for her husband P.K. She invited one hundred of their friends- including her Housewives co-stars Lisa Rinna, Lisa Vanderpump, Camille Grammer, Kyle Richards, Erika Girardi (who I guess performs as Erika Jayne) and possibly some others. I do not watch the show but Roxy does.
The event began with all of us boarding a four story yacht in Marina Del Rey.
Here are people boarding the yacht that are not us.
Pretty fancy, right?
Well, the entire party was pretty fancy. Dorit and P.K.boarded a helicopter in Santa Monica and landed on a yacht in front of our yacht.
They then boarded a speedboat and climbed aboard our ship for the party!
Cocktails and mingling were followed by dinner on the second floor deck. My job was, during dinner, to welcome everyone and introduce three people who would talk about P.K., basically saying nice things about him. I was doing great until the third speaker who was P.K.'s brother Steven Kemsley. I introduced him as "Steven Hemsley." Well, P.K. turns around and yells "It's Kemsley!" and then Boy George (more about him in a moment says loudly "Leona Helmsley!"
I turned red in the face and just backed away. Five minutes later no one even remembered. I assume that they just didn't care.
Speaking of Boy George, he is friends of the family and was slated to perform later on an upper deck.
This is Boy George with Dorit and P.K. Hemsley…I mean Kemsley!
After dinner everyone went up another level for gambling and dessert and there was a barista serving wonderful things like lavender infused hot chocolate (which I had, of course).
Then Dorit and Boy George hit the stage and sang a duet-
Really fun. Then Boy George sang by himself which was amazing and wonderful.
Can I just say right here that Boy George is one of the nicest people I have ever met. So funny and endearing. Burlesque girls performed after he was finished singing and he grabbed some of the discarded clothes and walked over to me and said "why don't you put these on?"
I said to him "why don't YOU put them on?" And he laughed and said "Darling! They wouldn't even fit on my arm!" And then he danced away.
What I want you to remember is that Boy George called me "darling."
Anyway, lot's of fun and Roxy looked amazing as always-
…thinking she's a burlesque girl and all of that.
I was trying not to be obvious with my photo taking so I don't have a bunch of great close ups but I did get this one-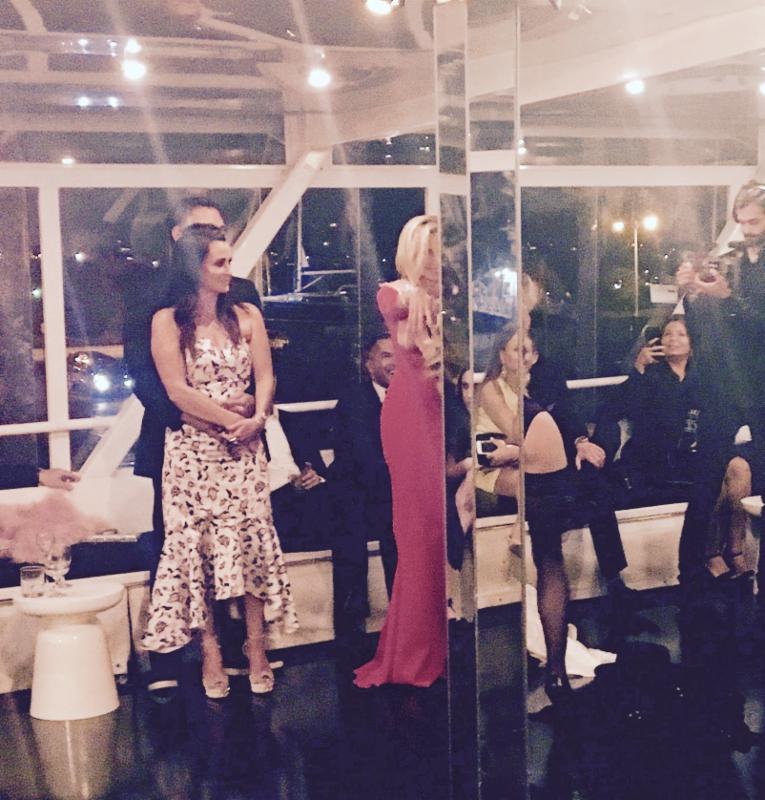 That's Kyle Richards with her husband and next to her is Camille Grammer who, if you looks closely you can see it, is being molested by a burlesque dancer (behind the mirrored pole).
On Thursday night, Deven Green and I did our final night at Americana At Brand in Glendale. There were over 600 people and not enough tables but we figured it out.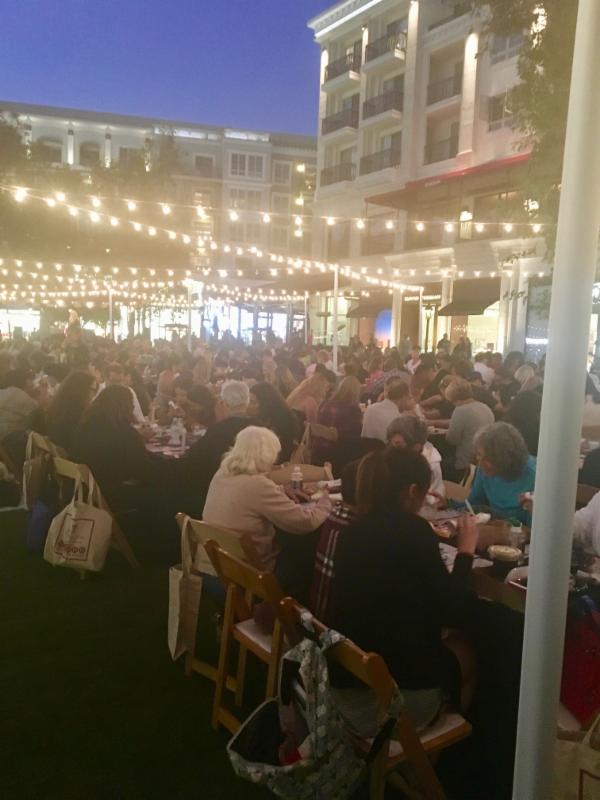 We had another great year at Americana and I look forward to coming back next year!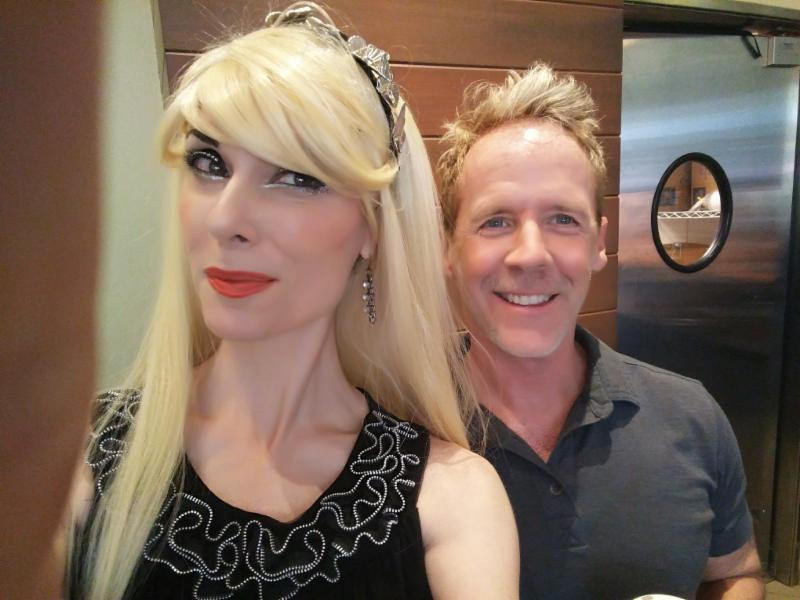 This is Deven and I in the bathroom of one of the coffeehouses. When we came out people were like "mmmmmm. Sexy people doing sexy sexiness in the bathroom!" Not really. No one cared.
Deven made yet another new young friend. The fact that he wore a costume made her love him even more.
He said his name was Freddie Fast Bear or something like that. We never did get his real name.
On Saturday night, Roxy and I drove out to Hawthorne California (where?) for an event at Mychal's Learning Place which is a school for children with disabilities.
The weather was cool (almost cold) in Hawthorne so we loved it immediately. There was a taco truck which made us love it even more.
Not fancy at all like the yacht but I gotta tell you- these people had a great time and were doing a great thing for a great cause. So…..if I had to choose. I would choose…
I would choose to be on a yacht with the people who were at the Mychal's event. Sorry- I am a bit fancy but love being around good people.
All in all, it was another wonderful week.
Don't forget to print out your DOUBLE GAME COUPON below!
And see you this week at BINGO!
xo
Bingo Boy
Here's what's coming up in WeHo this week!
Wednesday Night- August 30th-
Starring BINGO BOY& ROXY WOOD!
Thursday Night- August 31st-
Starring ROXY WOOD & INGENUE!
Sunday Night- September 3rd-
Starring ROXY WOOD & WILLAM BELLI!
6 pm show benefiting – 
HAMBURGER MARY'S – WEST HOLLYWOOD
8288 Santa Monica Blvd- At Sweetzer
reservations for parties of 3 or more- 323-654-3800 
Full menu and bar
All ages welcome
Valet and street parking available
DOUBLE YOUR CARDS! DOUBLE YOUR FUN!

Present this coupon at Legendary Bingo on Wednesday, Thursday and/or Sunday night and receive DOUBLE THE AMOUNT OF REGULAR BINGO CARDS & ONE EXTRA GRAND PRIZE CARD!

COUPON NOT VALID FOR AMERICANA AT BRAND EVENTS.

Must make $20.00 donation to charity in order to use this coupon. One coupon per person. May also show coupon on your phone.

Offer Expires: 7/03/17