Leona Lewis, UCLA In Drag, Cronuts & More!
Due to the fact that I did not put any bingo photos in the last email, we are a bit behind and will use this week to catch up a bit.
And a good week for catching up it is! This week is our 17th anniversary week! We will not be doing any major celebrations but I believe that it is worth noting that if Legendary bingo were a human being, we would be able to vote next year and probably would have already had our first drink! And second and third….
Anyway, Happy 17th Anniversary to us and to all of you who have stuck by us throughout the years. Without you we would truly just be a bunch of balls rolling around in a cage.
PS- the doggie at the top of the email was a guest this last Wednesday and he was very turned on by bingo. And I mean turned on. His doggie lipstick was cranked to high most of the night and was especially visible during "Rim Job." Good boy!
A week ago on Saturday Roxy and I did a brunch bingo event at a Fatburger on Wilshire Blvd in Koreatown. And I mean "on" Wilshire Blvd!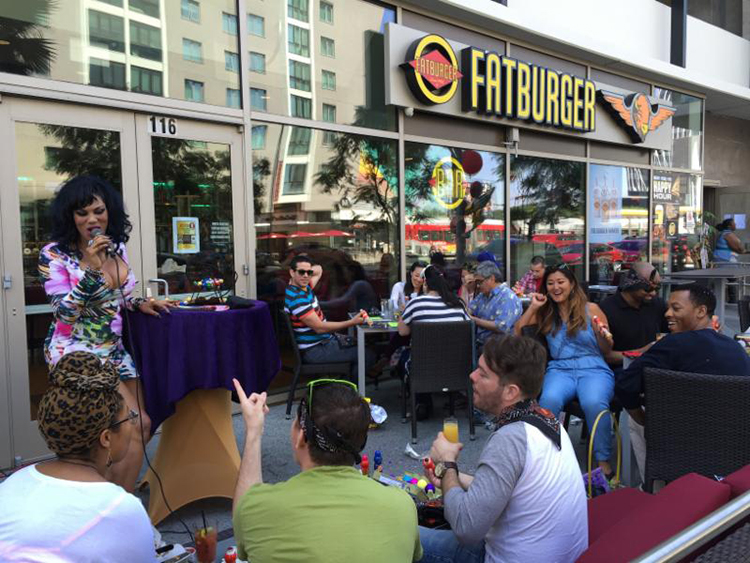 This Fatburger has a full bar and was kicking off their brunch menu with…well, with us. Lots of fun and strange looks by people passing by. The highlight of my day (besides the chicken strips with cronuts) was seeing our logo on the breakfast trays for each table!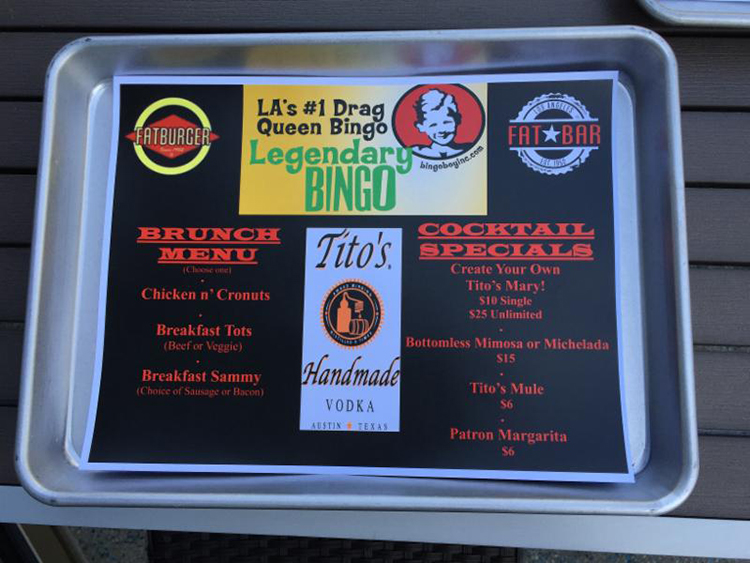 You know you have really made it when you see your name on a tray at Fatburger! BTW the cronuts were amazing. My first one (or two) and won't be the last.
A few Wednesday nights ago we had a visit from a couple of fun people…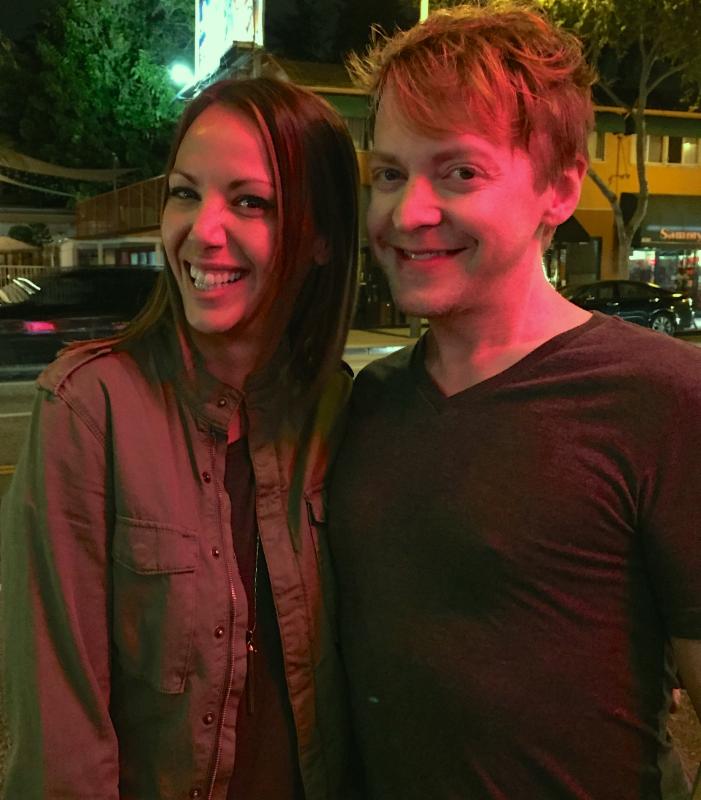 On the left is Kristen Doute of "Vanderpump Rules" (a show on Bravo) and next to her is Pandora Boxx (as his male self) from "RuPaul's Drag Race"! Kristen called a few games of bingo and Pandora was playing bingo with a friend. A couple of nice people and everyone wanted photos.
Also on that night we raised money for The West Hollywood Elite Cheerleaders (in addition to cheering they raise money for HIV/AIDS related causes) and they arrived in full regalia.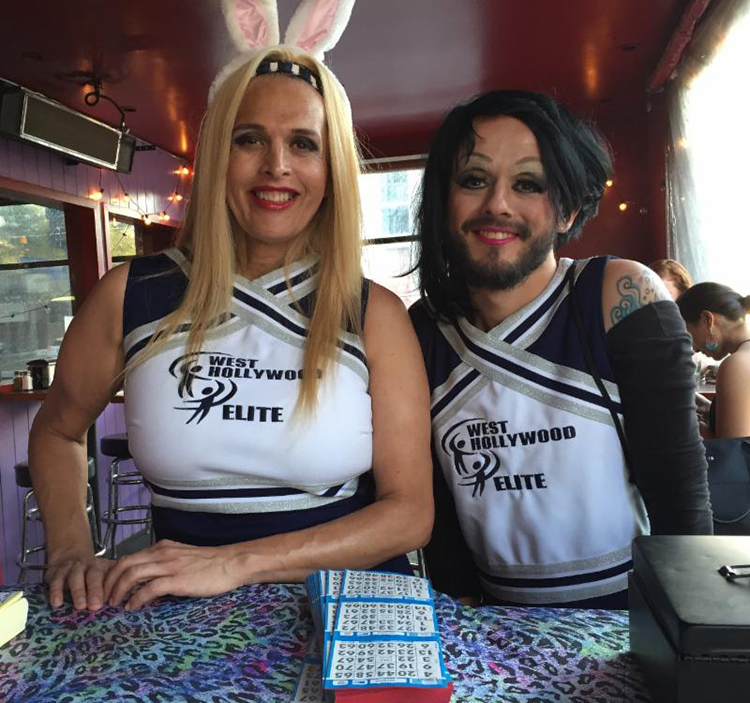 Doesn't the one on the right look like the transgender X-Factor winner Carmelita Weinerschnitzel or whatever her name was? And yes I know that is not her name but my bingo addled mind will not conjure it up right now. Help?
A recent prize package featured my favorite ingredient ever-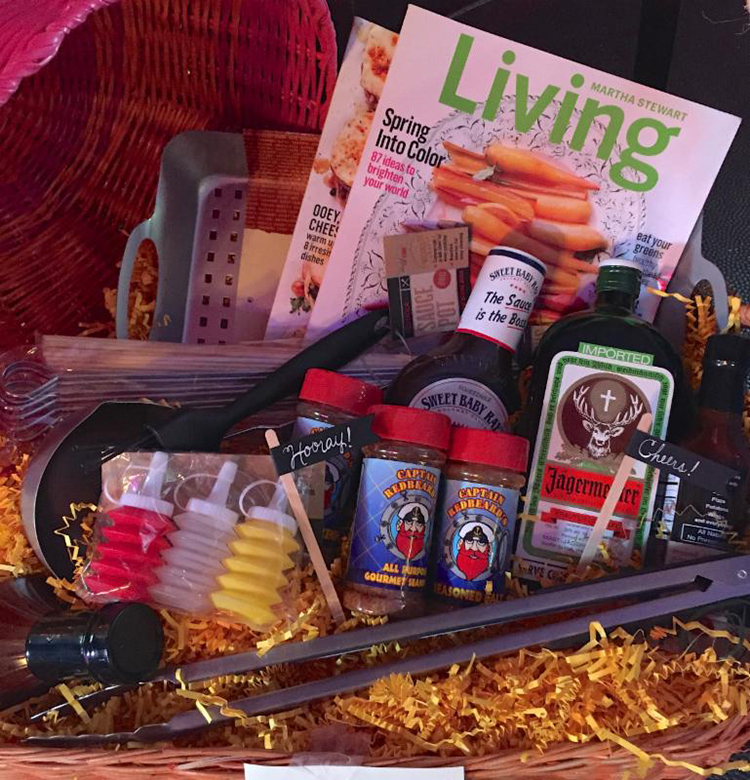 If you guessed Martha Stewart Living magazine you don't know me very well. Keep looking.
This last Wednesday we had our annual visit from our biggest fans- a large group of students from UCLA (we are actually a tradition at UCLA!) and they came in "drag" as per usual.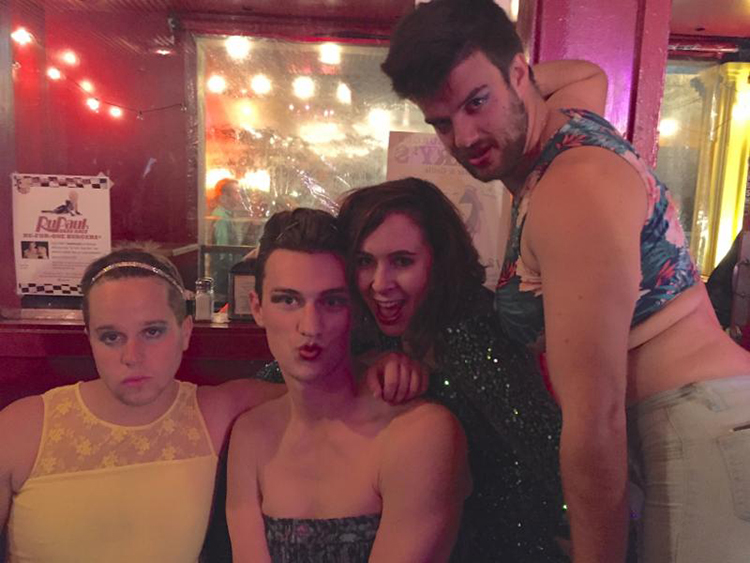 A very polite bunch of kids, they were. Drunk, polite kids. One large boy in a gold sequined strapless dress came up to me and asked "Excuse me Mr. Bingo Boy, but is there somewhere that I may throw up?" You see, the lines for the bathrooms were very long and he did not feel like he could hold on any longer. I told him that I appreciated his obvious good breeding and allowed him to use the employee bathroom. Later I marveled at the fact that he had not smeared one bit of his make up. Like I said, good breeding!
And finally, this last Wednesday night we celebrated the birthday of one of my favorite singers, X-Factor winner and gorgeous voiced singer Leona Lewis!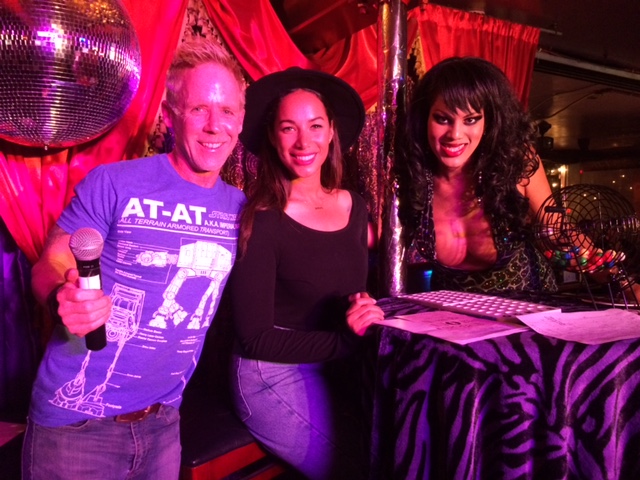 Miss Lewis called a game of bingo and even sang out a few of the numbers- much to the delight of the crowd.
That's it for now!
And see you at BINGO!
xo
Bingo Boy
---
Here's what's coming up in WeHo this week!
Wednesday Night- April 8th – Starring Bingo Boy & Calpernia Addams!
7 pm show benefiting – No Limits For Deaf Children!
9 pm show benefiting –  AIDS Walk!
Sunday Night- April 12th – Starring Bingo Boy & Porsha Hayy!
7 pm show benefiting – The Disney Family Cancer Center!
9 pm show benefiting – OUTrageous!
HAMBURGER MARY'S – WEST HOLLYWOOD 
8288 Santa Monica Blvd- At Sweetzer. Reservations for parties of 6 or more- 323-654-3800 
Full menu and bar  | All ages welcome | Valet and street parking available
---
Here's what's coming up in Pasadena!
Tuesday Night- April 21st! Starring Bingo Boy & Roxy Wood!
7 pm show benefiting – Polo Pony Rescue!
EDWIN MILLS (formerly Equator)- Pasadena Ca. 
22 Mills Place- in historic Mills Alley across from Burke Williams 
For all reservations, please click here. Must make a reservation to attend!
Full menu and bar | All ages welcome | Pay lot and street parking available