About last week's email….
At this point I am sure you are used to my little irritating mistakes but this one is a doozy. After thinking last week's email went out I began to receive emails from you all saying you did not get it at all! I could not figure it out and called the email company and it turns out I did not check the little box that chooses the recipients that the email will go out to. I didn't check the !#$%&?!! little box! So I apologize and hope that you are getting it this week. I was also told by the company that my email titles may be too long and that some servers would consider it spam so this week- a shorter title. I hope you still open and read. Trying my best….
Anyway I forgot what all I said in last week's email so we will just move on.
On Wednesday night we had a very, very full house for the first show and a very vocal audience but we made it through. The second show was a bit calmer and we had a visit from one of the stars of the hit t.v. show "Empire"!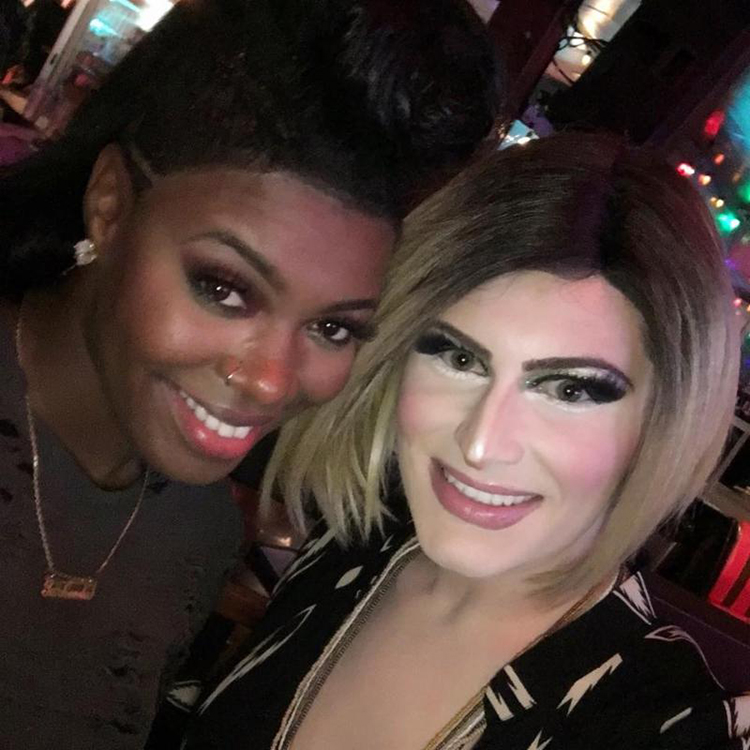 That is Ta'Rhonda Jones who plays "Porsha" on the show and what do you know? She is pictured here with our very own Porsha Hayy! Two Porshas in one show! Both are rather sassy and prone to rather "colorful" language. Meaning they like to use curse words. A lot.
We also had a visit from one of my favorite people who is now a member of the cast of "The Mindy Project"!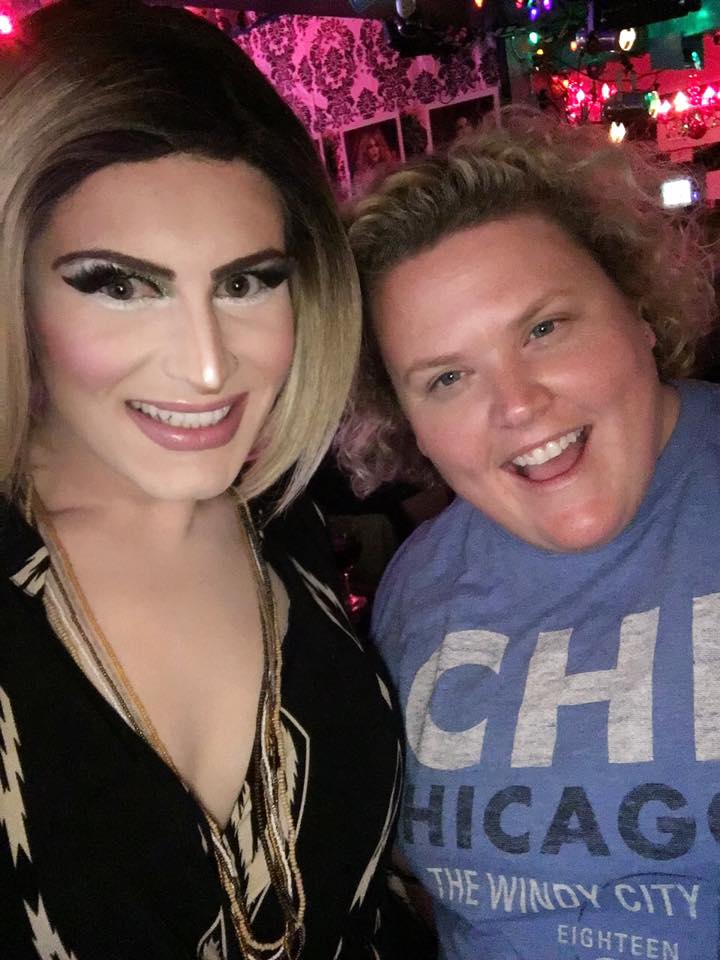 That's Fortune Feimster who was also featured on "Chelsea Lately" and is one of the funniest women on the planet.
Speaking of "fortune"…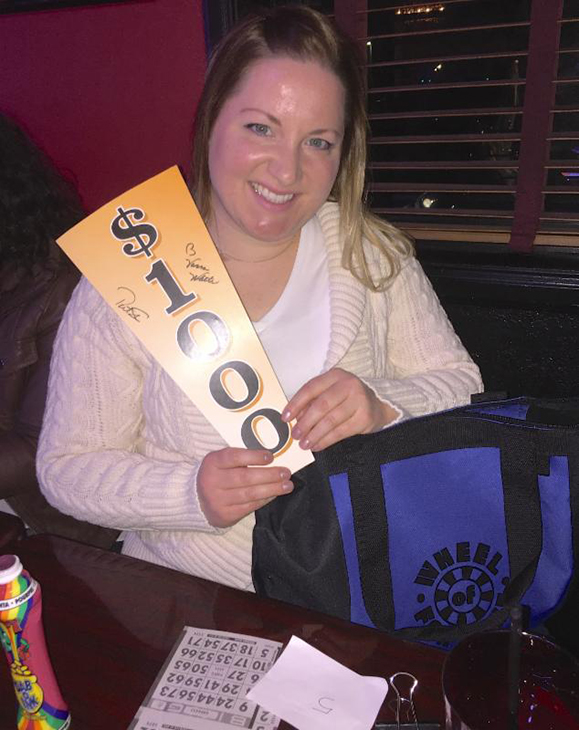 Look what this gal won! A "Wheel Of Fortune" prize package that had tickets to the show, a bunch of swag and an actual piece of the wheel signed by Vanna White and Pat Sajak! Too bad she didn't actually win the $1000.00- right?
On Saturday night Roxy and I did a private party at a swanky restaurant on La Cienega for a bunch of swanky parents to benefit their kids' swanky school (honestly I do not know if the school is swanky but I have a feeling).
The tables were gorgeous-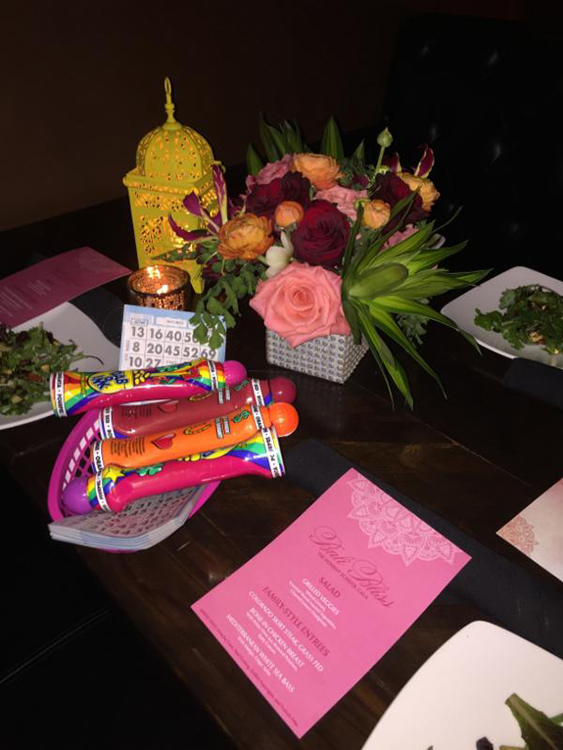 Look at that- fresh flowers, salads and bingo daubers. Delicious!
I spotted celebrity stylist Rachel Zoe in the crowd looking swanky and also recognized Joanna Philbin who is the daughter of Regis Philbin! I love Regis and I auctioned off a "phone call to anyone from Regis Philbin." Dang if I didn't get $750.00 for it too! I wonder how long he will talk for $750.00? I would hope at least five minutes but then again he is a busy man.
Roxy and I just had to visit the now ubiquitous "photo booth."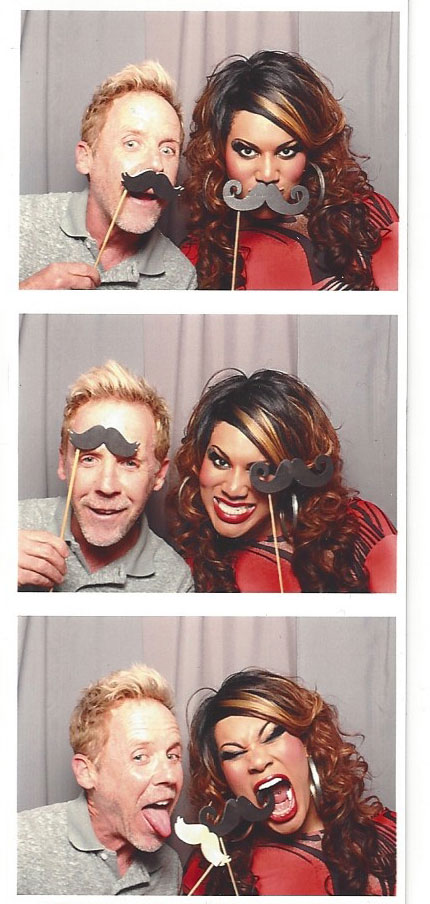 Yes- that is about how creative we got. I didn't realize how much pressure there was to do something funny and not embarrassing until the stupid thing started clicking away and it was over before you could even think about it! So here is me- "It's a moustache! It's Frida Kahlo's eyebrows! Now I'm eating it!" Oh brother. Of course Roxy looks great in all of her shots.
One last thing-
Recently I read that the musical "Wicked" reached some sort of landmark status like "longest running Broadway show with flying witches" or something like that. But it made me think that we have had a couple of "Elphabas" at our events- so I went looking for photos.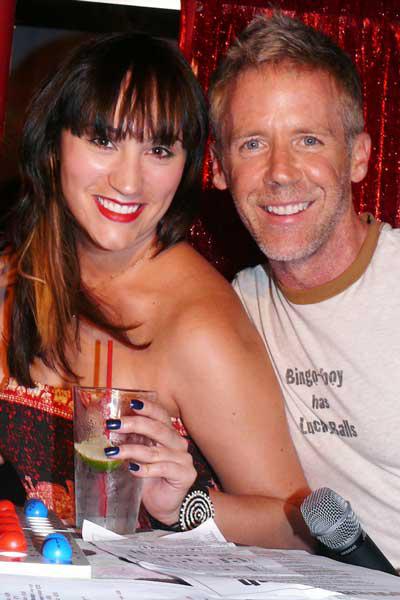 This is Eden Espinosa who played Elphaba in the Los Angeles, Broadway and San Francisco productions of "Wicked."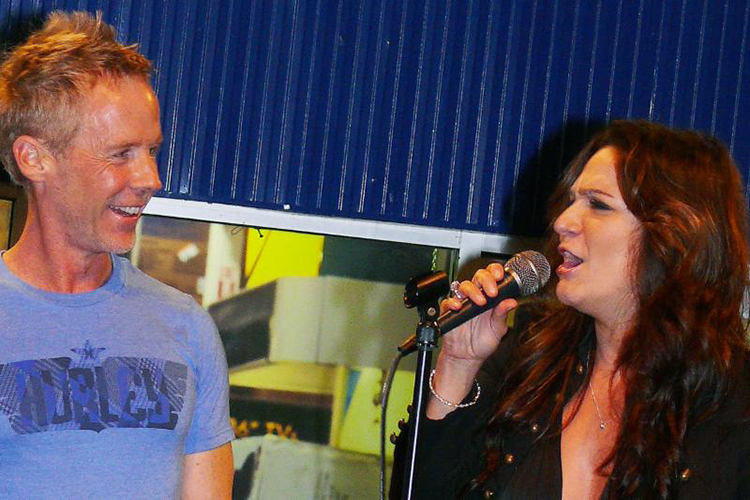 Shoshana BeanAnd this is Shoshana Bean who was Idina Menzel's understudy and then went on to play the role on Broadway! And she is singing me a song from the show! Look at my face! It was amazing. Just as amazing as the time when Ellen Greene sang "Somewhere That's Green"  from "Little Shop of Horrors" at another bingo event. Honestly I cried. Please don't tell anyone.
Well that's all for now except to tell you…
NO BINGO THIS SUNDAY DUE TO THE EASTER HOLIDAY!
So come and see us on Wednesday night and spend time with family and friends on Sunday- maybe eat some ham!
xo Bingo Boy

Here's what's coming up in WeHo this week!
Wednesday Night- March 23rd
Starring Bingo Boy & Roxy Wood!
7 pm show benefiting -Aviva Family Center!
9 pm show benefiting -WH20- West Hollywood Aquatics!
Sunday Night- March 27th
NO BINGO DUE TO EASTER HOLIDAY!
HAMBURGER MARY'S – WEST HOLLYWOOD
8288 Santa Monica Blvd- At Sweetzer | Reservations for parties of 3 or more- 323-654-3800
Full menu and bar | All ages welcome | Valet and street parking available

Here's what's coming up in Pasadena in March!
Tuesday Night-March 29th!
starring Bingo Boy & Roxy Wood!
7 pm show benefiting -Polo Pony Rescue!
EDWIN MILLS (formerly Equator)- Pasadena Ca.
22 Mills Place- in historic Mills Alley across from Burke Williams
Must make a reservation to attend!
Full menu and bar | All ages welcome | Pay lot and street parking available

Here's what's coming up in Ontario in April!
Monday Night- April 25th
Starring Bingo Boy & Roxy Wood!
7 pm show benefiting -Canine Angels!
HAMBURGER MARY'S – ONTARIO
3550 Porsche Way- just off of the 10 fwy. | Reservations for parties of 2 or more- 909-944-9400
Full menu and bar | All ages welcome | Huge parking lot available