Just Like A Nighttime Soap Opera…
…bingo can be classy and bingo can also be nasty. Remember how classy Joan Collins would get all nasty up in Crystal's face? Remember the fight in the fountain? Kids, do you remember the 1980's at all?
Anyway, we will get back to that topic.
Above is a photo of my dog who is really, really named Bingo. And, no I did not name him Bingo. It's already confusing enough that I am Bingo Boy and my horse is Buddy-boy. Truth be told it was his name that saved him from the death squad at the Devore Animal "Shelter" (why even call it that). Saw him on the internet one morning while trolling around, posted by an animal rescue. He was 1 hour away from being put to sleep and they were trying to save his life. They said that he had a tag on that said his name was "Bingo." When they called the phone number on the tag the people said he was not their dog (I know). Well, I looked up at the heavens and said "really? I already have three dogs!" But it had to be done so I paid a couple of gals to drive to San Bernadino and rescue him. I thought I would just foster him but after meeting him and seeing his tongue that always sticks out of the side of his mouth I became another "foster failure." No regrets- he is a great guy and actually does have beautiful eyes although you cannot tell by the photo.
Speaking of beautiful eyes- DONNA MILLS!
Yes Donna came to bingo for a special night on Monday night and she is even more beautiful in person.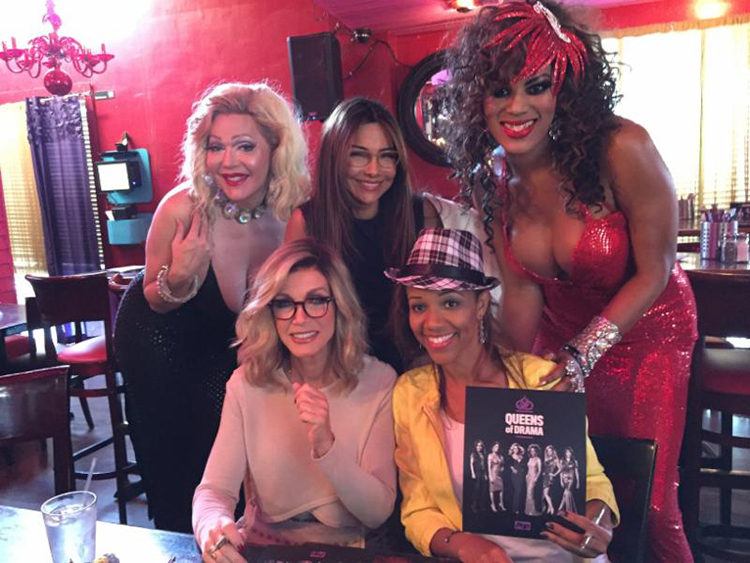 People- she is 74 years old! I just looked it up! Again, in person she is basically flawless. I know it's impossible but she called my mother who actually asked her how she stayed so young and Donna would only say "good skin care." We were celebrating the premiere of "Queens Of Drama," a new show on Pop TV that features Miss Mills and several other day and nighttime soap queens. In the photo above are also Vanessa Marcil (General Hospital, Las Vegas) and Christee Phariss (Passions) along with my queens Calpernia and Roxy. Gorgeous group, right?
I asked Roxy to do a clean-ish show, out of respect for Donna Mills but Roxy just went-for-it. She was cussing and doing her "Sally O'Malley" and generally being nasty. Did Donna notice? Here is her reaction-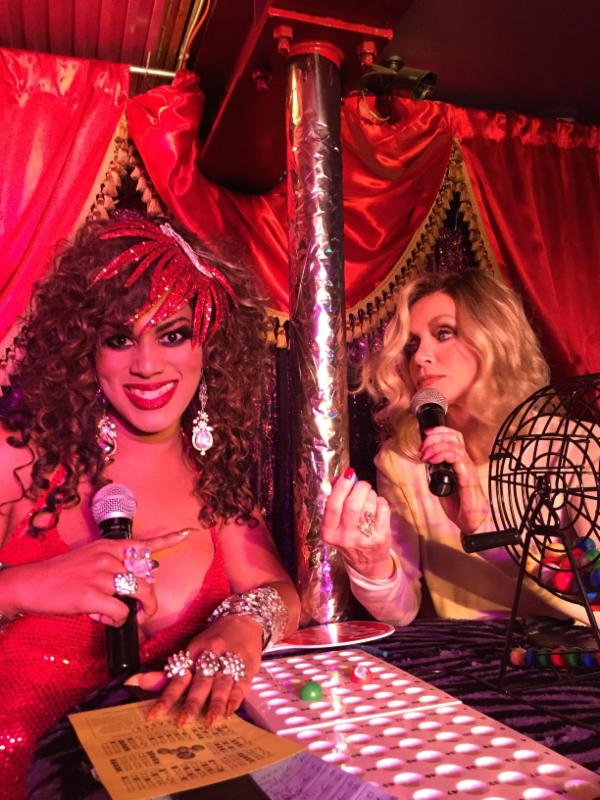 Yeah- I think she noticed.
Lots of press and fans in attendance. At one point it looked like a film premiere!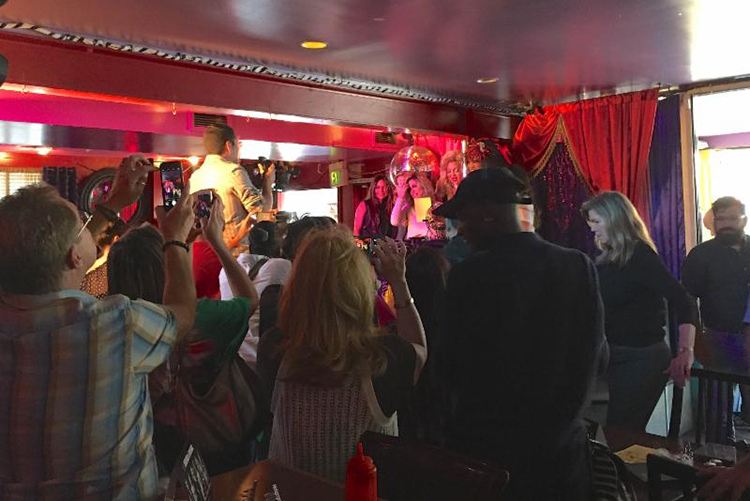 Unfortunately I have not seen one photo online so if anyone finds one (from a press source) will you send to me?
We had a visit on Sunday from someone else from the nighttime soap world- Thomas Calabro- aka Dr. Michael Mancini from Melrose Place!
Once again, Roxy couldn't help but "go there."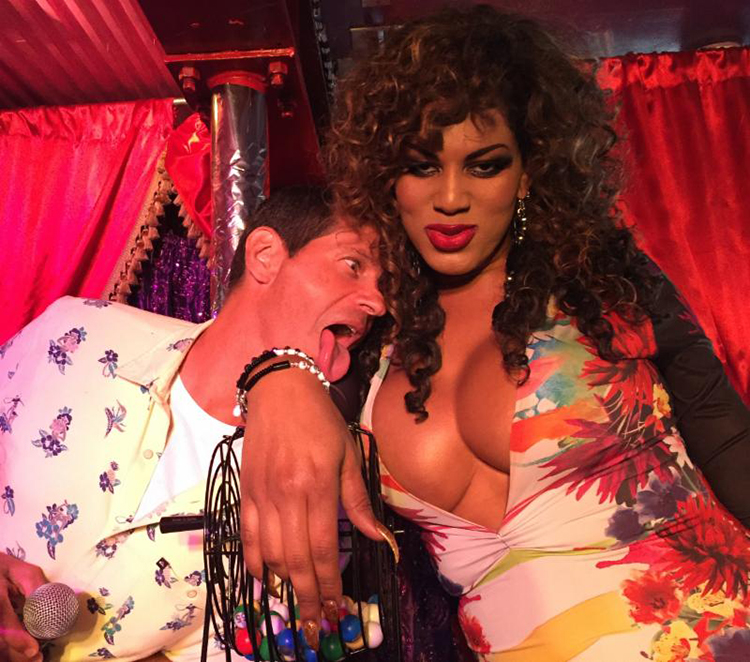 Well, maybe that was more Thomas and less Roxy but still…
Like I said, sometimes we are classy and sometimes we are nasty.
And sometimes YOU are nasty. Like this guy who called a false bingo on Wednesday night and decided to take it "all the way."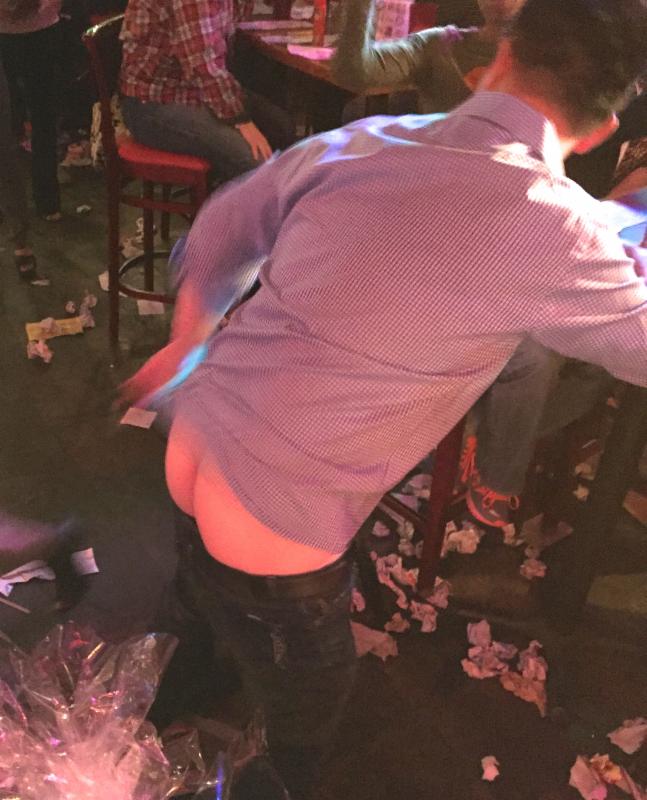 Well, what can I say. I could make a crack about this but…
See, I said crack and butt! Hilarious!
Let's move on to cute dogs before we go.
Hamburger Mary's has a new general manager. His name is Boe and his dog is adorable-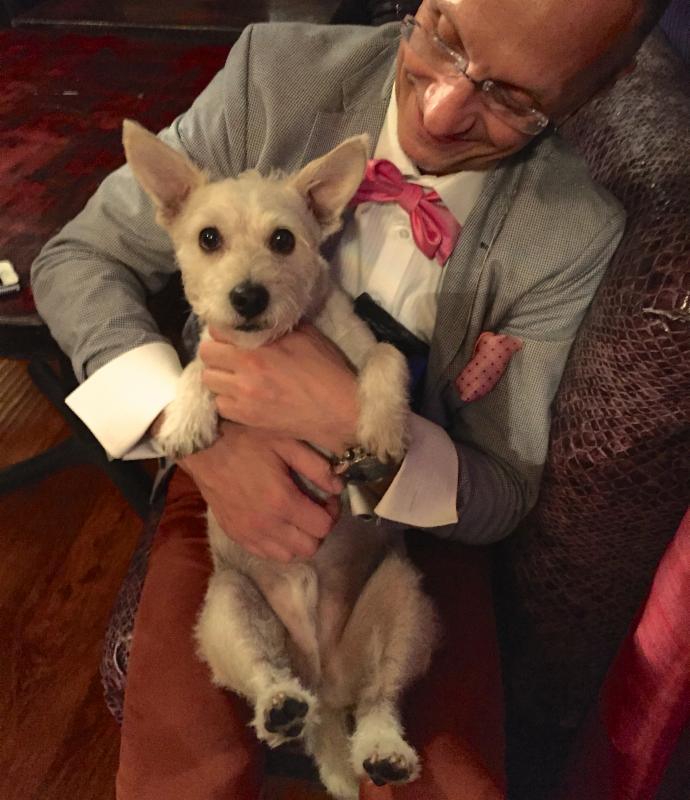 Another rescue! I wanted to steal him and take him home but I would probably be arrested for hoarding.
My friend Kathleen brought her dog to the gym the other morning-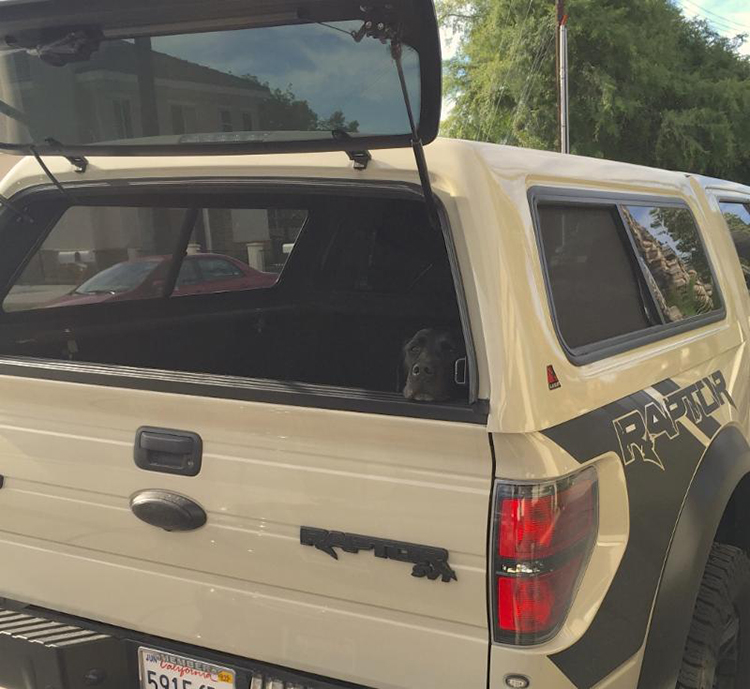 Can you see him? And he just stayed right there! Don't worry it was early morning and she checked on him frequently. Dang- only thing better than a dogs face is a horses face. Know what I mean?
Exciting News!
Well for us at least. Looks like we have been asked to return to both the Sunset Strip Market and also The Americana At Brand this summer! For several weeks at each place! I will keep you apprised of these and other bingo developments- including our new website- coming soon!
MOTHERS DAY IS ON SUNDAY!
Bring your mother to bingo and I will give you and your mom 2 extra grand prize cards!
xo, Bingo Boy
---
Here's what's coming up in WeHo this week!
Wednesday Night- May 6th Starring Bingo Boy & Roxy Wood!
7 pm show benefiting – Building Botswana!
9 pm show benefiting – AIDS Lifecycle! 
Sunday Night- May 10th Starring Bingo Boy & Porsha Hayy!
6 pm show benefiting – Leukemia/Lymphoma Society!
8 pm show benefiting – Animal Wellness Foundation!
HAMBURGER MARY'S – WEST HOLLYWOOD
8288 Santa Monica Blvd- At Sweetzer
reservations for parties of 6 or more- 323-654-3800
Full menu and bar | All ages welcome | Valet and street parking available
---
Here's what's coming up in Pasadena!
Next Event with seats…Tuesday Night- May 26th! Starring Bingo Boy & Roxy Wood!
7 pm show benefiting – Canine Angels!
EDWIN MILLS (formerly Equator)- Pasadena Ca.
22 Mills Place- in historic Mills Alley across from Burke Williams
For all reservations, please click  here.  Must make a reservation to attend!
Full menu and bar | All ages welcome | Pay lot and street parking available