American Horror Story, Pre-drinking, Willam Is Back and More…
Legendary Bingo….creating pervs is our job #1.
Let me explain.
On Saturday night we did a private party at Hamburger Mary's WeHo for a wedding party. Simple- a group of about 95 people coming in on a bus for ten games of bingo and then leaving. We had no idea that they were actually coming from the wedding- to drag queen bingo! I thought maybe it was a few days before or the day before but this is the first time we had a group that literally picked up and left the wedding for us.
When they arrived all seemed well- the bride and groom were lovely (although the groom was a bit casually dressed if you ask me)-
I had both Roxy and Porsha hosting which I thought would create a wild and fun evening for all.
And then it became clear that all of these people had not only drank at the wedding but also on the bus on the way over. "Pre-drunk" is what I call it when someone walks in to a bar and is already…"happy." And boy were they happy!
At some point in the evening someone called bingo- I think we were playing "Rim Job"- and when they brought their bingo card up, this is what we saw-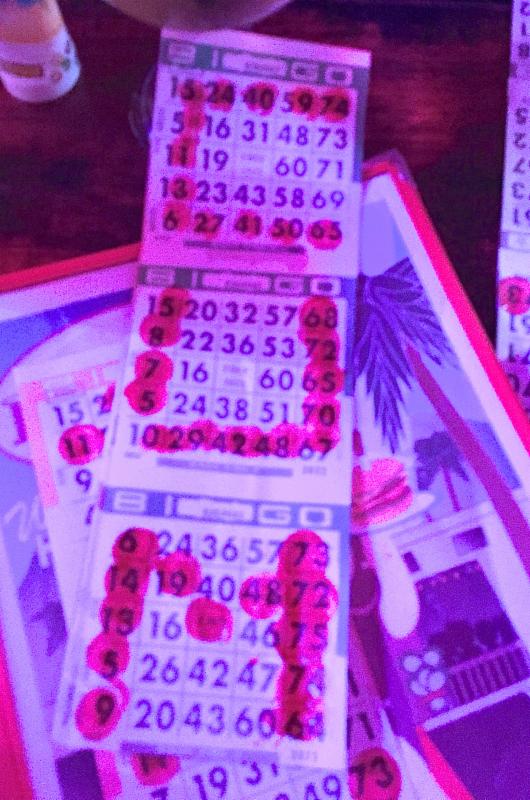 Take a good look. That is not a rim job. And we certainly did not call all of those numbers. Of course they were paddled but later on it occurred to me that we, on a regular basis, take nice, normal people and turn them in to perverts! They seem so calm and normal when they arrive but then we subject them to salty language, provocative callbacks and bingo combinations that include not only "Rim Job" but also "Dirty Sanchez"! Additionally I do have a shirt that says "Bingo Makes Me Horny." That might be one of the problems.
So I decided to take a look back and find some photos from past events to prove my theory. Gosh- I found so many! So take a look at what a bad influence we really are and think twice before showing up at one of our events pre-drunk. this could be you!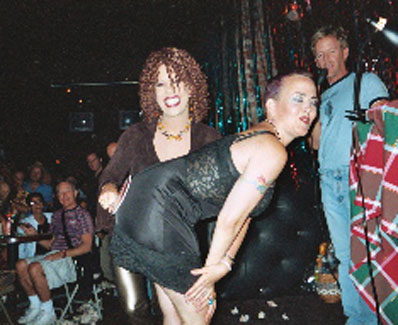 This one is an oldie but goodie. What are the odds of not only showing up for bingo in just your slip but them also being paddled by a drag queen? Almost 20 to 1 in favor of, I would say.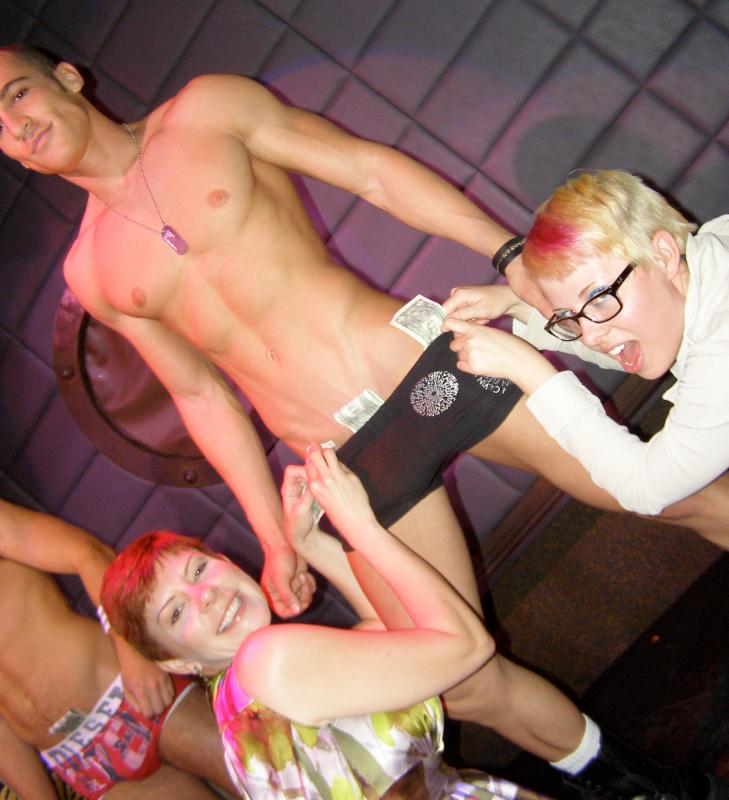 Yes, this happened at bingo. "Go-Go Sister Bingo" at MJ's a few years back. And no, these boys were not prize packages.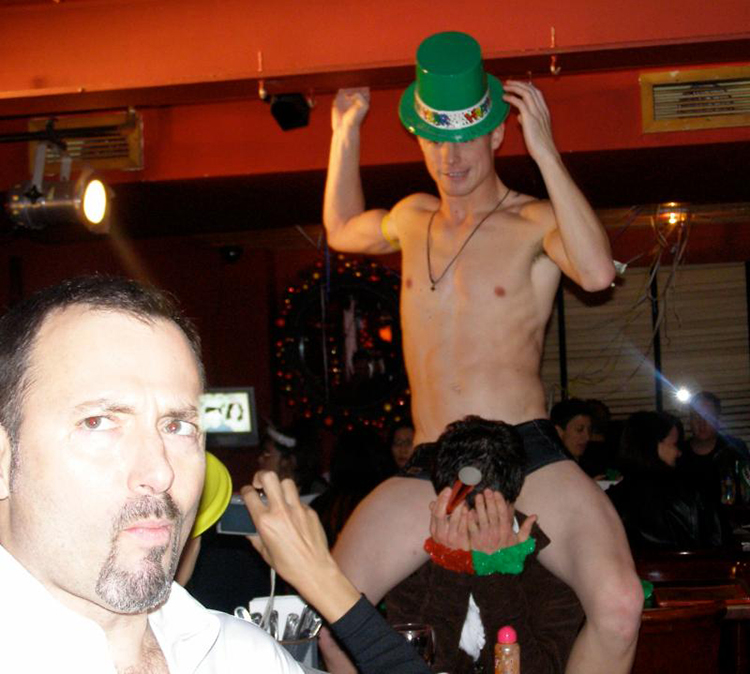 New Years Eve bingo at Hamburger Mary's. And yes, the scantily clad dancer did ride the winner all the way around the room during the "pelting" portion of the program.
WARNING: THE NEXT IMAGES ARE PROVOCATIVE!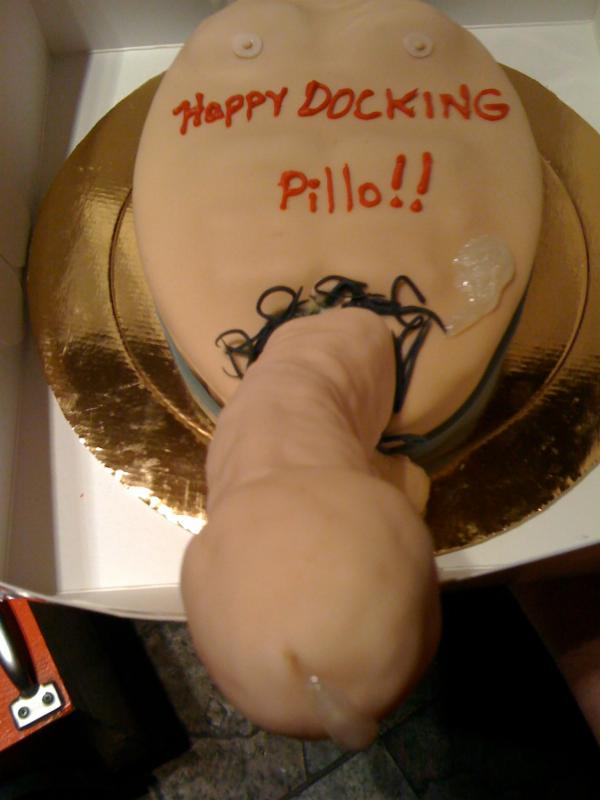 This was a birthday cake brought to bingo. I think it is a beige hat with a gooey feather.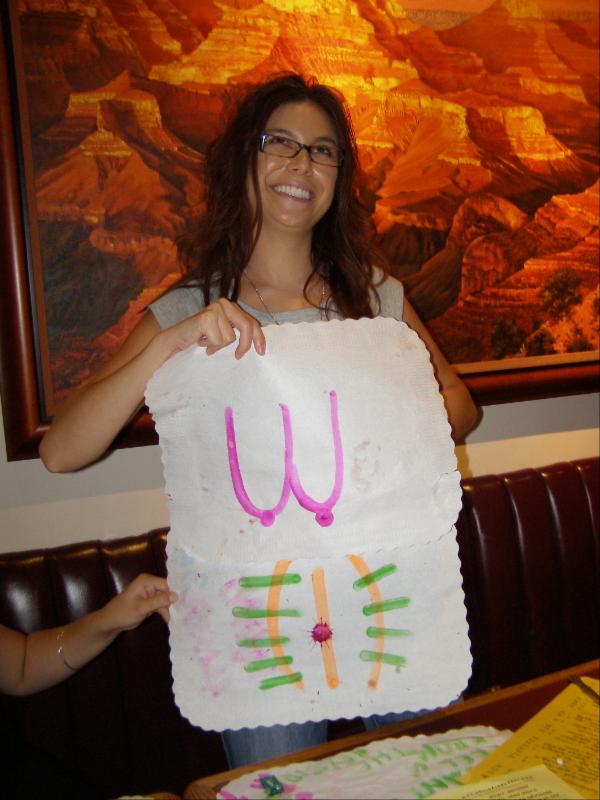 A bingo participant at an event in Silverlake who used the placemats to express her artistic talents.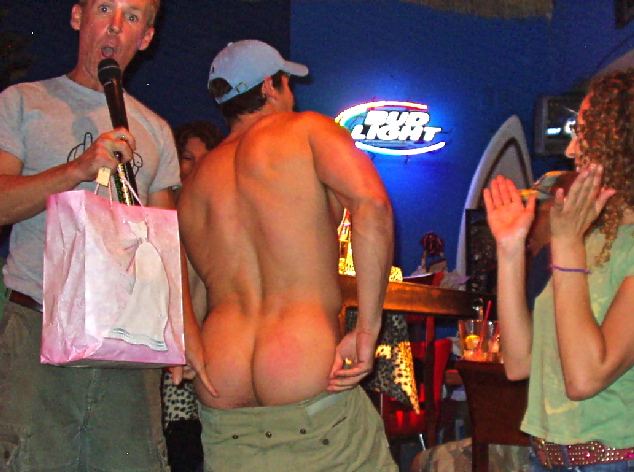 And finally, another oldie but goodie. Now look- it's one thing when someone in the audience drops trou- but this guy was the "Celebrity Ballcaller"! We can even turn celebs into pervs!
So on behalf of Legendary Bingo, I apologize. I hope that you can still look at us as a wonderful fundraising event that helps hundreds of charities. And if you do decide to perv out at one of our events- make sure and send me the photos. This is all I have and I take it very seriously.
OTHER NEWS:
Willam is back! Our "missing" bingo hostess Willam Belli has been traveling and writing a book and modeling and dancing with famous celebs but he is back for one night this Wednesday night!
And for all of you American Horror Story fans- for the 9 pm show on Wednesday, our celebrity guest is none other than "Pepper"- Naomi Grossman! Naomi played Pepper on both AHS: Asylum and AHS: Freak Show and we can't wait to meet her in person!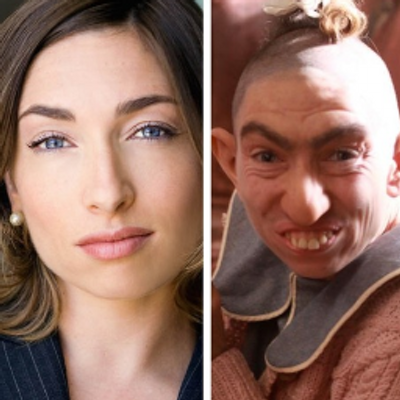 ONE MORE WEEK UNTIL 
OUR PREMIERE IN ONTARIO!
And see you this week at BINGO!
xo, Bingo Boy
---

Here's what's coming up at Hamburger Mary's Ontario!
Monday Night- September 21st
Starring Bingo Boy & Roxy Wood!
7 pm show benefiting – The Susan G. Komen 3 Day Walk!
Monday Night- September 28th
Starring Bingo Boy & Roxy Wood!
7 pm show benefiting – 2nd Chances Animal Rescue!
HAMBURGER MARY'S – ONTARIO
3550 Porshe Way, Ontario Ca.
Reservations for parties of 3 or more- 909-944-9400
Full menu and bar | All ages welcome | Giant free parking lot available!
---

Here's what's coming up in WeHo this week!
Wednesday Night- September 16th
Starring Bingo Boy & Willam Belli!
7 pm show benefiting – New Filmmakers LA!
9 pm show benefiting – Northwestern Alumni Association!
Sunday Night- September 20th
Starring Bingo Boy & Calpernia Addams!
6 pm show benefiting – The Leukemia/Lymphoma Society!
8 pm show benefiting – Project Angel Food!
HAMBURGER MARY'S – WEST HOLLYWOOD
8288 Santa Monica Blvd- At Sweetzer
reservations for parties of 3 or more- 323-654-3800
Full menu and bar | All ages welcome | Valet and street parking available
---

Here's what's coming up in Pasadena!
Tuesday Night- September 22nd!
7 pm show benefiting The Leukemia/Lymphoma Society!
EDWIN MILLS (formerly Equator)- Pasadena Ca.
22 Mills Place- in historic Mills Alley across from Burke Williams
Must make a reservation to attend! Click on links above!
Full menu and bar | All ages welcome | Pay lot and street parking available