Criminal Minds, Roxy's Birthday, Our New Website, Tues. Bingo and More…
Even Bingo Hostesses Get Older…
See? It's not just Bingo Boy who keeps getting older- the Legendary Bingo Hostesses do also have the ability to age. And on that happy note I would like to wish Miss Roxy Wood a very happy birthday from the boss. This Wednesday night is Roxy's actual birthday and we invite you to come out and celebrate with us! There will be ponies and pinatas and a bouncy house and….
No, none of those things. But there will be bingo and a few surprises.
And to Roxy- everyone loves you and you just keep getting better (even if you are getting older). Wishing you a very happy birthday and many, many more. xoxo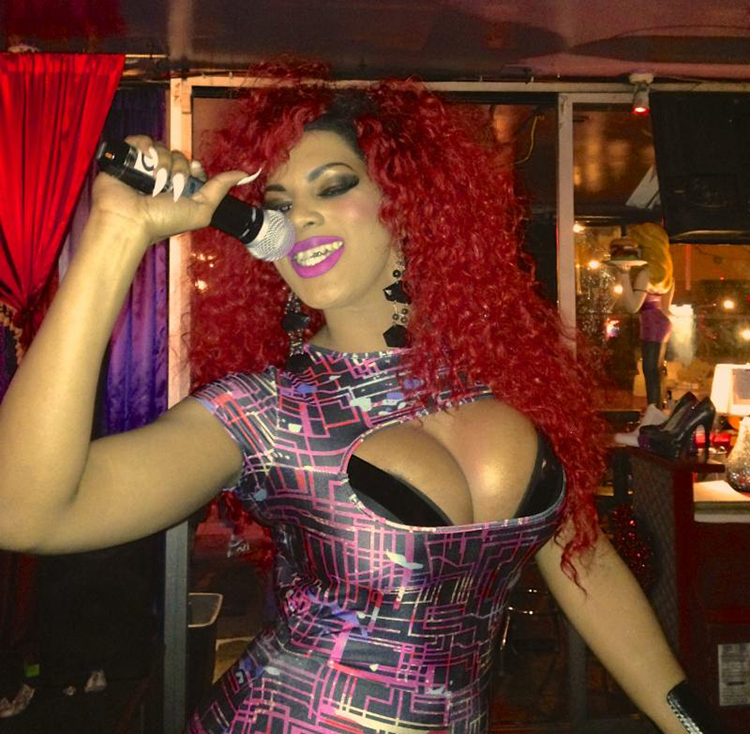 Speaking of celebrating- we are very happy to welcome back two of our favorite gals- Kirsten Vangsness and Paget Brewster! Kirsten currently stars in "Criminal Minds" and Paget used to but is now one of the stars of the new season of "Community"!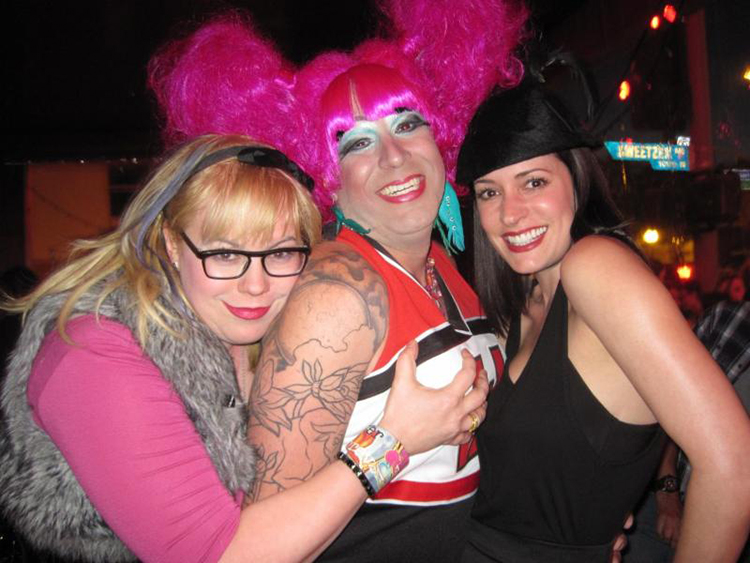 Kirsten and Paget will be our guests at the 7 pm show on Wednesday night as we raise money for Reading To Kids- a great charity. Come by and get in a photo with them, just like the WeHo Cheerleader did the last time they dropped by! Maybe Kirsten will squeeze your tit!
We were in Pasadena this last week and a woman walks through the door and I swear my brain went "where do I know her from? Where do I know her from?" And it turns out I know her from the hilarious Adult Swim show "Children's Hospital" (and no I did not forget the apostrophe).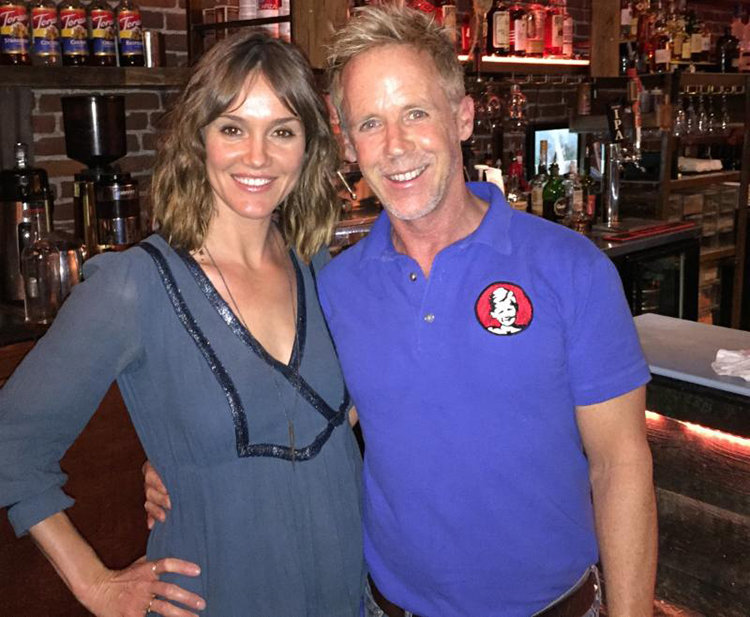 Erinn Hayes plays "Doctor Lola Spratt" on the show and she is hilarious! Anyway, she was very cool and said she would come out to WeHo sometime and call our balls.
Speaking of Pasadena, on Tuesday night we were overrun with dogs! We did a show to benefit Canine Angels, a charity that trains service dogs to work with kids and teens and they brought a pack of at least five dogs with them!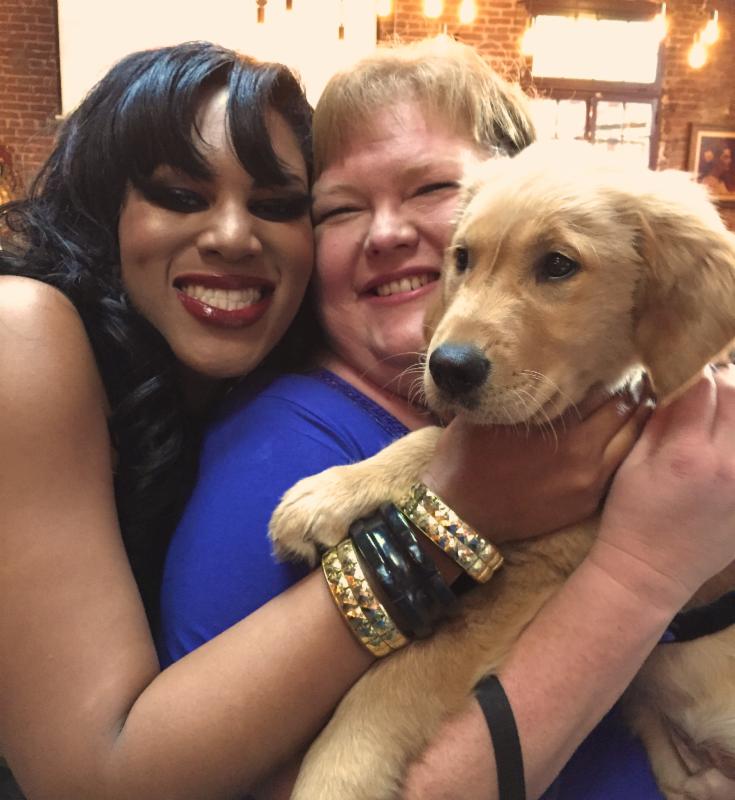 …including this puppy.
And no Roxy, you cannot have one for your birthday…
In West Hollywood on Wednesday night we had a visit from two of the stars of "The Ten Year Plan," a new gay rom-com that is being released on dvd and on demand today.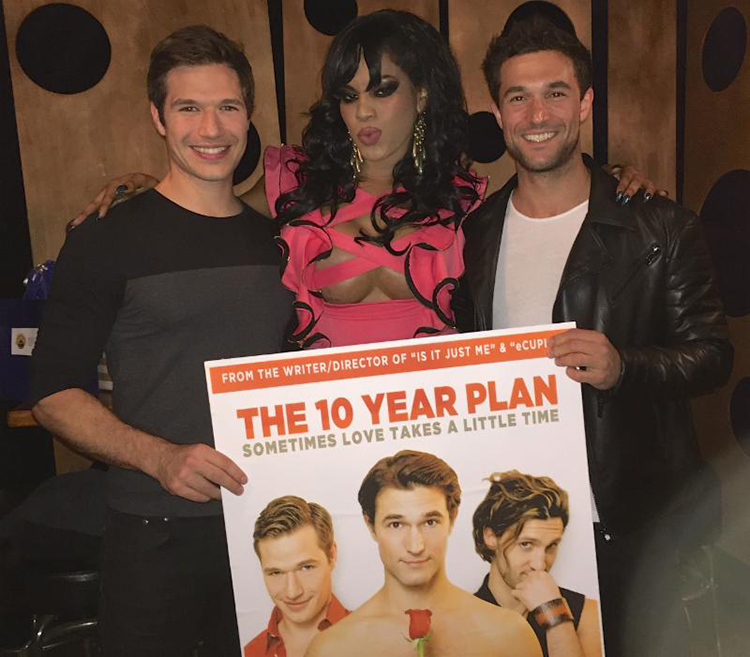 These guys were really fun and honestly, hanging out with them made me want to see the movie. And that does not always happen- you know what I mean?????
And no Roxy, you cannot have one for your birthday.
SPECIAL TUESDAY NIGHT BINGO!
Roxy and Joel "69" will be at Mary's on Tuesday night for a special bingo event to benefit the Queer Classics presentation of "The Taming Of The Shrew." If you just can't ever make it to a Wednesday or Sunday event this may be the one for you!
Bingo starts at 7 pm and they have awesome prizes! Call and make a reservation- 323-654-3800.
NOTE FROM BINGO BOY:
We have been selling out a lot lately for our shows and unfortunately Hamburger Mary's will not take reservation for less than a party of six. However, if you call and say that Bingo Boy told you to call, they will take your reservation. This will keep all of you wonderful Bingo Freaks from sitting on the patio or in the back when we all know you should be in the front (unless you like it in the back…). 323-654-3800.
And see you this week at BINGO! xo Bingo Boy
---
Here's what's coming up in WeHo this week!
Wednesday Night- June 3rd
Starring Bingo Boy & Roxy (Birthday Girl) Wood!
7 pm show benefiting – Reading To Kids!
9 pm show benefiting – The Leukemia/Lymphoma Society!
Sunday Night- June 7th
Starring Bingo Boy & Calpernia Addams!
6 pm show benefiting – The San Francisco Avon Walk!
8 pm show benefiting – Team In Training!
HAMBURGER MARY'S – WEST HOLLYWOOD
8288 Santa Monica Blvd – At Sweetzer | reservations for parties of 6 or more- 323-654-3800
Full menu and bar | All ages welcome  | Valet and street parking available
---
Here's what's coming up in Pasadena!
Next Event with seats…
Tuesday Night- June 16th!
Starring Bingo Boy & Roxy Wood!
7 pm show benefiting – The Aveson School!
EDWIN MILLS (formerly Equator)- Pasadena Ca.
22 Mills Place- in historic Mills Alley across from Burke Williams
Must make a reservation to attend!
Full menu and bar | All ages welcome | Pay lot and street parking available