Walking Dead, Glee, Willam, Pasadena & More!
Free Bingo, Celebrities and Bingo Freaks in Funny Costumes.
Those are the highlights of this weeks bingo email. Is that cool with y'all?
Good.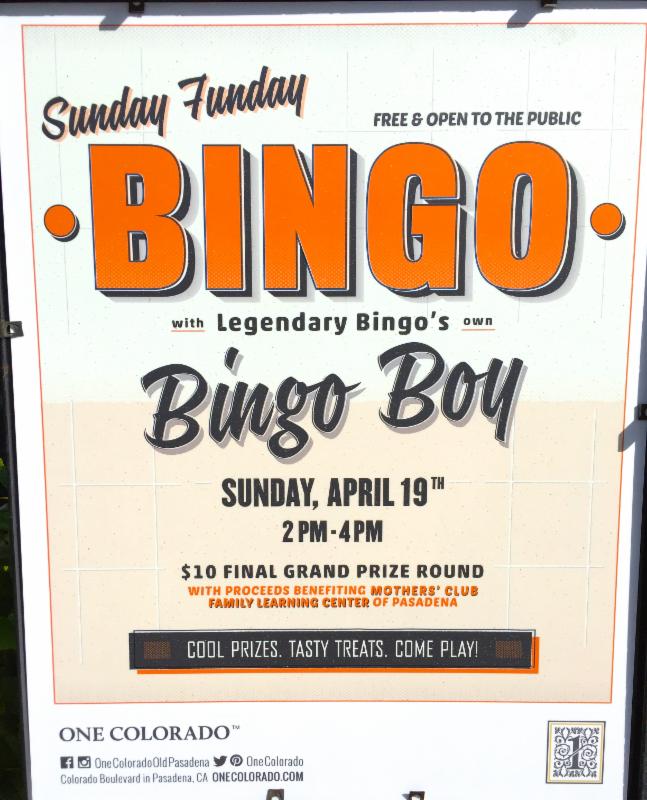 First of all- check out the big-ass flyer above. It's that time of year again when I will be hosting a couple of hours of free bingo here in my beautiful town of Pasadena. This is a fun event where we play bingo outside in a very exclusive shopping center (for rich Pasadena folks) and win very expensive prizes from the very expensive stores. They usually have some free ice cream and of course I am highly entertaining. I believe there is a dj. Hope you can come by and bring ten bucks for the grand prize round because it goes to a great charity and the prize is….what? Expensive of course. Let me know if you need more details.
Now on to celebrities. Check this out from last Wednesday night at Legendary Bingo…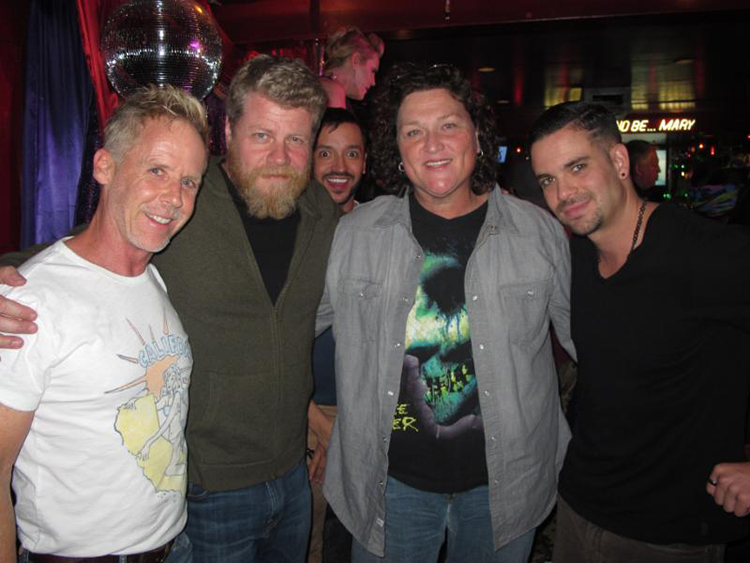 We've got me of course and then Michael Cudlitz from "The Walking Dead" (wow) and then (photobombing) Jai Rodriguez from "Kingdom" (a show with Nick Jonas) and then Dot Marie Jones from "Glee" (I love her) and then we have Mark Salling also from "Glee" (he played Puck)! Very cool. And I want to be the first one to pitch a show in which zombies attend a high school and form a glee club to compete against other zombie glee clubs.We will call it "The Gleeful Walking Dead." Or "Dead Glee" Or whatever. It is going to happen.
On Sunday night we had a visit from the most powerful vampire in the universe…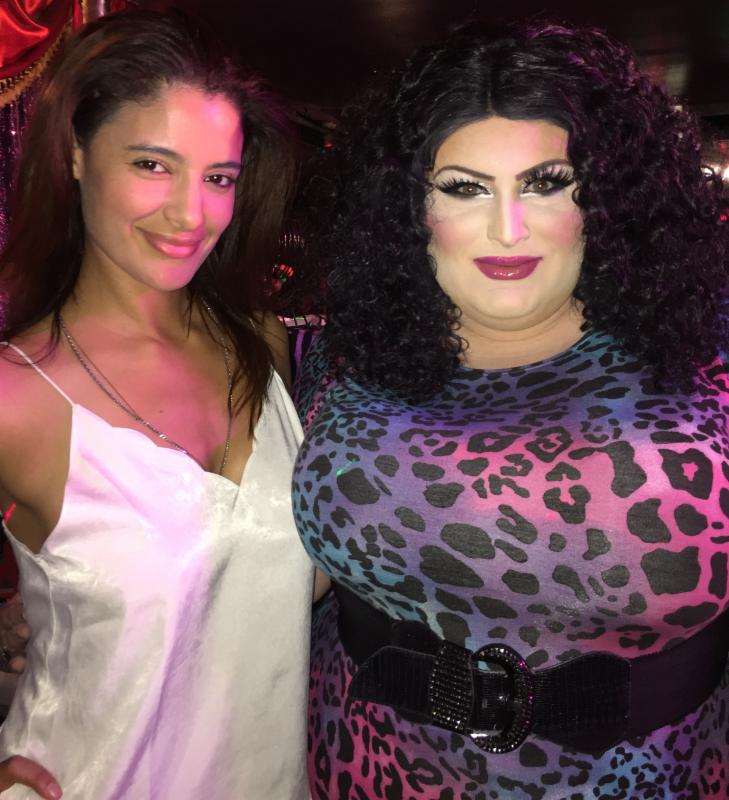 No, not Porsha Hayy. The other one. On the left. That is Jessica Clark who played "Lilith" on "True Blood." Remember her? No? Picture her nude and covered in blood. Yes, that's the one. Porsha commented that she would rush home just to watch the show and see Lilith's vulva in every episode. Jessica was very nice and did not bite anyone to my knowledge.
Now on to funny costumes.
Roxy and I did a bingo night on Saturday night for Braemar Country Club (very exclusive) and one of the guests thought she was a chicken.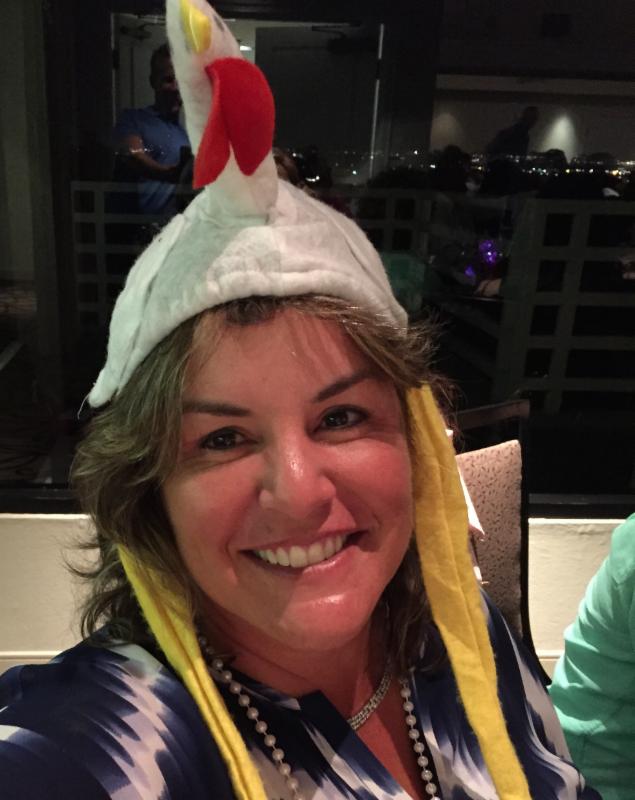 Or at least a chicken head.
And then on Sunday night one of the guests was just….crazy…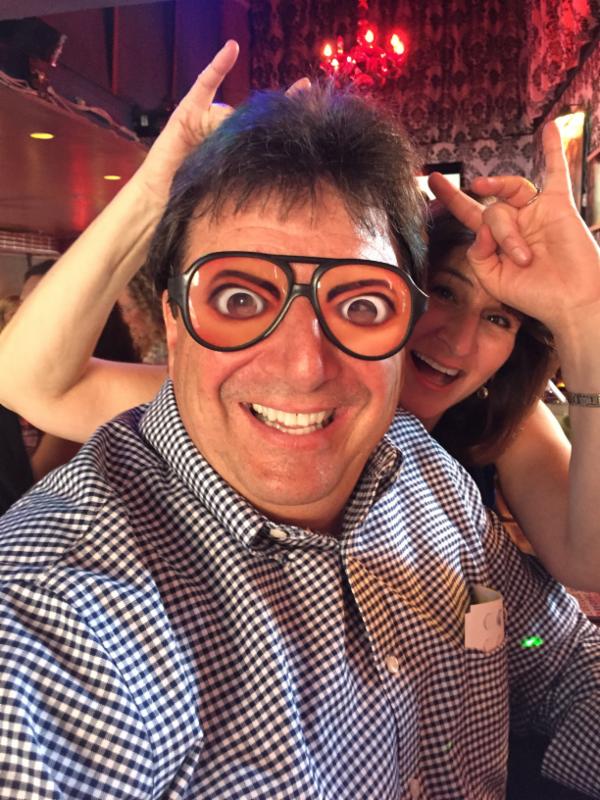 He would not take those glasses off and it was really freaking me out!
And finally, a costume that I can stand behind-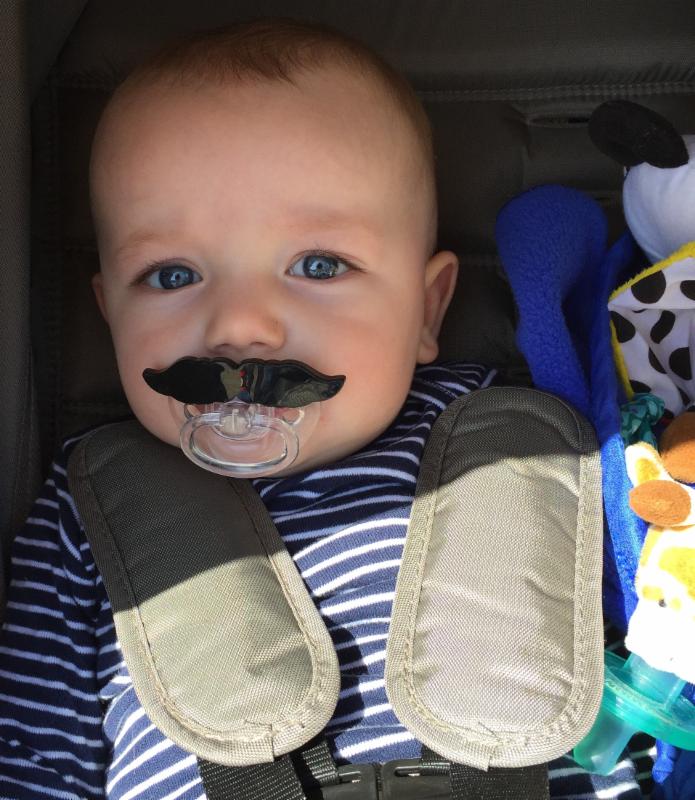 Okay- the baby was not at bingo but at The LA Equestrian Center. His name is William and he is so-f*cking-cute! I wish I was the genius who thought up the "moustache pacifier" but I was not and I still love it. I will tell you what, I will work on a drag queen version of a pacifier and will get back to you.
SIERRA MADRE ROSE FLOAT BINGO ON SATURDAY NIGHT!
Yay! We always draw a big crowd for this one and I am very excited to see everyone. Make sure and print out the coupon below for your double games!
Details:
Saturday, April 18
doors open at 6:30- bingo at 7:30 (come early we fill up fast!)
Sierra Madre Rec Room
611 E. Sierra Madre Blvd, Sierra Madre
That's it for now! And see you at BINGO!
xo
Bingo Boy
---
Here's what's coming up in WeHo this week!
Wednesday Night- April 15th! Starring Bingo Boy & Willam Belli!
7 pm show benefiting -Mutt Match LA!
9 pm show benefiting – Susie Sunshine The Movie!
Sunday Night- April 19th! Starring Roxy Wood & Calpernia Addams!
6 pm show benefiting – JQ International!
8 pm show benefiting – The Leukemia/Lymphoma Society!
HAMBURGER MARY'S – WEST HOLLYWOOD
8288 Santa Monica Blvd- At Sweetzer. Reservations for parties of 6 or more- 323-654-3800
Full menu and bar | All ages welcome | Valet and street parking available
---
Here's what's coming up in Pasadena!
Tuesday Night- April 21st! Starring Bingo Boy & Roxy Wood!
7 pm show benefiting – Polo Pony Rescue!
EDWIN MILLS (formerly Equator)- Pasadena Ca.
22 Mills Place- in historic Mills Alley across from Burke Williams
For all reservations, please click here. Must make a reservation to attend!
Full menu and bar | All ages welcome | Pay lot and street parking available