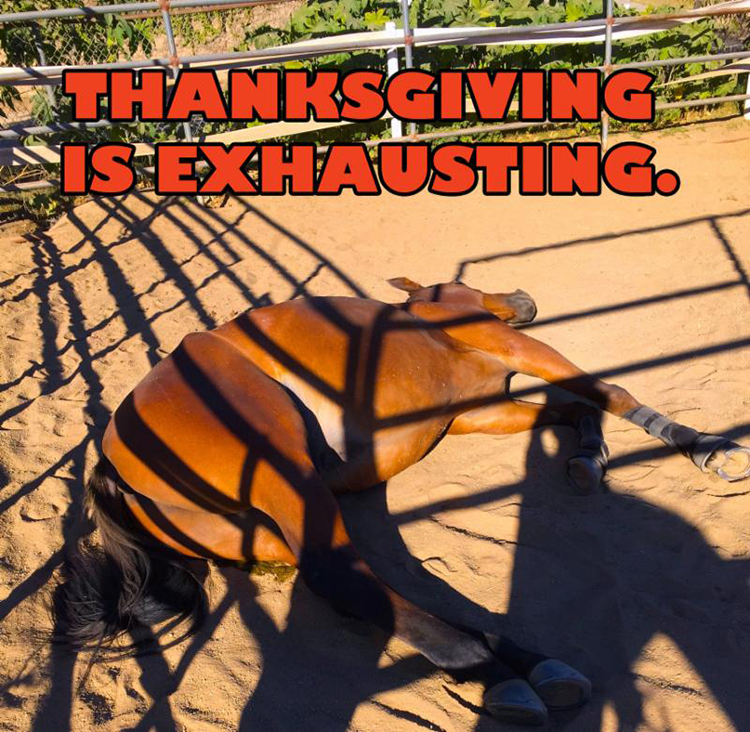 That is what I plan to do on Thursday- how about you? This week we are on a "special" Thanksgiving schedule with just one show at 7 pm this Wednesday and no bingo on Sunday.
Therefore I suggest you grab all of your out of town guests and even those who live pretty close and come to our 7 pm show on Wednesday. Historically the day before Thanksgiving show is always one of our best. I don't know why- I guess people need to blow off steam and get ready for the relatives. I know I do.
Here are some shots from this week and also some funny Thanksgiving cartoons (for some of you they are repeats- there is just so much you can find on the inter-web).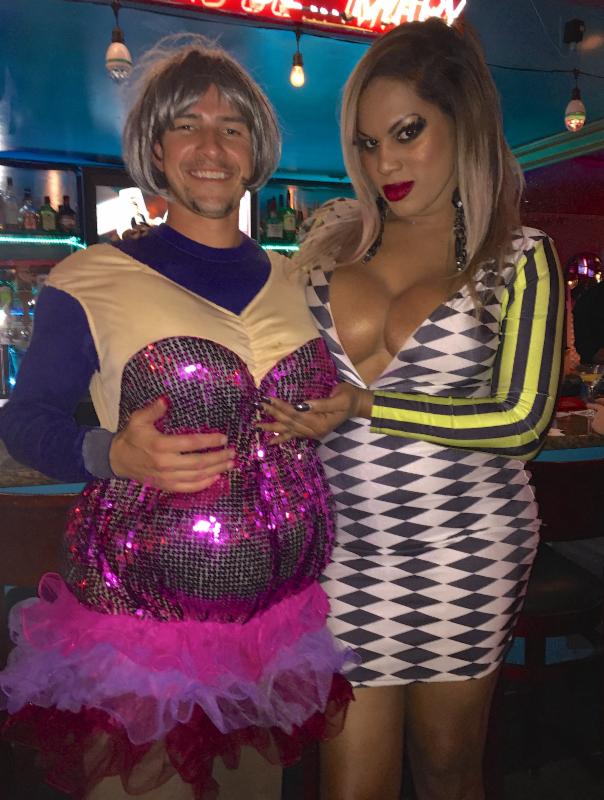 Two drag queens? Hardly. More like one and a….and a….well I don't quite know what he is. But all lives matter and if he feels good looking like Carol Channing after a really big meal, that is his right. He came to bingo like that and I actually think he's awesome for putting out the effort. And just putting out.
Speaking of putting out-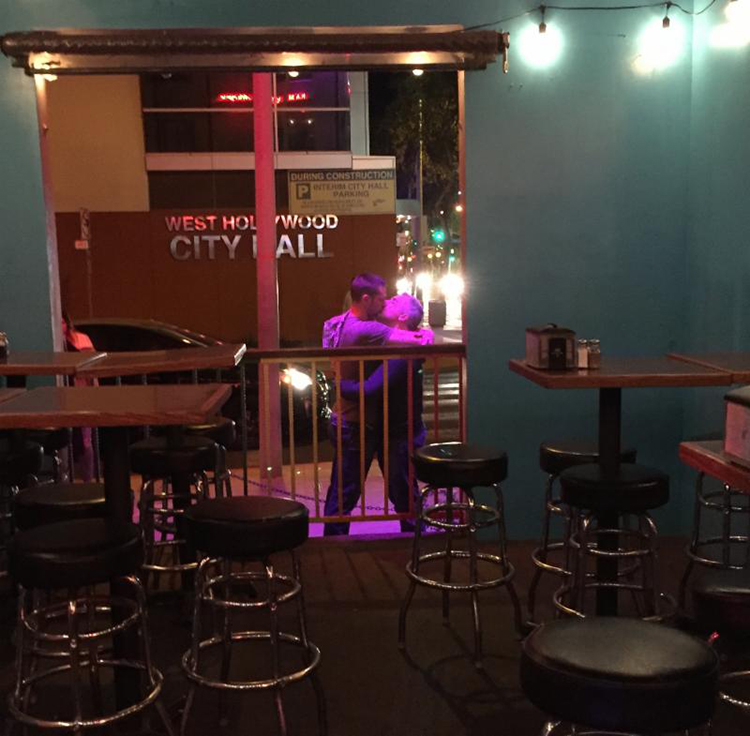 On Wednesday night I walked outside and saw this happening right outside. These guys are actually in line waiting to get in for the 2nd show. This went on for quite a while (yes, I kept looking) and then I got busy with the show. But then…..we did the show…remember now…the show is now over…and…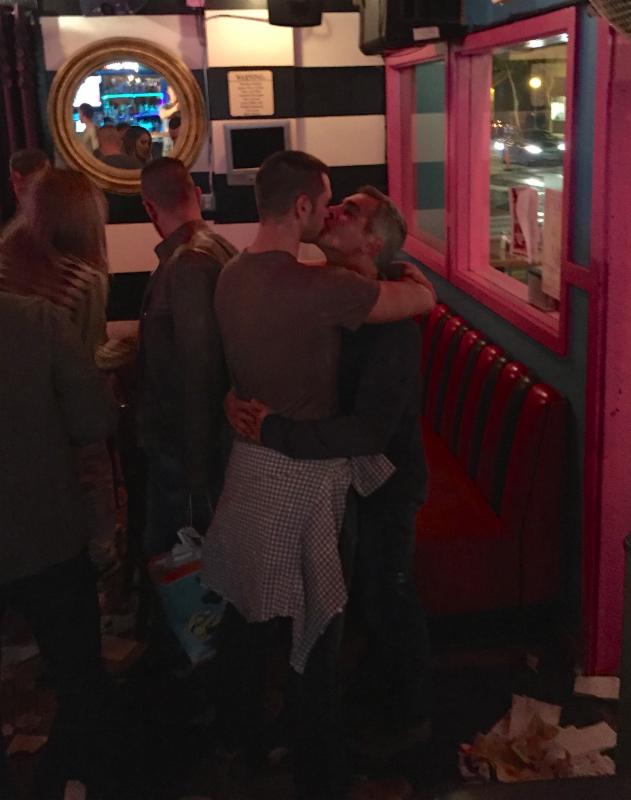 No sh*t! I looked over and there they were! Are their lips glued together? Are they passing gum back and forth? Same exact position as before! I fantasize that they just met in line and took one look and fell in love. And then they will get married and ask us to do their wedding rehearsal dinner!
Remember that we just did one for a couple who met at bingo. And since then I received an email from yet another couple who met at bingo and got married!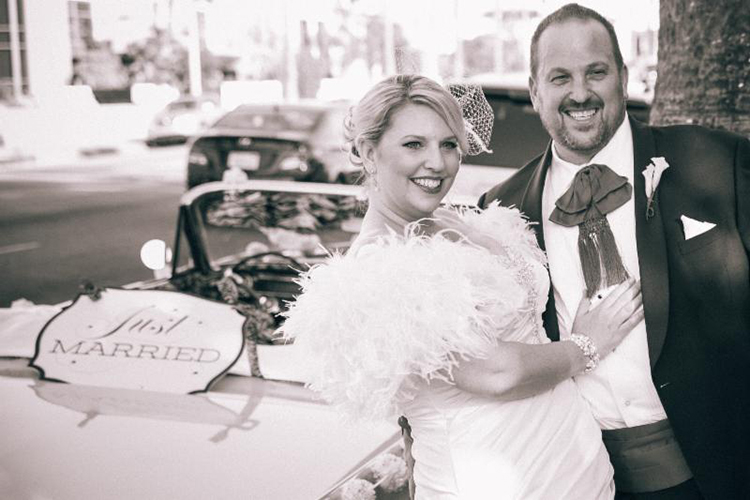 Meet Tori and Lee- another Legendary Bingo success story! Met on their first date at bingo! Maybe we should start a new bingo singles app like Grindr or Tinder. We could call it "Pelter"!
One more pic-
On Wednesday night we gave away tickets to see "Peter Pan and Tinkerbell- A Pirates Christmas" at The Pasadena Playhouse and our pal Parvesh Cheena (who plays Smee in the show) came to call a few balls.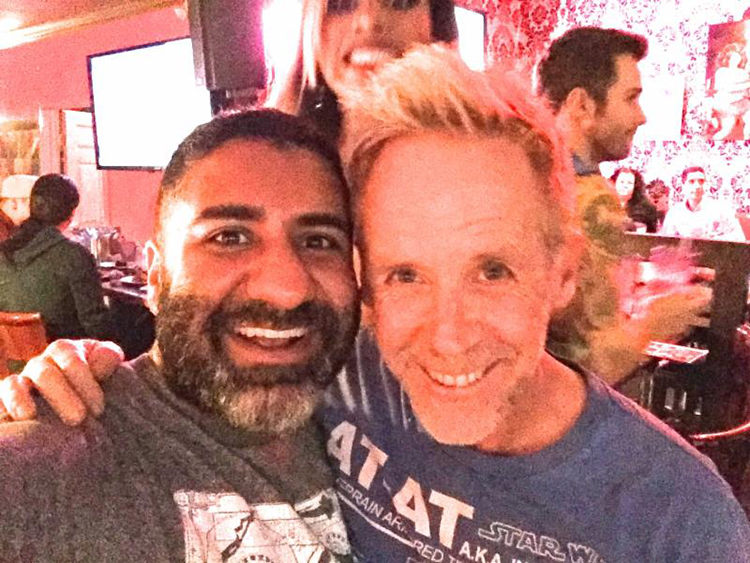 So we took a selfie and as usual my selfies suck. Looks like a film from the 70's or something. Can you see Roxy Wood photobombing behind us?
And now for Thanksgiving cheer-
HAPPY THANKSGIVING AND HOPE TO SEE YOU ON WEDNESDAY NIGHT!
And see you this week at BINGO!
xo, Bingo Boy

Here's what's coming up in WeHo this week!
Wednesday Night- November 25th Starring Bingo Boy & Roxy Wood!
7 pm show benefiting – The Leukemia/Lymphoma Society!
Sunday Night- November 29th
NO BINGO- HAPPY THANKSGIVING WEEKEND!
HAMBURGER MARY'S – WEST HOLLYWOOD
8288 Santa Monica Blvd- At Sweetzer | Reservations for parties of 3 or more- 323-654-3800
Full menu and bar | All ages welcome | Valet and street parking available