Grilled Cheese, Tarantulas, No Bingo on Sunday & More! Random Notes From This Week…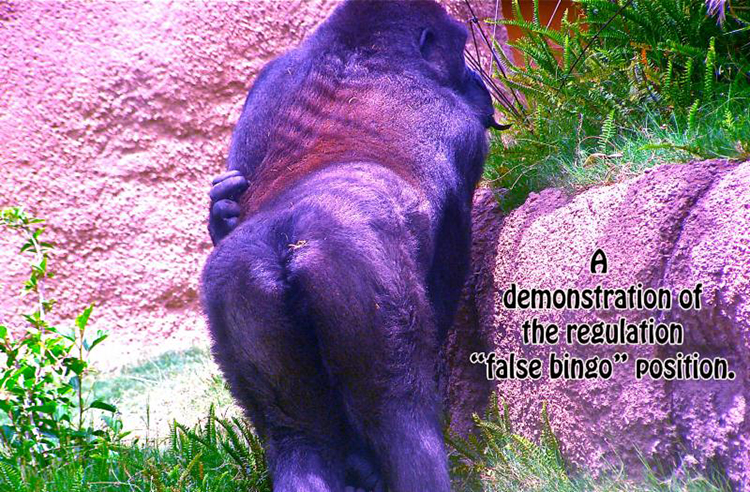 Here we go!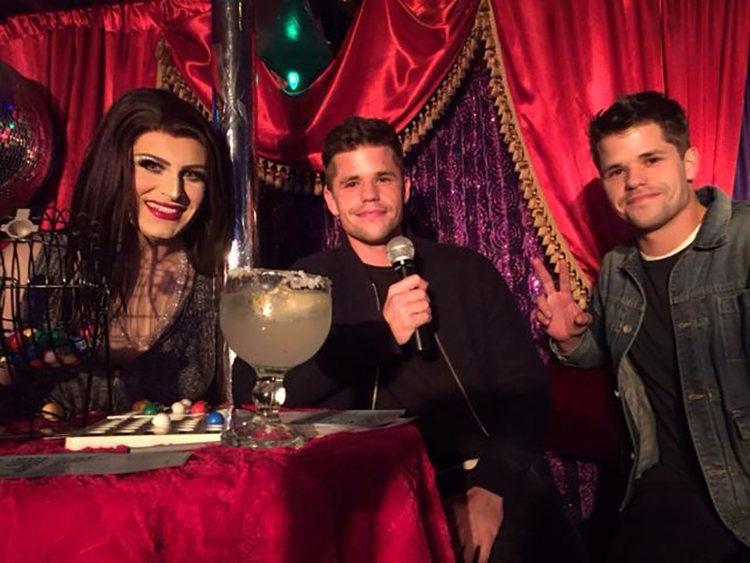 Who are those boys? Well, they are Max and Charlie Carver (don't ask me which is which- wait- jeans jacket is Charlie) from "Desperate Housewives" and "Teen Wolf" and "The Leftovers." Both boys- men- were extremely polite and great guest hosts on Sunday night. You may know that Charlie just came out publicly and we applaud him for that. Bingo Hostess Porsha Hayy was also a delight and the night was, once again, sold out for both shows!
On Monday night, Roxy and Bingo Boy got in the Bingo-mobile and ventured out to Ontario for a night of bingo at "the Hamburger Mary's which is not the one in West Hollywood or Long Beach."
As usual we had a great time and Roxy got to try a brand new item on their menu- a grilled cheese sandwich served with tomato soup! Just like when you were a kid and were sick and stayed home from school and mom would make that for you and you would eat on a t.v. tray and watch cartoons!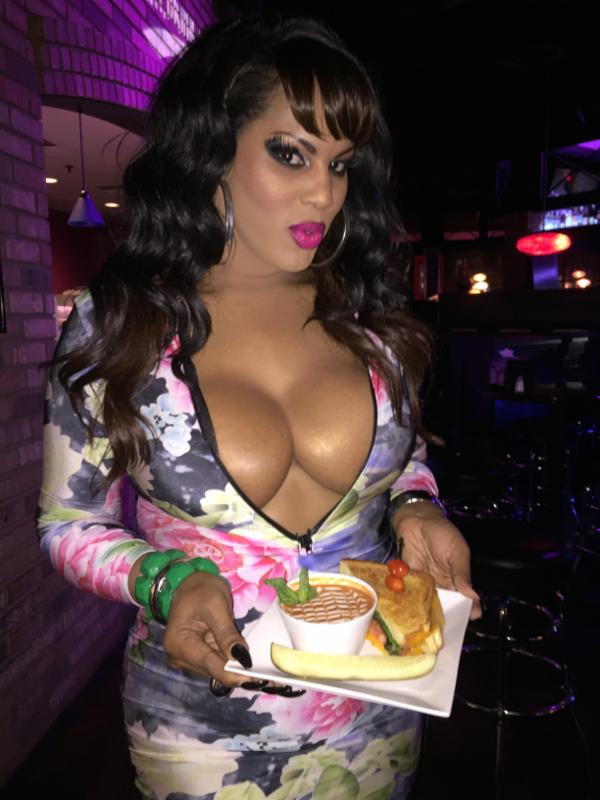 Mom never looked like that. Here is a close up of the sandwich in case you were too distracted to see it…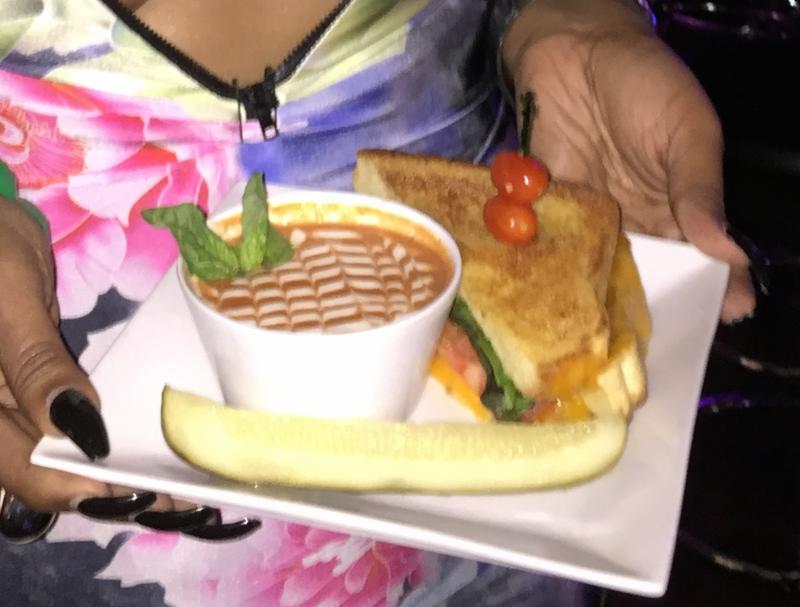 According to Roxy, it was delicious and she yearned for an episode or two of "Gemma & The Holograms."
Our charity was The Orange County Reptile Rescue and they were kind enough to bring assorted reptiles and things to share with the rest of the class! Like "Bingo Show & Tell" or something!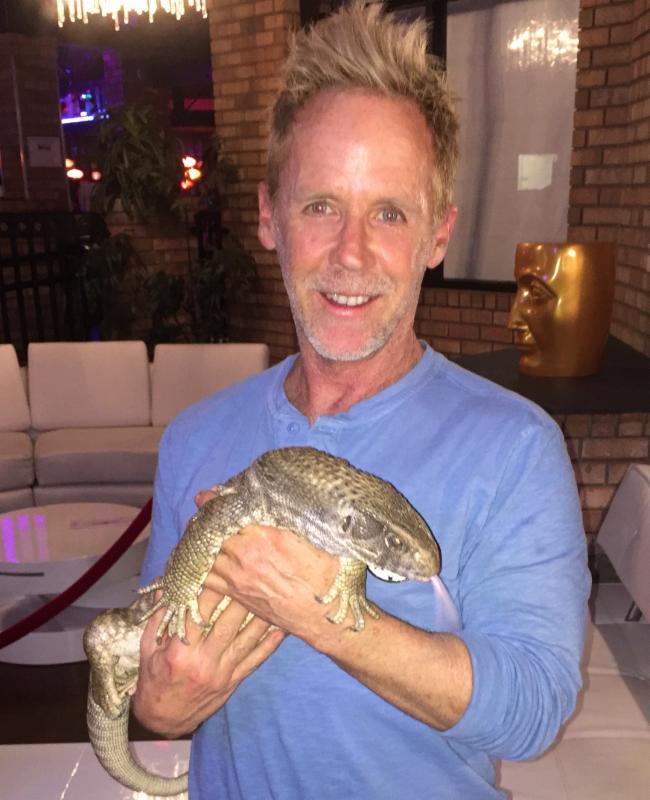 In this photo I am holding a Savannah Monitor (native of Africa). He is about two feet long including his tail and very docile and calm. He did grab on to my arm as they were taking him back (I had a relationship like that once) and I got a few scratches that drew blood but I did not turn into a lizard man as I feared (and sort of hoped).
And then this happened-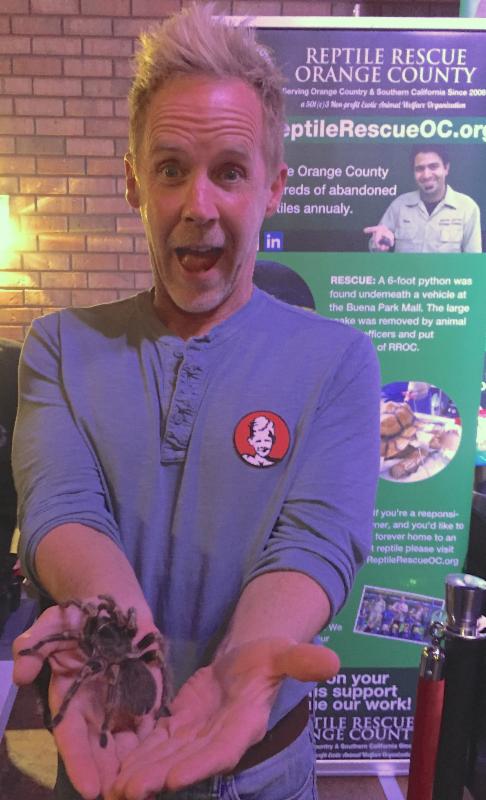 Folks, this is the very first time in my life that I have ever intentionally held a tarantula. And it was amazing. This guy crawled up my arm and I didn't cry or scream or anything! Actually it was a wonderful experience and I recommend it to all. Very spiritual in fact. Want to see the spider up close?
Hello? Hello? Anyone still there? Fun fact, the biggest predators of tarantulas are wasps and humans!
We were in Pasadena on Tuesday night and I did not take any photos so instead here is a photo of the Sierra Madre Rose Float from this past New Years day parade.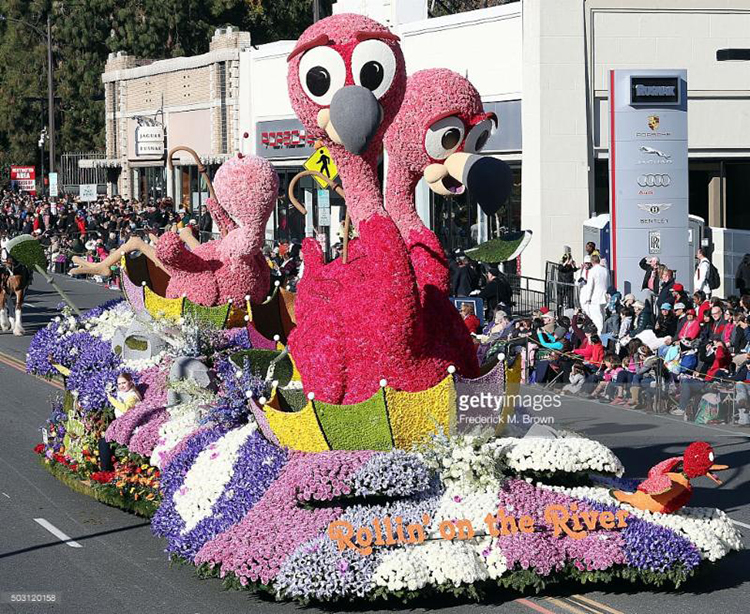 The float won the "Animation Award" and we are very proud to be part of the fundraising that goes in to build each float for the past ten years.
NO BINGO ON SUNDAY NIGHT!
We have tried to compete with The Super Bowl but it is just too…."super" and we are going to take the night off and play with our tarantulas.
But join us on Wednesday night for two shows and so…much…fun!
And see you this week at BINGO!
xo Bingo Boy
---
EXCLUSIVELY FROM BINGO BOY INC!
"DRAG QUEEN BINGO: THE HOME GAME!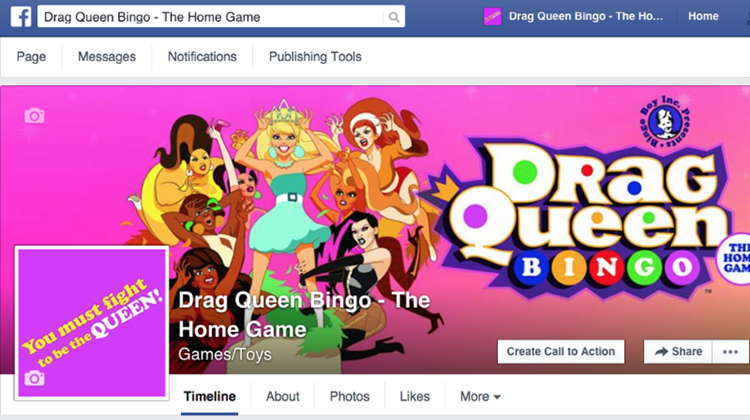 Coming this spring from Bingo Boy Inc- "Drag Queen Bingo: The Home Game! Here is your chance to re-live the magic of drag queen bingo with your friends and family! At your house!
"Drag Queen Bingo: The Home Game" is much more than bingo. It's a fight for the title "Miss Bingo Queen Of The Universe"! Each player is a unique drag queen character vying against others to win the most amount of money in five games of bingo. A roll of the dice can make a difference between winning and losing. Draw one of the "tip" cards and you may become rich! Draw a "sabotage" card and keep your competitor from calling "bingo!"
Please click on the photo and visit our new Facebook page and "like" us for updates and special offers!
With "Drag Queen Bingo: The Home Game" YOU MUST FIGHT TO BE THE QUEEN!
---

Here's what's coming up in WeHo this week!
Wednesday Night- February 3rd
Starring Bingo Boy & Roxy Wood!
7 pm show benefiting – Walter Reed Middle School!
9 pm show benefiting – Water Buffalo Club- LA Marathon Team!
Sunday Night- February 7th
NO BINGO DUE TO SUPER BOWL!
HAMBURGER MARY'S – WEST HOLLYWOOD
8288 Santa Monica Blvd- At Sweetzer | Reservations for parties of 3 or more- 323-654-3800
Full menu and bar | All ages welcome | Valet and street parking available