Halloween Costumes, Ed Asner, Hot Pasta & More!
And don't kill me, but I am not a fan. Never have been. I don't like dressing up in costumes and prefer not to mingle with drunk people who are in costume (they often smell).
Years ago, we used to have great costume contests at our annual "Halloween Bingo" nights. But in the last five years the "wearing a costume" rate has dropped faster than Jared from Subway's pants (and popularity). So this year we will not do a costume contest at our annual "Halloween Bingo" but I will offer a free extra grand prize card to anyone wearing a Halloween costume. See I am not a Grinch (and will not dress like one).
I searched back in the photo archives to find great Halloween costumes from our past events and could not really find any worth mentioning so I went online to find some that I thought were very funny. I will share them with you now!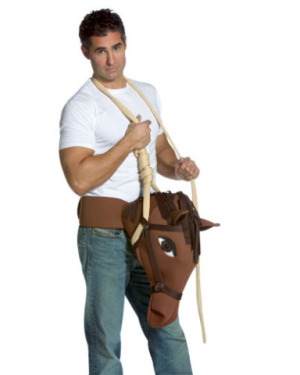 You know how much I love horses. And this guy is a stud. Get it?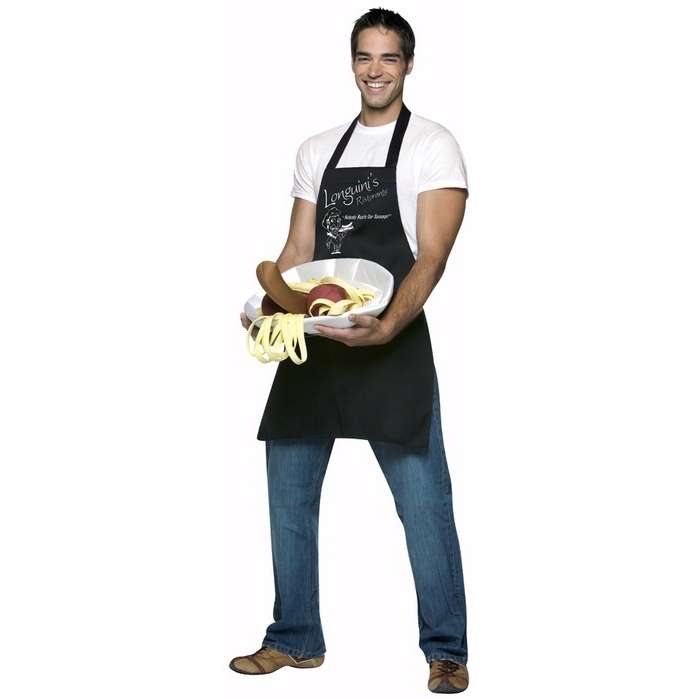 And who doesn't like a steaming hot bowl of pasta?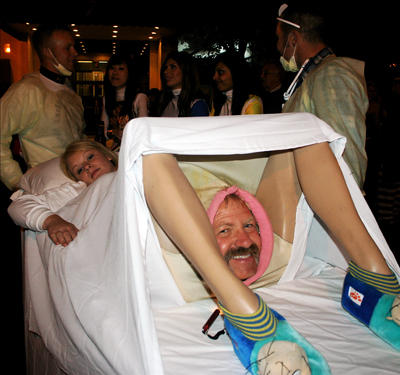 Okay- cool costume but I am not sure that I want to be either of these people. What if she has to pee? What if he has to pee? What if she farts? What if he sneezes? All of those things run through my mind.
The following are not really costumes but could be considered if you are stuck for ideas-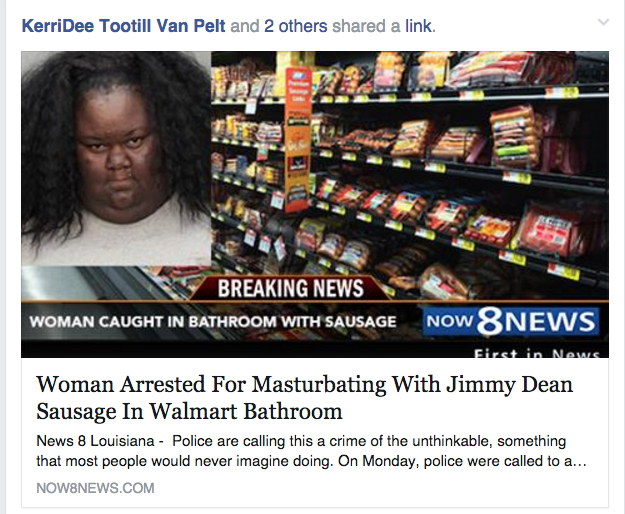 Think of the conversation starters! "What are you supposed to be?" "I am the lady who got caught masturbating with a Jimmy Dean sausage at Walmart!" Just the fact that you said masturbating, Jimmy Dean and Walmart in one sentence makes you a rock star in my book.
Maybe you are like me and would prefer to just wear a clever t-shirt as your costume…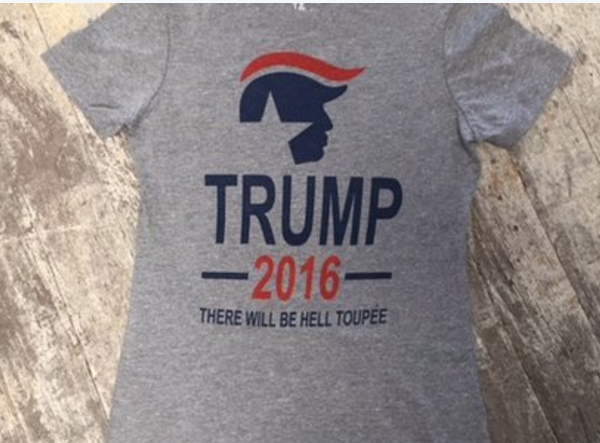 Believe it or not this was tweeted from Trump's own Twitter account so I can't tell if it is for or against him. His own people probably wonder the same thing. I mean, if they are for or against him.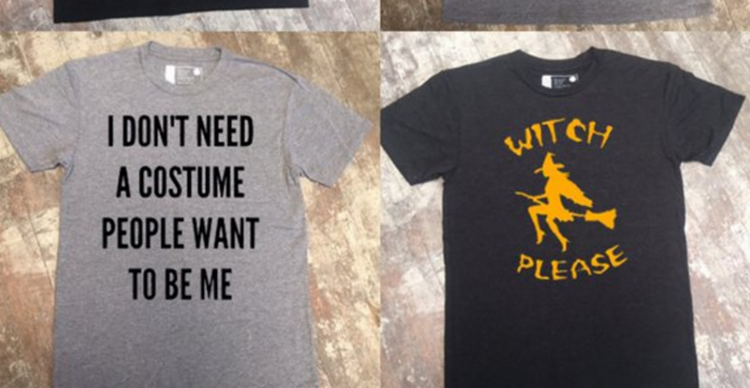 Simple and understated. And I agree.
And finally this costume-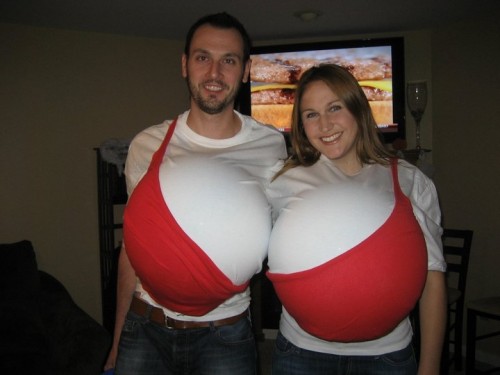 Which Roxy already has…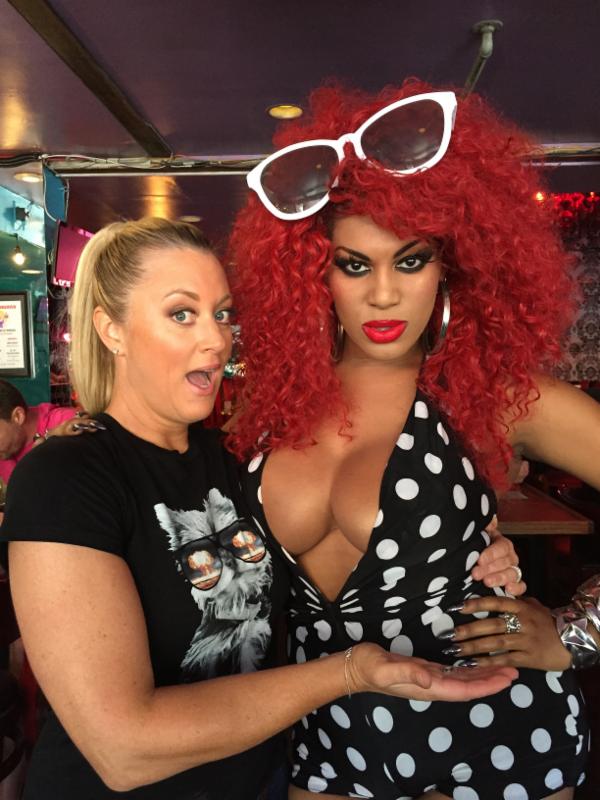 …and Heidi Hamilton approves.
And then there was the one year a couple of people came as Valerie Harper, Anne-Marie Johnson and Ed Asner…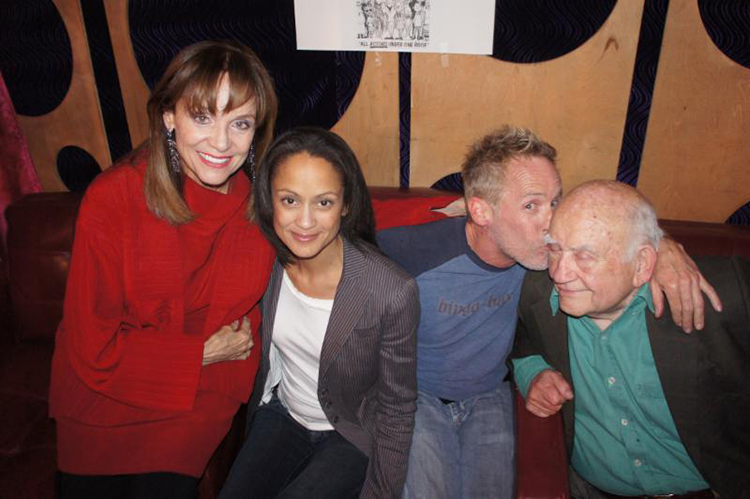 Sorry- I just love that photo. I kissed Ed Asner and he liked it.
NO BINGO THIS SUNDAY!
We'll let you recover from Halloween, okay? But you can join us this Wednesday night- there will be candy! Happy Halloween y'all from Bingo Boy & The Legendary Bingo Hostesses!
And see you this week at BINGO!
xo, Bingo Boy
---


Here's what's coming up in WeHo this week!
Wednesday Night- October 28th
Starring Bingo Boy & Calpernia Addams!
7 pm show benefiting – Bark Avenue Foundation!
9 pm show benefiting – GLASA Softball!
Sunday Night- November 1st
NO BINGO TONIGHT!
HAPPY HALLOWEEN!
HAMBURGER MARY'S – WEST HOLLYWOOD
8288 Santa Monica Blvd- At Sweetzer  |  reservations for parties of 3 or more- 323-654-3800
Full menu and bar | All ages welcome | Valet and street parking available
---


Here's what's coming up in Ontario!
Monday Night- November 16th
Starring Bingo Boy & Roxy Wood!
7 pm show benefiting – Canine Angels!
HAMBURGER MARY'S – ONTARIO
3550 Porsche Way- just off of the 10 fwy.  |  reservations for parties of 2 or more- 909-944-9400
Full menu and bar | All ages welcome | Huge parking lot available