Happy 18th Anniversary!
Yes it is true. 18 years ago in April of 1998 I stood at the counter of a little coffeehouse called Stonewall and rolled little balls in a cage for the first time. Who would have ever thought that all of this time later I would be using the same balls! Okay- not really- those old balls wore out years ago and I got new ones- about 100 times I got new ones (they are pretty cheap).
Honestly I had no idea and no plans for all of this. Just thought we would do this for a couple of months and move on. But it kept growing and going…and going and going. So thank you to those of you who are new "Bingo Freaks" and to those of you who have stuck with us through the years (I won't call you "Old Bingo Freaks). We are truly appreciative that you have helped us raise more than 5 million dollars for local, national and international charities.
Now to address those who often say to me, Bingo Boy, "hey- you look exactly the same after all of these years!" First of all, thanks for that. And secondly, it is literally impossible that I could look exactly the same 18 years later. And I can prove it.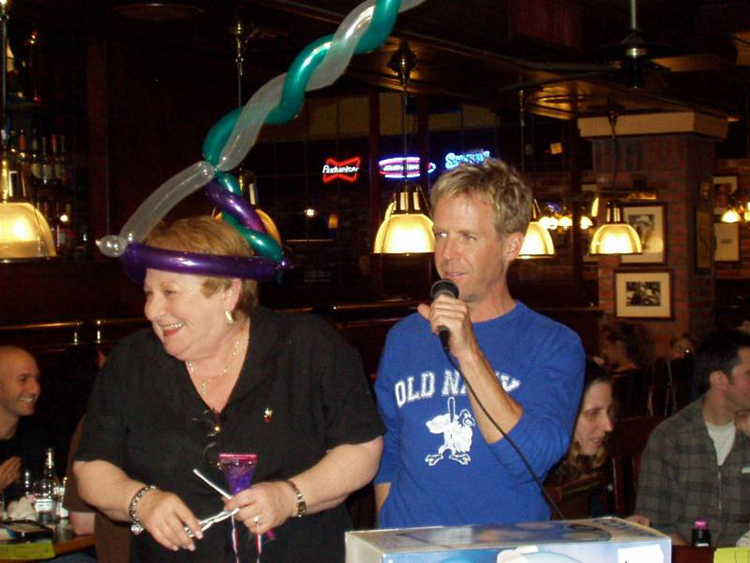 This photo goes back probably at least 16 years. As you can plainly see, I am wearing an Old Navy shirt and I would not wear a shirt like that anymore. I wear completely different shirts now. And I am now against balloon animals as headpieces.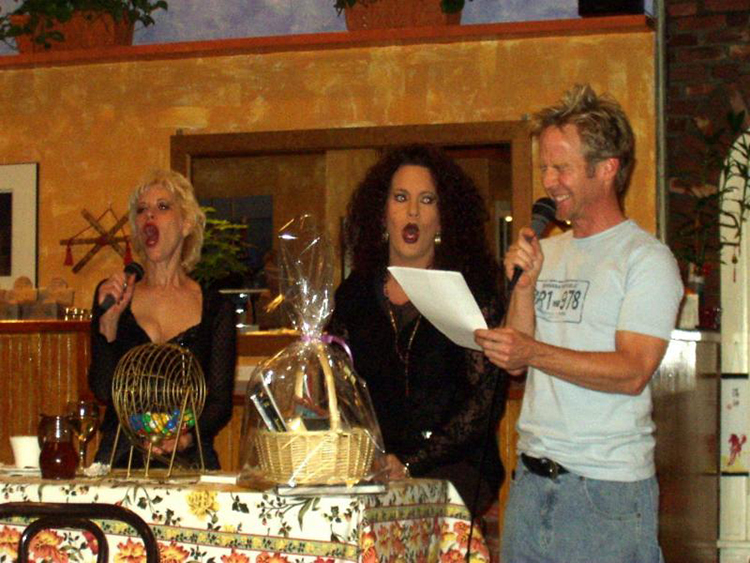 Again, this photo is at least 16 years old. That's actress/songstress Ellen Greene and one of my first bingo hostesses The Fabulous Belle Aire. Check out my jeans. Baggy much? I think these are actually mom jeans that I got on sale at Ross Dress For Less. I now wear authentic Levi jeans. And I do not know why we are all making that face. Maybe I just farted. I do not do that anymore either.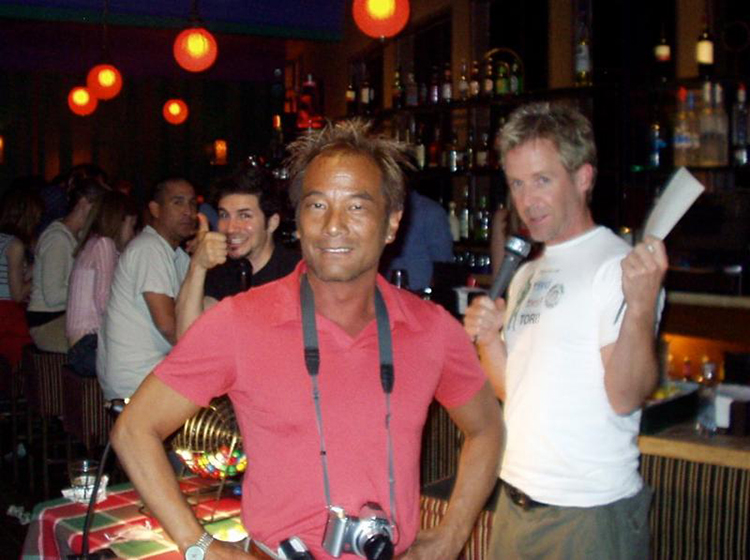 I have no idea where this was taken. All I know is that Hal Sparks photobombed us. The man in the front is photographer Gil Kaan and I am clearly wearing khakis. Once again, I do not wear khakis anymore but have nothing against someone else who chooses to wear them. Except if they wear them with a "wife beater" and then I would object unless they also had really cool tattoos.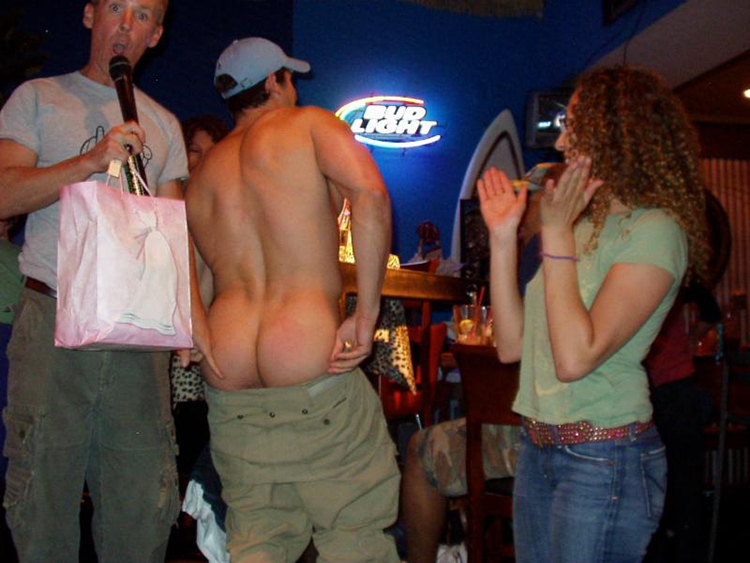 Again, the one thing that sticks out in this photo is the khakis! And the shirt (it's sign language for "f*ck you")- I bought it in New York when I was doing a show (that I wrote). Tina Yothers of "Family Ties" was with me and she later bought one for her husband but made it clear that the one she bought for her husband was "adult sized." That was a joke about my stature I believe.
So now you can clearly see how much I have changed over the years! But just to compare- here is one of the most recent photos taken of me-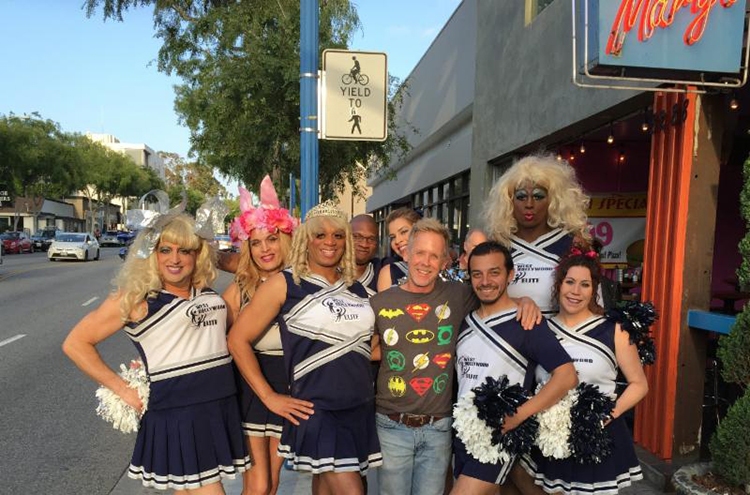 And someday I will look back and say "I can't believe I wore clothes like that!"
As far as a celebration, I am holding off so that we can celebrate the 18 year anniversary along with the launch party for "Drag Queen Bingo: The Home Game." It will be at Hustler Hollywood and of course you will all be invited.
Thank you once again for the most incredible 18 years spent laughing and yelling and pelting and "O-69-ing." I look forward to the next 18 years even if my balls become very old and we cannot see the numbers anymore.
ONTARIO BINGO TONIGHT POSTPONED!
Due to a situation with our charity, we will not be in Ontario tonight. But stay tuned for upcoming dates. We will miss you Ontario-ites!
WILLAM IS BACK AT BINGO!
It's his first an only appearance this month so come out on Wednesday night and say hi to Willam Belli and ask to take a a photo- he loves it!
UPDATE: DQB The Home Game is on the way to America! Two more weeks and you will be able to play with us in your own home without paying our expensive "private party rates"!
And see you this week at BINGO!
xo – Bingo Boy
---

Here's what's coming up in WeHo this week!
Wednesday Night- April 27th
Starring Bingo Boy & Willam Belli!
7 pm show benefiting – The Bark Avenue Foundation!
9 pm show benefiting – The Leukemia/Lymphoma Society!
Sunday Night- May 1st
Starring Roxy Wood & Joel "69"!
6 pm show benefiting -Yorkie Rescue of America!
8 pm show benefiting – BuildOn: Team Viva La Educacion!
HAMBURGER MARY'S – WEST HOLLYWOOD
8288 Santa Monica Blvd- At Sweetzer | Reservations for parties of 3 or more- 323-654-3800
Full menu and bar | All ages welcome | Valet and street parking available

Here's what's coming up in Ontario in April!
Monday Night- April 25th
Starring Bingo Boy & Roxy Wood!
CANCELLED! WELL, POSTPONED…
HAMBURGER MARY'S – ONTARIO
3550 Porsche Way- just off of the 10 fwy. | Reservations for parties of 2 or more- 909-944-9400
Full menu and bar | All ages welcome | Huge parking lot available