I am sending this on actual Halloween which I find exciting. Also exciting is the fact that I do not have to dress up!
Weird thing- you know how Facebook sends you those "happy anniversary" for you and whichever friend they randomly choose? Well I got this one yesterday-
Here's why it's weird. It is from 2015, two years ago and the email talks about Halloween and Ed Asner (and pasta for some reason) and guess what?
Ed Asner came to bingo on Thursday night! And it's Halloween! So this email is about Halloween and Ed Asner- just like two years ago!
Well, I thought it was interesting. Anyway- Ed Asner squished my face and I loved it.
I posted on Twitter "Ed Asner squished my face. Mark that off of my bucket list." And guess what?
Ed Asner tweeted back "mine too." Whaaaaaaat?
Well if you are looking for a scary Halloween costume, look no further-
"Dawn Of The Bingo Bitch"? "The Return of the Dead Bingo Bitch"? "Bingo Bitch-oween"? You can choose.
Here are a couple of fun costumes from Bingo halloween (or Bingoweenie) that you might enjoy-
Shart!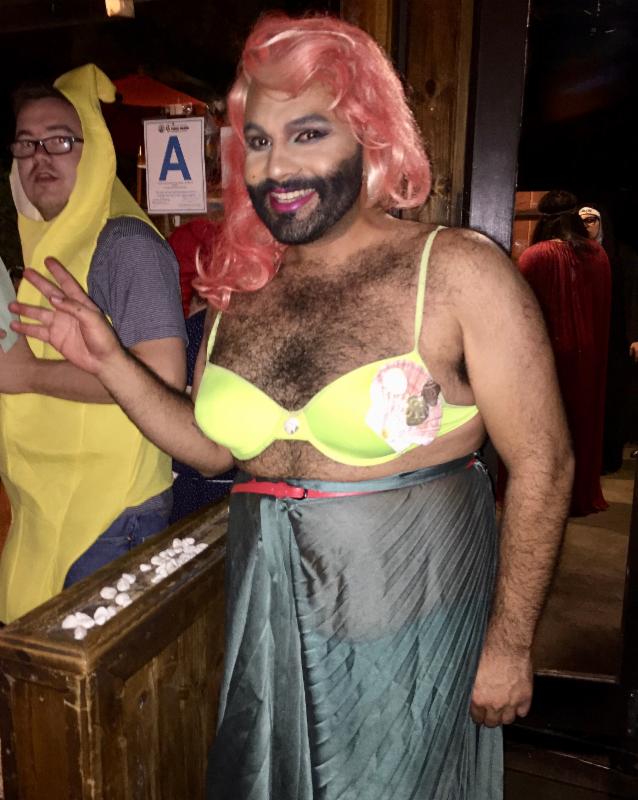 I asked this guy what his name was and he said "Ethel." Took me at least an hour before I went "Ethel MER-MAN!" Oh! I think the guy in the banana suit behind him find this merman appealing. Get it? A PEEL ing?
Guess what this one is-
Did you figure it out? She's a Photo bomber!
ONLY ONE SHOW 
THIS WEDNESDAY NIGHT!
7 pm only. No 9 pm show. Day after Halloween- you get it.
Don't forget to print out your DOUBLE GAME COUPON below!
And see you this week at BINGO!
xo
Bingo Boy
Here's what's coming up in WeHo this week!
Wednesday Night- November 1st-

ONLY ONE SHOW TONIGHT!
Starring BINGO BOY & ROXY WOOD!
Thursday Night- November 2nd-
Starring ROXY WOOD!
Sunday Night- November 5th-
Starring ROXY WOOD & CALPERNIA ADDAMS!
6 pm show benefiting – 
HAMBURGER MARY'S – WEST HOLLYWOOD
8288 Santa Monica Blvd- At Sweetzer
reservations for parties of 3 or more- 323-654-3800 
Full menu and bar
All ages welcome
Valet and street parking available
DOUBLE YOUR CARDS! DOUBLE YOUR FUN!

Present this coupon at Legendary Bingo on Wednesday, Thursday and/or Sunday night and receive DOUBLE THE AMOUNT OF REGULAR BINGO CARDS & ONE EXTRA GRAND PRIZE CARD!

One coupon per person. May also show coupon on your phone.

Offer Expires: 11/05/17
BINGO BOY INC. / LEGENDARY BINGO SOCIAL SITES