Free Night Of Bingo, No Bingo on Sunday & More!
Have you finished all of your preparations for Christmas? Probably not. I haven't really even started. I have been busy coming up with fun prizes for this Wednesday's "free night of bingo" (which I believe is sold out so if you did not make a reservation- you will just have to stay home and watch "A Very Brady Christmas" or something).
This past week we completed the rest of our private party holiday gigs and now this week I am free and clear to finally give my family a little attention (trust me they get very unhappy when I ignore them).
On Friday I did a double shift. During the day, Deven Green and I ran over to the Courtyard Marriott in Monrovia and beat the bingo crap out of a bunch of corporate employees who really needed a good time. Their company makes drug testing equipment or something and when we arrived they just looked so….meh. But soon we had them throwing things at each other and booing and cursing when they lost. The company had a "crazy hat" contest and there were a few crazy hats, but none as disturbing as this one-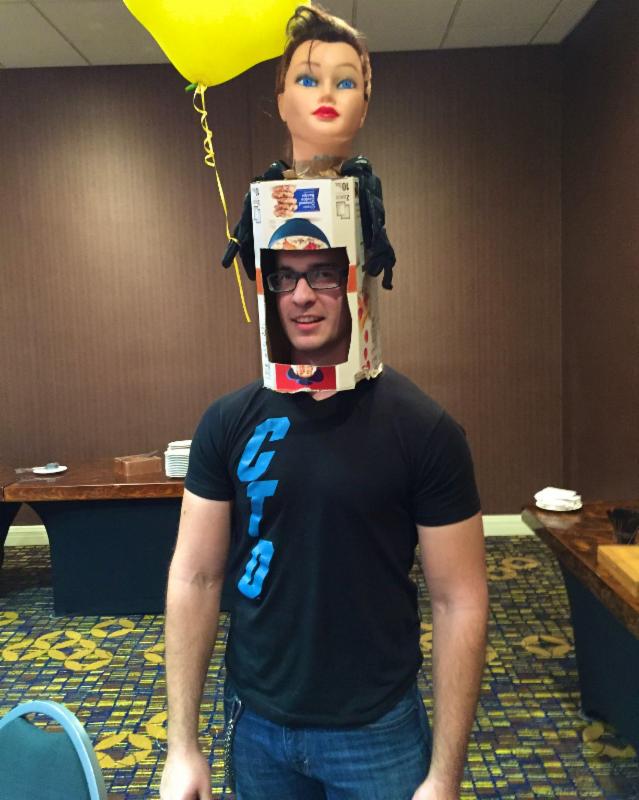 What the !@$%&? is that? This is Derek and he says his hat is named Jessica. I don't know if he won the contest because we left before they voted (on purpose) but he has some imagination. On another unrelated note, Deven and I noticed that Derek is, I believe the term is "muscle nerd." And yes, that is a search term on….line…..you know… what I mean…