ALLISON JANNEY, GLEE, HEAVY PADDLING & MORE!
Finally- We have Weather!
I love the rain. Let me clarify- I love the rain on days when we have no events. We were off on Sunday due to the Oscars (more on that in a minute) and on Monday and the rain came down! We even got a few big claps of thunder here in Pasadena!
I took the photo above on Monday morning at The Equestrian Center. Such a dramatic sky! I will admit that I embellished a bit in Photoshop but still, in person it was beautiful.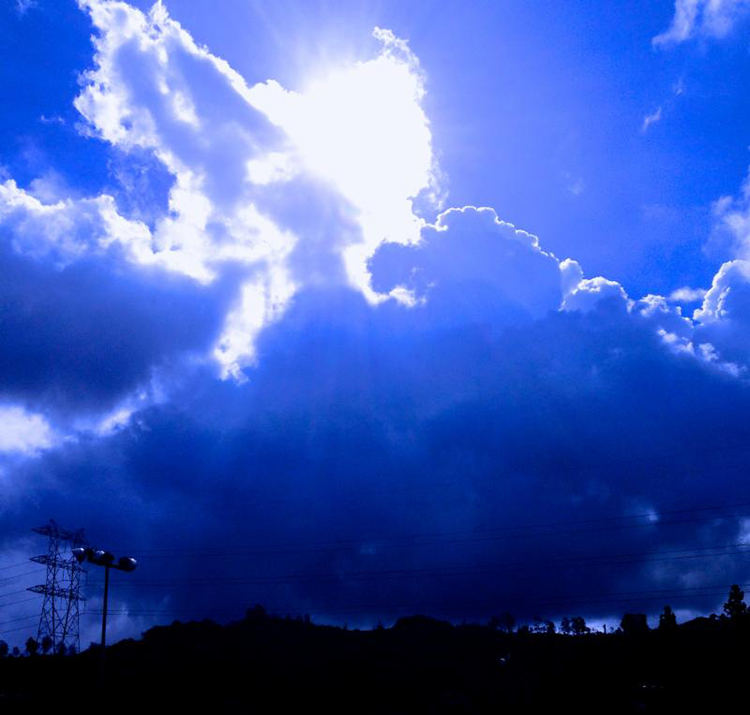 Watched the Oscars- sort of. Waited until it was an hour in and then watched on DVR so that I could fast forward through the commercials and boring parts- which turned out to be the entire show. Loved the opening number- specially since both Neil Patrick Harris and Anna Kendrick have been to Legendary Bingo.
But honestly it seemed like the entire show was a dress rehearsal. As if nothing was actually finalized and they were just trying stuff out to see if it would work. And most didn't.
I will say this- I was thrilled by the winners who brought up issues and rallied for causes (I am sure that does not surprise you). Cheers to Patricia Arquette, the writer of "The Imitation Game," John Legend and Common, Julianne Moore (my stepfather has Alzheimer's Disease and it is unspeakable), Eddie Redmayne for speaking on ALS and Sean Penn for speaking about….just kidding. That was a stupid remark even if made in jest.
All in all I missed Ellen.
But I did not miss Allison Janney because she came to bingo on Wednesday night! That's right! The star of "Mom" and "Masters Of Sex" and "Juno" and "The Help" and "The West Wing" and….well everything- came to bingo!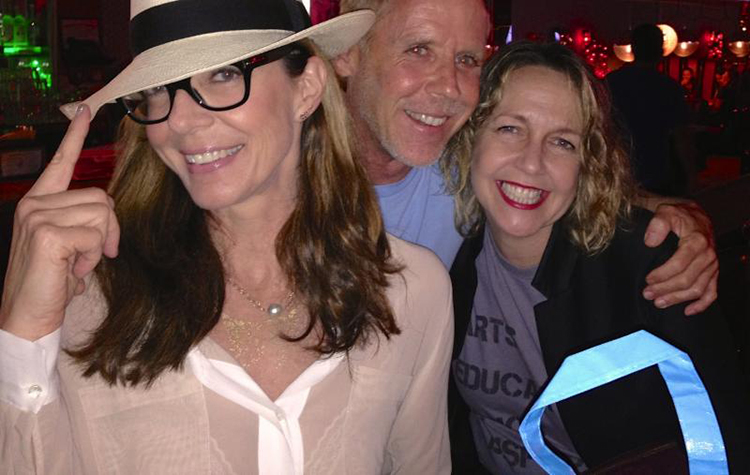 Look how much fun we are. On my right is Monica Horan who played "Amy" on "Everybody Loves Raymond" and is good friends with Allison. Monica has been to bingo before and filled Allison in on how it is done.
First step- when you get on stage with Roxy, the first thing is to notice her breasts and then say "aahhhhh!"-
Then just go crazy and don't worry about calling stupid bingo balls. Just have fun and make crazy faces!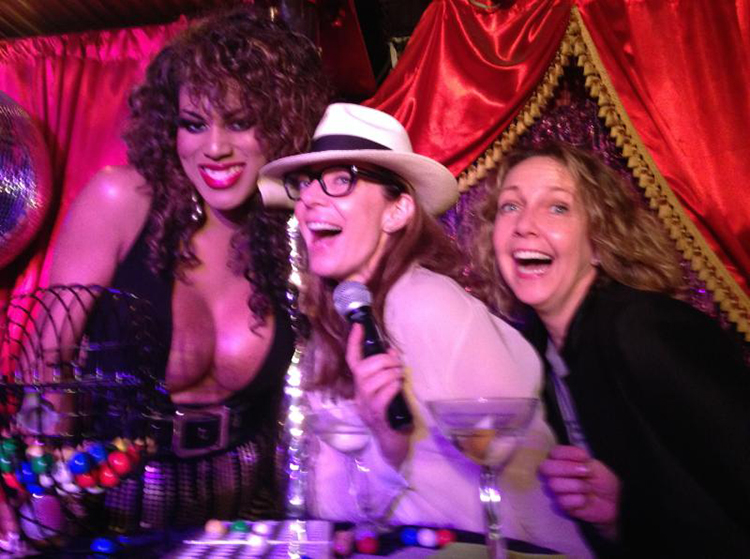 Think Allison's expression here is "I think we're in trouble."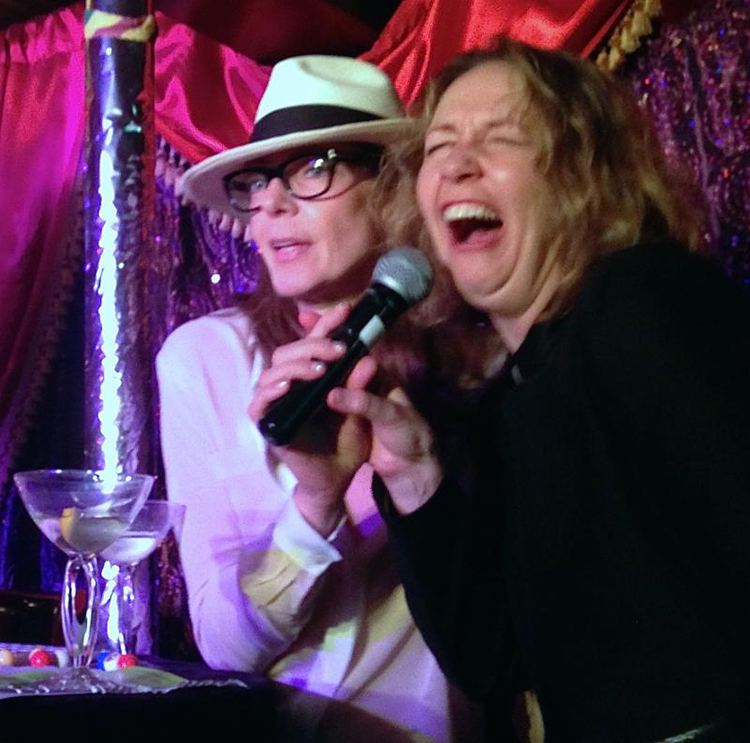 But they weren't and a good time was had by all.
Forgot to post this pic from a few weeks ago. A couple of the new stars of "Glee" came to bingo and as is their habit, were very gleeful-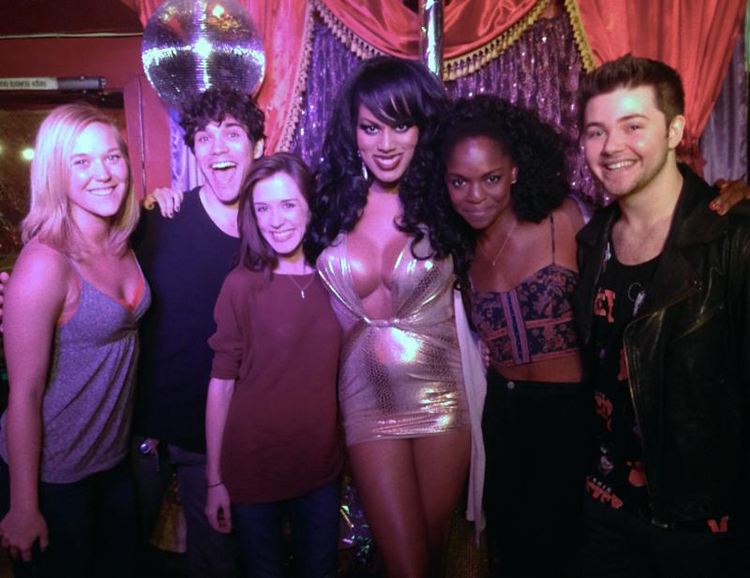 Second from left is Myko Olivier and next to Roxy is Samantha Marie Ware. The others are just nice people who are friends with celebrities and therefore have no names.
On Tuesday night Roxy and I were at Edwin Mills Restaurant (formerly known as The Equator Cafe- don't ask why) and Roxy paddled some poor schlub, causing him to go in to an undignified fit…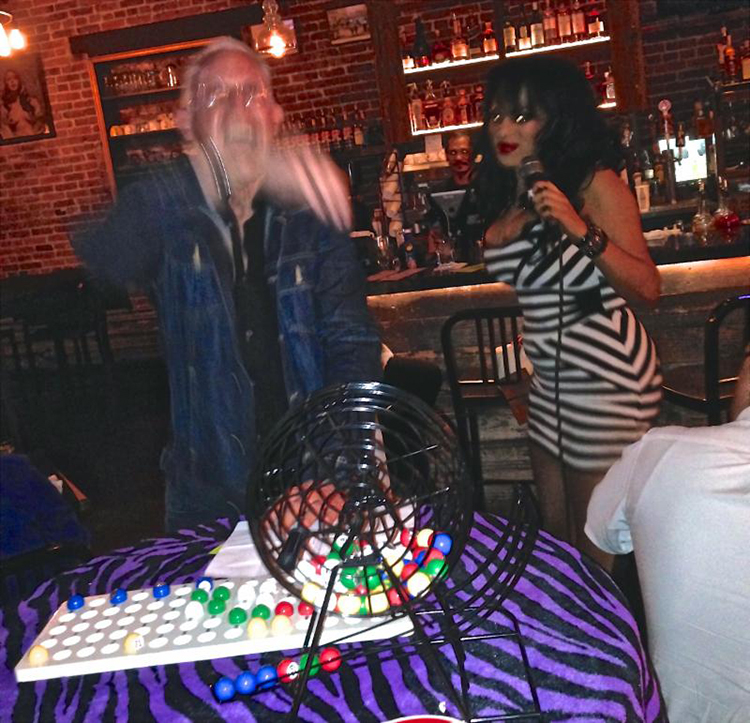 Look at Roxy's face. She is saying "I didn't even hit him that hard…!" Well, it was an Academy Award performance, sir. Well done.
This week we are back on our regular Wednesday/Sunday schedule and have , of course, a lot of fun planned. Hopefully each week you look at these photos and think "look what I missed!" That is my intention. So show up and take your own photos, dammit!
See you at bingo and…Signup for our Bingo Blabber newsletter DOUBLE GAME COUPONS!
xo
Bingo Boy

Here's what's coming up in WeHo this week!
Wednesday Night- February 24th
Starring Bingo Boy & Roxy Wood!
7 pm show benefiting –
AIDS LifeCycle!
9 pm show benefiting –
The Mighty Me Movement!
Sunday Night- March 1st
Starring Bingo Boy & Roxy Wood!
6 pm show benefiting –
The Golden Retriever Rescue of Greater LA!
8 pm show benefiting –
Time To Smile/ Holden's Hope Train!
HAMBURGER MARY'S – WEST HOLLYWOOD
8288 Santa Monica Blvd- At Sweetzer
reservations for parties of 6 or more- 323-654-3800
Full menu and bar  |  All ages welcome   |   Valet and street parking available