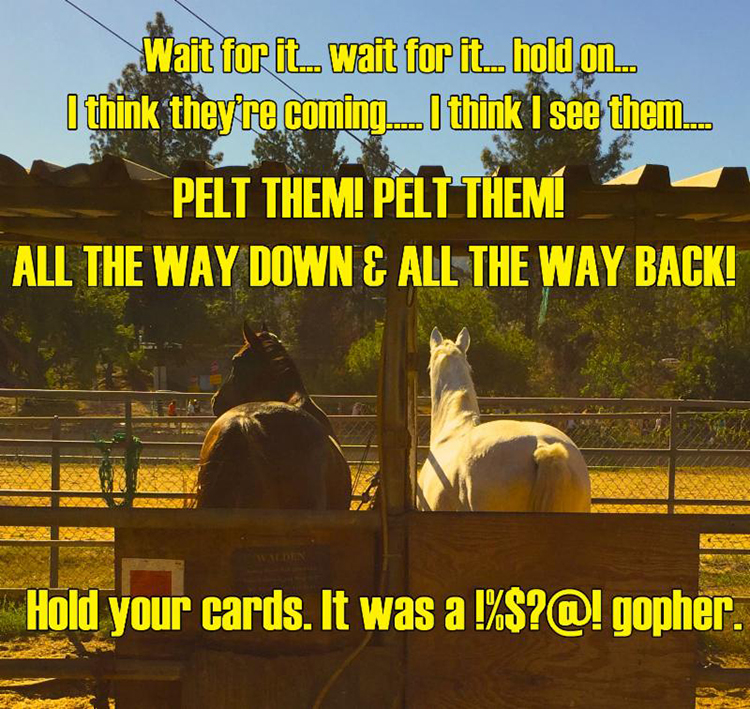 Ours was a lot of fun. Mostly because we did all of the work before Halloween night and then I stayed home and watched "The Omen." Oh, and by the way- I had one trick-or-treater. One. I had an entire bowl of delicious name brand candy and exactly one little kid in a costume showed up. I can now inform you that the "bag of crap" is going to be the "name brand bag of candy" until I get rid of all of this chocolate. PS- "The Omen" is still scary all of these years later. Bad dreams, people. Bad dreams.
Anyway on Wednesday night we had just four people show up in costumes (which is why I don't do a costume contest anymore). But they were very lively. They were dressed as The Village People but were missing the indian. When I asked where said indian was they replied "she's having a baby." Something the real Village People probably don't have to worry about.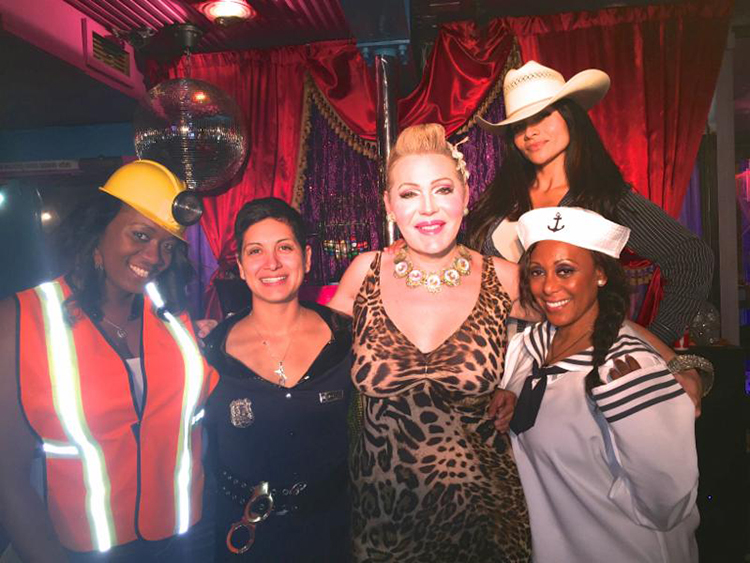 So Calpernia filled in as the…well the "East Village Person" I suppose. Like a rich lady from the East Side- get it?
On Thursday night Roxy and I traveled out to Cal Poly Pomona for a bingo party for about 300 students and one guy came dressed as Roxy's stalker (one of, I am sure).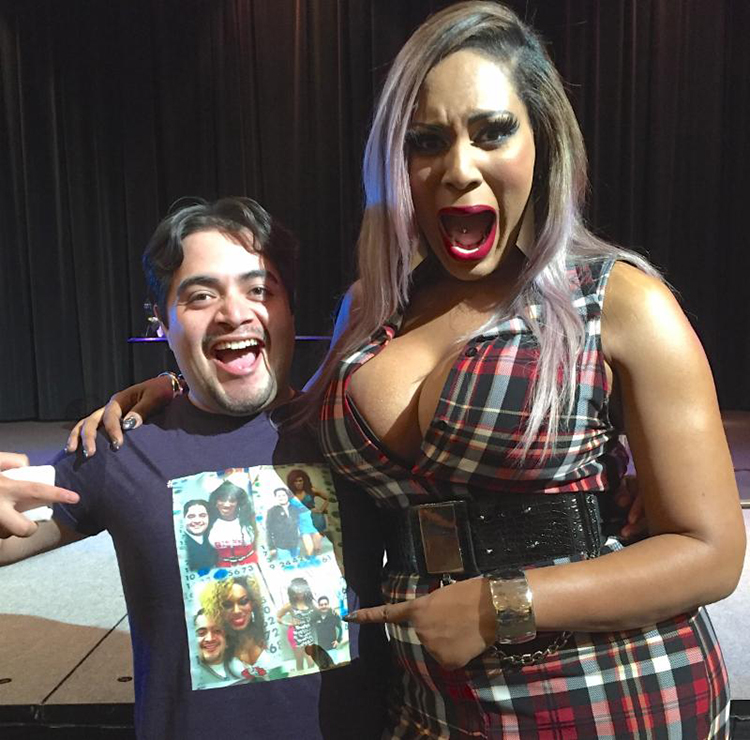 Nestor was wearing a shirt he had made with every photo that he and Roxy had taken over the years. So just think of it. Now he can make a shirt of a photo of he and Roxy posing with a shirt of he and Roxy posing. And then I suppose he can make a belt out of pieces of Roxy's weave that he probably clipped when she wasn't paying attention.
On Friday night we did a private event at Springbok restaurant in the Valley. The event benefited the San Fernando Valley Roller Derby and they all (and I mean ALL) dressed up in costume. Seriously, these chicks are crazy!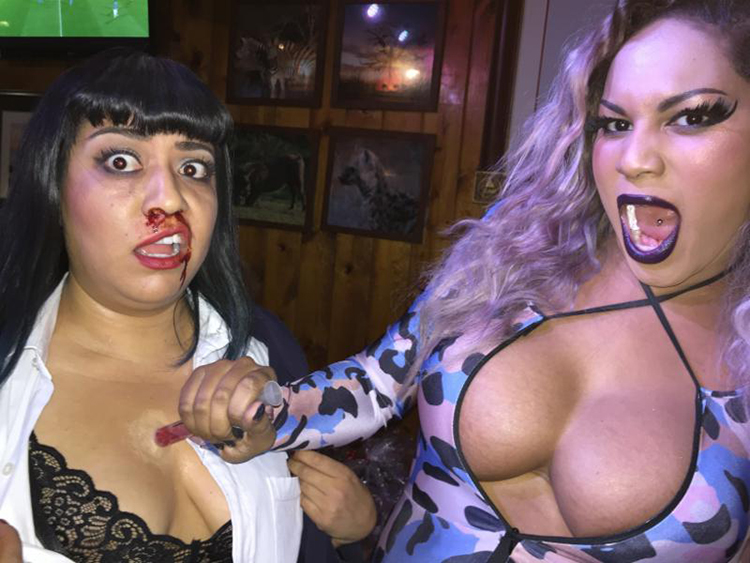 We had Uma Thurman from "Pulp Fiction." Lots of boobs here.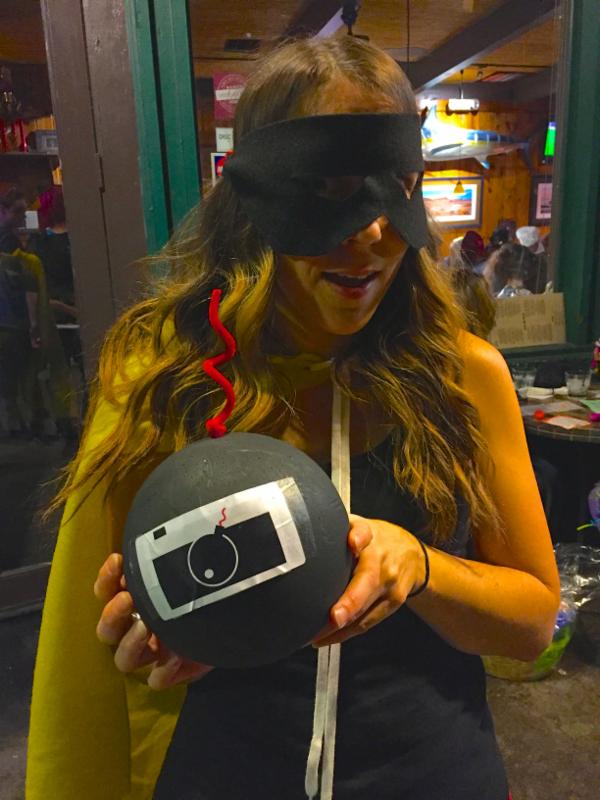 Can you guess what she is dressed as? Hint- she is a photographer. Anyone? She's a "photobomb"! I know! So very clever. The bomb reminded me of a cartoon a million years ago in mad Magazine called "Spy vs Spy." Anyone?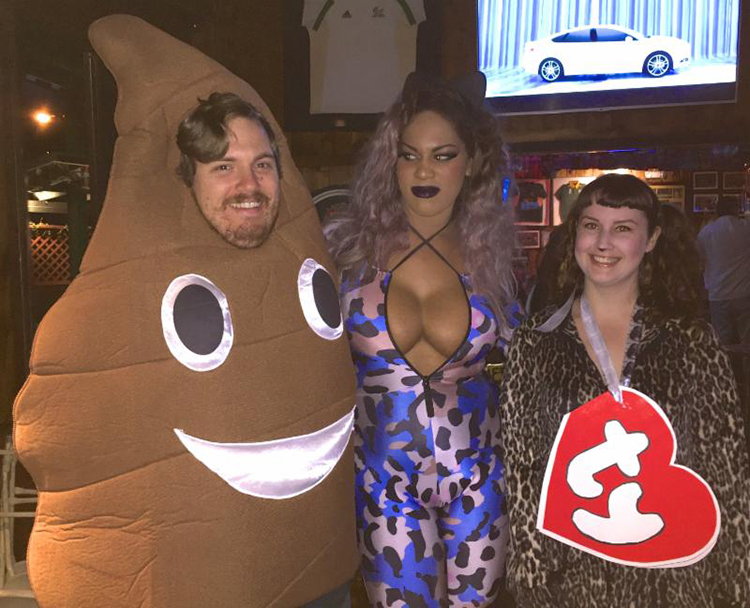 I knew the girl was dressed as a Beanie Baby but the guy? I thought maybe "Brown Gumby" or "Chocolate Foster's Freeze" but no. Then Roxy smelled something bad and I figured it out. He is poo! How he played bingo with no hands is a mystery but he didn't win any games anyway. Just crappy luck I guess.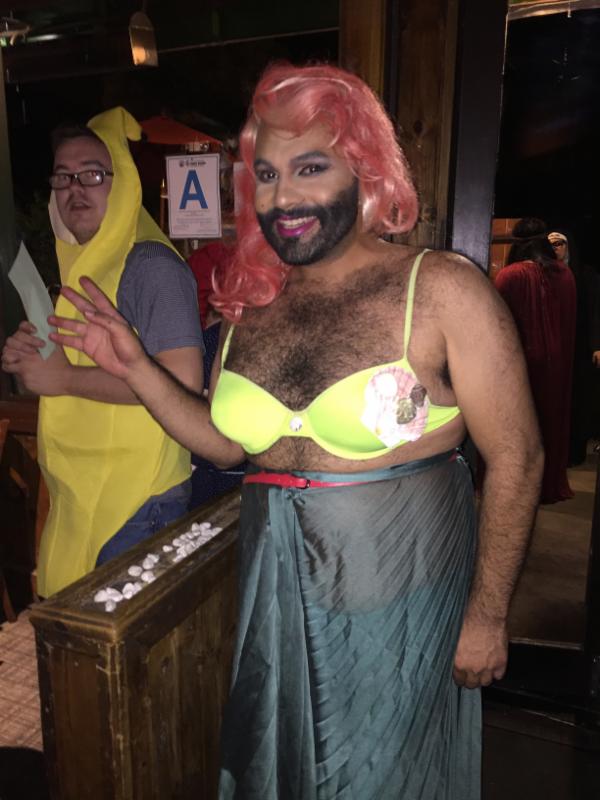 This guy was dressed as Ethel Merman's long lost son Harry. Get it? Harry Merman? Because he's a hairy merman? He did not win the costume contest. The reason for that is simple. You cannot compete against a cute kid. Ever.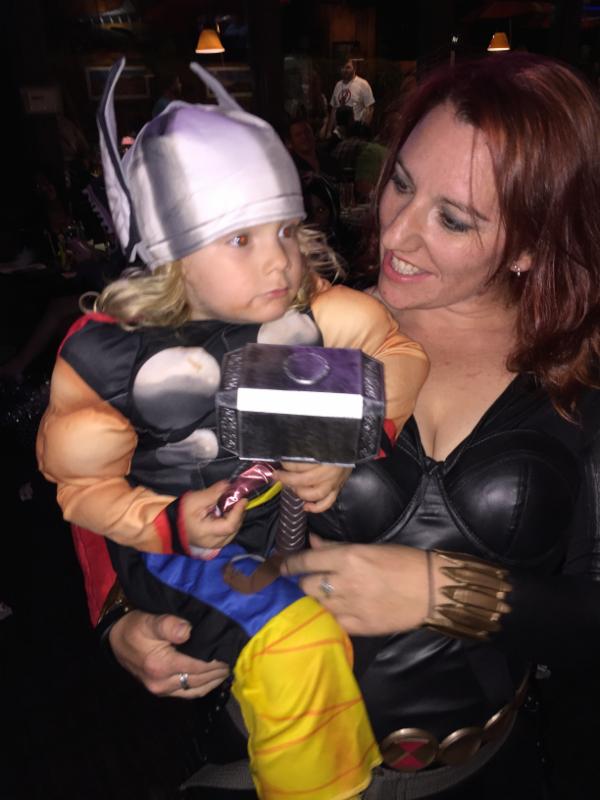 Yep. Meet Baby Thor. The winner of the costume contest. And all he had to do was show up. Kid had food all over his face and he still won.
Speaking of food, I saw this delivery truck the other day and it grossed me out. Am I the only one?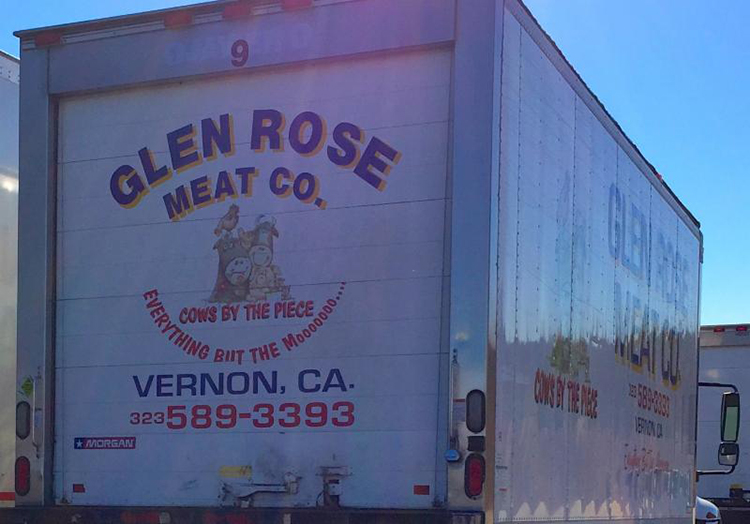 "Cows By The Piece"? "Everything But The Moo"? And then they have the balls to put an illustration of happy cows on the truck? I swear to God I am seriously thinking of becoming a vegetarian. Or at least only eating whole cows. Sorry.
On a happier note- the other day I was on my horse Buddy-boy and we did a few circles and then I backed him up a bit and then looked at the ground and what did I see?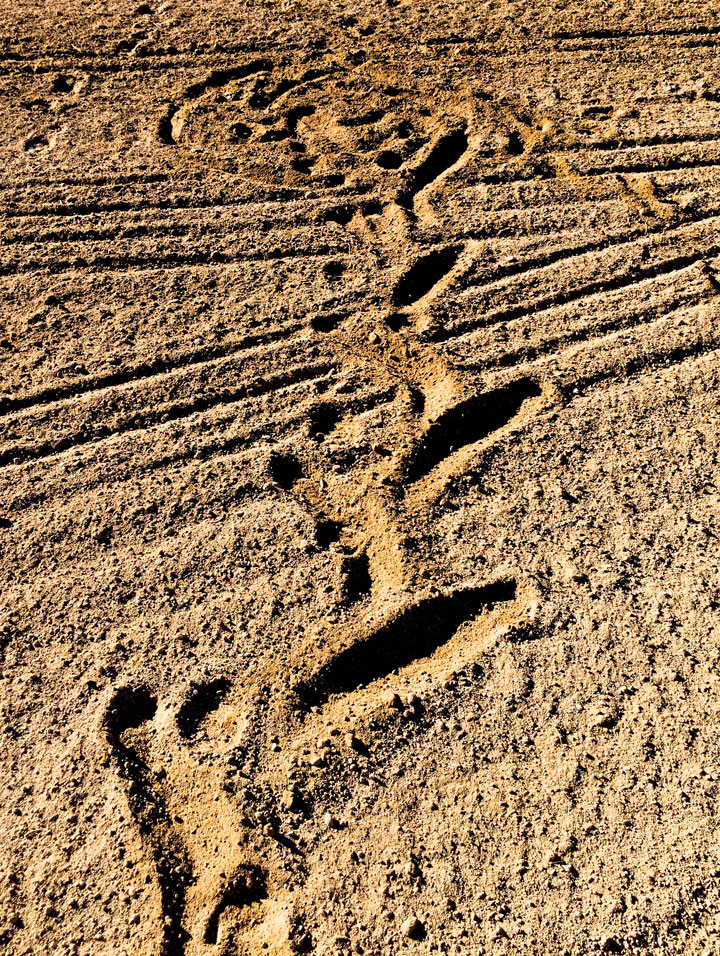 Do you see it? Buddy-boy made a flower! And he did it going backwards! Such a talented guy.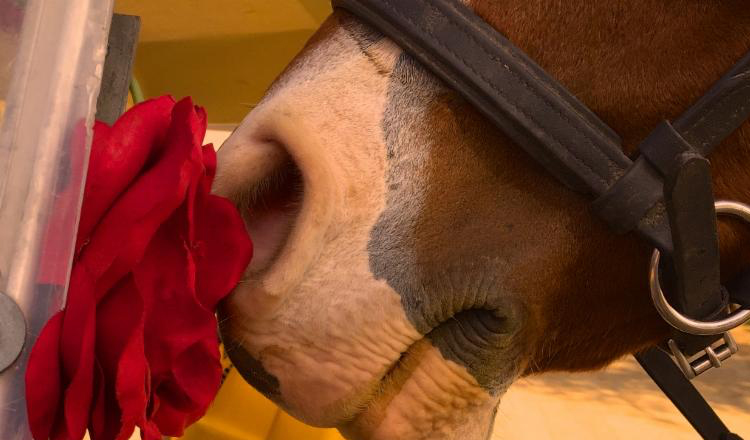 …and he does love flowers!
And that is it for another week. Hope to see you on Wednesday or Sunday and don't forget Ontario is coming soon! See below for more details!
And see you this week at BINGO!
xo, Bingo Boy
---

Here's what's coming up in WeHo this week!
Wednesday Night- November 4th
Starring Bingo Boy & Roxy Wood!
7 pm show benefiting – Reading To Kids!
9 pm show benefiting – Camp TLC!
Sunday Night- November 8th
Starring Bingo Boy & Calpernia Addams!
6 pm show benefiting – Precious Pals Pet Rescue!
8 pm show benefiting – The Leukemia/Lymphoma Society!
HAMBURGER MARY'S – WEST HOLLYWOOD
8288 Santa Monica Blvd- At Sweetzer  |  reservations for parties of 3 or more- 323-654-3800
Full menu and bar  | All ages welcome  | Valet and street parking available

Here's what's coming up in Ontario!
Monday Night- November 16th
Starring Bingo Boy & Roxy Wood!
7 pm show benefiting – Canine Angels!
HAMBURGER MARY'S – ONTARIO
3550 Porsche Way- just off of the 10 fwy. | reservations for parties of 2 or more- 909-944-9400
Full menu and bar  | All ages welcome  |  Huge parking lot available