I feel like a new dad.
…that just gave birth to eight bitchy drag queens.
Yes folks- announcing the arrival of "Drag Queen Bingo: The Home Game." After over a year of development and almost another of manufacturing, I am so very proud to present the very first board game to feature drag queens and bingo (and so many other things) for your personal use in your own personal home. At least I think it is the first- I could be wrong. But it is the best.
When I mused on the idea of a DQB home game I knew that I couldn't just give you a callback sheet, some bingo cards and a wig. We needed more. After all, what we do LIVE is best kept that way, LIVE.
DQB: The Home Game is more of an experience. Each player is playing as a drag queen character (you know them by now) and competing against others for the title of "Miss Bingo Queen of The Universe." This is achieved by having the most money or "Bingo Bucks" at the end of five games.
Each time a player rolls the dice (there are two), all who play can put a "jewel" on the space with the corresponding letter and icon (for example "B" lipstick). Then the roll goes to the next player and so on. If a player rolls "Take A Card" (which is on one of the die), the player does just that. There are "Tip" cards and there are "Sabotage" cards. You may earn yourself a buck or two or you may be able to remove a jewel from another player and play it on your own card. Sabotage! The winner of each game receives five Bingo Bucks from the bank. Oh, by the way- we did keep the "it's on!" part of the live shows. Can't live without that.
I will be selling the games at our regular Hamburger Mary events for $20.00 plus tax each or you can go to the website and purchase it for yourself or a friend!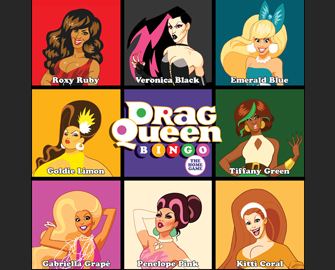 Very soon they will be available at all Hustler Store location nationwide and also at Hamburger Mary's even when I am not there. Coming soon- hopefully Amazon too.
Enough said. I truly hope you enjoy the game. I know I have enjoyed bringing it to you.
Meanwhile at our LIVE events….
We had a surprise guest at our Wednesday night show!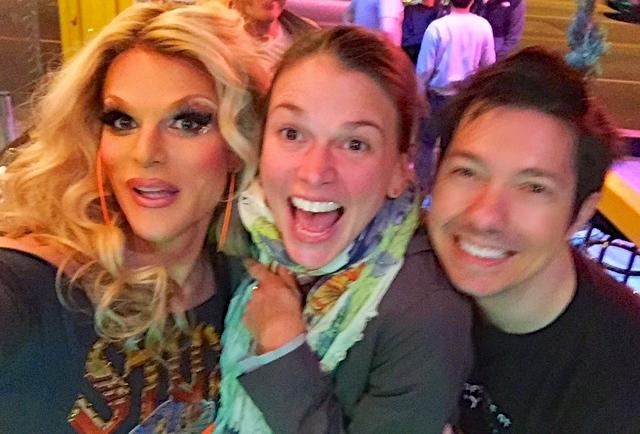 Yep- Sutton Foster! Of course she is a Broadway diva and also the star of "Younger" on TVLand! Here she is with Willam and Mary's employee Jerry. She is incredibly nice and said she had a great time.
And one more thing- our own Roxy Wood is such a celebrity herself! She is filming a movie with Matt Bomer…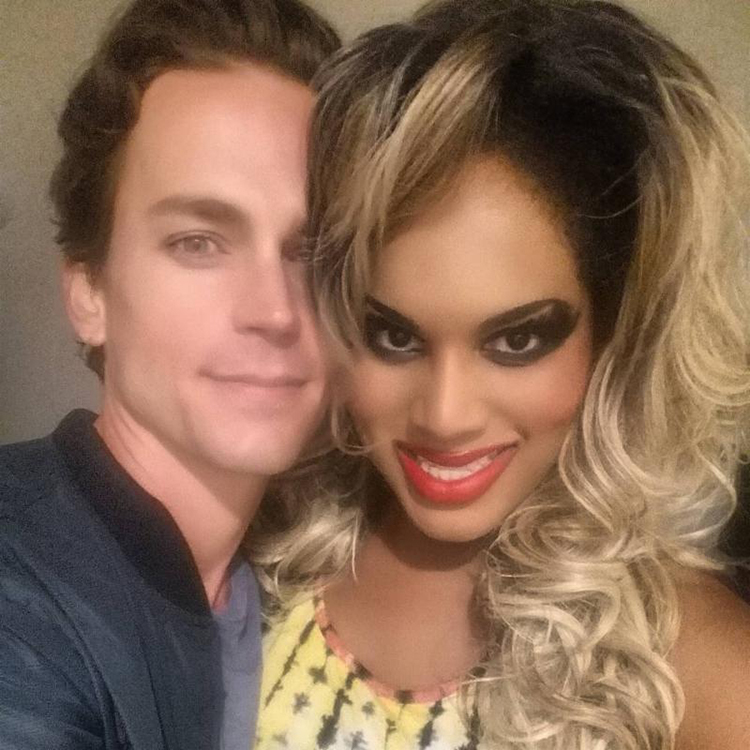 And you can see her on season two, episode three of Netflix's "Grace & Frankie"! We are very proud Roxy!
And see you this week at BINGO!
xo – Bingo Boy

Here's what's coming up in WeHo this week!
Wednesday Night- May 11th
Starring Bingo Boy & Willam Belli!
7 pm show benefiting – The Lightning Rod Theater Company!
9 pm show benefiting – The Leukemia/Lymphoma Society!
Sunday Night- May 15th
Starring Bingo Boy & Roxy Wood!
6 pm show benefiting – Team In Training!
8 pm show benefiting – AIDS Lifecycle!
HAMBURGER MARY'S – WEST HOLLYWOOD
8288 Santa Monica Blvd- At Sweetzer | Reservations for parties of 3 or more- 323-654-3800
Full menu and bar | All ages welcome | Valet and street parking available


Here's what's coming up in Pasadena in May!
Tuesday Night – May 24th!
starring Bingo Boy & Roxy Wood!
7 pm show benefiting – Canine Angels!
EDWIN MILLS (formerly Equator)- Pasadena Ca.
22 Mills Place- in historic Mills Alley across from Burke Williams
Full menu and bar | All ages welcome | Pay lot and street parking available