It's true. I am so lucky to be doing what we do, helping charities and organizations to raise money for their causes. Every show people are laughing and having a great time. People bring their families- their kids, grandparents- guests from out of town and other countries. Running the business (the "bingo business") is not easy but I love it and am proud of what we do.
And then someone posts "freakfest" on our Facebook page in response to the photos from the Emma Stone bingo night and I " freak" out. There were photos of all of the Legendary Bingo "girls" and celebs but I am sure I know to what he was referring. I went on his page and was hoping he meant it in a good way but, no. I don't want to profile him but he meant it as a hurtful comment. Of course I deleted it and banned him but it really jolted me that someone would seek out another's page just to spew a bit of hatred. I am sure I will get over it but it was a reality check.
Also a reality check was the news of the banning of transgendered persons from the military. As a general rule we do not get publicly political at Legendary Bingo but this one hit very close to home. Two of my entertainers are trans and we love them very much. What they have gone through just to be who they are is inspiring and the fact that they use their incredible talents to raise money for so many causes is at the least, admirable. As are the trans men and women in the military (FYI Calpernia is a former marine).
I have no idea what we can do to change this new presidential decree but I ask you to be vigilant and raise your voice when you can. If there is a way we can raise money for a fight, we will. Just let us know.
Now on to more pleasant topics!
Such as this photo I stole from someone's phone- from the Emma Stone Bingo night-
What is wrong with this photo? Well, Sarah Silverman looks like she is being held hostage by a crazed fan. Look at her face! Look at her hand about to grab the pole for support (or to use as a weapon)! And I am like "hey man! Look at me! I'm on stage with a celeb!" Poor Sarah- maybe that's why she left the event early. To get away from me…..(sob).
Here's something fun-
Went to the post office to mail a package (a company in the UK wants to sell "Drag Queen Bingo: The Home Game"!) and asked for stamps while I was there. She was reading off the list of what was available "We have Elvis, Frank Sinatra, Springtime Bouquet, Balls, Bessie Smith….." Wait a minute. Go back. Balls? I said to her "You have balls?" Of course she tried very hard not to crack a smile. So I said it louder "YOU HAVE BALLS?" So she told me to shut up.
Here are the stamps that are also balls-
Balls! They are round stamps! How cool are these! I have to admit though when I looked closer I feel like they were really stretching at one point to add more balls to the page. Kickball? Come on. How about dodgeball? Seriously. I could have told them that the one ball that was not on there but needed to be was a bingo ball!
So I sort of corrected the situation-
Hey- our logo is round like a ball too! I think it fits very nicely, thank you.
We have a lot of fun events coming up in the next few weeks at Mary's and other locations so stay in touch with us through this email or Facebook or Twitter. As always we appreciate your support and love seeing your smiling faces as we paddle you and throw wadded up pieces of paper after forcing you to run around the room.
THIS TUESDAY!
BINGO BOY & INGENUE ON KINGS ROAD!
Literally "on" Kings Road! Ingenue and I will be doing a bunch of free bingo games for the "National Night Out" event on Tuesday August 1st! They are closing off Kings Road above Santa Monica Blvd for a giant block party! Event/bingo starts at 5:30 pm and event goes until 8:30 pm. There will be food and drink and a band and….us!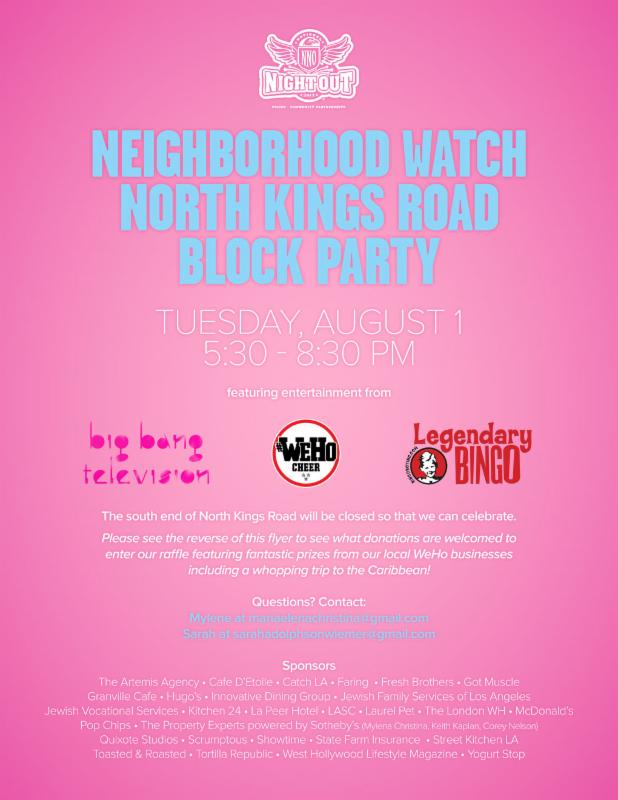 DEVEN AND BINGO BOY AT AMERICANA AT BRAND!
Coming August 10, 17 and 24th! I don't think tix are on sale yet but I will let you know!
BINGO BOY & INGENUE AT DOMAIN APARTMENT COMPLEX!
This brand new exclusive complex on Santa Monica Blvd (across from new Trader Joe's) has asked us to do a "kick-off" event for them on Sunday, August 13th and you are all invited! And it's free! And there will be "refreshments"! There will also be tours of the amazing luxury units! We may do this once a month if all goes well. More info to come!
A reminder:
Thursday Night Legendary Bingo events are the latest "thing"!
Don't forget to print out your DOUBLE GAME COUPON below!
And see you this week at BINGO!
xo
Bingo Boy
Here's what's coming up in WeHo this week!
Wednesday Night- August 2nd-
Starring ROXY WOOD & WILLAM BELLI!
Thursday Night- August 3rd-
Starring ROXY WOOD & INGENUE!
Sunday Night- August 6th-
Starring ROXY WOOD & CALPERNIA ADDAMS!
6 pm show benefiting – 
HAMBURGER MARY'S – WEST HOLLYWOOD
8288 Santa Monica Blvd- At Sweetzer
reservations for parties of 3 or more- 323-654-3800 
Full menu and bar
All ages welcome
Valet and street parking available
DOUBLE YOUR CARDS! DOUBLE YOUR FUN!

Present this coupon at Legendary Bingo on Wednesday, Thursday and/or Sunday night and receive DOUBLE THE AMOUNT OF REGULAR BINGO CARDS & ONE EXTRA GRAND PRIZE CARD!

Must make $20.00 donation to charity in order to use this coupon. One coupon per person. May also show coupon on your phone.

Offer Expires: 8/06/17
BINGO BOY INC. / LEGENDARY BINGO SOCIAL SITES