Let's All Watch TV, My Baby & More!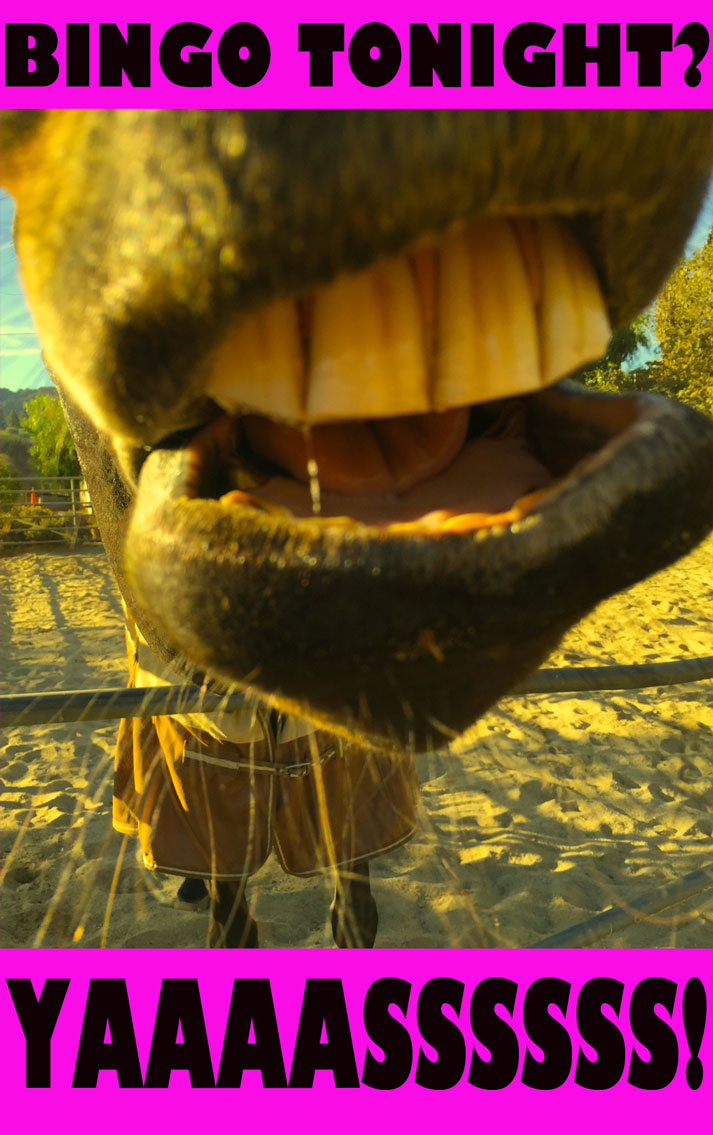 I Have 40″
But I already told you that last week. Now I know that 40 inches is not a lot to some of you but for me, it's the biggest I have ever had. Someone recently bragged to me that they had a 75 incher. Too, too big.
Of course to each his own. Television I mean. But I love mine and it inspired me to do a review this week of some of our favorite television stars who have come to bingo and called our balls. Sorry- but all of the excitement of bingo this last week will have to wait. maybe at the end I will give you a few shots- including me and my new baby.
Let's start with this guy…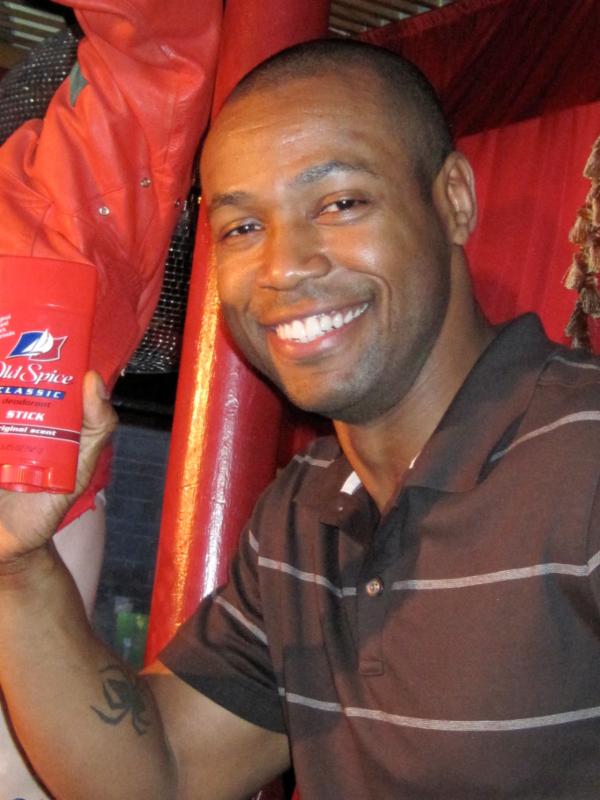 It's Isaiah Mustafa- The Old Spice Guy! The current commercials with the other buff guy are hilarious and it's good to see our pal still making bank from these really funny commercials. But does anyone really wear Old Spice deodorant?
How about her?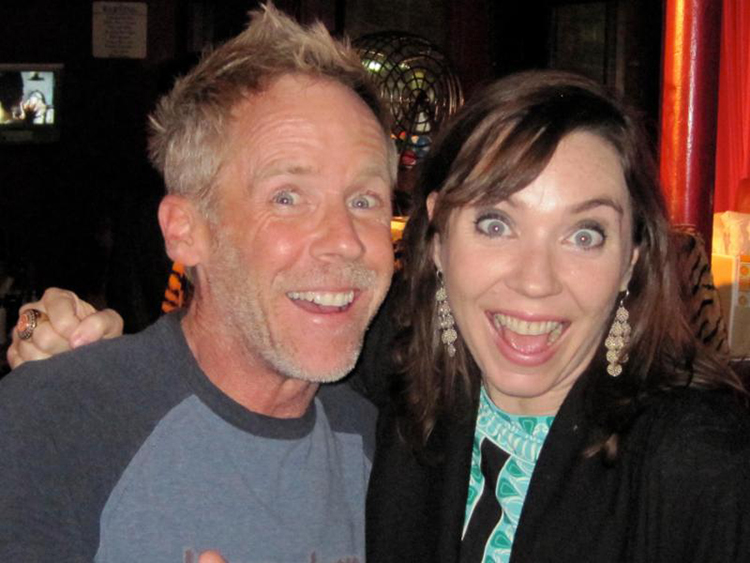 It's Flo! The Progressive Insurance lady! Her real name is Stephanie Courtney and did you know that she also did a role on "Mad Men" in 2007? She has come a long way from driving to auditions in a car that would only go in reverse. Yes, she told me that.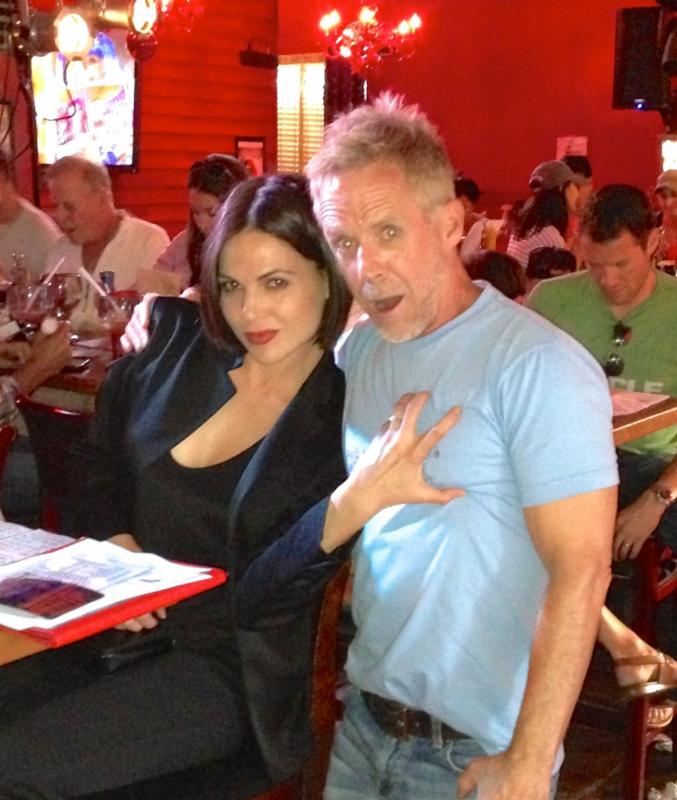 Many of the shows are on winter hiatus now including "Once Upon A Time" but I was really enjoying this season with the "evil queen" becoming sort of nice. Lana Parrilla is very nice in person even though she did try to rip out my heart.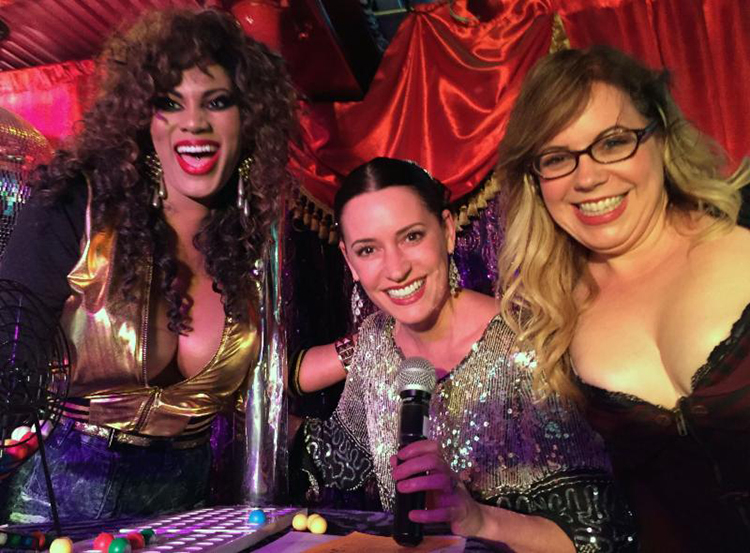 Our pal Paget Brewster (shown here with Roxy and Kirsten Vangsness) is doing quite well right now on "Grandfathered" with John Stamos. I hear the show is not great but she is always amazing.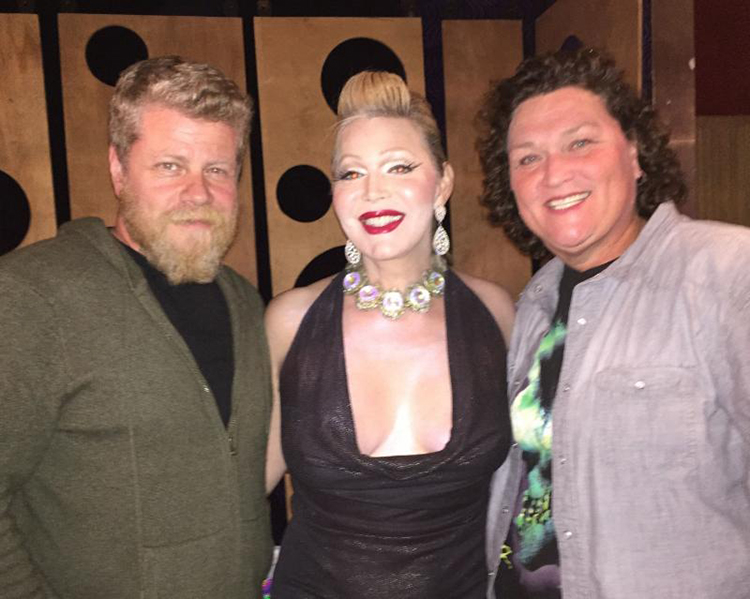 Another show that just wrapped up the winter finale is "The Walking Dead" and our friend Michael Cudlitz (shown here with Calpernia and Dot Marie Jones) is still alive somewhere. Pretty smart being "out of town" when the walls came down. But can he save his friends?????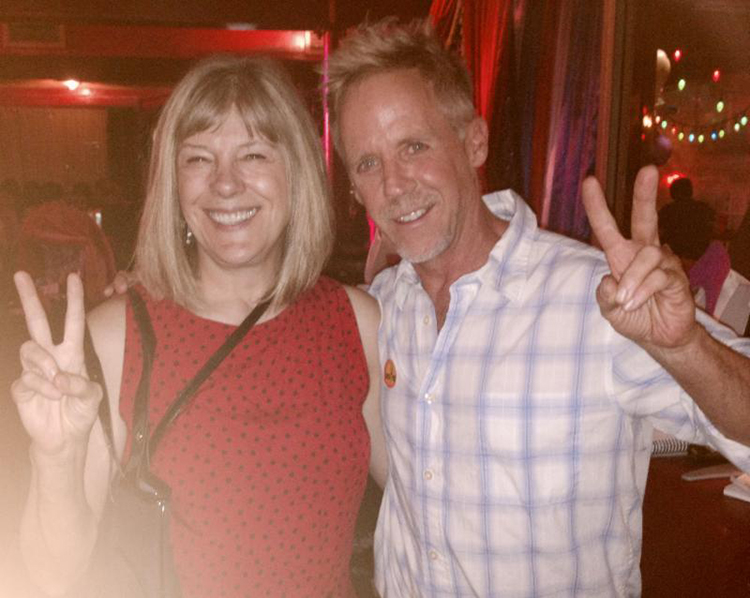 Anyone watch "Mom"? I love the show. Funny and yet poignant at the same time. Mimi Kennedy is great and here she and I are wishing you (and the world) peace this holiday season.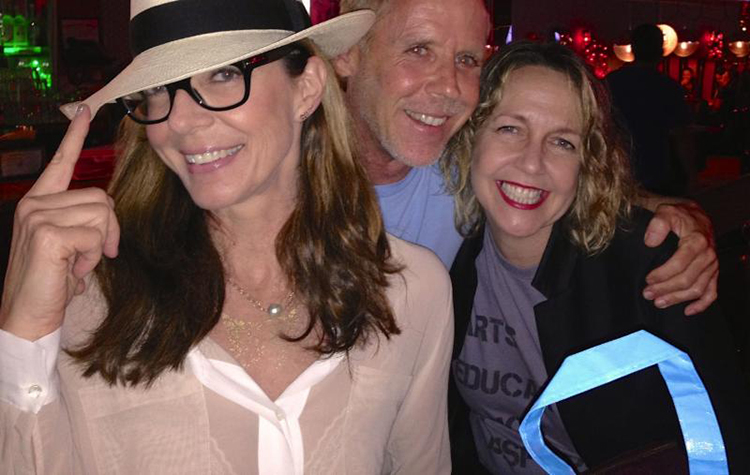 Of course we can't talk about "Mom" without showing Allison Janney who visited us a few months back (shown here with BB and Monica Rosenthal). She is also amazing in "The Masters Of Sex." And in everything that she ever does.
Speaking of amazing-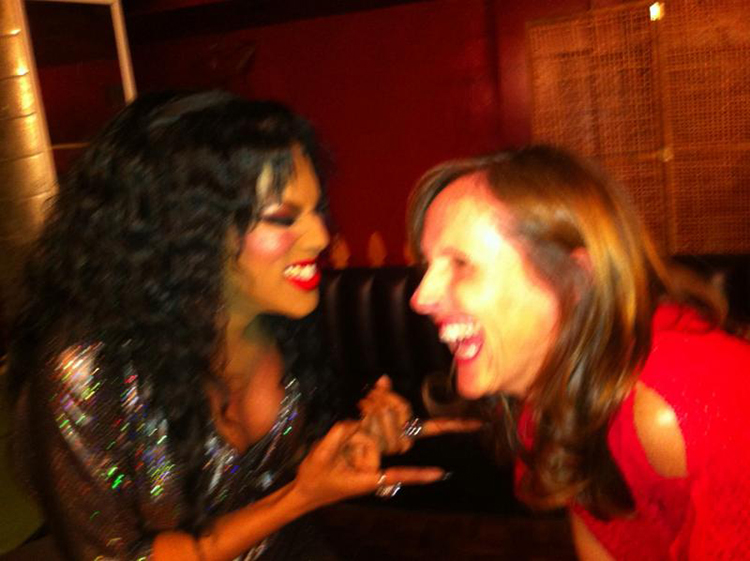 The shot may be blurry but is was because I was laughing so hard. Molly Shannon (with Roxy) will always be one of our favorite guests (she actually did the G-50 callback on stage!). Anyone watch "Wet Hot American Summer" on Netflix? Molly's character Gail rocked my world with all of her married, not married, married weirdness.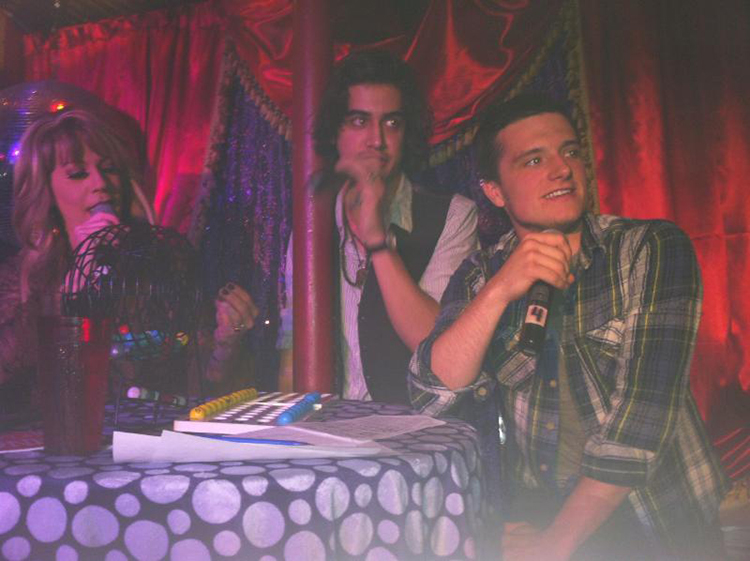 I have to throw this one in because his new movie "Hunger Games: Mockingjay- Pt 2" is out and is HUGE! Josh Hutcherson is a really nice guy who loves to support charity. Once night after this he was just walking by Hamburger Mary's and he popped in just to say hi and give me a hug. No kidding! I immediately volunteered as a tribute.
Well that's it except for the photo of me and my baby.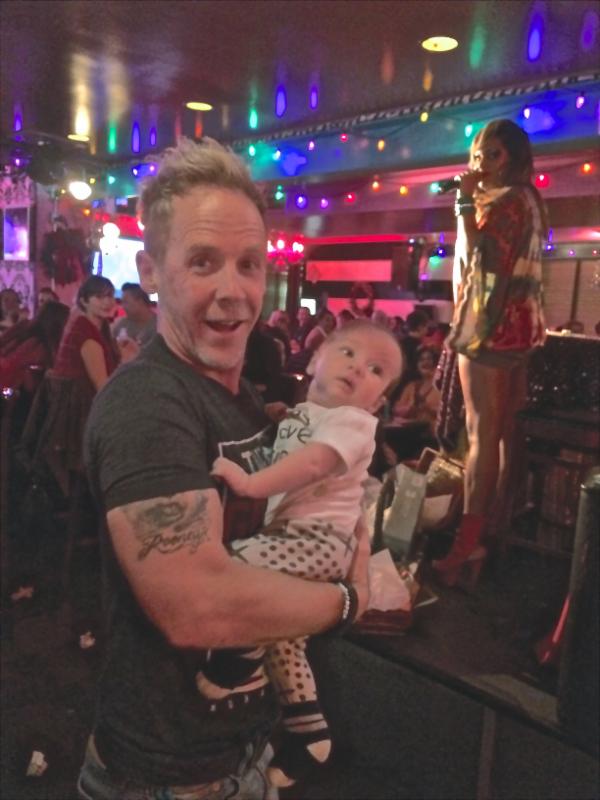 Can you just feel the love? That baby is so in to me! His mother won a game and I could not stand the thought of her running around with a baby in her arms getting hit by wadded up bingo cards so I offered to run for her and she said "just hold the baby!" So I did. She ran and I held the baby. I wanted the baby- Jesse James is his name- to like me but he only had eyes for his mother. Well, his mother's breasts. I guess it was feeding time and unfortunately I am not equipped. Roxy is looking at me like "what the hell are you doing?" I rarely have a good answer to that question.
DEVEN GREEN IS IN THE HOUSE!
This Wednesday night, the hilarious and usually inappropriate Deven Green is filling in as "Drag Queen Bingo Hostess." Deven and I rocked The American At Brand this year and last and I am sure you will find her to be a worthy, yet penisless, match for all of your bingo shenanigans.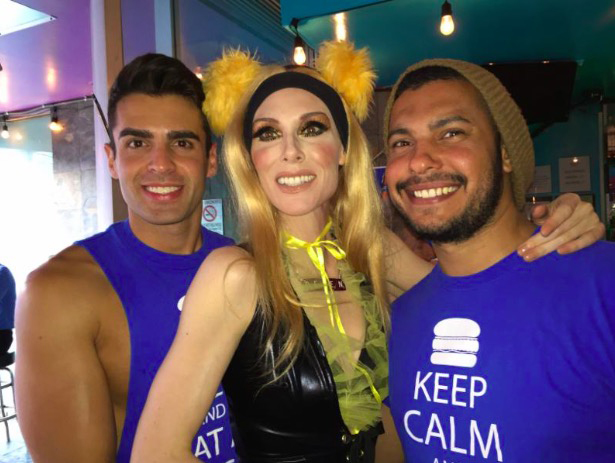 BIG NEWS!
We will be holding our (sometimes) Annual Free Night Of Bingo on Wednesday night, December 23rd at 7 pm! This is our way of just saying THANK YOU to all of you who have supported our charities throughout the year. I am in charge of prizes and I am amassing some kick-ass prizes! Roxy and I will host and we would love to see you. Stay tuned for more updates!
And see you this week at BINGO!
xo Bingo Boy
---

Here's what's coming up in WeHo this week!
Wednesday Night- December 9th Starring Bingo Boy & Deven Green!
7 pm show benefiting – Marley's Mutts!
9 pm show benefiting – Cheer LA!
Sunday Night- December 13th Starring Bingo Boy & Porsha Hayy!
6 pm show benefiting – The Institute For Myeloma & Bone Cancer!
8 pm show benefiting – Ruff Patches!
HAMBURGER MARY'S – WEST HOLLYWOOD
8288 Santa Monica Blvd- At Sweetzer  | reservations for parties of 3 or more- 323-654-3800
Full menu and bar | All ages welcome | Valet and street parking available