Drunk Women, Rim Jobs, Important Literature and More…
They have EVERYTHING! I decided to add to my library and as you can see above, I found some really great new books! I wonder if "Officer" Sandusky is related to Jerry Sandusky?
You remember the first in my collection…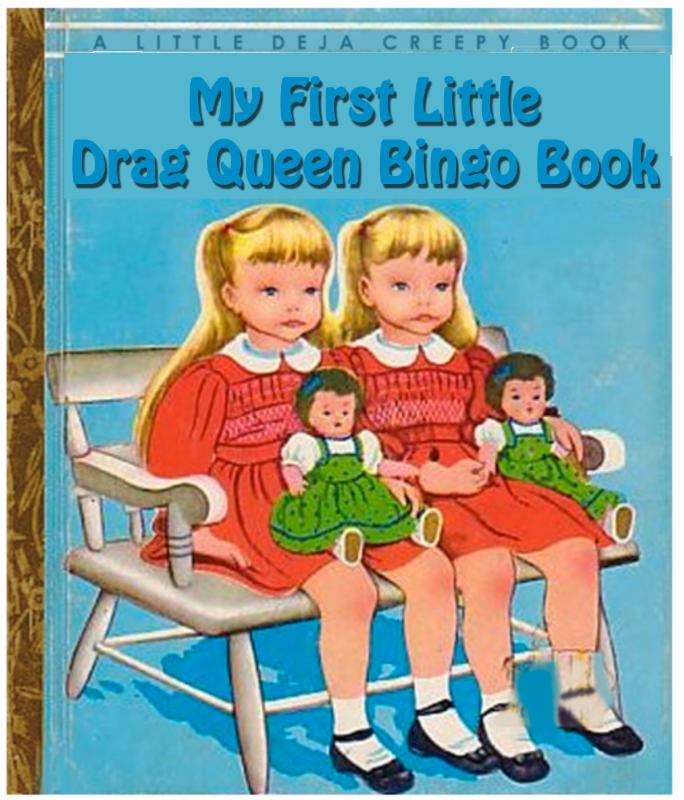 Well I liked that book so much (so much pathos!) that I went on Amazon and found several more books that are perfect to read just before turning in for the night-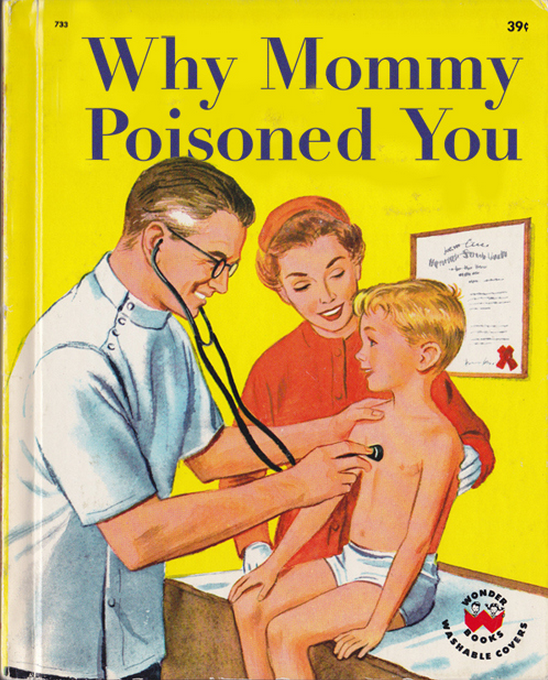 Who knew that we needed a book to explain to children that their mommy has Munchhausen by Proxy Syndrome!
And this one is a classic-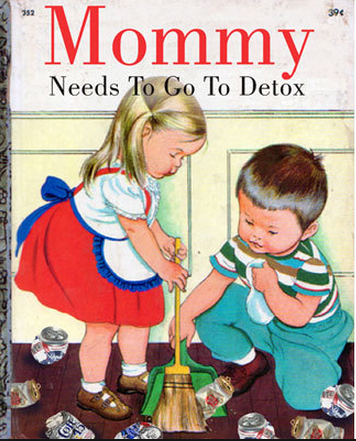 When I was a kid I could have used a version of this book called "Grandma Acts Funny After Taking Her 'Medicine' and Acts Out All Of The Television Commercials."
But I didn't stop there-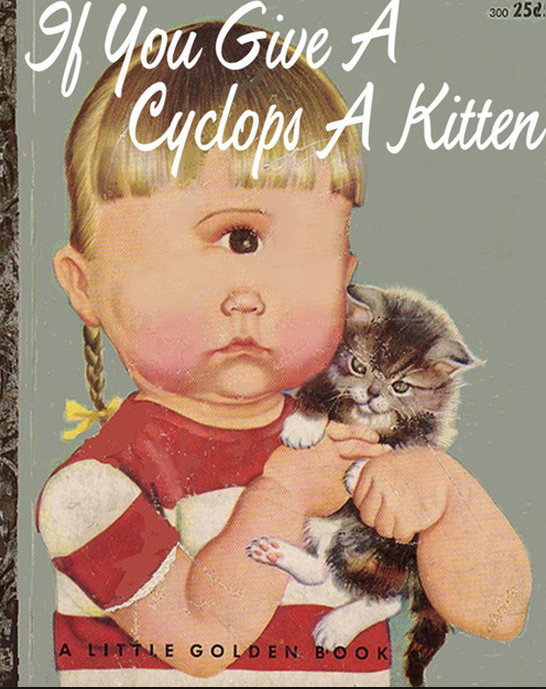 It goes without saying that if you kittens, you will love this book.
Anyway, on to bingo.
On Wednesday night we had a visit from several very tall women. On the left is Kristin Bauer van Straten from "True Blood" and "Once Upon A Time", in the middle is guest bingo hostess Kelly Mantle from "RuPaul's Drag Race" and on the right is 70's supermodel, actress and singer Susan Anton.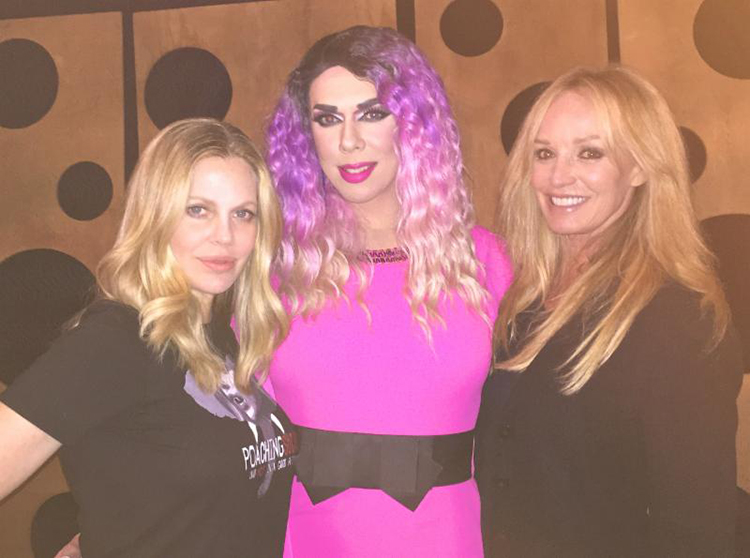 When I was growing up I had a boy crush on Susan Anton and who knew that at some point in my life I would be explaining a "rim job" to the crowd next to Susan Anton while she yelled "make sure you have a tight box!" Aah- childhood dreams…
On Friday night Kelly Mantle joined me again and we did a private party for a group of pretty drunk gals who were celebrating a bachelorette party at the posh Montage Hotel in Beverly Hills.
Notice if you will the one "token gay." His name was Aaron and he loved to lap dance. Enough said about Aaron.
They brought in their own decorations and no expense was spared (and I am being serious folks). They even had a giant light up sign-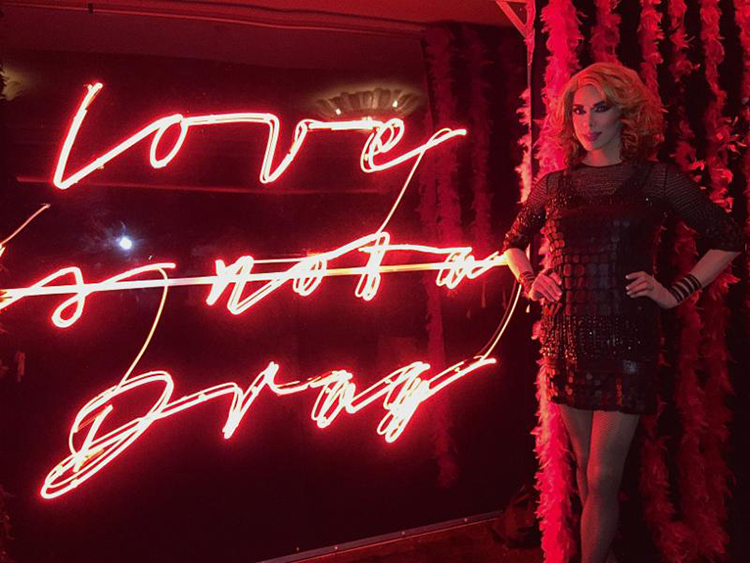 It says "Love Is Not A Drag." I found it a bit confusing and also wondered, where in God's name would that sign ever be used again?Oh well- ours is not to wonder why.
A side note- I had lunch with my friend Theresa Flynt (daughter of Larry Flynt) and she brought her incredibly cute dog to meet my incredibly cute horse-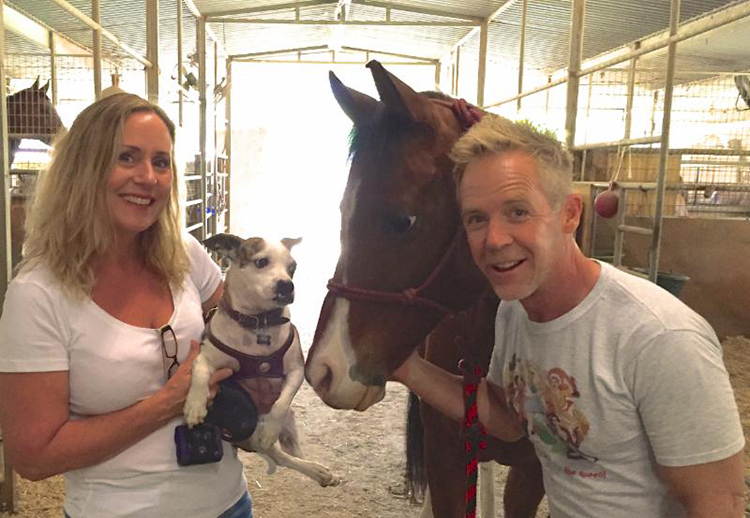 I am not sure that Oliver and Buddy-boy were too fond of each other. Buddy is looking at the Oliver like "I could crush you little man." And I think Oliver is thinking "you win!"
LOCAL CHARITIES- WE SEEK YOU!
If you are or know a charity in the Inland Empire area that would like to sign on to become a "Legendary Bingo beneficiary," at Hamburger Mary's Ontario, please contact us ASAP (our slots go fast) by emailing Roxy Wood at legendarybingo@gmail.com or just respond to this email. We will "vet" you and let you know all of the details and requirements. Stay tuned for our official start date and look forward to seeing you at this brand new, gorgeous Hamburger Mary's location!
And see you this week at BINGO!
xo, Bingo Boy
---
Here's what's coming up in Pasadena!
Next Two Events…
Tuesday Night- July 28th!
7 pm show benefiting
The Leukemia/Lymphoma Society!
OOPS! SORRY – SOLD OUT!
TRY THIS NEXT ONE!
Tuesday Night- August 11th!
7 pm show benefiting
The Leukemia/Lymphoma Society!
Click on charity name for reservation site-
EDWIN MILLS (formerly Equator)- Pasadena Ca.
22 Mills Place- in historic Mills Alley across from Burke Williams
Must make a reservation to attend! Click on links above!
Full menu and bar | All ages welcome | Pay lot and street parking available
---
Here's what's coming up in WeHo this week!
Wednesday Night- July 29th
Starring Roxy Wood & Joel "69"!
7 pm show benefiting – Friends Of Lockwood!
9 pm show benefiting – Camp TLC!
Sunday Night- August 2nd
Starring Bingo Boy & Porsha Hayy!
6 pm show benefiting – DIY Girls!
8 pm show benefiting – Ginga Arts!
HAMBURGER MARY'S – WEST HOLLYWOOD
8288 Santa Monica Blvd- At Sweetzer
reservations for parties of 3 or more- 323-654-3800
Full menu and bar | All ages welcome | Valet and street parking available