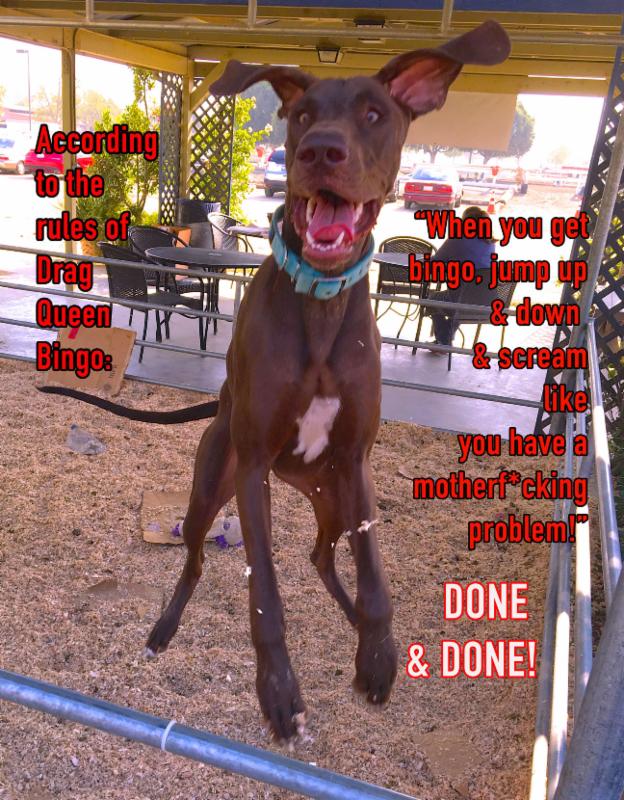 …meaning I like to take photos of animals and then attribute ridiculous dialogue to them. According to Facebook and generally the entire internet, so do many other people. Mine are usually about bingo and the exciting part is that if you google "funny bingo photos" many of mine turn up in the search! Weird when you think about it. I just post them here and somehow they leak out into the world without even trying! Sort of scary like a Paris Hilton sex tape or something.
Remember this one?
Little Bingo the dog passed away a few weeks ago but he lives on in this meme. I miss him and his little tongue that always stuck out the side of his mouth.
Moving on, the dog in the top photo stays at The LA Equestrian Center during the day but he is not alone. And, I suppose, due to the large amount of horses at the center, he has an inferiority complex.
So he sneaks into the pen with the mule and pretends that he too is one of the equine species. A horse, he pretends he is a horse.
And if he thinks that perhaps someone does not believe him, he takes it a step further….
…and makes out with the mule. See? We're just two mules horsin' around!
Anyway, the tabloids love to spread rumors about our beloved Cher.
So sad. But you see, I have the inside scoop. I follow Cher on Twitter and trust me, if she has a "mystery virus and organ failure," she is taking it pretty well.
Cher uses a lot of emojis in her tweets. Sometimes you have to literally sound them out. This one was, I believe (in love after love), based on the Orlando shootings.
But mostly Cher hates Donald Trump-
The usage of double toilets really brings the tweet home, don't you think? I love you Cher and hope that you literally live forever.
Remember this?
Yaaaaaasssss! This is Americana At Brand last year on one of the evenings in which Deven Green and I packed the shopping Center with 400 bingo freaks disrupting shoppers and looky-loos alike! We will be back beginning on Thursday, August 4th for three weeks (three Thursdays) and we can't wait! I will get you the reservation details as soon as I have them.
But in the meanwhile, Roxy and I will be back at Grand Central Market this Thursday at 8 pm for more DTLA Drag Bingo! And it's FREE!
Yay!
Here is the link  to a cool blurb that TimeOut Magazine did on us this past week- has all of the info.
And finally, just a shot from Sunday night at Hamburger Mary's. Actor Jai Rodriguez stopped by to play bingo and brought a friend to share in the fun.
What a pretty three-way that would be. I mean three people playing "Drag Queen Bingo: The Home Game" of course. Check out season 2 episode 3 of "Grace & Frankie" on Netflix to see Jai and Roxy acting together for the first time!
Click on the photo to purchase your very own "Drag Queen Bingo: The Home Game"!
Don't forget to print out your DOUBLE GAME COUPON below!
And see you this week at BINGO!
xo
Bingo Boy
Here's what's coming up in WeHo this week!
Wednesday Night- July 6th
Starring Bingo Boy & Roxy Wood!
Sunday Night- July 10th!
Starring Joel "69" & Porsha Hayy!
6 pm show benefiting –
HAMBURGER MARY'S – WEST HOLLYWOOD
8288 Santa Monica Blvd- At Sweetzer
reservations for parties of 3 or more- 323-654-3800 
Full menu and bar
All ages welcome
Valet and street parking available
DOUBLE YOUR CARDS! DOUBLE YOUR FUN!

Present this coupon at Legendary Bingo on Wednesday and/or Sunday night and receive DOUBLE THE AMOUNT OF REGULAR BINGO CARDS & ONE EXTRA GRAND PRIZE CARD!

Must make $20.00 donation to charity in order to use this coupon. One coupon per person. May also show coupon on your phone.

Offer Expires: 7/10/16