I (Still) Feel Like A New Dad
I said that last week and this week I am at the part of being a new dad where you don't get any sleep at night and although you are thrilled at the arrival of your new "baby," you are beginning to do things like brush your teeth with hair gel and have no idea where your keys are (in your hand).
My first week with 'Drag Queen Bingo: The Home game" has been exhausting but also wonderful. This morning I shipped out a huge order to all of the Hustler stores across the nation (standing in my driveway with cases and labels and tape). I took internet orders to the post office (after a huge debacle with the price of the shipping). I sent samples to two distributors who have expressed interest and I still have so many more things to do. But it's all great.
I brought the games to Hamburger Mary's last Wednesday night and sold a bunch as well as selling to Hamburger Mary's itself so that they can sell when I am not there (you can order the game from the waiter!). Soon they will also be available in other Hamburger Mary's across the nation.
I also donated a few to the charities and the people that won seemed very happy.
Roxy and I did a "Teachers Appreciation" event for Sherman Oaks Elementary last week and I donated a game for their raffle. The teacher that won- Roz, was thrilled and I think she will have a great time playing the game with her friends.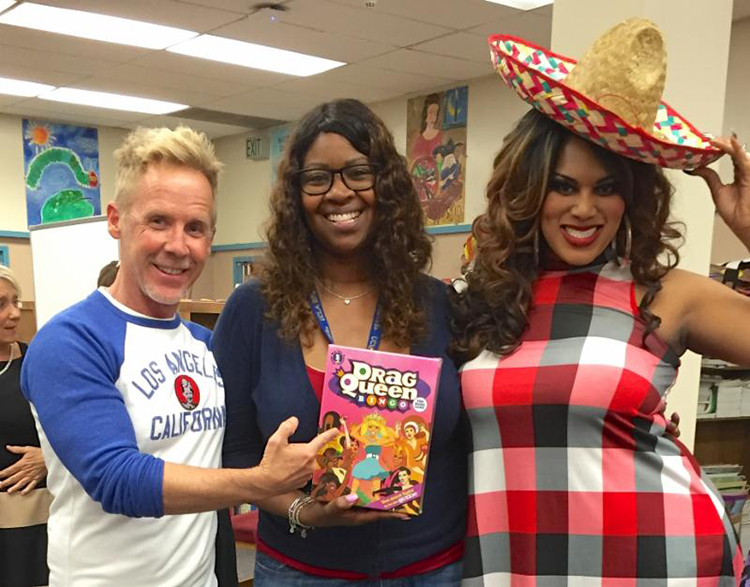 Doesn't Roxy look cute in her sombrero? I guess the party had a Spanish theme. I obviously didn't get the memo.
Just for fun I placed the game among the other games that the children play when they are in the library…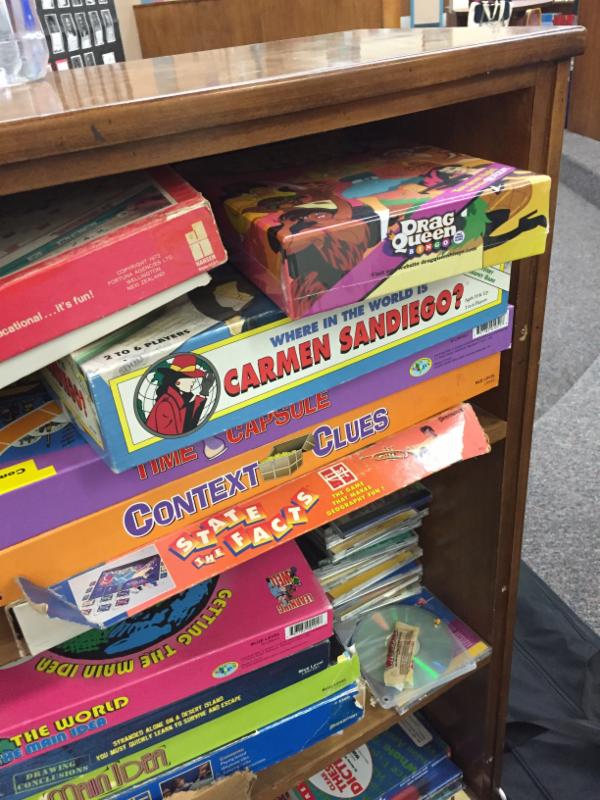 Where in the world is Drag Queen Bingo? Oh yes- on the top shelf! I can't wait to hear about the elementary school kids and how much they loved their new game. Just kidding. I took it back. The game is 100% clean but still I am not sure it would fit in with the curriculum.
Speaking of Roxy and things of the Spanish ilk-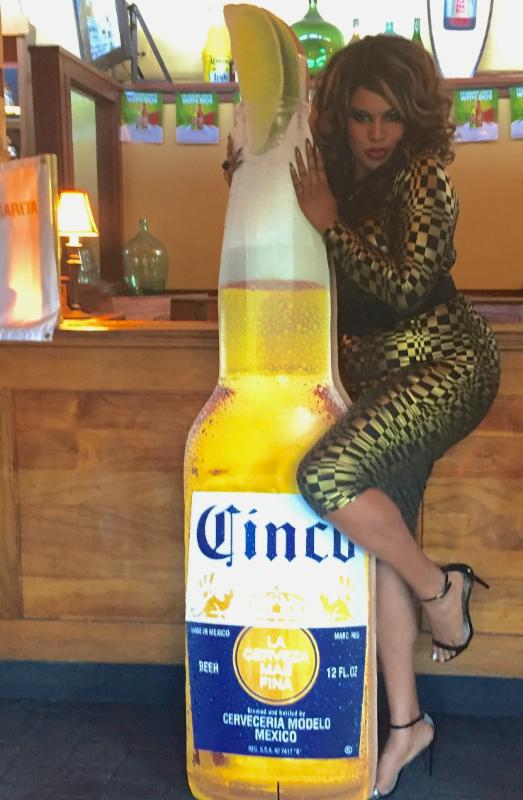 I caught her humping this giant bottle of beer at another event we did at Marix in Santa Monica. I stopped her before she could lick the lime.
We saw a life sized cut out of a mariachi so I decided to take a photo with it.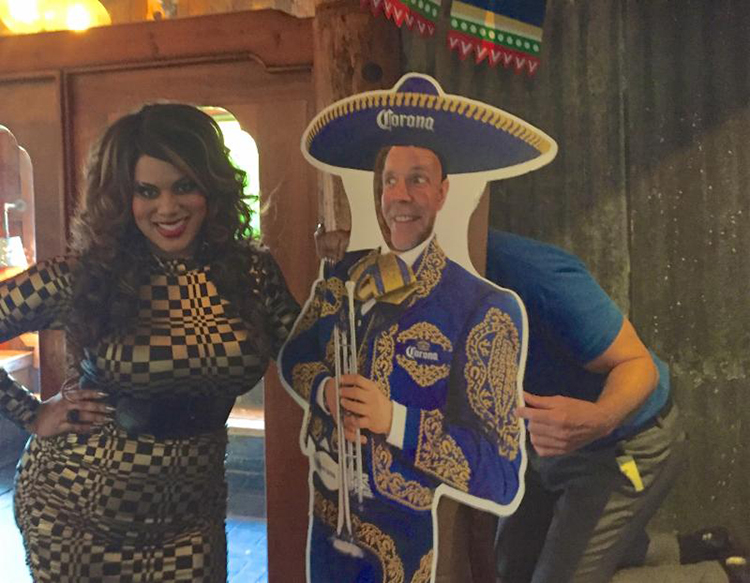 How embarrassing. I was not tall enough to put my head in to the head hole.
So yes, I am kneeling on a stool. And yes, I said head hole.
We have a lot of exciting events coming up including our annual event for Planned Parenthood this Saturday night!
I think there are seats still available so check it out.
On Sunday I will be back at One Colorado Shopping Center in Pasadena and this year we are doing the event in the evening and there will be liquor!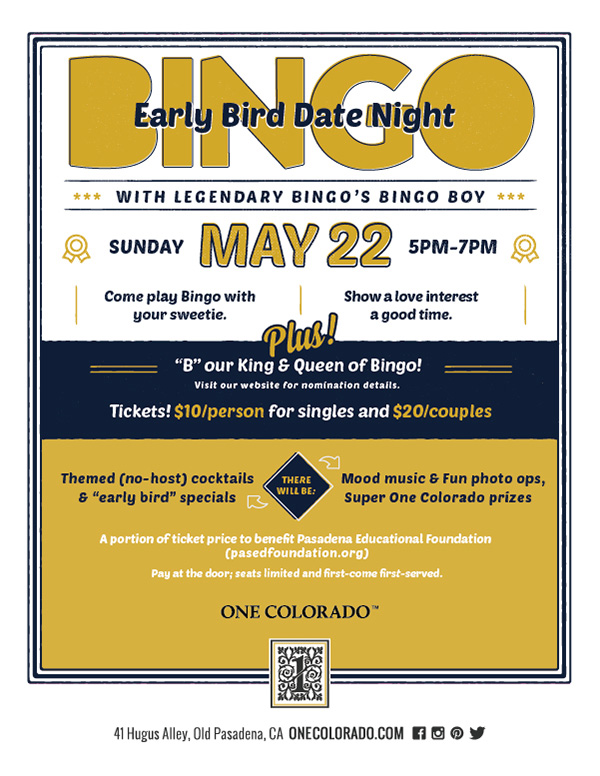 It says it is a "couples" event but that is not necessarily true. We will have a "Bingo Boy table" where we can all sit and get to know each other (except when I am on the stage). It is always fun and the prizes are great. I am donating a DQB: Home Game or two as prizes. Here is the Facebook url for more info: https://www.facebook.com/events/1171356972876706/
Hope to see you there!
Also in the category of "Upcoming Events"—
We will be at Grand Central Market once a month beginning Thursday June 16th and also looks like Deven and I will be back at the Americana At Brand in August for at least three nights! So stay tuned for more info!
And see you this week at BINGO!
xo – Bingo Boy



Here's what's coming up in WeHo this week!
Wednesday Night- May 18th
Starring Bingo Boy & Porsha Hayy!
7 pm show benefiting – United In Harmony!
9 pm show benefiting – Cheer LA!
Sunday Night- May 22nd
Starring Roxy Wood & Joel "69"!
6 pm show benefiting – Theatre Unleashed!
8 pm show benefiting – Pug Nation Rescue of Los Angeles!
HAMBURGER MARY'S – WEST HOLLYWOOD
8288 Santa Monica Blvd- At Sweetzer | Reservations for parties of 3 or more- 323-654-3800
Full menu and bar | All ages welcome | Valet and street parking available



Here's what's coming up in Pasadena in May!
Tuesday Night- May 24th!
starring Bingo Boy & Roxy Wood!
7 pm show benefiting -Canine Angels!
EDWIN MILLS (formerly Equator)- Pasadena Ca.
22 Mills Place- in historic Mills Alley across from Burke Williams
Full menu and bar | All ages welcome | Pay lot and street parking available