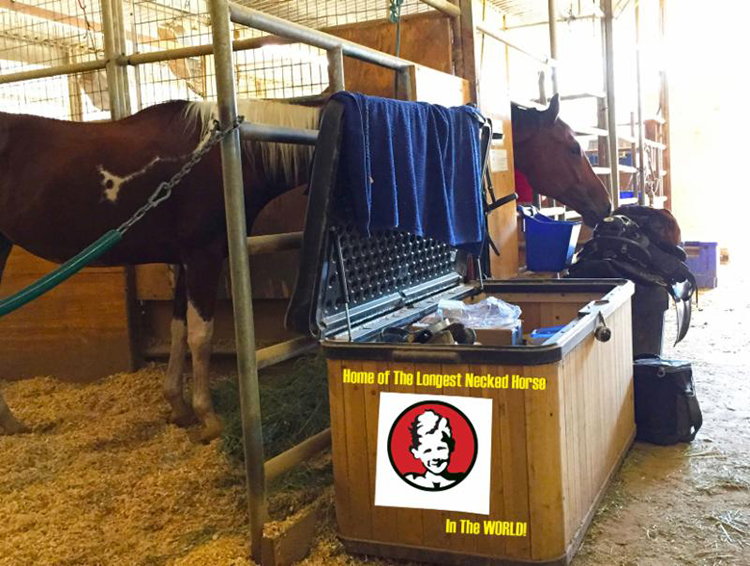 HOWDY.
I am in a cowboy mood this week because this week is the 3rd anniversary of the date that my horse, Buddy-boy came in to my life! Three years and I still haven't fallen off yet! Knock wood. We will be doing all kinds of private celebrating that involves carrots and hay and stuff (stop being so pervy you all) but still have time to fulfill my bingo duties including getting this email out to you.
I know the photo above is a little "lame" (don't use that term around a horse BTW) but I thought it was funny. I took that shot and if you look carefully you can see the optical illusion. I know! Hilarious!
Speaking of hilarious- we had another week filled with people laughing and yelling and doing good for charity.
We returned to Ontario on Monday night and had another great crowd, a great charity (2nd Chances Animal Rescue) and seriously great prizes. And then Roxy began hitting people- for no reason!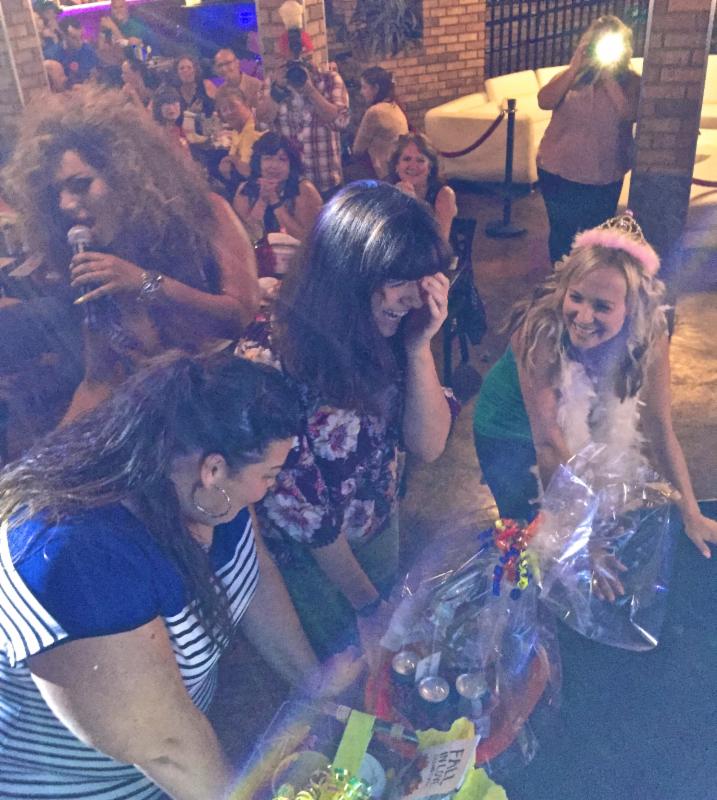 She just lined them up and began paddling like a madwoman! Okay, maybe it was their birthdays but still. Do they look like they are having fun? They do? Then never mind.
On Tuesday night we were back at Edwin Mills in Pasadena and although I do not have any fun photos from the event I did notice something odd. And it was the artwork. If you don't pay attention the artwork on the walls just looks like portraits of ladies and such but upon closer inspection…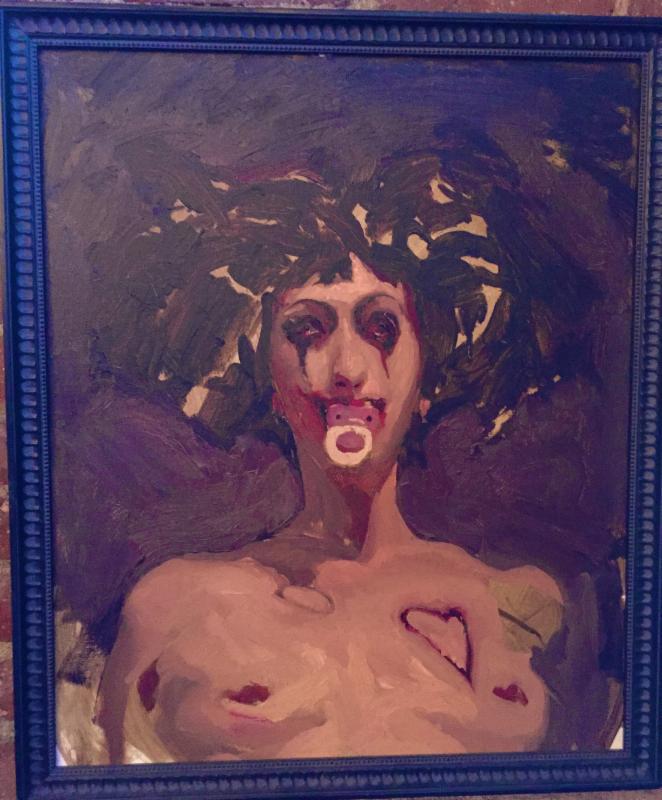 What kind of a freak show restaurant hangs paintings like this on their wall? A crazy lady with a pacifier and a heart obviously carved out of her chest? Mmm. I'll have the calamari please! And there are more. Freaky clowns and one that seriously looks like a giant- vajayjay. Well, we still love the food and the service and the staff. And we will be there this Tuesday so why don't you make a reservation and I will give you a private tour of the "gallery." No charge.
Roxy and I also did a private party last week and the theme of the party was "dress as your favorite mobster." I guess the birthday guy loved "Goodfellas" and "The Godfather." One of the guests had a very strange interpretation of "mobster."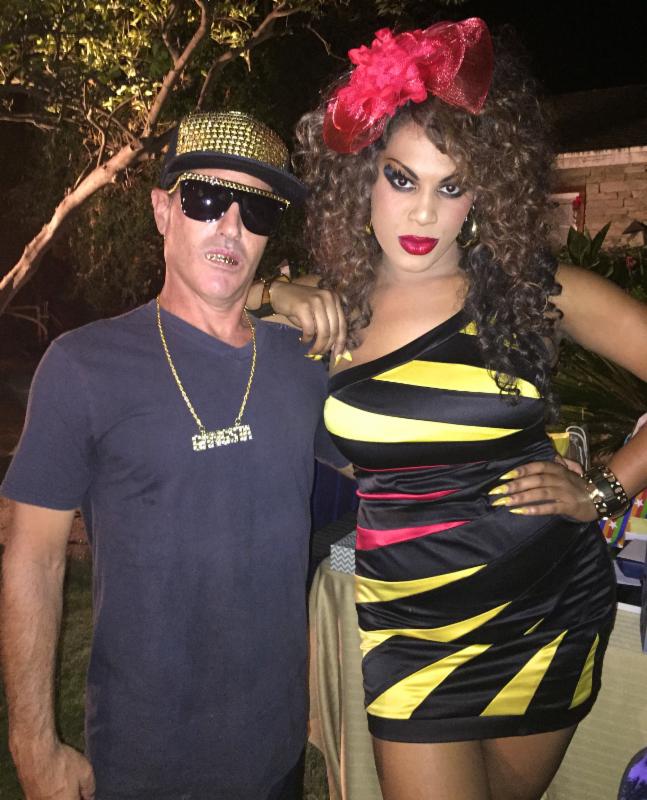 Okay, his necklace does say "gangsta" but the rest is pure low-down-dirty-rotten-pimp. And Roxy is just not having it. She told him to sit the !@#$? down and let her do her job and why-don't-I-have-no-health-insurance?????
He had no answer because his grill had rusted shut from saliva.
SIERRA MADRE THIS SATURDAY NIGHT!
YES! It's that time of year again for one of our favorite events- The Sierra Madre Rose Float Bingo Night! Join Bingo Boy & Porsha Hayy for a truly fun night of food and drink and princesses and queens and more!
SIERRA MADRE REC ROOM
611 E. Sierra Madre Blvd., Sierra Madre
Doors open at 6:30- bingo at 7:30!
Use the coupon below for double game cards!
WILLAM IS BACK THIS WEDNESDAY NIGHT AT HAMBURGER MARY'S! And we have special guest Ann Walker of "Sordid Lives" for the 9 pm show!
See below for info on all of our events this week!
And see you this week at BINGO!
xo, Bingo Boy


Here's what's coming up in Pasadena!
Tuesday Night-October 6th!
7 pm show benefiting The Leukemia/Lymphoma Society!
Tuesday Night-October 20th!
7 pm show benefiting The Leukemia/ Lymphoma Society!
EDWIN MILLS (formerly Equator)- Pasadena Ca.
22 Mills Place- in historic Mills Alley across from Burke Williams
Must make a reservation to attend!
Full menu and bar | All ages welcome | Pay lot and street parking available
---

Here's what's coming up in WeHo this week!
Wednesday Night- October 7th
Starring Bingo Boy & Willam Belli!
7 pm show benefiting – Eloise Rescue!
9 pm show benefiting – The Thrive Tribe Foundation!
Sunday Night- October 11th
Starring Roxy Wood & Porsha Hayy!
6 pm show benefiting – Girl Scout Moms!
8 pm show benefiting -Theatre Unleashed!
HAMBURGER MARY'S – WEST HOLLYWOOD
8288 Santa Monica Blvd- At Sweetzer
reservations for parties of 3 or more- 323-654-3800
Full menu and bar | All ages welcome | Valet and street parking available