…to wish you a Merry Christmas? Happy Holidays? Happy Hannukah? Kwanzaa? Every year I get mad when I see the holiday displays go up before Halloween but this year I decided to join in and get a jump on the holidays with this email.
As you may remember, a website in the UK called Firebox.com recently bought a butt-load of DQB Home Games from me (they have already sold over 100 of them!) and I just received their "Holiday Catalog" (DQB is not on it from what I can see -what the hay???). I am laughing pretty hard at some of their gift pics and am going to share them with you.
PS- I have no idea what it costs to ship from overseas to here so if you do go to their website, beware it is not like Amazon (at least I don't think so).
And here we go!
For the "Stranger Things" freak on your list! Scary but thoughtful!
For the…I don't know….racist on your list? But then they probably already know all of this.
I already have this.
Truth in advertising.
Not as fun as "Drag Queen Bingo:The Home Game" but with more penises.
For those friends who actually feel and act this way at your parties.
Alright- they stole this from an episode of "Raising Hope." Seriously.
Who do you give this too?And should they know that you "know"? If I gave you an STD would you be mad?
Imagine waking up in the middle of the night for a glass of water and running in to these! You'd need one of those Baby Mops to clean up after yourself! This is seriously creepy.
Haven't we all felt this way?
Clever and useful for men over 40.
For the car!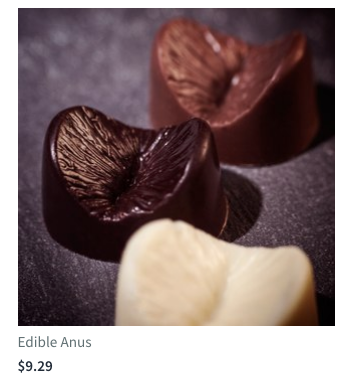 You can practice your "Rim Jobs" and then eat them so no one will know what you have done!
Take this to your office and then say "What? OMG I had no idea that is what it meant!" Or if you work at the University of North Toronto there's no problem!
Well I think the best holiday gift of all is….
…playing "Drag Queen Bingo: The Home Game" with Lily Tomlin! Even though I cannot promise that, I do promise that this game is amazingly fun and educational (maybe not educational). The game are available at Hamburger Mary's in West Hollywood, on Amazon, on our website dragqueenbingo.com
or you can have it shipped from Firebox in the UK. But don't do that.
Hamburger Mary's also has "I am a bingo bitch" and "Bingo Makes Me Horny" t-shirts for $20.00 each.
Next week I will list all of the new merch we have available and figure out a way to get it to you if you would like to order from me. Personal service from Bingo Boy is alway a holidays treat!
BINGO BOY AND INGENUE AT DOMAIN APARTMENT HOMES IN WEST HOLLYWOOD ON SUNDAY, NOVEMBER 19TH!
Yes, we are back at the beautiful Domain apartment homes with a later afternoon of FREE BINGO, Bingo Boy merch as prizes, wine and snacks and tours of the apartments including the penthouse!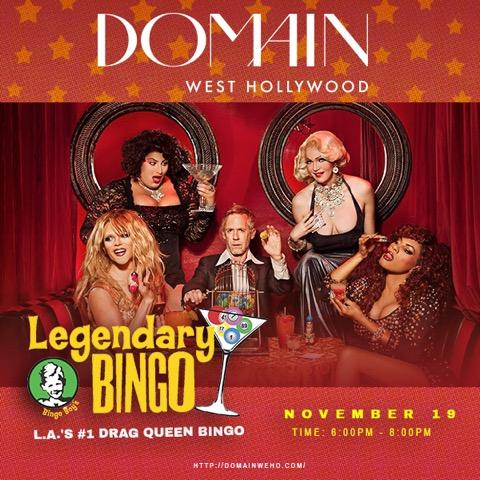 Click on the photo to make reservations for this event. Space is very limited and we alway sell out. We do!
Don't forget to print out your DOUBLE GAME COUPON below!
And see you this week at BINGO!
xo
Bingo Boy
Here's what's coming up in WeHo this week!
Wednesday Night- November 15th-
Starring JOEL "69" & INGENUE!
Thursday Night- November 16th-
Starring JOEL "69" & INGENUE!
Sunday Night- November 19th-
Starring ROXY WOOD & CALPERNIA ADDAMS!
6 pm show benefiting – 
HAMBURGER MARY'S – WEST HOLLYWOOD
8288 Santa Monica Blvd- At Sweetzer
reservations for parties of 3 or more- 323-654-3800 
Full menu and bar
All ages welcome
Valet and street parking available
DOUBLE YOUR CARDS! DOUBLE YOUR FUN!

Present this coupon at Legendary Bingo on Wednesday, Thursday and/or Sunday night and receive DOUBLE THE AMOUNT OF REGULAR BINGO CARDS & ONE EXTRA GRAND PRIZE CARD!

One coupon per person. May also show coupon on your phone.

Offer Expires: 11/19/17