…that I just saw a fire extinguisher chasing a dog! The cows are giving evaporated milk! Chickens are laying hard boiled eggs!
I think you get it. It is Sunday when I am writing this and I can't even bring myself to go out of the house. And trust me, it isn't all that cool inside. I just checked the internet and it is 100 degrees in Pasadena where I live. Dang! It's so hot you could fry an egg…..never mind. Too hot to finish.
Anyway, thought I would do a fun thing this week. An entire email about paddling. Reason for this is that Roxy is off filming a television series called "Good Behavior" (stars a woman from "Downton Abbey") and she told me that the writers told her that they had come to Legendary Bingo and actually wrote the character she is playing on her! Oddly enough she still had to audition and got the part on her own merit before they realized that is was her! So weird!
It reminded me that it is fun to be a part of the current culture or "zeitgeist" as it may be. People have come to bingo and then referenced it pop culture! Roxy also played a "bingo hostess" on "Grace & Frankie" and part of the dialogue of another character is how he "went to drag bingo and got paddled." That was us! And the guy playing the character has called bingo with us many times! What are the odds!
Just wait- our episode of "Real Housewives Of Orange County" is coming in July and I will bet we get even more references out there in the bingo universe.
So here are some shots of people being paddled at Legendary Bingo. It happens WAY more than the photos I have on hand- it is really hard to get a good shot when it is happening so fast. But I will give this my best shot.
And remember- No False Bingos EVER!
This was taken at UC Santa Barbara. Yes, we paddle students.
We paddle groups.
We paddle family members. (That is my brother-in-law).
We paddle people who wear a slip with no dress over it to bingo.
We paddle bare butts.
We paddle children.
We paddle mimes.
We paddle celebrities. That is Thomas Calabro of "Melrose Place."
We paddle daughters as their mothers look on.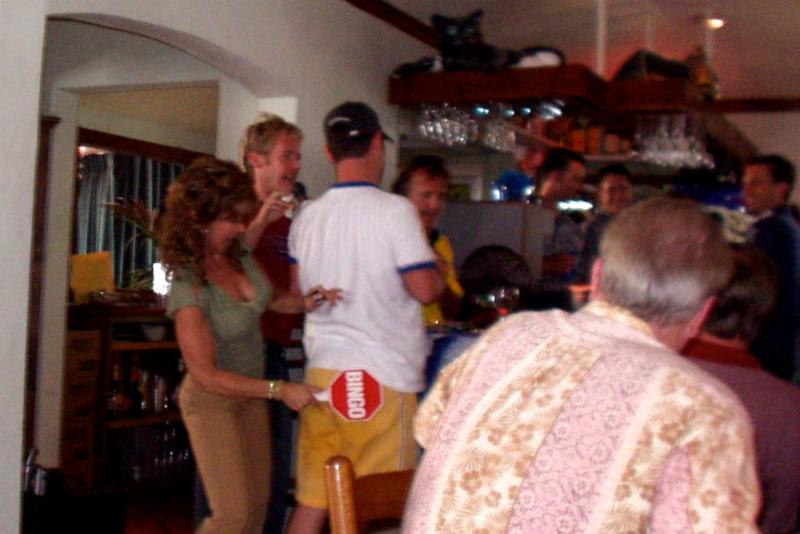 And we let celebrities paddle people. That's Linda Blair of "The Exorcist" paddling a guest. Sorry the photo isn't better- it's from 1 million years ago.
We paddle hot shirtless guys with bald heads.
And sometimes…
…even Bingo Boy paddles someone. I look weird because I am biting my lip. And I am so very young. So very young.
Well, that was fun.
THURSDAY NIGHT BINGO WAS PACKED!
Thanks to all of you who have embraced our new night so quickly! We are filling the place up and benefiting one more charity a week! This last Thursday we did a promo for the upcoming film "The House" with Will Ferrell and Amy Poehler and they gave us some swag!
That's me with Mary's manager Paul. And no, I would not change my "I am a bingo bitch" shirt. It's called advertising! Available at Hamburger Mary's for just $20.00!
Don't forget to print out your DOUBLE GAME COUPON below!
And see you this week at BINGO!
xo
Bingo Boy
Here's what's coming up in WeHo this week!
Wednesday Night- June 28th-
Starring Bingo Boy & Ingenue!
Thursday Night- June 29th-
Starring Bingo Boy & Ingenue!
Sunday Night- July 2nd-
Starring Bingo Boy & Ingenue!
6 pm show benefiting – 
HAMBURGER MARY'S – WEST HOLLYWOOD
8288 Santa Monica Blvd- At Sweetzer
reservations for parties of 3 or more- 323-654-3800 
Full menu and bar
All ages welcome
Valet and street parking available
THIS TUESDAY NIGHT in Pasadena!
Tuesday Night-
June 27th!
Starring Bingo Boy & Deven Green!
EDWIN MILLS RESTAURANT
22 Mills Place- in alley across from Burke Williams
Click on charity name for reservation site. Must make a reservation to attend this event! 
Full menu and bar
All ages welcome
Pay lots and street parking available
DOUBLE YOUR CARDS! DOUBLE YOUR FUN!

Present this coupon at Legendary Bingo on Tuesday, Wednesday, Thursday and/or Sunday night and receive DOUBLE THE AMOUNT OF REGULAR BINGO CARDS & ONE EXTRA GRAND PRIZE CARD!

Must make $20.00 donation to charity in order to use this coupon. One coupon per person. May also show coupon on your phone.

Offer Expires: 7/02/17