Now we can talk about the holidays!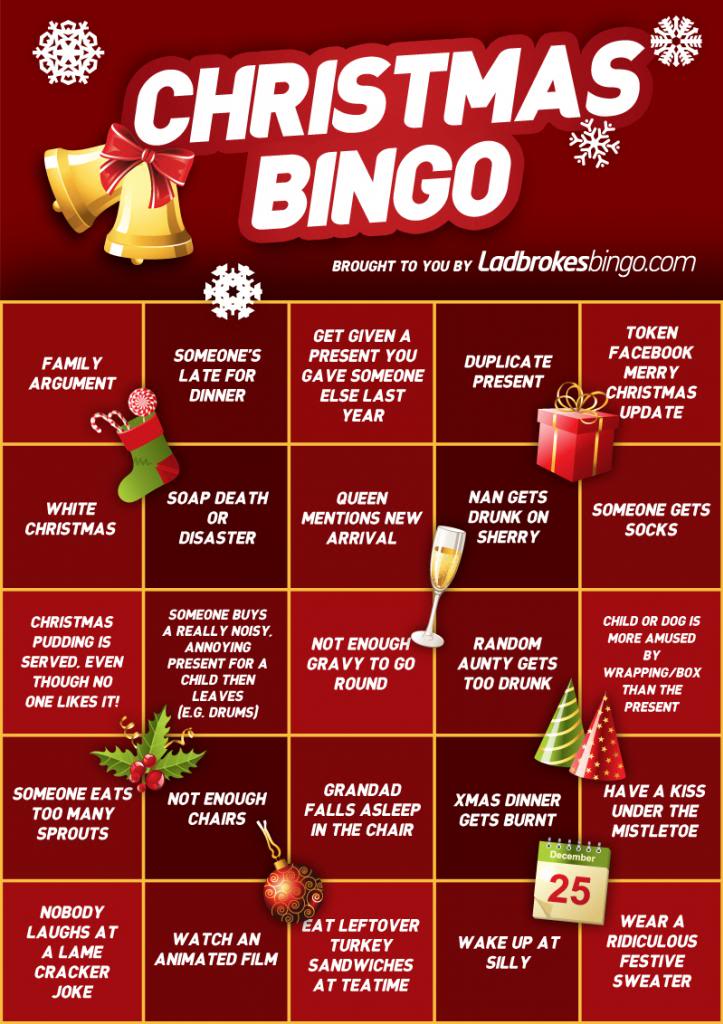 Did anyone notice that I absolutely refuse to even mention Christmas until Thanksgiving is actually over? Well I did- notice, I mean. I am positive that all of the stores kept their employees up all night on Halloween so that they could unveil their Christmas booty the very next day. I saw it. Out of the corner of my eye because I walked right by it.
But now I have eaten turkey and will participate in all of the holiday fluffy stuff. I even bought a holiday tablecloth for the bingo table and will be premiering it this Wednesday night.
I found the Christmas Bingo card above on the internet. I thought it was cute and then I looked closer. Some of the categories are pretty normal like "family argument" and "someone gets socks." But what about "soap death or disaster"? Does someone have to die in the shower? Closest thing that ever happened to us was the year when my great grandmother stayed over and came downstairs on Christmas morning raving about the wonderful smelling soap that she found in the shower. She went on and on about it. I went upstairs and discovered that we had left a bar of flea soap in the tub/shower when we had bathed our dog the day before (for the holidays you know). Of course I took it downstairs and told the rest of the family and we laughed like crazy! Great Nana was finally free of fleas! That's the kind of family I have.
Another odd category is "Queen mentions new arrival." Uh, what? Excuse me? All I can think of is Uncle Arthur on "Bewitched" saying "Oh great, Endora's here and she decorated her broomstick with small children in santa hats…." Something like that?
Anyway…
We barely did bingo last week so I do not have too many photos but I did find this one of me and Roxy from last holiday season-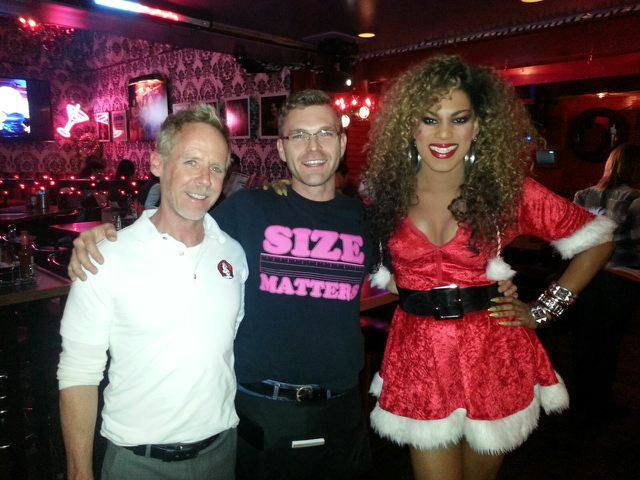 Unfortunately this is what we look like this holiday season-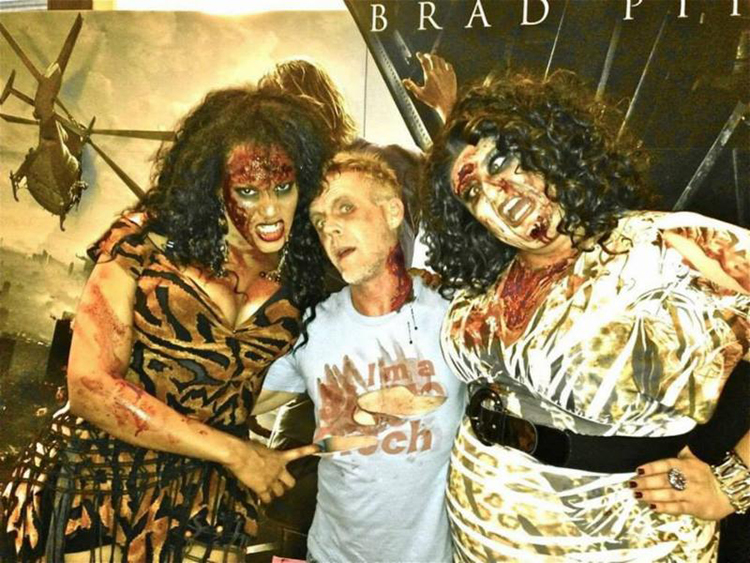 It's been a rough year.
I almost forgot to include my annual "who the hell would actually go out and shop on Black Friday" photo-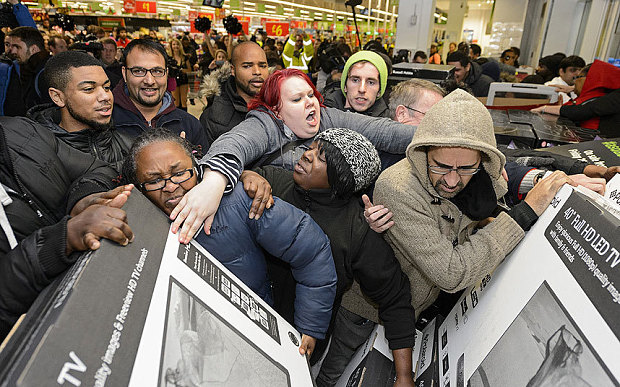 That really happened. I waited until Sunday and went to Sears and bought my first 40″ television which was marked down to from $500.00 to $369.00 but I saw it on the internet at $317.00 so I got it for that. So there. And they loaded it in my car. On a side note- I love my new television so much I am never leaving the house again.
A big shout out to Bingo Hostess Calpernia Addams who was invited to the Vanguard Awards and hung out with Miley Cyrus, Jane Fonda and Lily Tomlin.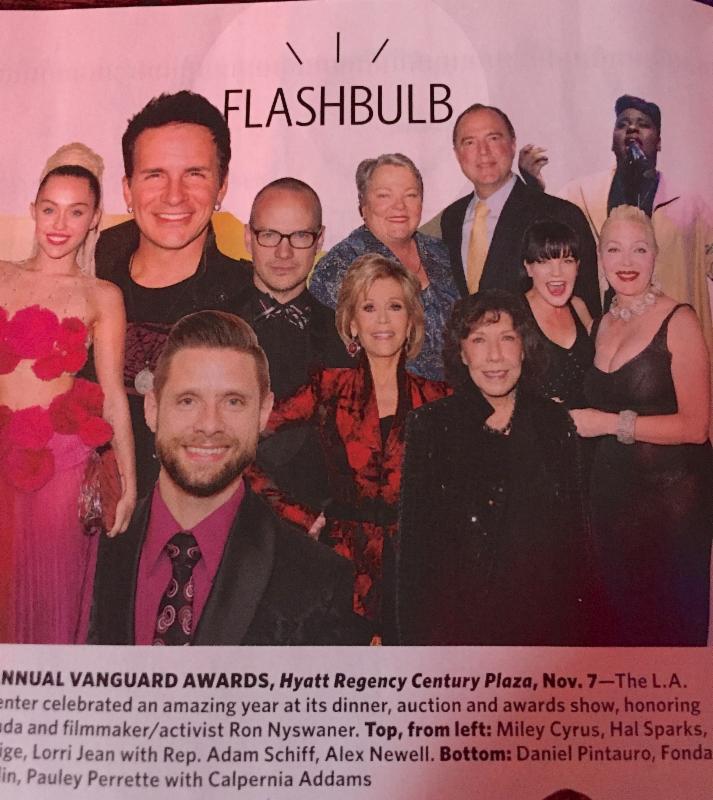 Can you name all of the former "Celebrity Ballcallers" in the photo? I can- Hal Sparks, Lily Tomlin, Danny Pintauro, Pauley Perrette and Peter Paige! Plus Calpernia! Six out of eleven! Thems are good odds!
Speaking of people who can't write proper English (yes, I know I take liberties), look at this window sign I saw the other day-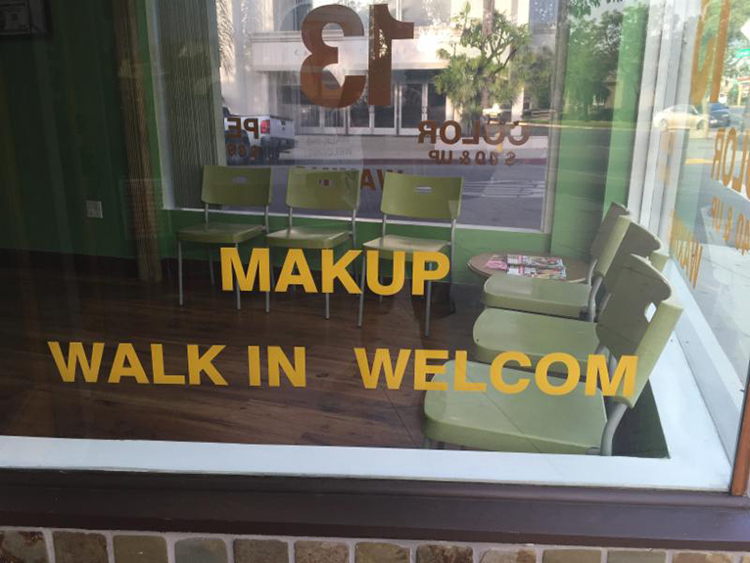 Come on! Are you telling me that NO ONE else noticed that "Walk In" should have a hyphen between the two words! Really now.
BIG NEWS!
We will be holding our (sometimes) Annual Free Night Of Bingo on Wednesday night, December 23rd at 7 pm! This is our way of just saying THANK YOU to all of you who have supported our charities throughout the year. I am in charge of prizes and I am amassing some kick-ass prizes! Roxy and I will host and we would love to see you. Stay tuned for more updates!
And see you this week at BINGO!
xo, Bingo Boy


Here's what's coming up in WeHo this week!
Wednesday Night- December 2nd
Starring Bingo Boy & Calpernia Addams!
7 pm show benefiting – Leave No Paws Behind Rescue!
9 pm show benefiting – The West Hollywood Cheerleaders!
Sunday Night- December 6th
Starring Bingo Boy & Roxy Wood!
6 pm show benefiting – Gibbon Conservation Center!
8 pm show benefiting – Pug Nation Rescue of Los Angeles!
HAMBURGER MARY'S – WEST HOLLYWOOD
8288 Santa Monica Blvd- At Sweetzer | reservations for parties of 3 or more- 323-654-3800
Full menu and bar | All ages welcome | Valet and street parking available