St. Patricks Day, Sad Winners, Long Boobs & More!
Well, I am one third Irish so that must mean I am just one third lucky. I am also Dutch and German which means….probably nothing. But we hope you all have a wonderful St. Patrick's Day and just remember green beer looks the same coming out as it did going in.
Speaking of lucky- I don't consider bingo a game of great skill but more about luck (lucky balls!). So when you win a game you should consider yourself lucky and enjoy it! On Wednesday night one winner well….acted the opposite.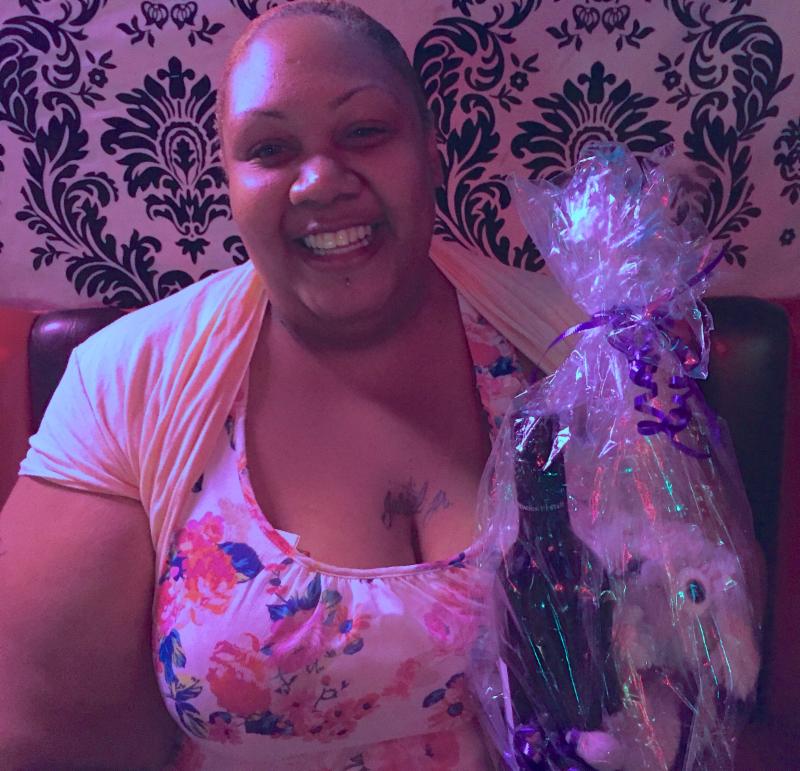 She looks very happy with her prize but when she discovered she had bingo she stood up quietly and walked slowly toward the stage saying "I am so sorry. I am so sorry…." What? I told her "worst winner ever!" Having the other "losers" throw their bingo cards at her probably did not help her situation but as I said, once she had her prize then the big smile came out. Maybe this will be a life changing moment for her!
We had a great time in Pasadena on Tuesday night with a full house. This would be our last fundraiser for The AIDS Service Center as they are closing down! We love this charity and especially head honcho Anthony Guthmiller and wish him the very best. So sad when this happens to a great organization but we know that all involved will find new, worthy gigs.
In April we will be in Pasadena (and close by) three times! Twice at Edwin Mills (formerly Equator Cafe) and also for Sierra Madre Bingo on the 18th!
The photo below is one of our favorite groups. We simply call them "The Suzi Dickman Party." Suzi is all the way over on the right and yes, she knows her name is funny.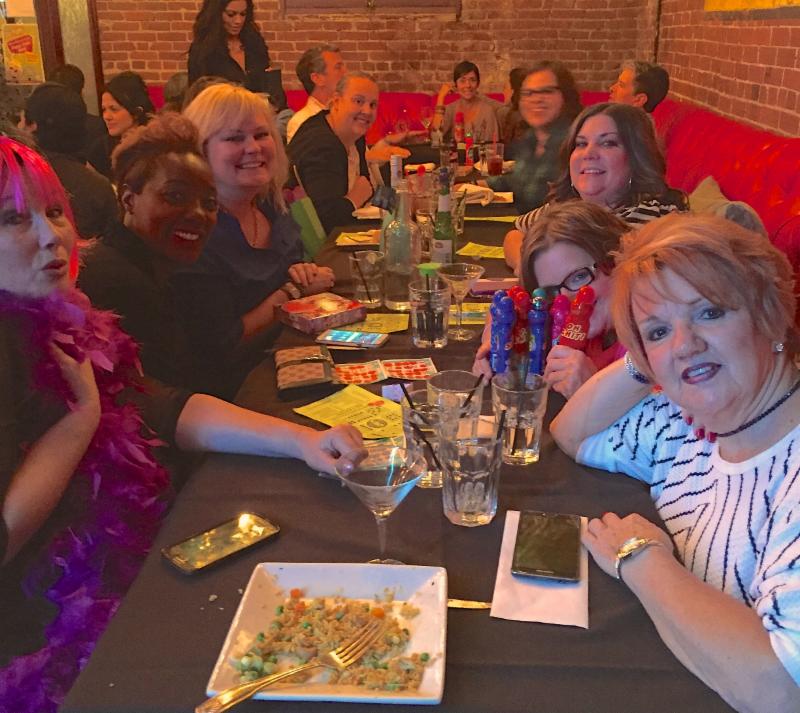 BINGO JEWELRY!
A friend of mine is a jewelry designer and I commissioned her to do a series of bracelets for the Bingo Freaks!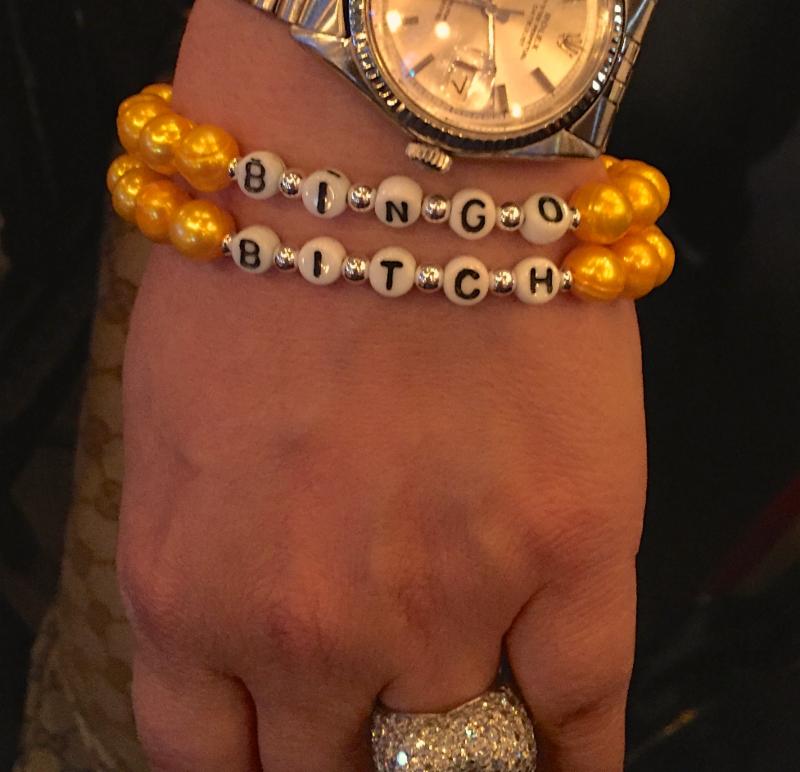 You can be a "Bingo Bitch" or a "Bingo Babe" and each bracelet is made with real stones- no plastic beads! I am selling them for $20.00 each (double or single strand) and will have a few in my possession on Wednesday night. Please ask if you would like to see the beautiful selection or email me and I will send you photos. This IS the next big fashion trend- trust me.
Speaking of fashion trends….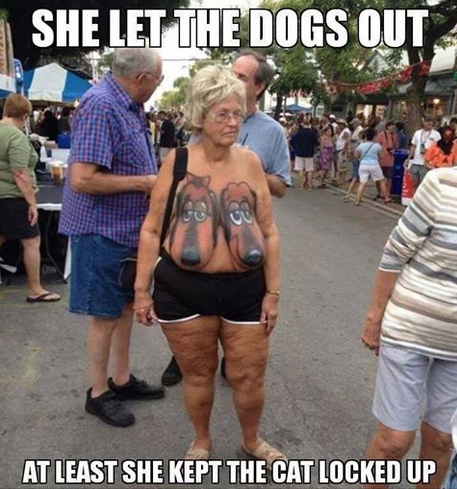 Obviously this woman is a big animal supporter. Now if only she had some support for…..
In conclusion, my horse Buddy-boy wants me to remind all of you to take the time to stop and smell the roses-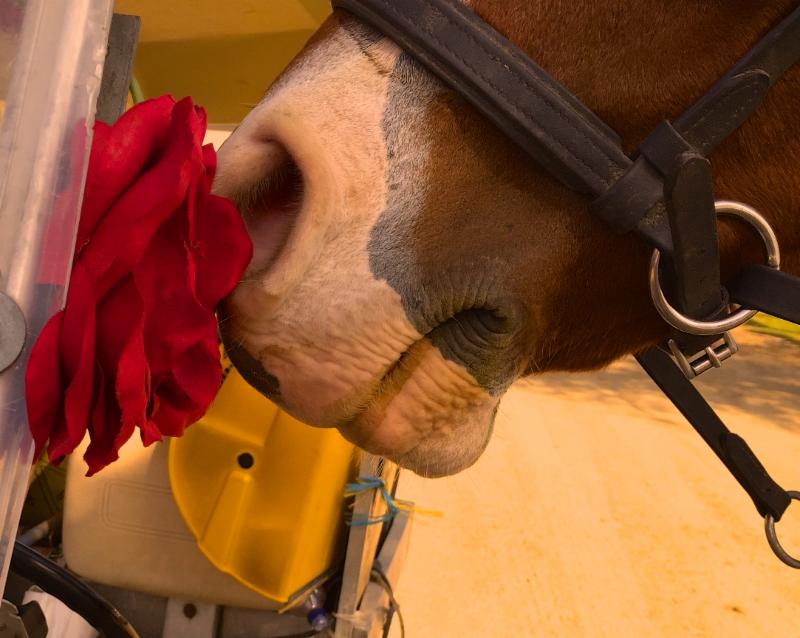 …even if it is just a plastic rose stuck on the side of the janitorial golf cart at The LA Equestrian Center…
And see you at BINGO!
xo, Bingo Boy