NEWS, VIEWS & SPEWS
That's this weeks name for all of the stuff you are about to read. Clever? Maybe.
Above is a photo of the place settings for the last Americana At Brand Bingo Night this last Thursday. Deven Green and I had another great night outside with a lot of nice people and the weather was gorgeous.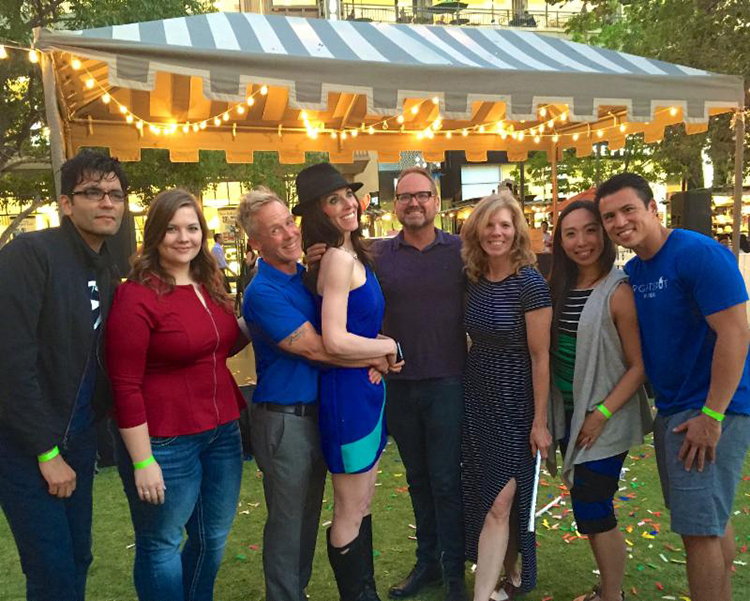 Here is a group photo in which Deven and I seem to think we are at Senior Prom. The others were walking by and just happened to get in the photo. Not really- they are all friends of mine including my good friend Jodi Heaston (who is also my horse Buddy-boy's masseuse- she is the one in a striped dress) and Vincent and Gina Wong who are also my personal trainers (they are the ones in Asian).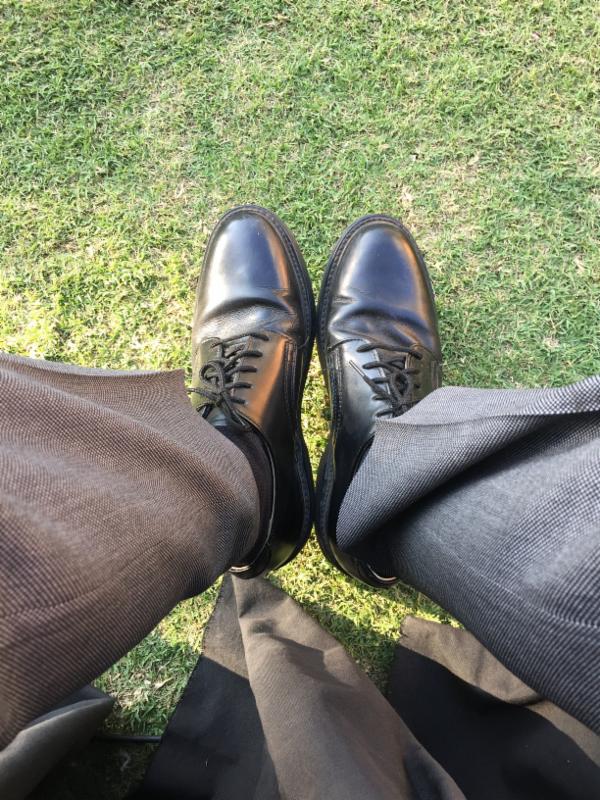 These are my shoes. I just wanted to show that I can sometimes wear shoes that aren't dirty boots with crappy laces. These have been my "dress up bingo" shoes for the past ten years. I take very good care of them.
The audience was very nice but then we ran in to a family of very shiny people (I don't know where they were from) and they got a little too familiar with Deven and myself.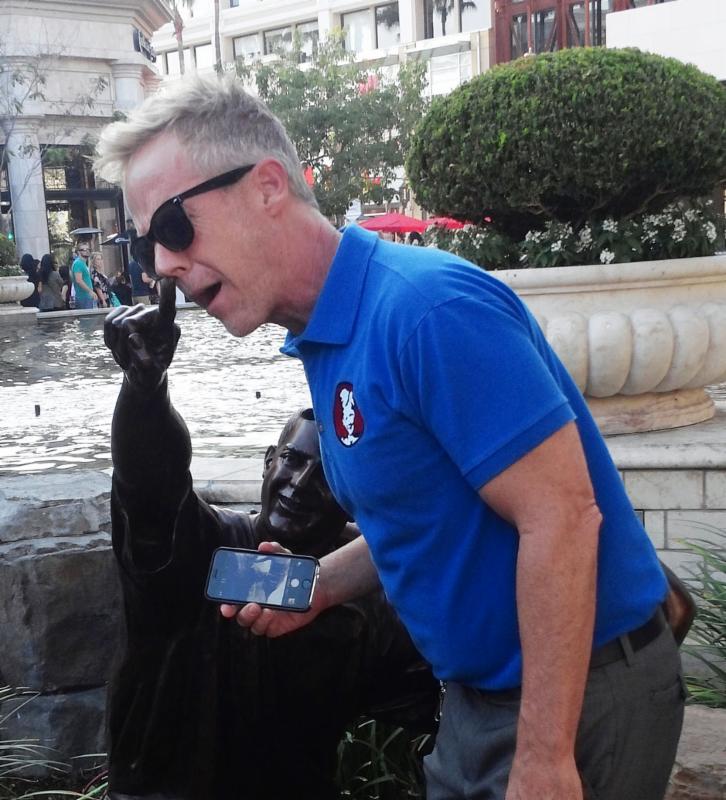 Basically, he said "call my bingo numbers or I will tear you a new hole!" Usually that means another hole but I got the point. Get it, "the point?"
Then this happened-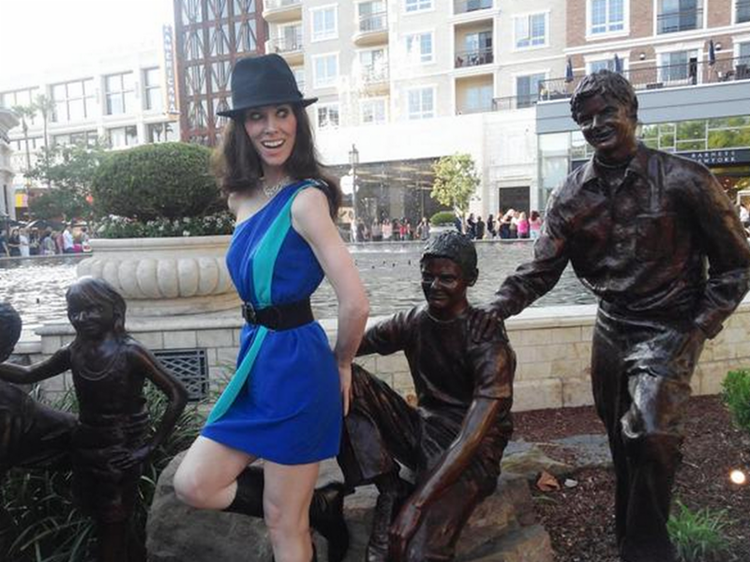 Not only did this boy put his finger up Deven's butt but his shiny dad was laughing and saying "good boy! Use two fingers!"
By the way Deven is dressed as 70's lesser-known supermodel Bianca Felendikoff who was scheduled to be on the cover of the Sports Illustrated Swimsuit edition in 1975 but disappeared mysteriously after a night out on the town with songwriter Paul Jabara who wrote "Enough Is Enough" for Barbra Streisand and Donna Summer and who admitted later that he had to lock Donna Summer in the bathroom in order to get her to agree to to the song with Streisand. She (Bianca) was never heard from again.
The kind folks at The Americana were nice enough to give us each a bodyguard to keep the "throngs" at bay and not bothering us while we were doing things like eating and sitting.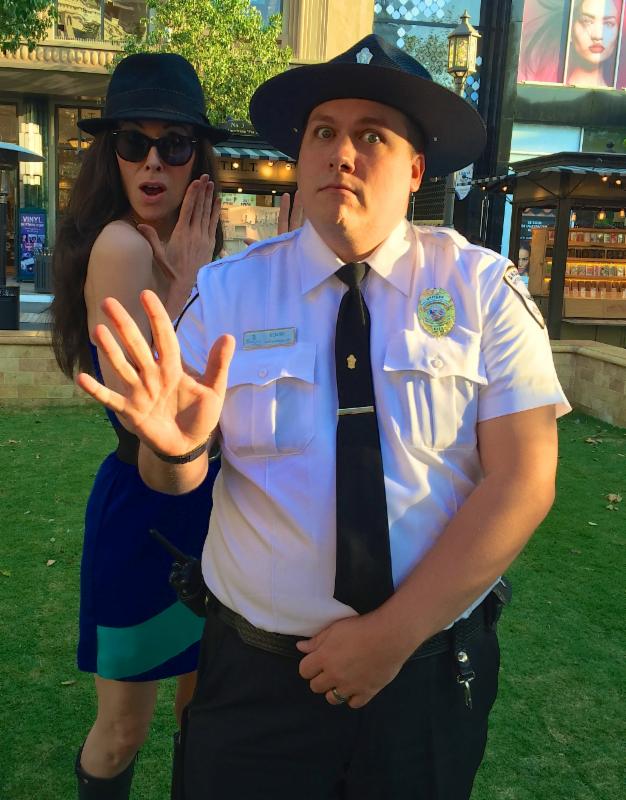 Deven attempted to sexually seduce her bodyguard but he turned her down saying that she reminded him of his much older wife who used to be a supermodel back in the 70's.
My bodyguard was a bit of an enigma.

Actually "he" was Siamese twins attached at the, um, elbow or something. I forgot what I was talking about.
Anyway, a fun time and we cannot wait to do it again next year. Thanks Americana At Brand and to all who came out to see us!
One more thing. Roxy and Porsha did a private party for a couple of guys getting married and they asked to be put in drag for the occasion.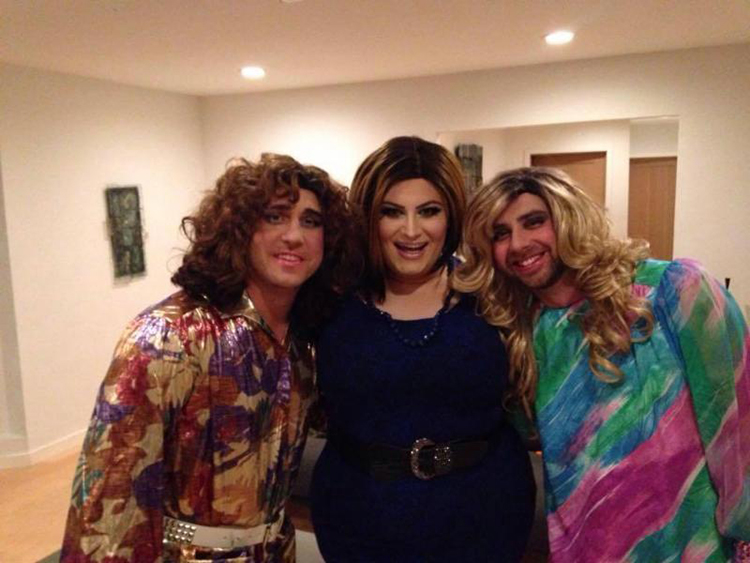 Um….Porsha and Roxy, I love you but they look like if you took 70's pop group Abba and squished all four of them in to two bodies.
Still a few seats for Pasadena on August 25th (THIS TUESDAY!) and a new date has been added so get your reservations in NOW!
And see you this week at BINGO!
xo, Bingo Boy
---
Here's what's coming up in Pasadena!
This Tuesday night!
August 25th-7 pm show benefiting
The Wailers Ski Club/Wounded Warriers!
and coming soon!
Tuesday Night- September 1st!
7 pm show benefiting
Avon 39 to End Breast Cancer!
EDWIN MILLS (formerly Equator)- Pasadena Ca.
22 Mills Place- in historic Mills Alley across from Burke Williams
Must make a reservation to attend!
Full menu and bar | All ages welcome | Pay lot and street parking available
---
Here's what's coming up in WeHo this week!
Wednesday Night- August 26th
Starring Bingo Boy & Willam Belli!
7 pm show benefiting – JWCH Institute!
9 pm show benefiting – CMALA- Crystal Meth Anonymous LA!
Sunday Night- August 30th
Starring Bingo Boy & Roxy Wood!
6 pm show benefiting – Pets 90210!
8 pm show benefiting – Juvenile Diabetes Research!
HAMBURGER MARY'S – WEST HOLLYWOOD
8288 Santa Monica Blvd- At Sweetzer
reservations for parties of 3 or more- 323-654-3800
Full menu and bar | All ages welcome | Valet and street parking available