Sorry this is late. Have been doing so many events I couldn't even sit down until now. Do people even read these emails? Since there is not a  comments section (probably a good thing) I really have no idea. Last night we did an event and I was working the door. A man is buying bingo cards and says "so you are Bingo Boy? The Bingo Blabber guy?" And I said, "well, yes I am! Do you read it?" And he says, with no expression- "……some of it."
No, I didn't ask "which part?" I just shut up and took his money.
We started last week at Grand Central Market in DTLA. Again, fun times on the patio but next month we will be inside. We just like it better there. The BBQ place is so nice out there though- look at at all the work they put in to their promotion of our event!
Look! You can play Drag Queen Bingo AND clog your arteries with massive amount of meat at the same time! Win/Win!
On Wednesday night we were at Hamburger Mary's (duh) and our special guest was Kristen Vangsness of "Criminal Minds." She is great and all but look who showed up to play!
It's Rosie O'Donnell! Say what you will about her, she was very nice and when she pelted, she stood up and really nailed the person. I consider that a positive character trait.
She came to bingo with my friend Dan Bucatinsky ("Scandal," "24," "The Comeback") with whom I am working on a television game show idea. Rumor has it that Rosie may be interested in working with us on the project so we shall see!
On Thursday, Roxy and I hit the road for beautiful Santa Barbara. No, not a vacation (I don't even know what that is), we were heading to UC Santa Barbara for our yearly event. We always stop for food along with way and this time we ended up in Goleta at a little joint called The Chicken Ranch (we had delicious tri-tip and chicken burritos- HUGE!)
 In the bathroom there was this sign-
I love that they think that someone who does graffiti would not do it because they asked nicely for them not to do it. I looked around and did not see any graffiti but then I looked closer at a sign on the other side of the bathroom-
Do you see it? Do you see it? Do you see it? That cowboy is HUNG! At least I think that is what that is. A very classy and subtle graffiti artist for sure.
 On Saturday night we were in the quaint suburb of Sierra Madre for our bi-annual "Sierra Madre Rose Float Bingo Night." We love those folks and their pizza and popcorn. A group of our favorite ladies wore Halloween hats and they looked spooky!
Roxy is wearing her Donna Summer wig! Love to love you baby!
Oh, I forgot, on Wednesday night one lucky winner won this!
A "Justin Beaver" blow up doll! Now with two love holes!
And one more thing-
My dog Dawber is really looking forward to Halloween.
 And-
My horse Buddy-boy met a baby goat named 'Delilah."
WEDNESDAY NIGHT 9 pm SHOW we are helping the people of Puerto Rico through the Hispanic Federation "Unidos" Hurricane Relief Fund. Please come and support! I have new Merch!
 THURSDAY NIGHT BINGO IS SO FUN!
That's all.
 Don't forget to print out your DOUBLE GAME COUPON below!
And see you this week at BINGO!
xo
Bingo Boy
Here's what's coming up in WeHo this week!
Wednesday Night- October 18th-
Starring BINGO BOY & ROXY WOOD!
Thursday Night- October 19th-
Starring ROXY WOOD & CALPERNIA ADDAMS!
Sunday Night- October 22nd-
Starring JOEL "69" & INGENUE!
6 pm show benefiting – 
HAMBURGER MARY'S – WEST HOLLYWOOD
8288 Santa Monica Blvd- At Sweetzer
reservations for parties of 3 or more- 323-654-3800 
Full menu and bar
All ages welcome
Valet and street parking available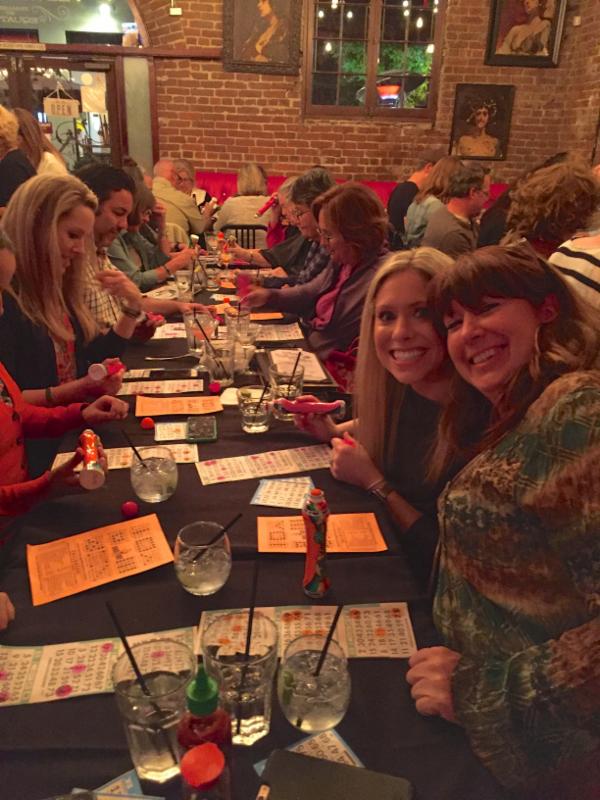 Tuesday Night-
October 24th!
Starring Bingo Boy & Roxy Wood! 
EDWIN MILLS RESTAURANT
22 Mills Place- in alley across from Burke Williams
Click on charity name for reservation site. Must make a reservation to attend this event! 
Full menu and bar
All ages welcome
Pay lots and street parking available
DOUBLE YOUR CARDS! DOUBLE YOUR FUN!

Present this coupon at Legendary Bingo on Wednesday, Thursday and/or Sunday night and receive DOUBLE THE AMOUNT OF REGULAR BINGO CARDS & ONE EXTRA GRAND PRIZE CARD!

Must make $20.00 donation to charity in order to use this coupon. One coupon per person. May also show coupon on your phone.

Offer Expires: 10/22/17