Roxy On TV, Pickle Pants, EG Daily & More!
Roxy is a really good actress.
You may know Roxy Wood as a great Bingo Hostess but did you know she is also a scripted performer? A performer of scripts? Okay- an actress. Recently Roxy auditioned and got a part on what was going to be a huge show on ABC called "Wicked City." Lots of promo and anticipation. And then they pulled it after three episodes (we kinda thought that might happen after watching just two of the episodes). Well, Roxy's episode was number 6. Damn it! But nothing really dies anymore and all of the episodes are now posted on ABC On Demand.
So of course I had to watch! And it was amazing! I mean she was amazing!
Here's what happened in Roxy's episode-
So the killer guy goes over to Aunt Bobby's house (that's Roxy's name on the show- because they thought it was funny I guess that it's aunt and a then a boy's name) and he wants her to make him new ID's to go with his new blonde hair which now makes him completely unrecognizable (as blonde hair dye will do).
Well, Roxy, I mean Aunt Bobby, tells him that her television is broken so that he won't know that she has seen on the news that he is a wanted man but he looks and sees that her tv is actually unplugged which means she, Aunt Bobby- not Roxy- is lying!
So he pulls out a knife and she turns around and reacts!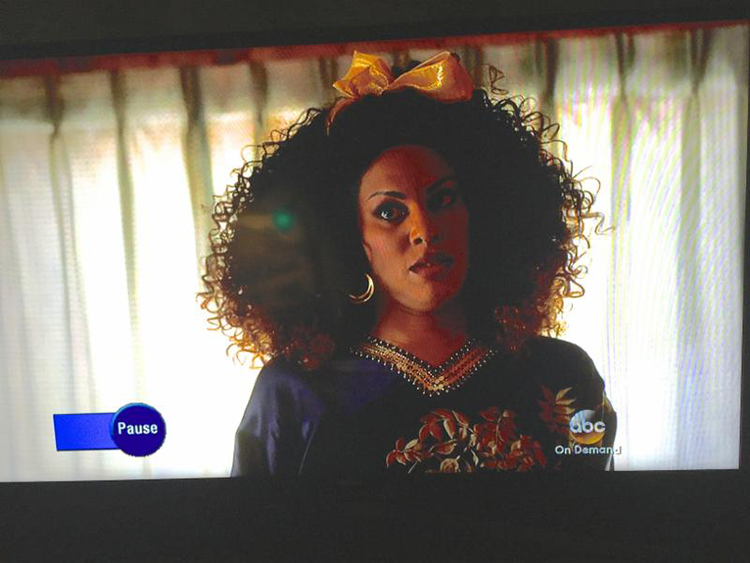 "Uh oh- this man ain't playing. He knows my tv is actually unplugged and not broken like I just told him. I am a liar."
So the killer man with the fake blonde hair lunges at Aunt Bobby and….they go to commercial!
But when they come back, a couple of detectives (including Jeremy Sisto who has hosted bingo before) arrive at her house and this is how they find Aunt Bobby!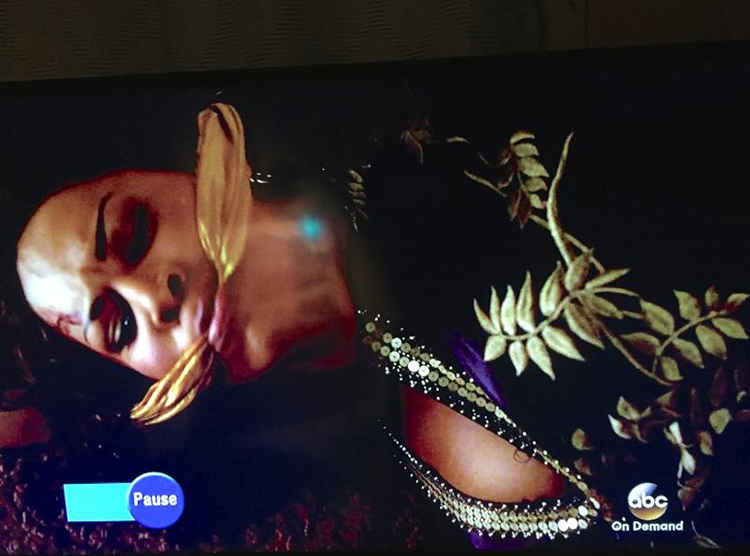 She's tied up in a closet with one of her good scarves in her mouth! So they take the scarf out and Aunt Bobby says "this is the first time I am actually glad to be in the closet!" which is a gay reference and also means she is glad the guy did not kill her and then have sex with her (which this killer guy used to do when he had brown hair).
So then Aunt Bobby is on her couch and talking with the detectives and being all flirty with the cuter one (not Jeremy Sisto) and she gives him a little of this-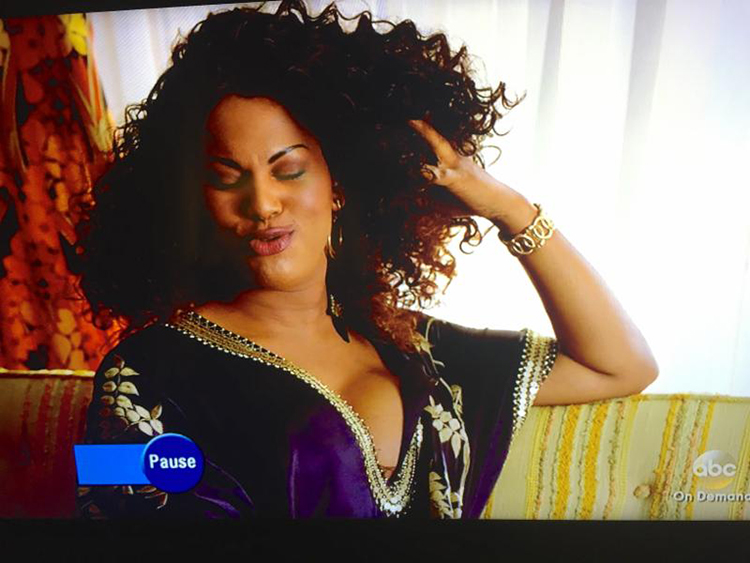 And then they leave.
Anyway, Roxy was seriously amazing and should have her own show. And it was very exciting to see her name up on the small screen!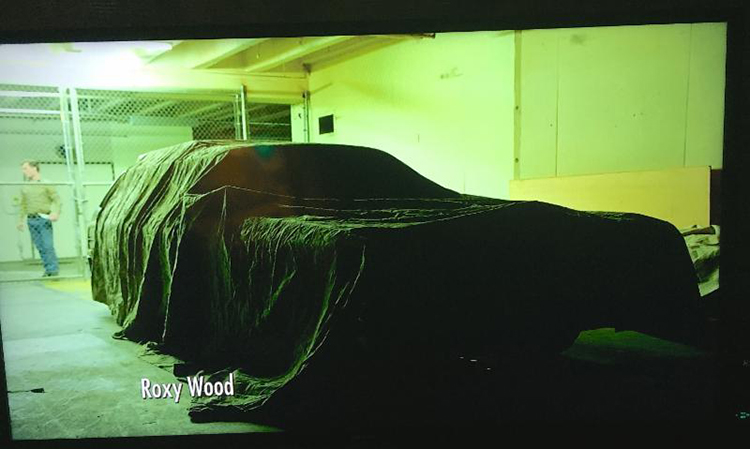 That's single card, top of the show folks in case you don't know the terminology.
Yay Roxy!
Now on to bingo. Willam Belli came out to host on Wednesday night and was very impressed with "Drag Queen Bingo: The Home Game." Have you "liked" the Facebook page yet? Anyway, here he is posing with the box which is actually just the sample they sent me but looks just like the real thing-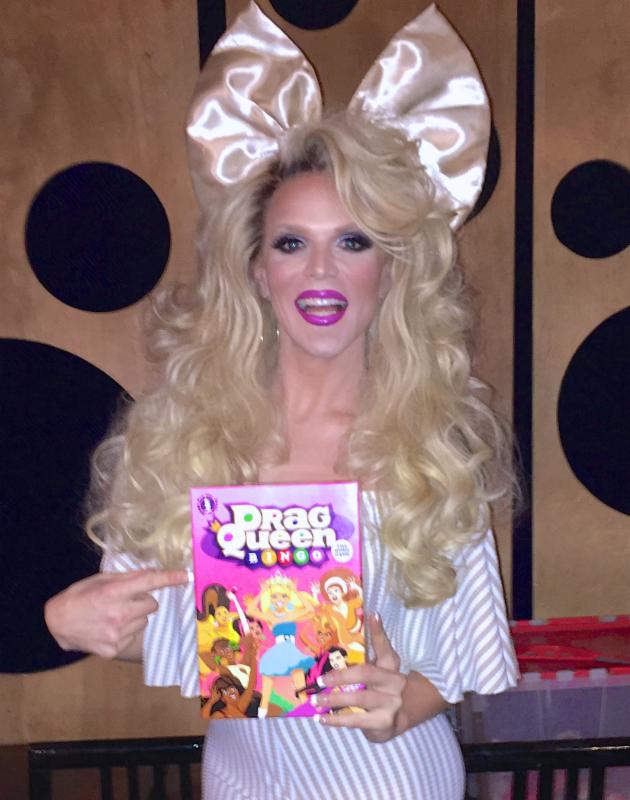 It was wonderful having Willam back and we hope to see him in February.
On Sunday night, we sold out both shows (actually oversold) and the very funny Jerry O'Connell was out guest for the 8 pm show (which started at 9 pm).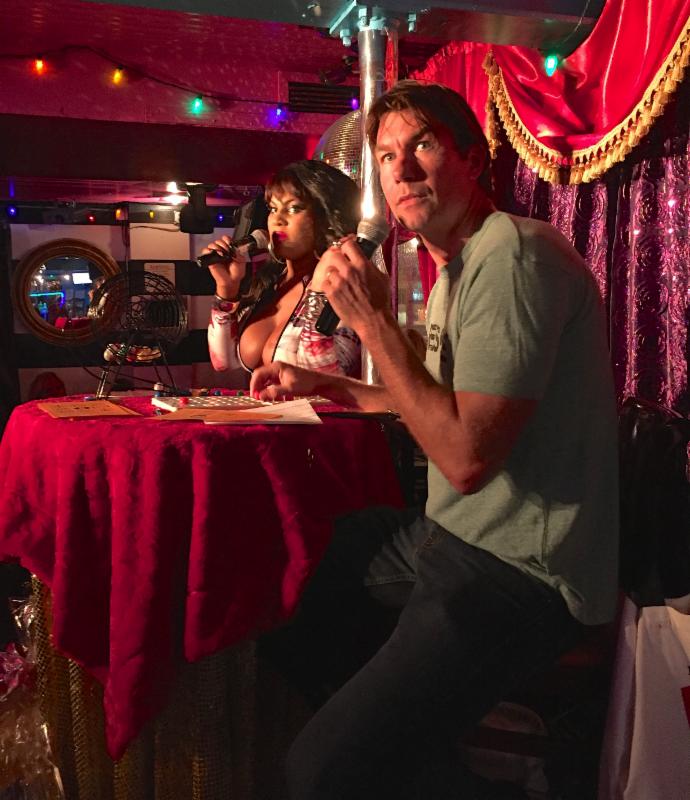 As you can see, both Jerry and Roxy were very concerned about this one hour delay in the show but we pushed past it.
And this week, on Wednesday night, we have three really cool ladies coming out to call our balls and throw paper at you!
For the 7 pm show- benefiting Pickle Pants Animal Rescue- we have the amazing and talented Lori Alan!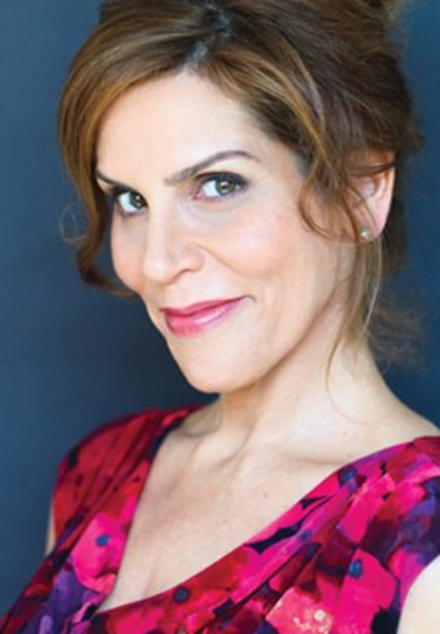 Lori is the voice of Pearl Krabs on "Spongebob Squarepants" as well as Diane Simmons on "Family Guy" and she was also in the animated film "Inside Out"!
Joining Lori will be Mary Birdsong who is a member of law enforcement-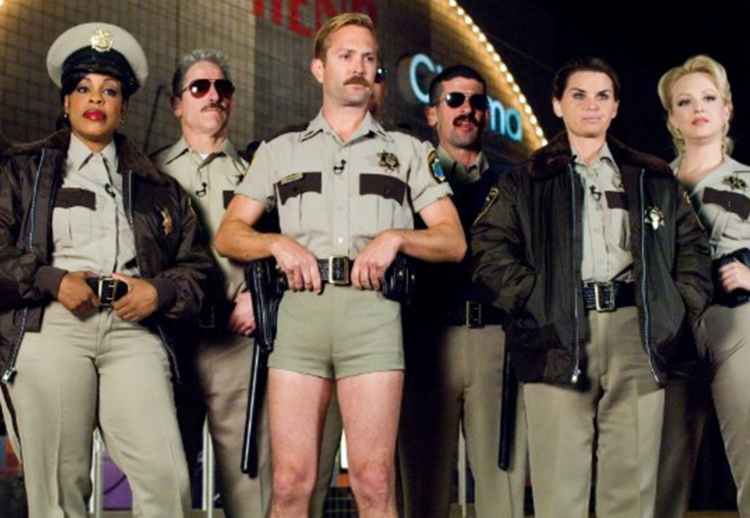 …on a show called "Reno 911!" That's her second from the right.
For the 9 pm show- also for Pickle Pants Rescue, we have the voice of Tommy Pickles on "Rugrats" as well as the voice of Blossom on "Powderpuff Girls" AND she starred in "Pee Wee's Big Adventure" too!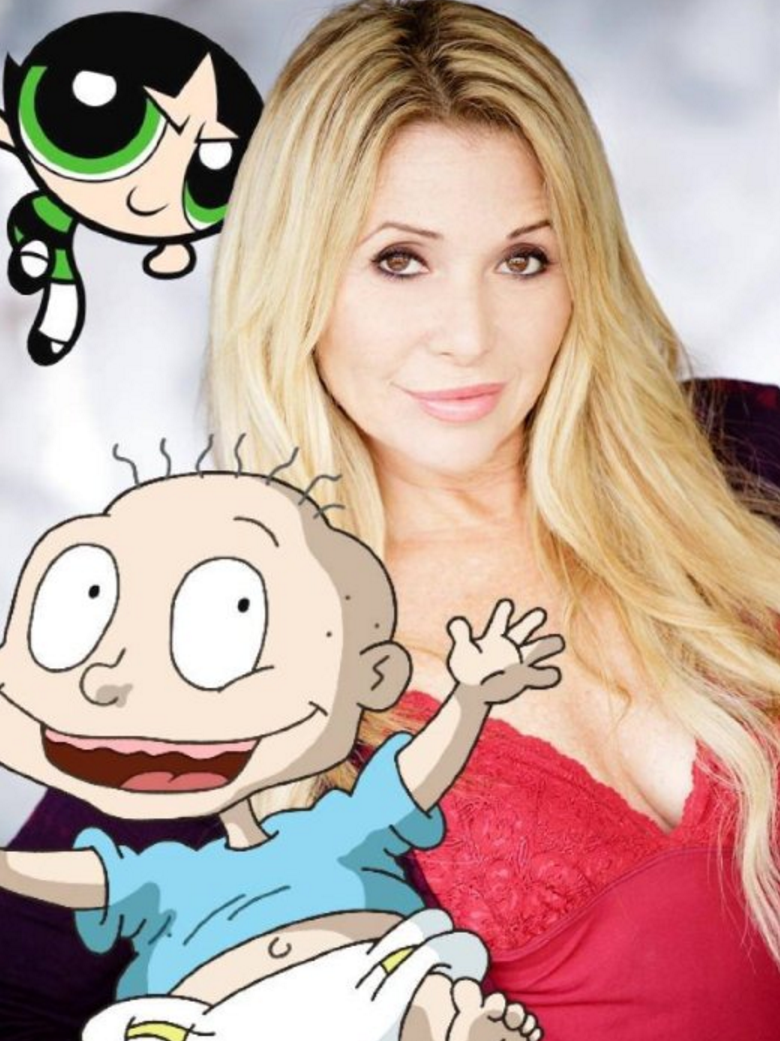 That's right! Elizabeth Daily! aka E.G. Daily to many of us.
Anyway, Wednesday should be loads of fun. Make a reservation for either show but do it quick, we are filling up fast!
And don't forget next week we are in Ontario on Monday and Pasadena on Tuesday night! Make those rezzies!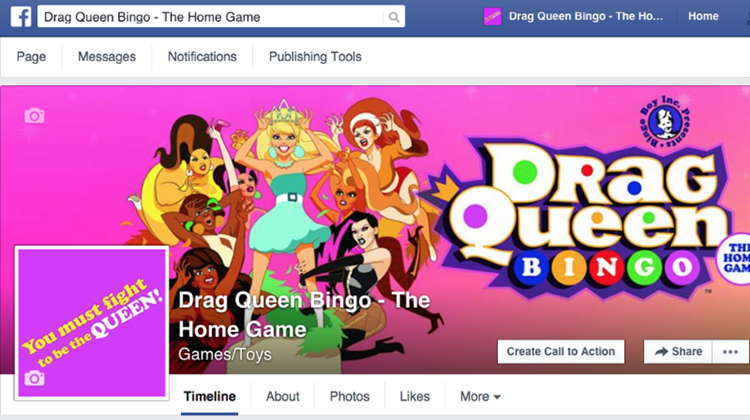 Please "like" Drag Queen Bingo: The Home Game" on Facebook! just click on the photo below!
All of the "characters" in the game have posted on Facebook to let you know who they are and It would be just swell if you would go to the page and "like" it and see which character is closest to your personality and heart! Just click on the photo to go to the page. More to come on this and we are very excited about this brand new "baby" at Bingo Boy Inc!
And see you this week at BINGO!
xo Bingo Boy

Here's what's coming up in WeHo this week!
Wednesday Night- January 20th
Starring Bingo Boy & Roxy Wood!
7 pm show benefiting – Pickle Pants Rescue!
9 pm show benefiting – Pickle Pants Rescue!
Sunday Night- January 24th
Starring Bingo Boy & Porsha Hayy!
6 pm show benefiting – FOCUSFish!
8 pm show benefiting – The I Have A Dream Foundation!
HAMBURGER MARY'S – WEST HOLLYWOOD
8288 Santa Monica Blvd- At Sweetzer | Reservations for parties of 3 or more- 323-654-3800
Full menu and bar | All ages welcome | Valet and street parking available

Here's what's coming up in Ontario in January!
Monday Night- January 25th
Starring Bingo Boy & Roxy Wood!
7 pm show benefiting – Reptile Rescue Of Orange County!
HAMBURGER MARY'S – ONTARIO
3550 Porsche Way- just off of the 10 fwy. | Reservations for parties of 2 or more- 909-944-9400
Full menu and bar | All ages welcome | Huge parking lot available


Here's what's coming up in Pasadena in January!
Tuesday Night- January 26th!
starring Bingo Boy & Roxy Wood!
7 pm show benefiting – Wailers Ski Club!
EDWIN MILLS (formerly Equator)- Pasadena Ca.
22 Mills Place- in historic Mills Alley across from Burke Williams
Must make a reservation to attend!
Full menu and bar | All ages welcome | Pay lot and street parking available