Sometimes I forget just how many people we meet each week. A million! Well, not that many but quite a lot. With the five shows at Hamburger Mary's each week plus all of our other events, we are so lucky to always be meeting people and making new friends.
This week I took a few photos of people and was all set to tell you their stories but since then I forgot most of them. So I may make a few things up but still, they will be a fun read. I hope.
This family was at bingo on Sunday night. The mom and dad are in the front. In fact we called the dad "daddy" all night. So it was a little cringing when "daddy" started going on and on about the "Rim Job." When I finally said something about being able to give a rim job (it's a bingo pattern in case you didn't know). He said "give a rim job? I am talking about getting a rim job!" Oh, daddy. You say the funniest things.
This boy (I will call him Charlie) and his mom came to bingo also on Sunday. I was sitting at the door and asked him if he had ever played bingo before.
Charlie: Yes I did play bingo once before. And I won!
Me: You did? That's awesome! What did you win?
Charlie: I won a stupid sticker that said "I won at bingo!"
Okay. So I never want to hear any of you complain about the prizes again.
The guy with Roxy is only known as "Berlin." Because he is from Berlin. He and his friend were causing quite a fuss (drunk) so I got him on stage to call a game with Roxy. Bad move- Roxy hated him. I think she is saying "get out!" in this photo. He did, but not before dropping many balls on the floor, much to Roxy's joy and delight.
And then of course someone always shows up with a dog riding a suitcase. We will call him "Charlie Berlin."
We had some celeb guests this past week!
That's Alison Arngrim who played "Mean Nellie Oleson" on "Little House On The Prairie"!
That's Lori Alan who is the voice of "Pearl Krabs" on "Sponge Bob Square Pants"!
That's Jenni Pulos from the long running reality show "Flipping Out"! She is a million months pregnant and probably had the baby in Mary's parking lot.
And finally…
I love Target. Go there at least once a week. For some reason went to the book section this last time and look what I saw…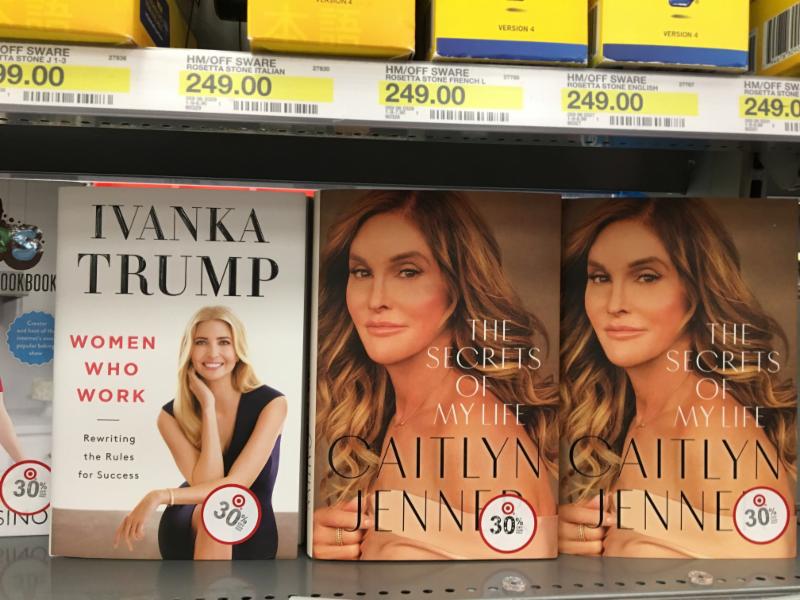 Ivanka and Caitlin. And both 30% off. How sad to be in the "bargain bin" of a store that proudly promotes classy drinking!
Caitlin and Ivanka might want a couple of Jack and cokes to heal the sting of being 30% off….
PASADENA BINGO ON MAY 30TH CANCELLED!
Sorry but we had some issues with this date and had to let it go. But we will be back in Pasadena at Edwin Mills on Tuesday, June 27th
THURSDAY NIGHT BINGO IS HOT!
Still. Give it a try.
Don't forget to print out your DOUBLE GAME COUPON below!
And see you this week at BINGO!
xo
Bingo Boy
Here's what's coming up in WeHo this week!
Wednesday Night- May 24th-
Starring Bingo Boy & Calpernia Addams!
Thursday Night- May 25th-
Starring Roxy Wood & Ingenue!
Sunday Night- May 28th-
Starring Roxy Wood & Joel Bryant!
6 pm show benefiting –
HAMBURGER MARY'S – WEST HOLLYWOOD
8288 Santa Monica Blvd- At Sweetzer
reservations for parties of 3 or more- 323-654-3800 
Full menu and bar
All ages welcome
Valet and street parking available
Here's what's coming up in Pasadena!
Tuesday Night-
June 27th!
Starring Bingo Boy & Roxy Wood!
(note: link for tix in next week's email)
EDWIN MILLS RESTAURANT
22 Mills Place- in alley across from Burke Williams
Click on charity name for reservation site. Must make a reservation to attend this event! 
Full menu and bar
All ages welcome
Pay lots and street parking available
DOUBLE YOUR CARDS! DOUBLE YOUR FUN!

Present this coupon at Legendary Bingo on Wednesday, Thursday
and/or Sunday night and receive DOUBLE THE AMOUNT OF REGULAR BINGO CARDS & ONE EXTRA GRAND PRIZE CARD!

Must make $20.00 donation to charity in order to use this coupon. One coupon per person. May also show coupon on your phone.

Offer Expires: 5/28/17