Pauley Perrette, Heidi Hamilton, Country Clubs and More…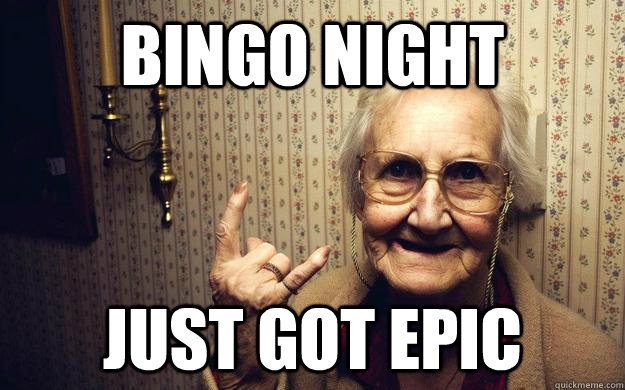 Um, the heat. Is epic. On my way to pick up Roxy in the valley on Saturday- it is 5 pm- in the EVENING and this is what the thermometer says-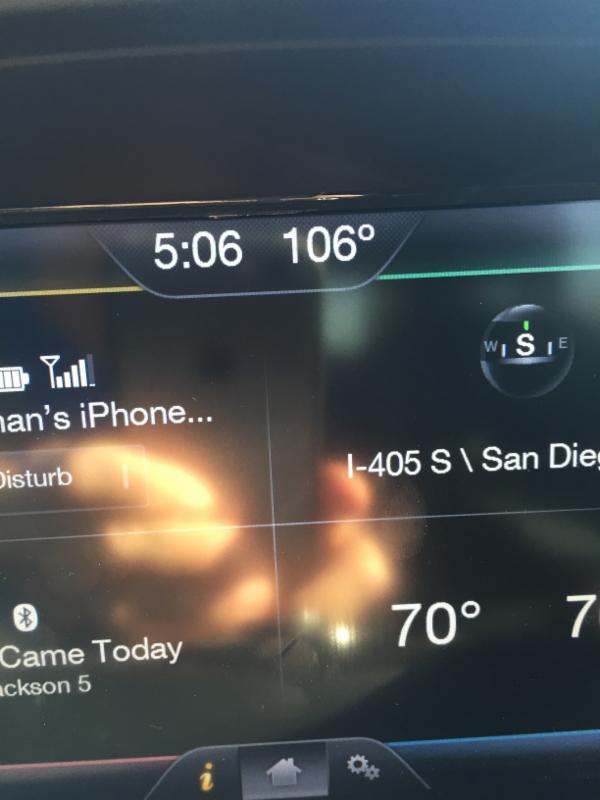 That's not the number of the radio station. That is the temperature. 106. In the evening. Thank God we were on our way to another exclusive country club for a night of bingo in the hermetically sealed chambers that they only offer to exclusive country club members.
We arrived at Braemar (the exclusive country club) and this is what we found-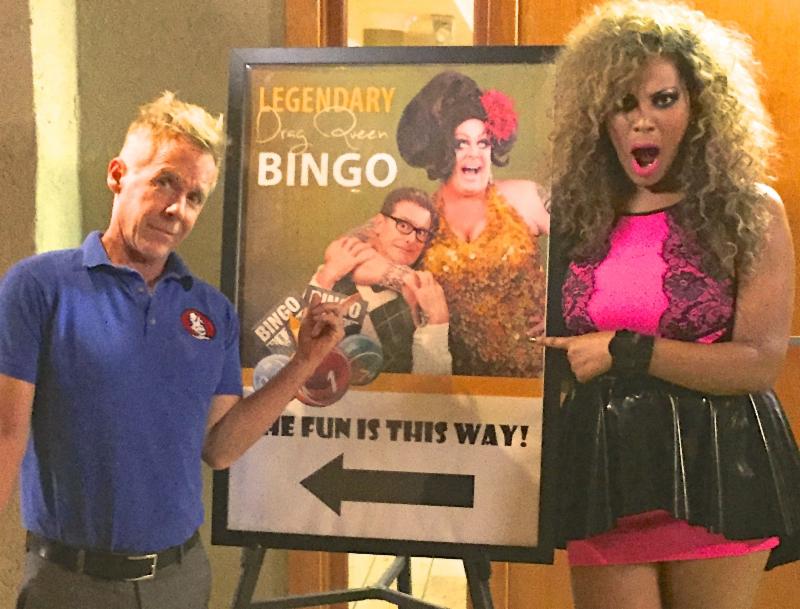 Look at the poster! That's what they think we look like! So we strolled in and acted natural or in a "country club way" and told everyone that we were new members. I was Bo Bingotini and I introduced my wife, Riansay Donna Summer. No one really bought it but they didn't try to kick us out until we were through the buffet line so that was good.
Seriously it was a fun night and in the crowd was 70's singer Helen Reddy! Kids- she sings "I Am Woman," the anthem for all gay boys and future drag queens. We spoke to her for a while and then she left. I guess bingo was not her thing.
Going backwards. Sunday night was packed and the air conditioner was working at Hamburger Mary's which was a blessing. Heidi Hamilton of "The Heidi & Frank Show" on KLOS came to help us with our balls and, as always, was the life of the party.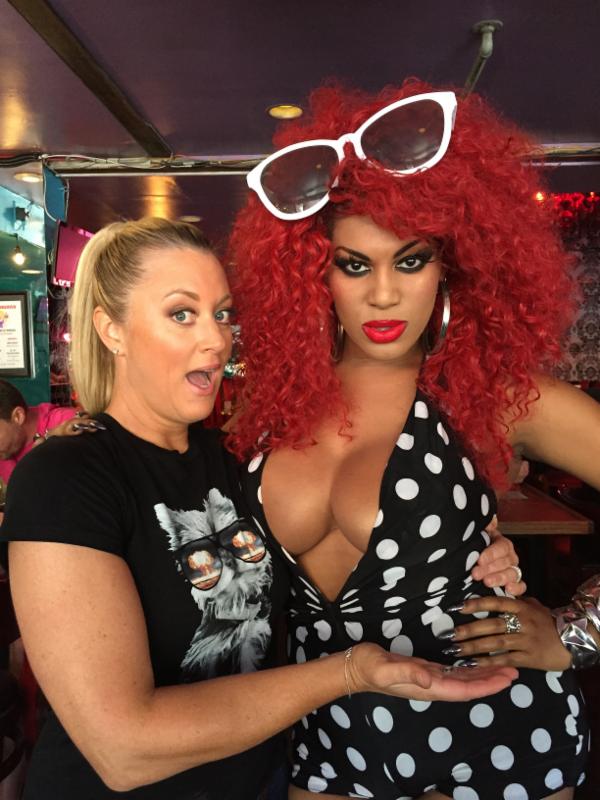 Heidi loves Roxy's boobs. Could not get enough of them. She also licked my neck on stage which was….confusing. I just kept thinking if only Justin Timberlake….just kidding.
Wednesday night was also epic with the balls being called by Roxy and Kelly Mantle and special guest Pauley Perrette of "NCIS." Pauley is always fun and always busy filming (episode 487?!) so we are happy she could make it.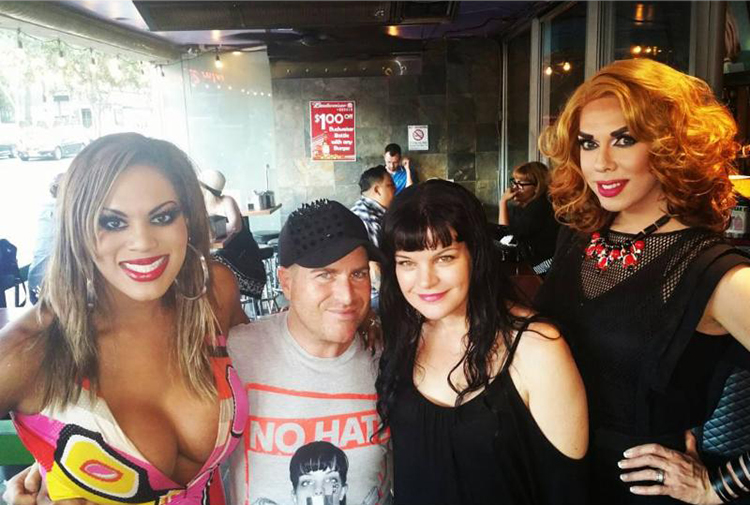 Thursday night was another sold out night in Glendale at The Americana At Brand and yes, it was hot but those fountains really help to cool things off. Here is a selfie of Deven and I wondering if we can really pull off a "G" rated show with 400 people listening and Mr. Rick Caruso (owner and developer of Americana and also The Grove and may other seclusive malls) in attendance.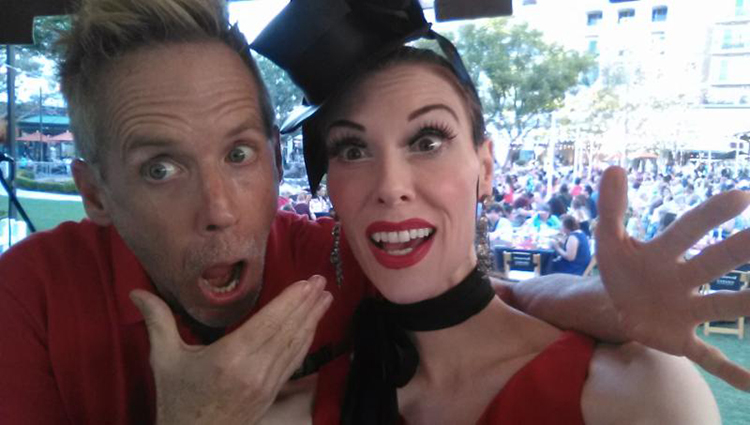 Deven is dressed as a French prostitute with as heart of gold who meets and falls in love with a famous architect and ends up jumping off of one of his tallest buildings because she gave him an STD that drove him mad.
A few of my friends dropped by to get their bingo on.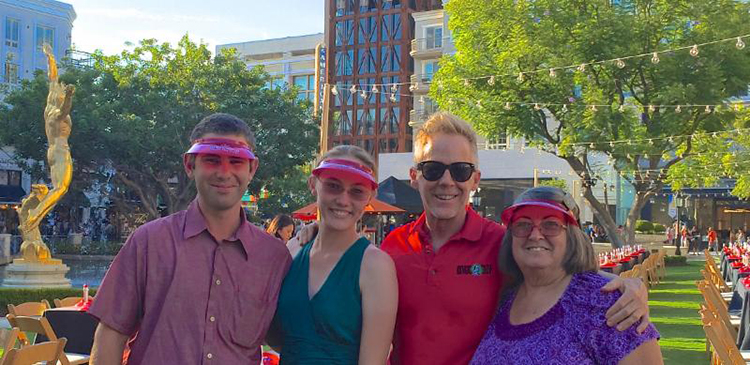 On the left are Yoni and his fiancee Megan who have asked me to officiate at their wedding. Meaning I would be the minister! Of course I said yes. I have been the "Man of Honor" in one wedding and a male bridesmaid at another but this would be my first where I would be the one facing the crowd and drawing all of the attention. So how could I say no?
My friend Kay Sappington is next to me and she is already married and does not need my ministerial services at this time. Oh well, too bad for her.
We have one more Thursday at The Americana but unfortunately it is sold out. In fact all three of the dates sold out in like, an hour. We are like Madonna or something! Except with balls. I know- yes, Madonna might just have balls but ours are more colorful and give prizes.
LESBO BINGO!
IT'S BACK! On Saturday August 22nd we will have a lovely evening of Lesbo Bingo at Hamburger Mary's with me and Kelly Mantle and, of course, lesbians. Still some seats left so call Mary's (323-654-3800) and reserve your spot. There are always great prizes and surprise guests. And lesbians.
Still a few seats for Pasadena on August 25th and a new date has been added so get your reservations in NOW!
And see you this week at BINGO!
xo, Bingo Boy
---
Here's what's coming up in WeHo this week!
Wednesday Night- August 19th
Starring Bingo Boy & Roxy Wood!
7 pm show benefiting – The ASPCA!
9 pm show benefiting – West Hollywood Aquatics!
Sunday Night- August 23rd
Starring Bingo Boy & Porsha Hayy!
6 pm show benefiting – Home Dog LA!
8 pm show benefiting – ONEGeneration!
HAMBURGER MARY'S – WEST HOLLYWOOD
8288 Santa Monica Blvd- At Sweetzer
Full menu and bar | All ages welcome | Valet and street parking available
---
Here's what's coming up in Pasadena!
Next Two Events…
Tuesday Night- August 25th!
7 pm show benefiting
The Wailers Ski Club/Wounded Warriers!
Click on charity name for reservation site-
Tuesday Night- September 1st!
7 pm show benefiting
Avon 39 to End Breast Cancer!
Click on charity name for reservation site-
EDWIN MILLS (formerly Equator)- Pasadena Ca.
22 Mills Place- in historic Mills Alley across from Burke Williams
Must make a reservation to attend! Click on links above!
Full menu and bar | All ages welcome | Pay lot and street parking available