Slide Show!
Well, you have to pretend it's a slide show. I am thinking that if you sing "That's Where The Happy People Go" by The Trammps in your head, it will be more fun during the slide show. You can change the lyrics like this:
Bingo!
That's where the happy people go
And they're just daubing along
Getting numbers wrong
And calling False Bingo!
Here we go!
It was Tuesday night. Grand Central Market in DTLA. Bingo Boy & Roxy show up to do their regular monthly gig. Place is packed. Everyone wants to play bingo. And then…there is no microphone. The set-up people at Grand Central cannot find even one microphone for the sound system. After waiting 45 minutes to no avail, Bingo Boy & Roxy decide there is no way they are "yelling" ten games of bingo. No sir. So Bingo Boy tells everyone to play all of their cards at the same time and that the playing will go on through several winners until all of the prizes were gone (there were 12 prizes).
And when that was over Roxy paddled someone.
And then someone else.
And then someone else.
And then Bingo Boy & Roxy went home where Bingo Boy called the boss at Grand Central Market and told her that they better have a microphone next time. Or else.
It is Wednesday night at Hamburger Mary's in West Hollywood. The WeHo Elite Cheerleaders are in the house as well as guests from the (supposed) television show "Vanderpump Rules." And that's all I know because I was not there.
Thursday night and it is time again for the yearly "Americana At Brand Bingo Spectacular" at Americana At Brand Shopping Center in Glendale. Deven Green sends Bingo Boy this photo that she took on the night of and used some sort of "I am only twelve years old" filter. Bingo Boy thinks Deven looks great and that he looks like he got a face lift. And not in a good way.
This is how many people they expected and in the end, every seat was filled. Over 550 people. All upcoming dates for this are already sold out. Bingo Boy & Deven Green are very popular in Glendale.
During the show, Deven Green scares the sh*t out of a little boy who climbed up to play with our balls. He will never do that again.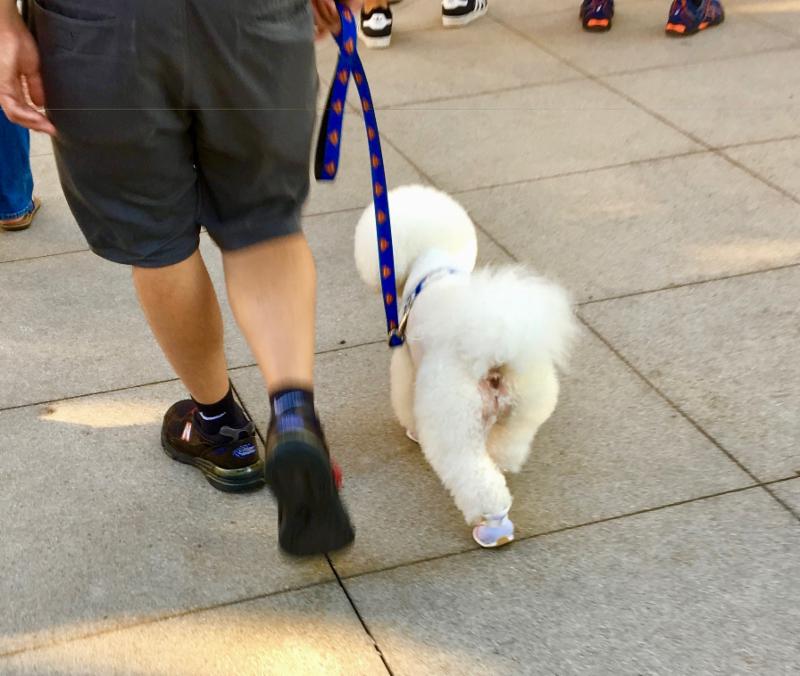 Oh, and Bingo Boy spotted this dog walking through the center. The dog is wearing tennis shoes and appears to have a huge butthole. The guy walking the dog also wears tennis shoes but we do not know anything about his butthole.
It is Sunday night and while Legendary Bingo goes on at Hamburger Mary's in West Hollywood with Roxy Wood and Joel "69," Bingo Boy & Ingenue host a Drag Queen Bingo Party at the exclusive Domain Apartment/Homes down the street on Santa Monica Blvd. Really nice crowd with many good looking people who can afford $3400.00 a month for a one bedroom apartment. Well, as long as it includes drag queen bingo…..
Ingenue makes herself at home in one of the outdoor kitchens with deck that overlooks the city. For $3400.00 a month, I want a big juicy pot roast in the oven at all times, ready to eat.
After being around all of this luxury for a couple of hours, Ingenue acted like she "OWNed" the place. Get it? Look at the photo!  Get it? 
Don't forget to print out your DOUBLE GAME COUPON below!
And see you this week at BINGO!
xo
Bingo Boy
Here's what's coming up in WeHo this week!
Wednesday Night- August 16th-
Starring CALPERNIA ADDAMS & JOEL "69"!
Thursday Night- August 17th-
Starring ROXY WOOD & INGENUE!
Sunday Night- August 20th-
Starring BINGO BOY & INGENUE!
6 pm show benefiting – 
HAMBURGER MARY'S – WEST HOLLYWOOD
8288 Santa Monica Blvd- At Sweetzer
reservations for parties of 3 or more- 323-654-3800 
Full menu and bar
All ages welcome
Valet and street parking available
DOUBLE YOUR CARDS! DOUBLE YOUR FUN!

Present this coupon at Legendary Bingo on Wednesday, Thursday and/or Sunday night and receive DOUBLE THE AMOUNT OF REGULAR BINGO CARDS & ONE EXTRA GRAND PRIZE CARD!

COUPON NOT VALID FOR AMERICANA AT BRAND EVENTS.

Must make $20.00 donation to charity in order to use this coupon. One coupon per person. May also show coupon on your phone.

Offer Expires: 8/20/17