Tabloids, Moms, Horses, Pasadena & More!
Tabloids Make Me Sick.
Sort of. They also amuse me just a bit. When I am in line at the grocery store I always glance over and end up chuckling at the front pages of these rags. Sadly, my father subscribes to The National Enquirer and that makes me feel shame but I am glad he has a hobby.
The cover above made me laugh because as we all know, Cher cannot die. As Kathy Griffin said "something, something….Cher and cockroaches." And look above at "Barry Manilow MARRIES A MAN!" Like we are all surprised that he is…..not in to women. I love you Barry but you actually look so much like an old woman right now that basically you are straight. Here come the "leave Barry Manilow alone" emails…
Here's one more-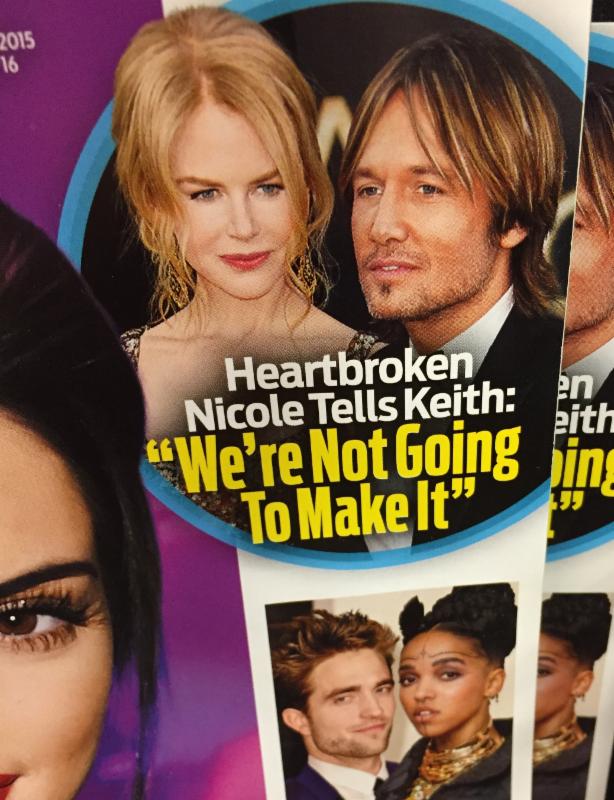 Interestingly enough Nicole did say that but at the time she and Keith were out shopping in a mall and had to pee really bad and none of the stores would let them use the restroom unless they purchased something.
You can always trust me to give you the REAL story.
This wonderful lady came to bingo the other night-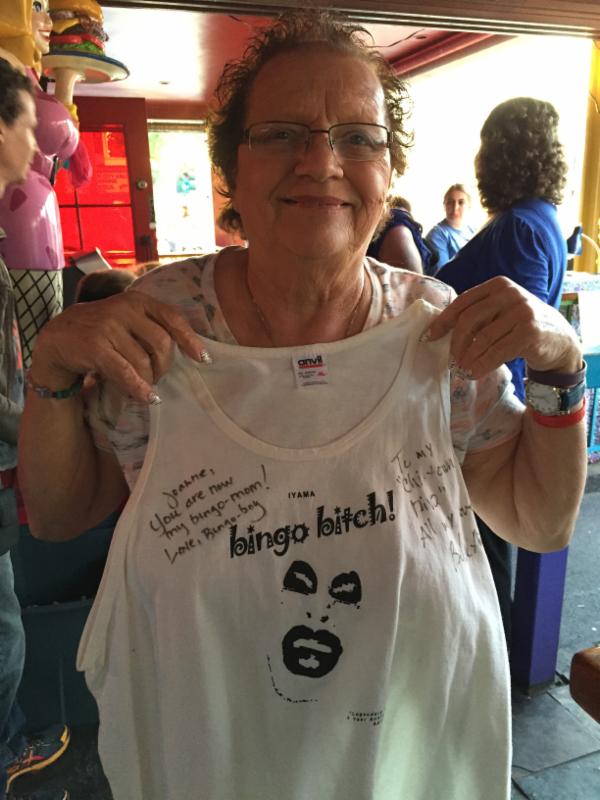 In order that I really feel as old as I am, she brought this shirt I gave to her in 2005. What was I doing in 2005? Oh, that's right- bingo. Ten years later and the shirt looks better than I do. Damn you bingo. I called her my "bingo mom" which I am sure did not make my real mom happy. She hates sharing.
I took her (my mom) to Grand Central Market downtown the other day and we found a place that goes by the same name as she does!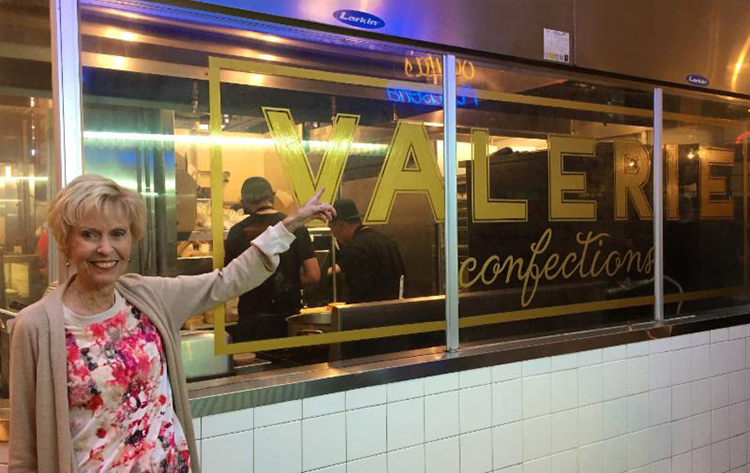 Valarie- meet Valerie. Yeah, my mom's name is spelled wrong. Did you know mine is too? I am Jeffery- not Jeffrey. I found this out when I was 16 and she looked at my birth certificate and saw the spelling error. Her excuse? "I was so drugged out I didn't know what I was doing." Ironically she always hated it when I used the same excuse when I was a teenager. Life is funny.
Also on our trip I took her to Olvera Street and I discovered waaaaay back in the back of a leather store (belts and things- not bondage) a lonely guy who needed to be petted and he paid me five bucks for a happy ending! (kidding)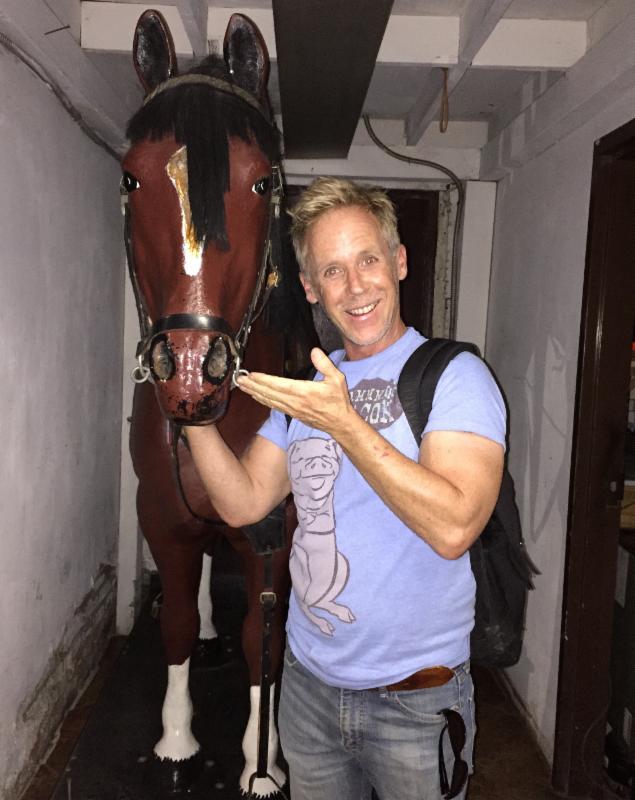 I will go for more- he was pretty stiff but he gave me the safest ride I ever had. Hung like a…..
That's it.
Speaking of horses, my horse's trainer came out with some fancy reins for me to try recently-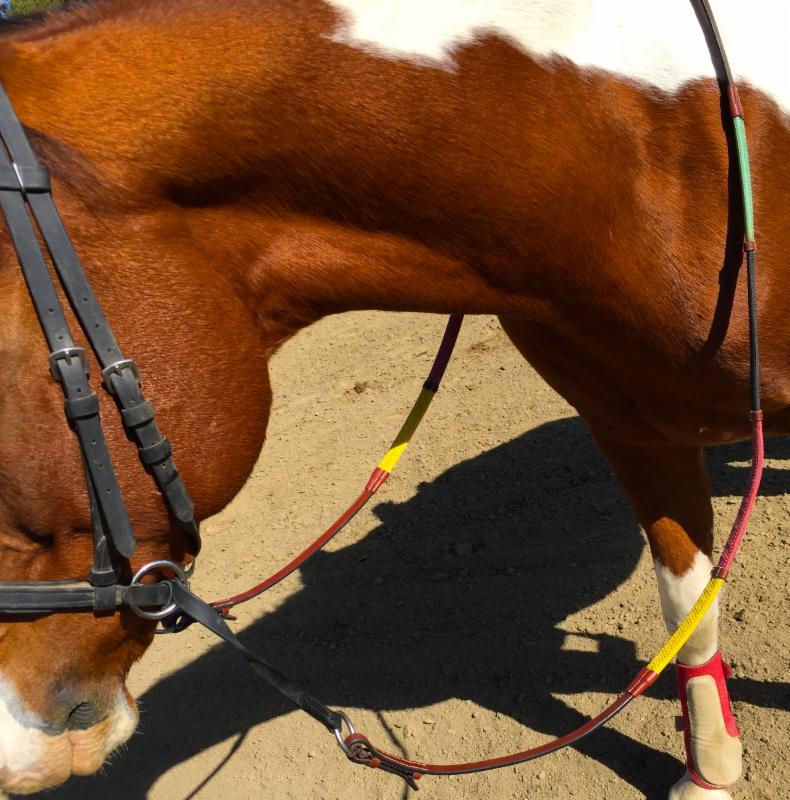 Look at that! Gay rainbow reins! Actually they were meant to show you where to properly put your hands when riding (I'll let you do this one- I am feeling a little disgusted with myself right now). FYI I was in the red zone which really means absolutely nothing.
I was having lunch the other day and ordered calamari. I love calamari. I was intrigued by this one piece more than the others-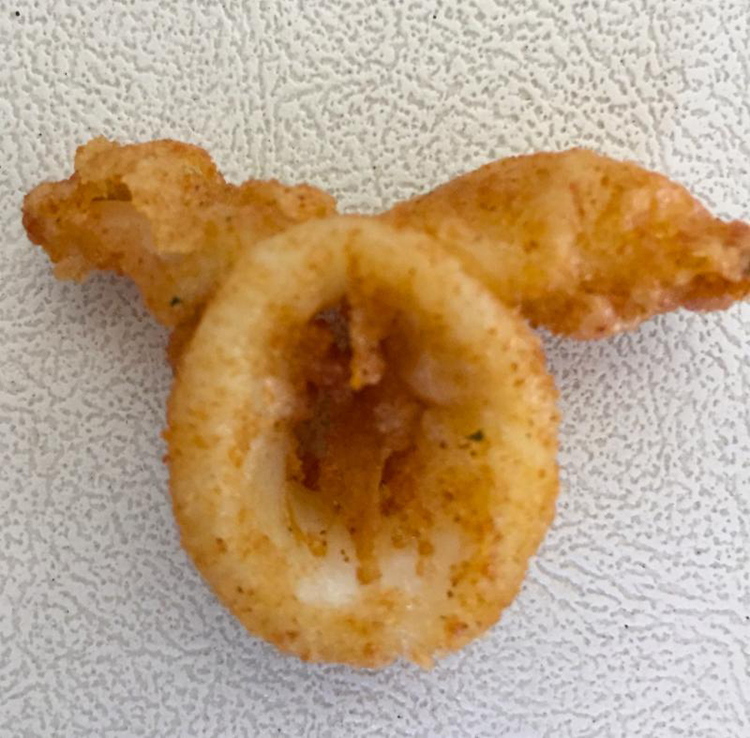 I was with my little sister and niece so my brain said "bunny rabbit!" Looking at it now, in my current mood, I see that this could have been the companion to one of my lovely "Mr. Carrot Big Pants" creatures-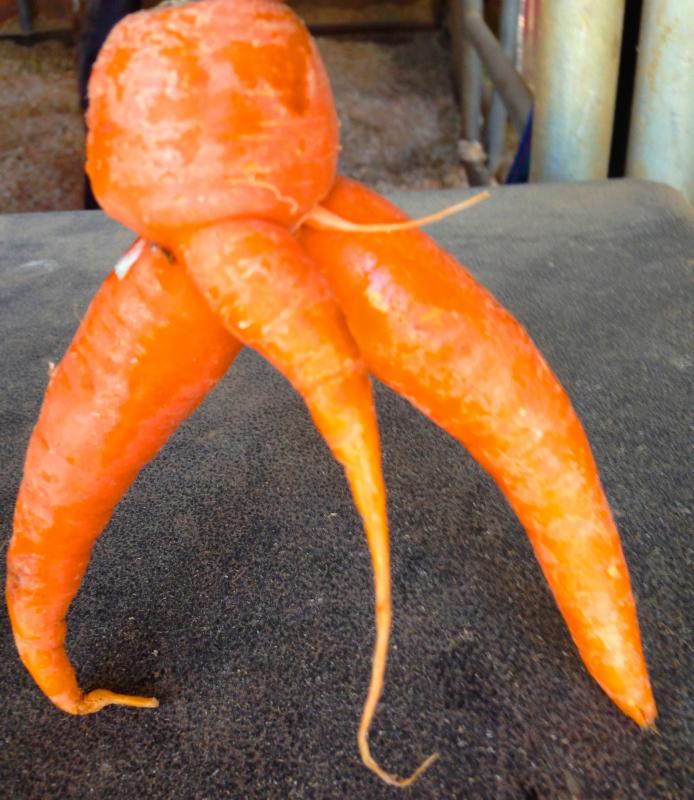 Right?
On second thought, being the successful and smart businessman that I am, I now see this as a branding opportunity-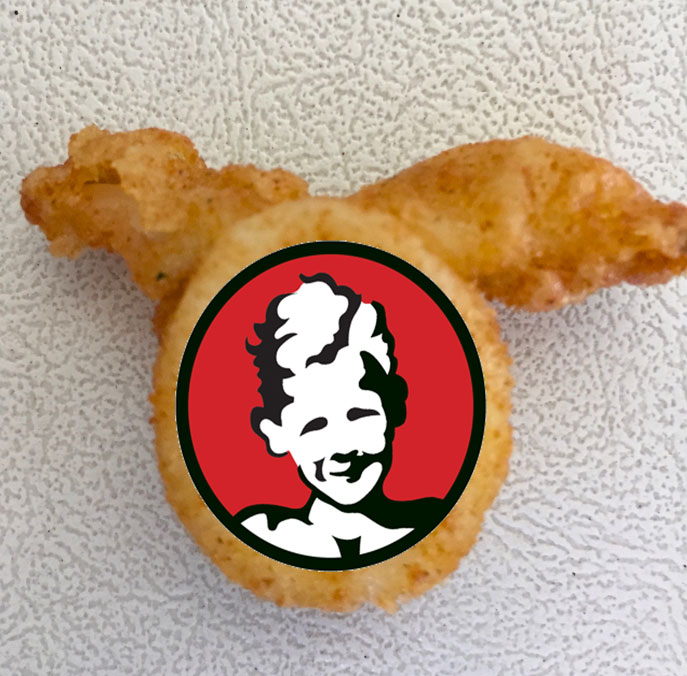 Next up on the Hamburger Mary's menu "Bingo Boy-amari!" Our catch phrase? "It's got balls!"
Done.
Pasadena is this Tuesday night and we are this close to sold out but give it a try. Or we will see you on Wednesday or Sunday!
And see you at BINGO!
xo
Bingo Boy
---
Here's what's coming up in Pasadena!
Tuesday Night- April 21st! Starring Bingo Boy & Roxy Wood!
7 pm show benefiting – Polo Pony Rescue!
EDWIN MILLS (formerly Equator)- Pasadena Ca.
22 Mills Place- in historic Mills Alley across from Burke Williams
For all reservations, please click here. Must make a reservation to attend!
Full menu and bar | All ages welcome | Pay lot and street parking available
---
Here's what's coming up in WeHo this week!
Wednesday Night – April 22nd! Starring Bingo Boy & Roxy Wood!
7 pm show benefiting – AIDS Lifecycle!
9 pm show benefiting – Cheer LA!
Sunday Night- April 26th! Starring Bingo Boy & Roxy Wood!
6 pm show benefiting – Senior Genarian Agency!
8 pm show benefiting – Girl Scout Moms!
HAMBURGER MARY'S – WEST HOLLYWOOD
8288 Santa Monica Blvd- At Sweetzer. Reservations for parties of 6 or more – 323-654-3800
Full menu and bar | All ages welcome | Valet and street parking available