That's my dog Lizze 69-ing my new bathroom rug shaped like a shark. As you can see, they are the perfect couple! I have a shark themed shower curtain on the way. Don't ask me why.
I am going to start with a few items from this last week and then segue in to a "Blast From The Past" section featuring funny people who have come to Legendary Bingo. It's about all I can do in this heat. And humidity. And rain (?).
On Wednesday night we had a visit from Shar Jackson who played Moesha's best friend on "Moesha" which was a show from the 90's starring Brandy before she got too skinny like she is now.
But Shar is better known as a woman scorned and, you know I do not like to gossip, but I will tell you the story. She was engaged to Kevin Federline and the mother of his kids when Britney Spears swooped in and stole Kevin away. And the rest is history- and a reality show called "Britney & Kevin: Chaotic." Such a clever (and true) title.
In the end, Shar really got the better end of the deal, don't you think.
Speaking of dicks-
Special note to bachelorette party girls: If you leave your toys laying around, someone from the staff at Hamburger Mary's is going to put it on their head. And if it's a penis with a face, they will take it home with them.
With all of the fires and floods and North Korea it's been a challenging week for so many (too many) people. So I felt it was my job to lighten it up a bit with a review of funny people who make us laugh when we are down and have also played with our balls- at Bingo.
Before we start, a reminder that our hearts and prayers are with all of the people affected by the floods and the fires and I hope you have considered making even a small donation to one of the charities helping out in these times of need. We chose the Houston Food Pantry, a local Houston animal rescue and an LA based animal rescue "Operation Blankets of Love" which is bringing supplies to Texas to help with the crisis.
Of course I start with our all-time favorite- Molly Shannon. Her new film "Fun Mom Dinner" is wonderful and she is, truly, one of the nicest people you could ever meet. How lucky are Roxy and I that she went upstairs with us and did a "fun photo shoot" (and it was her idea).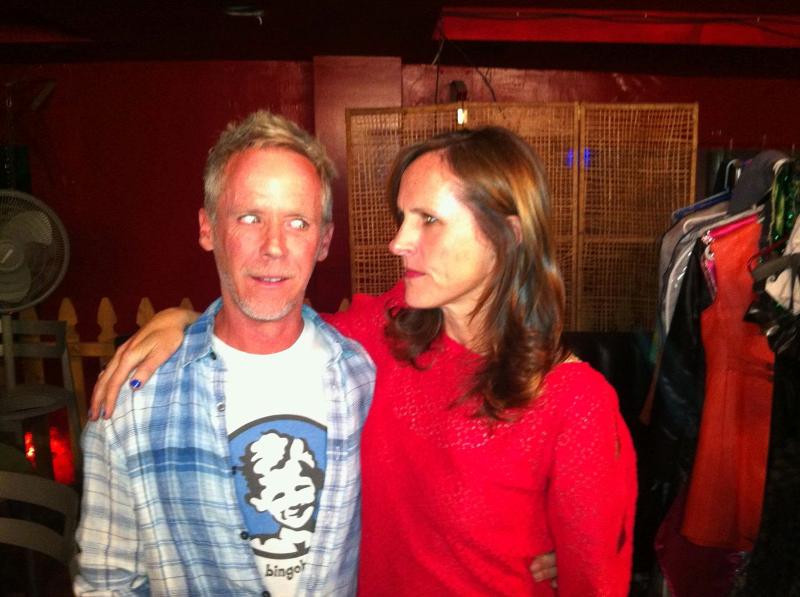 When Molly Shannon stares at you like that it is very hard not to laugh but I did it. It's called "acting" people.
Another "Saturday Night Live" alumni- Ana Gasteyer was also an amazing guest. If you can find "Lady Dynamite" on Netflix please check it out. Ana plays an agent who is literally out of her mind. Hilarious.
Okay- one more shout out for SNL. We did several events with Cheri Oteri and we peed our pants when she and Calpernia did a cheerleader routine on stage at Mary's. Something about farting in the tub and it ended with "you're gross!" The best.
Come on now- Wanda Sykes is holding my dauber! Everything she is in is funnier  because she is in it. Right?
Same goes for Jennifer Coolidge. She and Roxy were "booby buddies" all night long.
If you know me at all you know I am in love with Lily Tomlin. Every time she comes to Bingo and hugs or kisses me I am like a pre-teen girl at a Shawn Cassidy concert (who?). "Grace & Frankie" is the best show. Whenever I watch it I think "I only want to watch this show forever." But I bing the hell out of it and am done in a couple of days. Damn it.
Dot Marie Jones has been working hilariously all the way back to "Roseanne." Her work on "Glee"- amazing. And she is always up for supporting causes and raising money for charity. She is a doll.
And let's not forget the funny men who have sat in our chair/stool/whatever-
My favorite Christopher Mintz-Plasse film? Probably "Role Models."
Eric McCormack! "Will & Grace" is back!
French Stewart- "3rd Rock From The Sun." And now "Mom" with….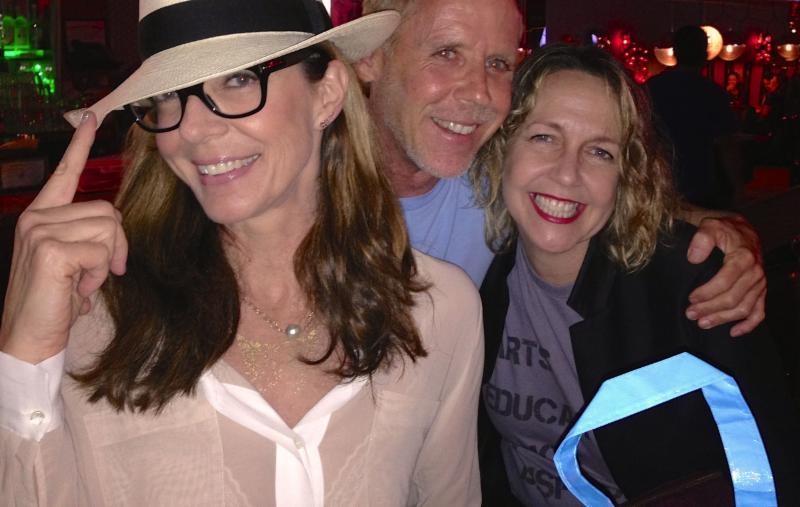 …Allison Janney! And yes, I know she is not a man.
One more- and it's a triple!
What better way to end than with the amazing talents of Ed Asner and Valerie Harper. For so many years they made us laugh (and cry) on "The Mary Tyler Moore Show" and they continue to do so. God love them. And yes, I kissed Ed Asner and he loved it.
There are so many more- Judy Gold, Sarah Silverman, Aubrey Plaza, Mila Kunis, Michael Urie, Ben Schwartz, Richard Simmons (!)…..
We have been fortunate to have all of these funny people visit us and make us laugh through their film and television work. Do yourself a favor and cheer yourself up by watching a funny film or television show tonight. All of the problems of the world will still be there when you are done. And maybe you will be in a better frame of mind to tackle them.
PS- I know there are a lot of pics of me in this email and for that I apologize. I just didn't realize how often I force funny people to take a photo with me. Pretty often I guess.
OUR NEW THURSDAY NIGHT BINGO IS SELLING OUT!
So thank you.
VISIT OUR WEBSITE!
Click on the photo below and it will take you to the website!
Don't forget to print out your DOUBLE GAME COUPON below!
And see you this week at BINGO!
xo
Bingo Boy
Here's what's coming up in WeHo this week!
Wednesday Night- September 6th-
Starring BINGO BOY & ROXY WOOD!
Thursday Night- September 7th-
Starring ROXY WOOD & INGENUE!
Sunday Night- September 10th-
Starring ROXY WOOD & INGENUE!
6 pm show benefiting – 
8 pm show benefiting – 
Home Dog L.A.!
HAMBURGER MARY'S – WEST HOLLYWOOD
8288 Santa Monica Blvd- At Sweetzer
reservations for parties of 3 or more- 323-654-3800 
Full menu and bar
All ages welcome
Valet and street parking available
Tuesday Night-
September 26th!
Starring Bingo Boy & Roxy Wood! 
EDWIN MILLS RESTAURANT
22 Mills Place- in alley across from Burke Williams
Click on charity name for reservation site. Must make a reservation to attend this event! 
Full menu and bar
All ages welcome
Pay lots and street parking available
DOUBLE YOUR CARDS! DOUBLE YOUR FUN!

Present this coupon at Legendary Bingo on Wednesday, Thursday and/or Sunday night and receive DOUBLE THE AMOUNT OF REGULAR BINGO CARDS & ONE EXTRA GRAND PRIZE CARD!

Must make $20.00 donation to charity in order to use this coupon. One coupon per person. May also show coupon on your phone.

Offer Expires: 9/10/17