Special Free Night Of Bingo with Donna Mills and Queens Of Drama!
FREE BINGO, ANYONE?
Here's a fun one. We are hosting a night of FREE BINGO for a new show on PopTV with special guests including the amazing DONNA MILLS!
Join us on Monday, April 27th for our "DRAMA QUEENS BINGO NIGHT" and meet "The Queens Of Drama" and you just night win great prizes provided by PopTV!
Here's the info (well, the media release):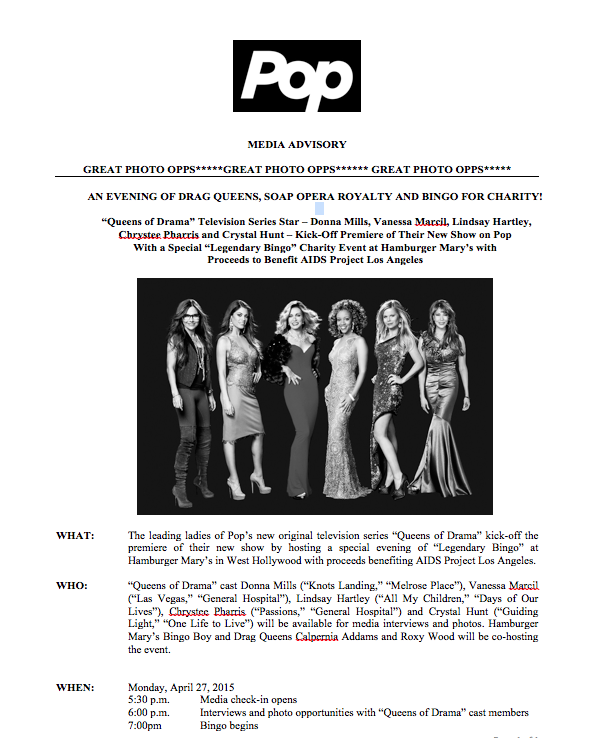 Personally I am most excited about Donna Mills and Vanessa Marcil but the others sound fun too.
This is a press event and there will be lots of flashbulbs (as if there are still flashbulbs) and glamour! Guests can take photos with the cast members (there will be a photo booth too) and I am sure get autographs.
Call Hamburger Mary's for a reservation (any size party)- THIS EVENT WILL SELL OUT! Note: arrival time should be 6 pm for best seats.

There will be a special grand prize game at the end of the evening- grand prize cards are a $10.00 donation and will benefit AIDS Project Los Angeles! Bingo Boy Inc. has also made a donation to APLA in honor of this event.
Here is a bit about the new show:
Hope to see you on Monday night!
# for reservations is 323-654-3800.
Join Bingo Boy, Roxy Wood and Calpernia Addams for this amazing FREE event!
xo
Bingo Boy