Justin's Drink, Joey's Birthday, Americana At Brand and More…
In order to tell this story I have to admit something that I do not like to admit. I smoke. Cigarettes. I am more of an "event smoker" meaning that I have one or two when taking breaks during shows but other than that not so much. But still- I know it's bad so no lectures.
Anyway, Roxy and I did an event on Thursday night at a posh country club (yes, another gig at a posh country club) for 90 or so really fun country club women. We were scheduled to do five games a bingo and then take a break and then come back for five more. During the break I decided to go out front and have my "breaktime cigarette" and noticed two men also having a smoke. So I walked up and one guy asked me for a light. I gave him a light and another one also asked for a light. Then they introduced themselves. One guy was Ed (I think) and the other said his name was Justin. That's when I realized that it was Justin Timberlake.
So there we are, having a smoke and they are asking me all kinds of questions about drag queens and whether to call them "he" or "she" and Ed asking me if he could take Roxy into the "men's only" lounge for a drink (the answer was no) and things like that. We are having a very nice time but I need to get back to bingo so I look down and see a metal cup sitting on the bench next to them and I flip my cigarette into the metal cup.
Turns out the metal cup was Justin Timberlake's drink. Yes ladies and gentlemen, I just put my cigarette out in Justin Timberlake's drink. He looks at me and says "what are you doing?" And then he goes-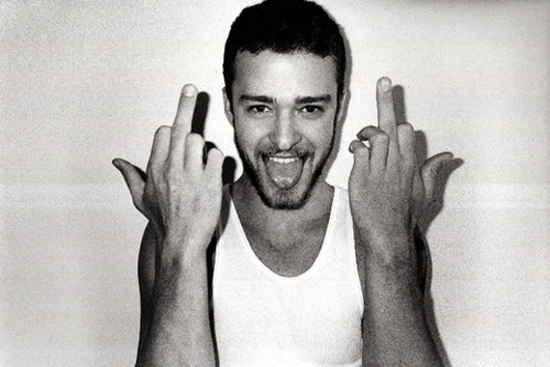 No, not really. It was a look more like this-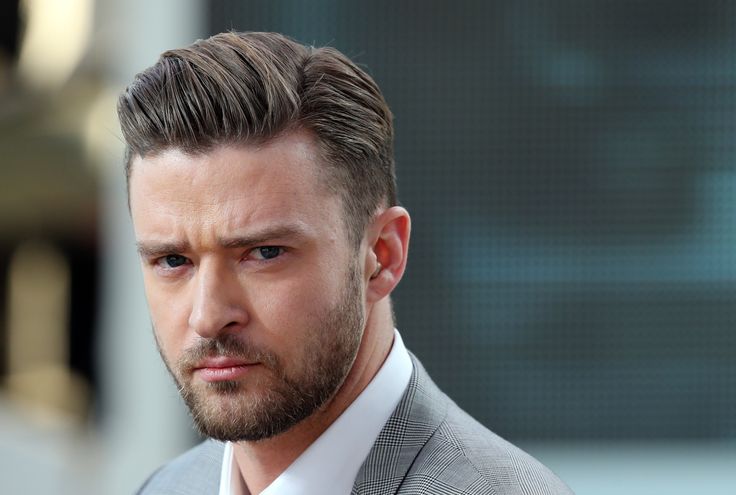 Turns out that copper cups are the traditional container for a drink called "Moscow Mule." I, of course, was really embarrassed. I kept apologizing and offered to buy him another drink. Ed picked up the cup and went in to the men's only lounge. Justin and I continued to talk for a bit (now I am late for bingo) and then Ed came back out with a new drink. I promised to stay far away from this one but before I left another guy came out with yet another copper cup and asks "did anyone order an ashtray?"
Well, this sent them all in to fits of laughter and I just started backing away and bowing and saying "I am so sorry. I am so sorry" as they chanted "Jeffery! Jeffery! Jeffery! Jeffery!"
The moral of this story is- ask if the metal container on the bench is an ashtray before you flip your cigarette in. Especially when hanging out with Justin Timberlake. The end.
Also at this event, a bit of history was made. It was the first time that someone ever called a "false bingo," was paddled and sent back to her seat and then called a second false bingo on the very next number. And was paddled again.
Here is the perpetrator/victim with Roxy-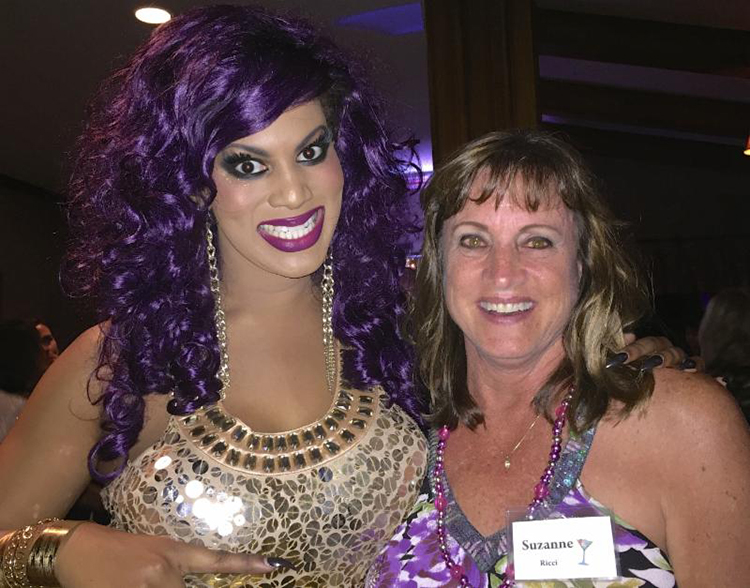 Maybe she had too many Moscow Mules- I don't know.
A few days before this illustrious event we hosted a private party at Hamburger Mary's for a teen actress and about 140 of her friends. Joey King was turning 16 and all she wanted for her birthday was drag queen bingo. I brought Roxy Wood and Kelly Mantle in as bingo hostesses and Joey was thrilled-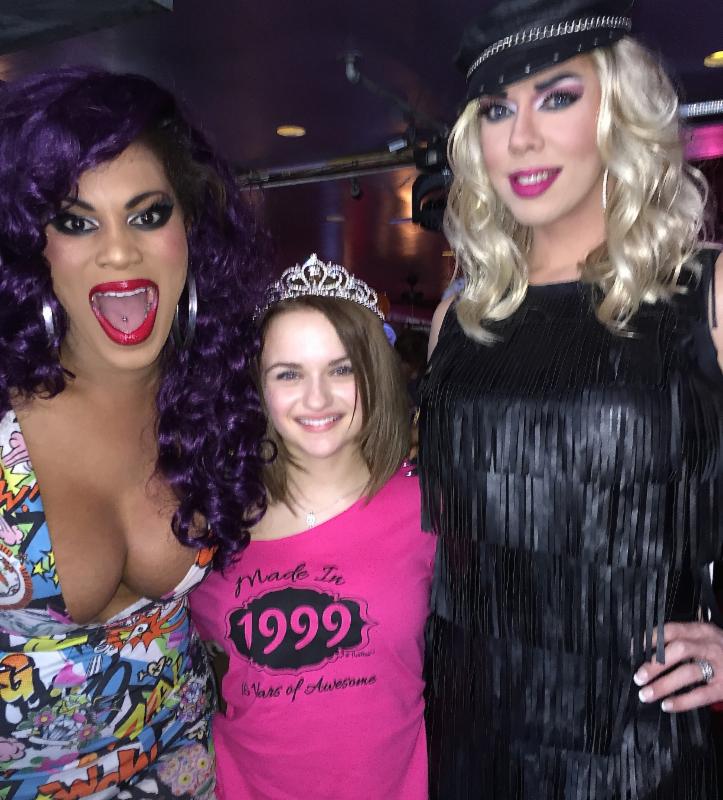 You may recognize Joey as Channing Tatum's daughter in "White House Down" or "Crazy, Stupid, Love." or a million other gigs. Guests included almost every "tween" actor/actress in Hollywood and a smattering of parents and industry folks. Joey's best friend made a video of people saying happy birthday and it was impressive. I don't know many 16 year olds who get birthday wishes from James Franco, Selena Gomez, Tony Goldwyn, Jeff Goldblum, various boy bands and who knows who else.
Fun night.
Deven Green joined me on Wednesday night at Mary's and, as always, came in character. Remember Patty Hearst? The Bumblebee" Well this time she was a "Fancy Spanish Lady!"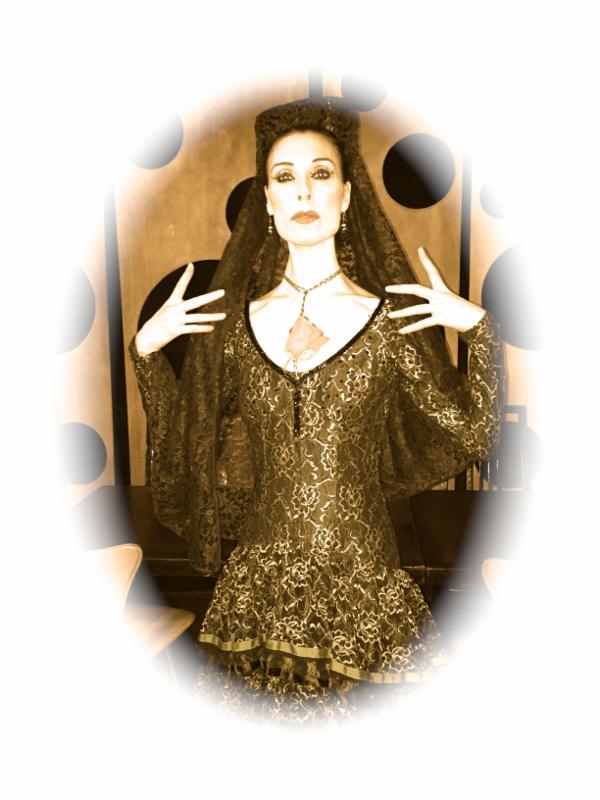 See how I made the photo look old and scary? Deven is young and not scary, it's just Photoshop, people.
Deven and I will begin our three week, every Thursday night gig at American At Brand Shopping Center this Thursday night and I hope you will join us for this great event again this year!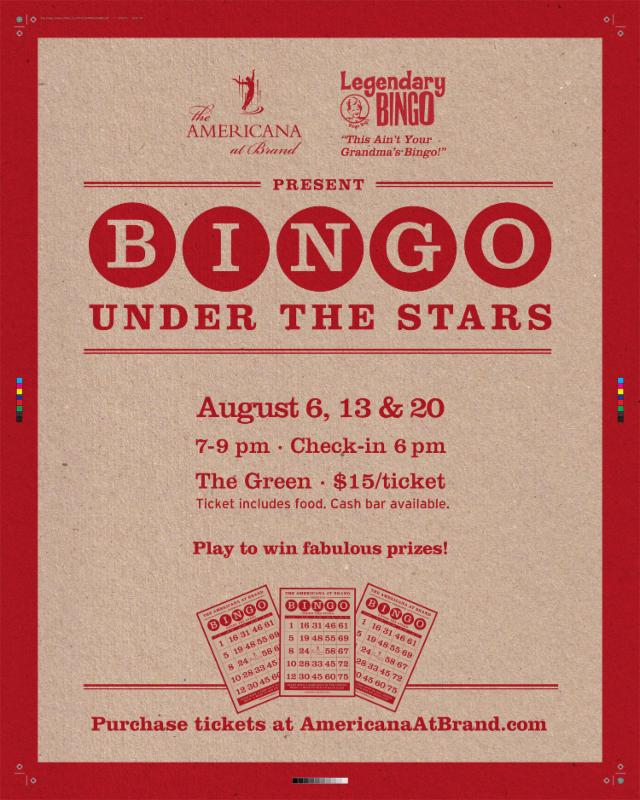 LOCAL CHARITIES- WE SEEK YOU!
If you are or know a charity in the Inland Empire area that would like to sign on to become a "Legendary Bingo beneficiary," at Hamburger Mary's Ontario, please contact us ASAP (our slots go fast) by emailing Roxy Wood at legendarybingo@gmail.com or just respond to this email. We will "vet" you and let you know all of the details and requirements. Stay tuned for our official start date and look forward to seeing you at this brand new, gorgeous Hamburger Mary's location!
And see you this week at BINGO!
xo, Bingo Boy
---
Here's what's coming up in WeHo this week!
Wednesday Night- August 5th
Starring Bingo Boy & Roxy Wood!
7 pm show benefiting – Dirty Dog Squad!
9 pm show benefiting – The Leukemia/Lymphoma Society!
Sunday Night- August 9th
Starring Bingo Boy & Roxy Wood!
6 pm show benefiting – Yorkie Rescue of America!
8 pm show benefiting – What's Up Dog! LA!
HAMBURGER MARY'S – WEST HOLLYWOOD
8288 Santa Monica Blvd- At Sweetzer
reservations for parties of 3 or more- 323-654-3800
Full menu and bar | All ages welcome | Valet and street parking available
---
Here's what's coming up in Pasadena!
Next Two Events…
Tuesday Night- August 11th!
7 pm show benefiting
The Leukemia/Lymphoma Society!
Tuesday Night- August 25th!
7 pm show benefiting
The Wailers Ski Club/Wounded Warriers!
Click on charity name for reservation site-
EDWIN MILLS (formerly Equator)- Pasadena Ca.
22 Mills Place- in historic Mills Alley across from Burke Williams
Must make a reservation to attend! Click on links above!
Full menu and bar | All ages welcome | Pay lot and street parking available