Donna Mills & Drama Queens, Horse Baths & More!
So Much Bingo This Week.
Sorry. I am just looking ahead and I see so much bingo that I am already exhausted. I look at the photo above and I think "do me next! Do me next!"
Actually I took that photo today at The LA Equestrian Center- coincidentally on my way back from using the restroom. Here is the full picture of what I saw when I walked by the "horse shower area"…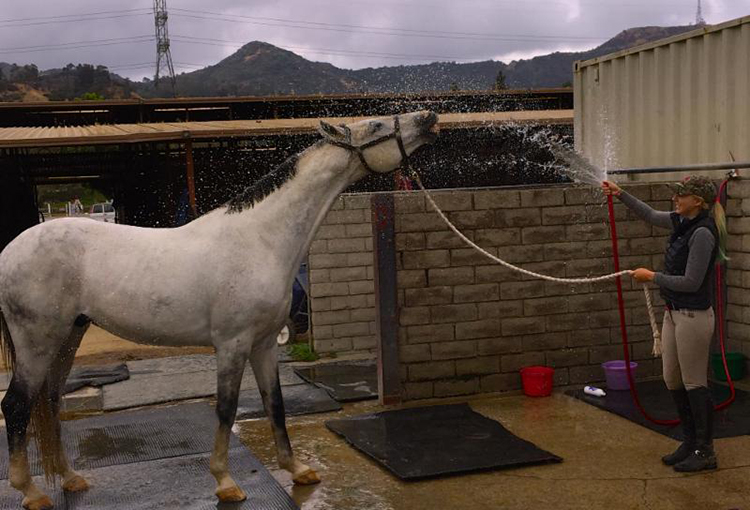 Look at that guy. Can't really tell if he is loving it or hating it. Another caption for the photo could be "This is not what I meant by 'I enjoy water sports'"!
But then how many of our readers would get that reference?
Speaking of refreshing, Sierra Madre Rose Float Bingo was a huge success and a lot of that was due to our special guest "drag queen ballcaller" Deven Green. Roxy was off doing a private party (with Deven's husband Joel) so Deven stepped in and filled Roxy's shoes (but not her bra).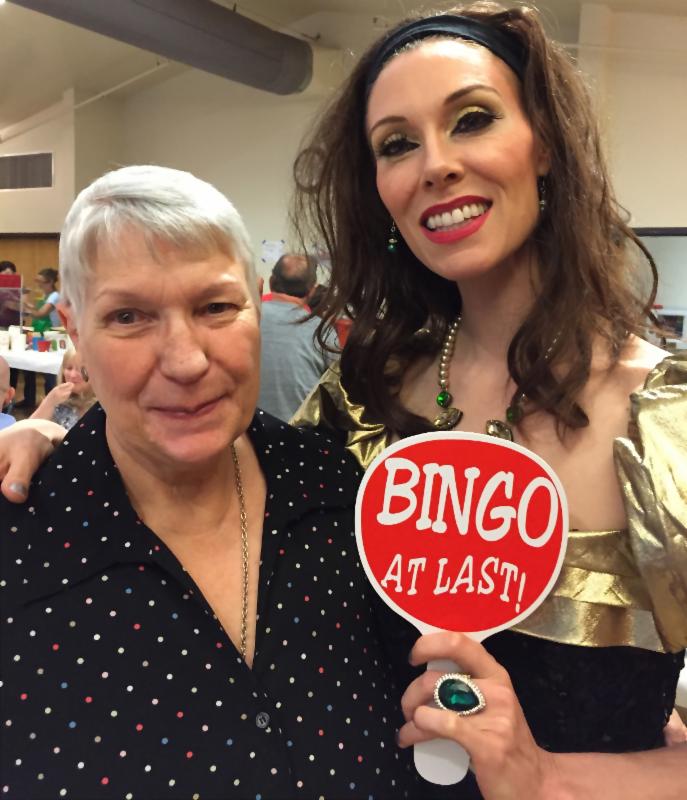 The real challenge was to convince these people that it was still "Drag Queen Bingo" when there was no drag queen- just a real girl named Deven (and me). Again, Deven did an amazing job and everyone loved her. And I will wager that 60% of the people in attendance still think that Deven is a drag queen no matter how many times I said that she wasn't. I think I have permanently confused the world with my very convincing drag queen hostesses and that is just fine with me. We're all the same!
On Wednesday at Hamburger Mary's all was well again with the world- Roxy was in attendance and so was Cheer LA- a wonderful group that attends events and raises money for HIV/AIDS related causes. They showed WeHo what they were made of with a little stunt on Santa Monica Blvd.-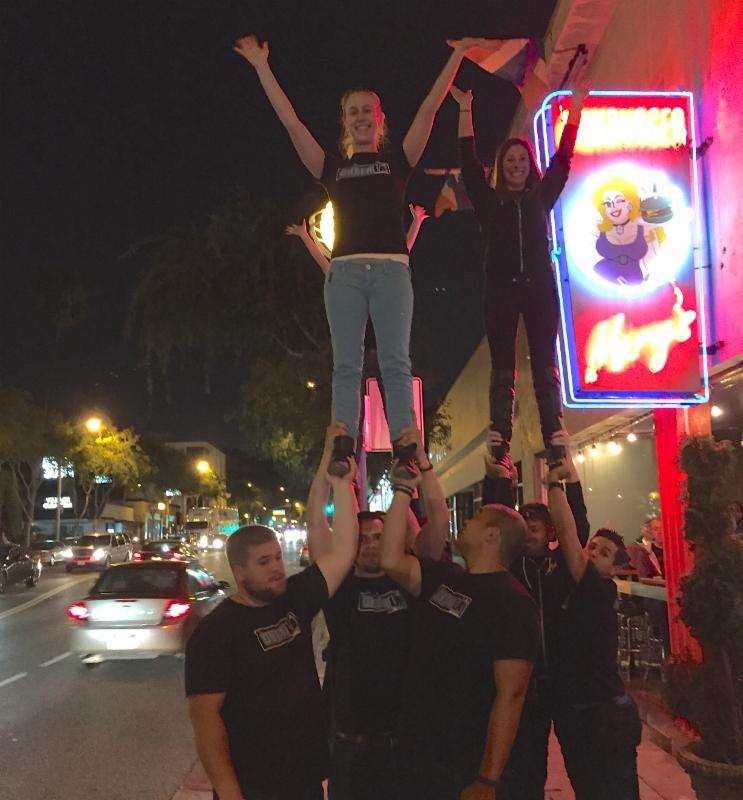 Beautiful! And scary too. You can see how close they were to traffic and all it would take was- never mind. No one was hurt in the making of this bingo night.
I had a nice surprise when I went to do my bingo event at a mall in Pasadena this past Sunday. I got in the elevator and, lo and behold, I am a sign!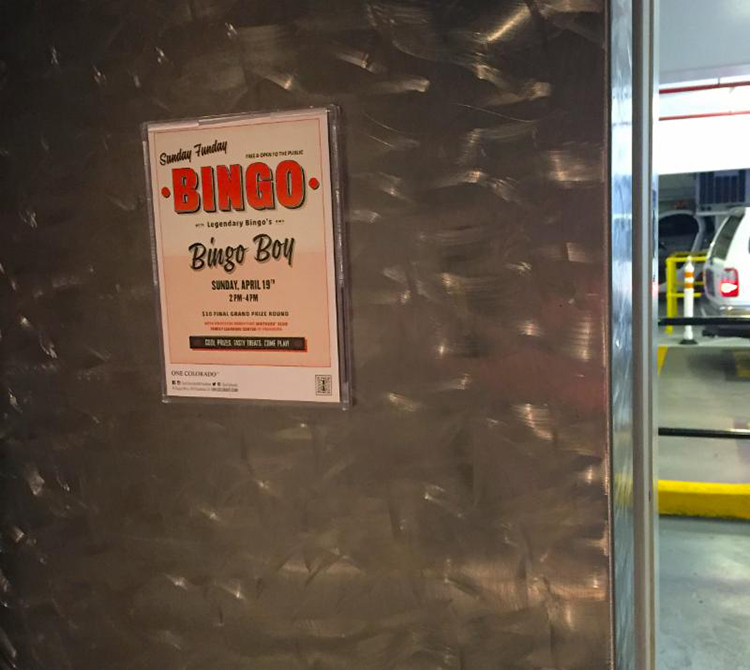 Now I know what being a celebrity feels like. Now please get me some M&M's for my trailer and don't even think about including the green ones…..
If I sound like a diva it's because I am preparing for our Monday night FREE BINGO" event with a group of real divas. And I say that with love.
In case you haven't heard, we are hosting a free night of bingo at Mary's this Monday (tonight?) with the cast of Pop TV's newest show "Queens Of Drama"!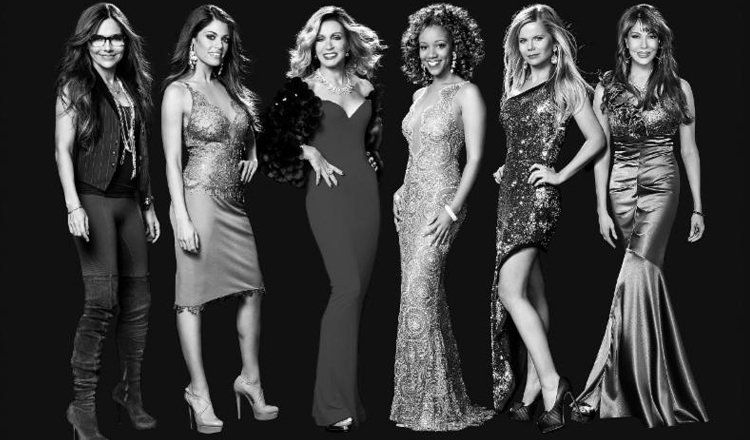 "Queens of Drama" cast Donna Mills ("Knots Landing," "Melrose Place"), Vanessa Marcil ("Las Vegas," "General Hospital"), Lindsay Hartley ("All My Children," "Days of Our Lives"), Chrystee Pharris ("Passions," "General Hospital") and Crystal Hunt ("Guiding Light," "One Life to Live") will be in the house and calling bingo games as well as doing media interviews (there will be media!) and taking photos. Bingo Boy, Calpernia Addams and Roxy Wood will be running the show.
So come on by! Bingo begins at 7 pm (come early for good seats) and the grand prize game will be an optional $10.00 donation to APLA (as per the request of the lovely Donna Mills). Call for a rezzie (all parties) to reserve your spot- 323-654-3800.
BAD NEWS!
Tuesday night's bingo event in Pasadena at Edwin Mills is sold out! But see below for the link to another Pasadena night on May 26th at the same location. We still have a few seats for that one.
We will also be back at Mary's on Wednesday night for two shows and promoting a new book that is just the kind of reading we like!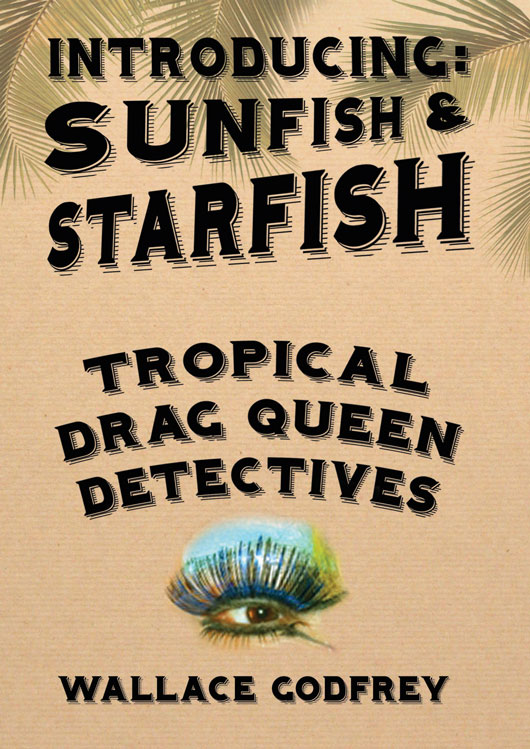 We will be giving away copies of "Tropical Drag Queen Detectives" to all bingo winners for both shows on Wednesday night and also meeting author Wallace Godfrey!
Don't forget to print out you DOUBLE GAME COUPON below!
And see you at BINGO!
xo
Bingo Boy
---
Here's what's coming up in WeHo this week!
Wednesday Night- April 29th. Starring Bingo Boy & Willam Belli!
7 pm show benefiting – AIDS Lifecycle!
9 pm show benefiting – Moving Arts Theatre Company!
Sunday Night- May 3rd. Starring Bingo Boy & Roxy Wood!
6 pm show benefiting – LA Animal Rescue!
8 pm show benefiting – Cause For Celebration!
HAMBURGER MARY'S – WEST HOLLYWOOD
8288 Santa Monica Blvd- At Sweetzer. Reservations for parties of 6 or more- 323-654-3800
Full menu and bar | All ages welcome | Valet and street parking available
---
Here's what's coming up in Pasadena!
Next Event with seats…
Tuesday Night- May 26th! Starring Bingo Boy & Roxy Wood!
7 pm show benefiting – Canine Angels!
EDWIN MILLS (formerly Equator)- Pasadena Ca.
22 Mills Place- in historic Mills Alley across from Burke Williams
For all reservations, please click here. Must make a reservation to attend!
Full menu and bar | All ages welcome | Pay lot and street parking available