You will have to wait…
…for the Emma Stone Bingo Night photos since I am writing this on Sunday night before the Monday event. I am sending early on Tuesday morning and there is no way I am getting up super early after that (hopefully) star-studded event to share the photos (of which I hope there will be many). I am told right now that, in addition to Emma (Stone) there will also be Bradley Cooper, Sarah Silverman, Aubrey Plaza and who knows who else. Again, you will be the first to know (or not- everyone will probably be posting and you will probably catch it on Instagram or maybe even TMZ!).
GRAND CENTRAL MARKET-
Roxy and I went over on Tuesday night to do our once a month show and frankly, I was not expecting much. You see, they have not promoted it well so the last time we were there people generally just stared at us like we was crazy! So I told the powers that be that we were quitting- we were too good to be begging people to play free bingo. After all, we do bingo events for Emma Stone and Bradley Cooper for gosh sakes!
The powers that be asked me to give them one more chance and that they would promote "heavily." Of course I agreed (I am nice that way).
 On the night of, I pulled in to the parking structure and pressed the elevator button and when the elevator opened….
…this is what I saw! Wow- we really have made it in the big time! We are in the elevator of Grand Central Market! Actually very cool.
 And then Roxy arrived and of course tried to pry the poster off of the wall…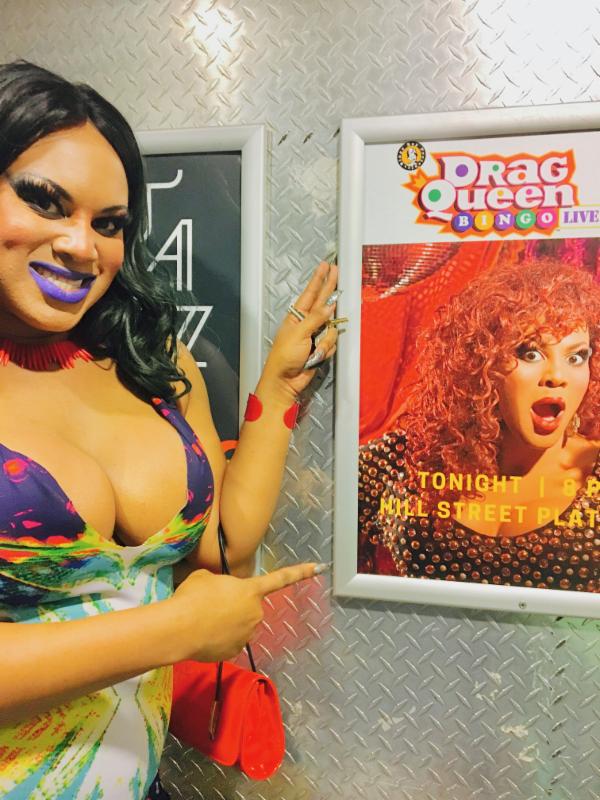 I said "No, Roxy, NO!" and she walked away with a frown.
Now the question would be, would the elevator sign and a bunch of internet postings be enough to build the crowd back up?
 Here is your answer-
YES! All of those people you see are playing bingo! All of them! We ran out of daubers and bingo cards! (sorry about that). What a fun night and we look forward to next month!
BTW these girls really got in the spirit-
I love bingo related artwork. We should have a museum!
Remember this one?
 And this one?
So creative.
One more thing-
Just wanted to give a shout out to Matthew and Arnold (probably not their actual names- who knows) who came to Legendary Bingo from Arizona (I think) on their honeymoon!
And they both won! A great start to what I am sure will be a very happy marriage. Best of luck Latrelle and Mauricio!
A reminder-
REAL HOUSEWIVES OF ORANGE COUNTY!
Our episode is this month! So let us know when you see it!
DEVEN AND BINGO BOY AT AMERICANA AT BRAND!
Coming August 10, 17 and 24th! I don't think tix are on sale yet but I will let you know!
ROXY AND BINGO BOY ON KINGS ROAD!
Literally "on" Kings Road! Roxy and I will be doing a bunch of free bingo games for the "National Night Out" event on Tuesday August 1st! They are closing off Kings Road above Santa Monica Blvd for a giant block party! More info to come! Exclamation point!
And here is Emma Stone to wave goodbye and say "see you next week!"
And don't forget to come to our new
THURSDAY NIGHT BINGO AT 7 PM!
Don't forget to print out your DOUBLE GAME COUPON below!
And see you this week at BINGO!
xo
Bingo Boy
Here's what's coming up in WeHo this week!
Wednesday Night- July 19th-
Starring Roxy Wood & Joel "69"!
Thursday Night- July 20th-
Starring Bingo Boy & Calpernia Addams!
Sunday Night- July 23rd-
Starring Bingo Boy & Roxy Wood!
6 pm show benefiting – 
HAMBURGER MARY'S – WEST HOLLYWOOD
8288 Santa Monica Blvd- At Sweetzer
reservations for parties of 3 or more- 323-654-3800 
Full menu and bar
All ages welcome
Valet and street parking available
Tuesday Night-
July 25th!
Starring Bingo Boy & Roxy Wood! (And maybe shirtless men!)
EDWIN MILLS RESTAURANT
22 Mills Place- in alley across from Burke Williams
Click on charity name for reservation site. Must make a reservation to attend this event! 
Full menu and bar
All ages welcome
Pay lots and street parking available
DOUBLE YOUR CARDS! DOUBLE YOUR FUN!

Present this coupon at Legendary Bingo on Wednesday, Thursday and/or Sunday night and receive DOUBLE THE AMOUNT OF REGULAR BINGO CARDS & ONE EXTRA GRAND PRIZE CARD!

Must make $20.00 donation to charity in order to use this coupon. One coupon per person. May also show coupon on your phone.

Offer Expires: 7/23/17