The roof, the roof, the roof is on fire!
Not really because that would be bad. But bingo was on fire on Thursday night as Deven Green and I hosted the 2nd of our annual 3 dates at The Americana At Brand Shopping Center in Glendale.
The reason for us being on the roof at first made me pretty mad. We were bumped from the green grass down below because Samsung (a big sponsor of Caruso properties) decided to show a Coldplay concert video on a big screen right where we always do our bingo. Of course I yelled and screamed and told them "How dare you do this to us! We are STARS!" But to no avail.
So up we went to the roof. The first thing I witnessed was the line to check in.
Okay- that is cool. All of those people are waiting for us! For us! But it was windy and actually a bit chilly so I assumed this was going to be a challenging evening for all. But actually it turned out to be an amazing night with over 650 people playing bingo with us!
Amazing!
Of course Deven and I greeted our fans with our usual demure and non-starlike behavior.
Bow before us, Bingo Freaks!
Just kidding. We actually walked through and talked to each and every table. I needed to explain to them why Deven looked like Jessica Lange doing Joan Crawford in the 1970 hit film "Trog."
Yes, "that" Trog-
In other news- Deven scared another little boy who was playing with our balls-
He is saying to the crowd "why is her hair doing that?"
The sunset was quite beautiful on the roof.
I think I am going to start my own ministry. Wait, no one is even paying attention to me! What's up with that? Maybe next time I should dress like Trog.
Down below I saw something pretty cool and I got a shot of it. Look at this-
It's a baby stroller with a skateboard attached so that the older sibling could have some fun at the same time! Right after I took this picture, the older brother jumped on the skateboard and immediately fell off and started crying (not kidding). So much for good ideas. Did anyone notice that the skateboard says "69" on it? Bingo fans maybe?????
ONE MORE THING-
Do you remember a month or so ago when we did the Legendary Bingo night with Emma Stone for Planned Parenthood? One of the guests was Aubrey Plaza…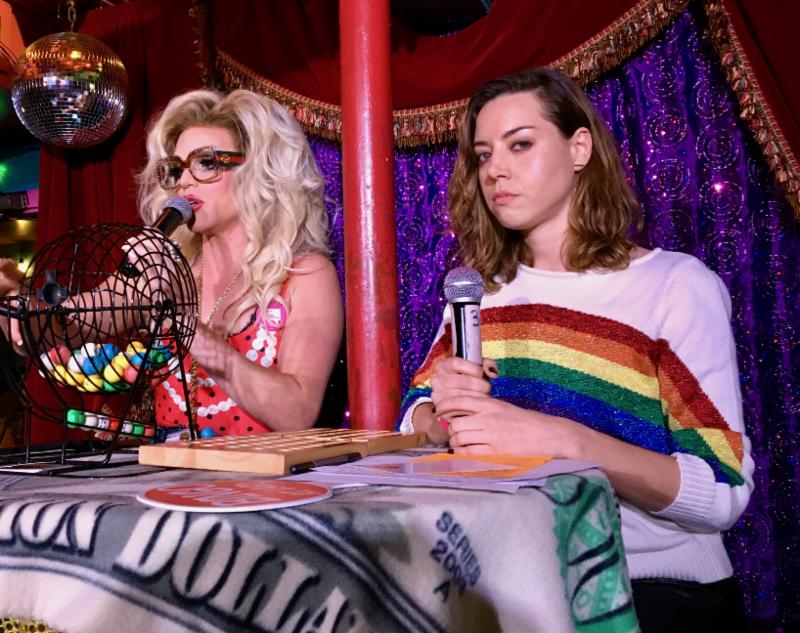 Well, she is on the cover of this week's L.A.Weekly and they forgot to mention us so I fixed it.
I'm sure the part where she talks about how much fun she had (you can tell by the photo with Willam, yes?) was edited out so we forgive her. Editors! You can't live with them…
Don't forget to print out your DOUBLE GAME COUPON below!
And see you this week at BINGO!
xo
Bingo Boy
Here's what's coming up in WeHo this week!
Wednesday Night- August 23rd-
Starring JOEL "69" & INGENUE!
Thursday Night- August 24th-
Starring ROXY WOOD & JOEL "69"!!
Sunday Night- August 27th-
Starring BINGO BOY & CALPERNIA ADDAMS!
6 pm show benefiting – 
HAMBURGER MARY'S – WEST HOLLYWOOD
8288 Santa Monica Blvd- At Sweetzer
reservations for parties of 3 or more- 323-654-3800 
Full menu and bar
All ages welcome
Valet and street parking available
DOUBLE YOUR CARDS! DOUBLE YOUR FUN!

Present this coupon at Legendary Bingo on Wednesday, Thursday and/or Sunday night and receive DOUBLE THE AMOUNT OF REGULAR BINGO CARDS & ONE EXTRA GRAND PRIZE CARD!

COUPON NOT VALID FOR AMERICANA AT BRAND EVENTS.

Must make $20.00 donation to charity in order to use this coupon. One coupon per person. May also show coupon on your phone.

Offer Expires: 8/27/17