On the road again….!
So many fun adventures this last week with the Bingo Boy Travlin' Show. yes, I do mean travlin' cause it sounds more fun that way.
Now I know that shows were going on at Mary's on Wednesday, Thursday and Sunday nights but I was not at any of them and no one from those crews seems to ever want to take any photos for me to use in this email so you are just stuck with the shows that I am a part of since I always (well, sometimes not) take photos because I think of you and how much you love sharing these adventures with us. Got it?
Resuming-
On Thursday night Roxy and I went out to Cal Poly Pomona in another stop of our "College Tour" (I made that name up myself). On the way we stopped at Carl's Jr. for "dinner" and I ordered a Famous Star Hamburger.
The photo looked so juicy and amazing. Here look for yourself-
Mmmmm. Hard to resist, right? I ordered without cheese because I do not eat cheese but still it looks like it would be amazing even without the cheese. Right?
Um. Not so amazing in person. I have one question- what exactly is this burger "Famous" for? Being a big, fat fraud? The most flattest burger bun with the most wilted lettuce? If that is so, they are right on the money and should win prizes.
It didn't stop Roxy from enjoying her meal…
I know, shut up Bingo Boy.
We always draw large crowds for our Cal Poly Pomona events and this time was no exception-
This is just the line to get in! Aren't college kids cute?
Here's another shot-
This is actually professor Roxy Wood giving a lecture on colored balls and their place in the bingo tray of life. A very popular class especially when Professor Roxy wears her tits out. I mean outside of her dress. I am not sure that they will ever "wear out."
On Friday night Roxy and I did a 30th birthday party in West Hollywood at a very cute home. The very cute couple also had a very cute dog. I think her name was Chloe or something like that. Chloe was some sort of poodle and she was wearing a black dress with a flared skirt. During bingo, they had Chloe locked in their bedroom which was behind where we were calling bingo. At one point I turned around and this is what I saw.
Kind of freaked me out to be honest with you.
Here's a closer look-
Like something from The Shining! She just stood there on her hind legs staring at me, her little tutu dress barely covering her…little tutu.
Later she changed course-
"Look at me! I have bone! Come play with me!" And trust me, it would be the last time you were ever seen alive………………
On Saturday it was all about Bingo Boy. It was! Bingo at a retirement community in Burbank!
You know you have made it when they describe you "As seen on TV!". I felt a little pressure since they promise "a fun and hilarious afternoon." Fun AND hilarious? And they even follow it up with "and you will have so much fun!"
Don't oversell it, people!
Well to be honest I was only part of their fun-filled week anyway-
How can I beat Trivial Pursuit Game with Host Terry? Also I wonder- at 1:30 are they not going shopping or are they going shopping but not locally? And also at 1:30 (lots to do at 1:30), are they not playing Pattern Bingo or are they playing Bingo with No Pattern? Well at least the part with Bingo Boy was clear except I was not in a kitchen, I was in the dining room which is called "Josephine's Kitchen." Not confusing at all.
Truthfully this is one of my favorite events. I did it last year and loved all of the residents and this year it was the same. We laugh and tell dirty jokes and I smuggle in cocaine and cigarettes for them. Not really. They have their own.
As I was leaving, a gorgeous woman named Giselle said to me- "Jeffery, you have made a 93 year old woman very happy." So many jokes I can make about his but I won't. It made me feel wonderful to have shared that with her and see her smile. Now you can see it too!
This is Giselle and I forgot to tell you, she won three games! Everyone there hates her because as one woman shouted "She ALWAYS wins!"
On Sunday Ingenue and I were at Domain Apartment Homes on Santa Monica Blvd and since I am writing this before it has actually happened (about four hours from now) I have no photos. But I am sure it was fun, everyone had a good time and another 93 year old woman fell in love with me.
UPDATE:  It's the next day and I do have a photo from Domain Bingo-
Here's Ingenue with "Paula," one of the guests at the Domain show. Just for no reason at all "Paula" got dressed up in the kimono and sparkly headpiece and we honored that by letting her call a game of bingo! And she was amazing! I gave her a Home Game as a reward for services rendered- and also calling a great game of bingo (ha!).
This week we only have ONE SHOW!
Due to Thanksgiving we will only have one 7 pm show on Wednesday and no bingo on Thursday and no bingo on Sunday. Wow- what will we do? We will eat turkey, then turkey leftovers, then more turkey leftovers and then more before we realize the turkey has gone bad and we made a horrible mistake having a turkey skin shaving salad a week after Thanksgiving. Oh well. Please come and see us on Wednesday night for our Annual "Pre-Thanksgiving Show!" Bring your out of town guests!
Don't forget to print out your DOUBLE GAME COUPON below!
And see you this week at BINGO!
xo
Bingo Boy
Here's what's coming up in WeHo this week!
Wednesday Night- November 22nd-
Starring BINGO BOY & ROXY WOOD!
7 pm show benefiting – 
The Leukemia/Lymphoma Society!
Happy Thanksgiving!
NO THURSDAY NIGHT SHOW
Sunday Night- November 26th-
NO SHOWS ON SUNDAY- SEE YOU NEXT WEEK!
HAMBURGER MARY'S – WEST HOLLYWOOD
8288 Santa Monica Blvd- At Sweetzer
reservations for parties of 3 or more- 323-654-3800 
Full menu and bar
All ages welcome
Valet and street parking available
NEXT TUESDAY IN PASADENA!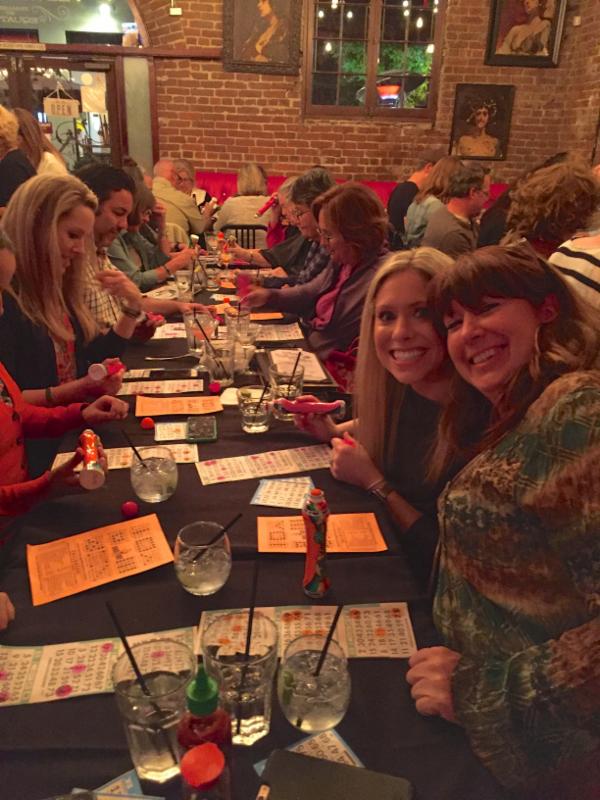 Tuesday Night-
November 28th!
Starring Bingo Boy & Roxy Wood! 
EDWIN MILLS RESTAURANT
22 Mills Place- in alley across from Burke Williams
Click on charity name for reservation site. Must make a reservation to attend this event! 
Full menu and bar
All ages welcome
Pay lots and street parking available
DOUBLE YOUR CARDS! DOUBLE YOUR FUN!

Present this coupon at Legendary Bingo on Wednesday night and receive DOUBLE THE AMOUNT OF REGULAR BINGO CARDS & ONE EXTRA GRAND PRIZE CARD!

Must make $20.00 donation to charity in order to use this coupon. One coupon per person. May also show coupon on your phone.

Offer Expires: 11/22/17