…in the photo above? I certainly hope not. I think Black Friday is just bizarre- sort of like an episode of "Black Mirror" (if you have ever watched "Black Mirror" you know what I am talking about). To stand in line for days just to be crushed on your way to snag a tv that might save you $200.00. Weird. Sorry. Why not just go to a charity event and bid on a live or silent auction item which you will get for way less than the value? You save some money, get something nice, have a nice dinner and help someone else!
I once bought 100 raffle tickets for 1.00 each and won a huge flat screen tv that came with the receipt for $600.00 and then took it back to Best Buy and got a gift card for 600.00! I made 500.00 on the deal! All my holiday shopping done! Oh, and I gave the charity back a $200.00 gift card so….yes, I am sort of nice. Just sort of.
Anyway, it's over now and we are officially in to the holiday season!
 So in honor of the holiday season, here is a sort of "Best of" from Blabbers past. In other words, things you may have already seen that I have posted during the holiday season. Now I need to find new holiday things to post….oy vey.
   I think this was last year or the year before. Standing in Hamburger Mary's minding my own business when Santa drives right by! He has such a twinkle in his eye! Someone told me later that it was Jaegermeister.
And who could forget little "Piggie in red boots and a Santa hat"? Pretty sure I added the Santa Hat. Very clever of me.
Wow- from a million years ago. My girls do like to dress up for the holidays.
Again- from a million years ago. Roxy was just a baby- so young her boobs hadn't really grown in yet.
I remember that I saw this on Santa Monica Blvd near Beverly Hills. Wonder if they still put it up every year. So creepy. Like "American Horror Story" creepy.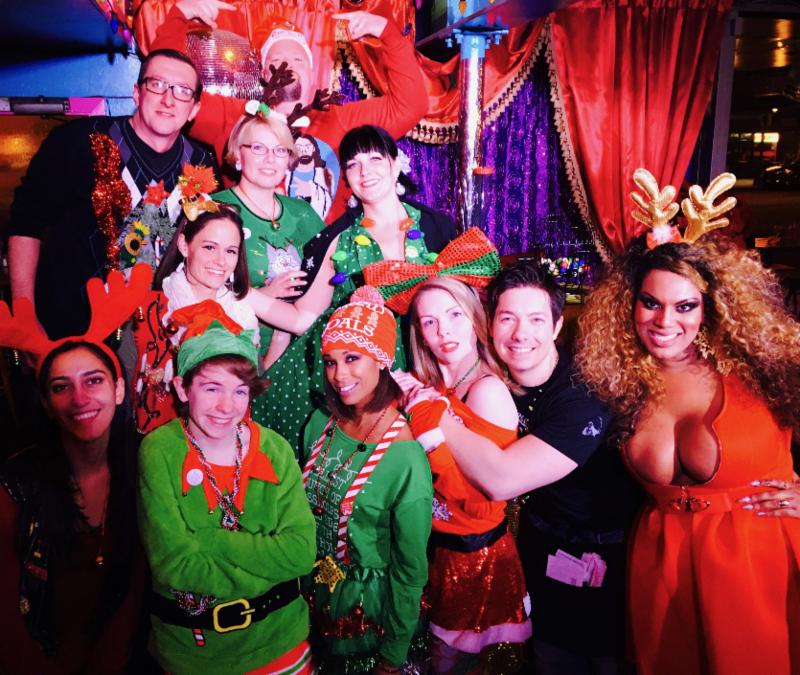 Each year a group of fine young women come to bingo in their "ugly holiday sweaters." Alas- they are not coming this year. So this year the only ugly holiday sweater I get to see is my own.
Of course it is actually a t-shirt that looks like an ugly holiday sweater. Thank you internet!
And in case you didn't notice- Roxy's boobs did finally grow in. Thank you Santa!
PASADENA BINGO THIS TUESDAY NIGHT!
And it's our last Pasadena Bingo for 2017 so join us for some holiday cheer and a special fundraiser for Canine Angels which provides service dogs to kids in need. They are the best! The link for ticket reservations is below!
Don't forget to print out your DOUBLE GAME COUPON below!
And see you this week at BINGO!
xo
Bingo Boy
THIS TUESDAY IN PASADENA!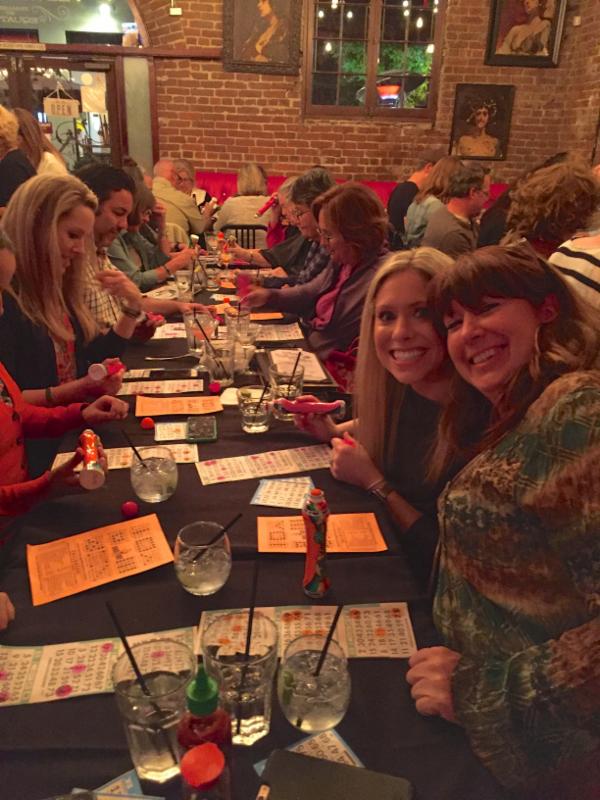 Tuesday Night-
November 28th!
Starring Bingo Boy & Roxy Wood! 
EDWIN MILLS RESTAURANT
22 Mills Place- in alley across from Burke Williams
Click on charity name for reservation site. Must make a reservation to attend this event! 
Full menu and bar
All ages welcome
Pay lots and street parking available
Here's what's coming up in WeHo this week!
Wednesday Night- November 29th-
Starring JOEL "69" & CALPERNIA ADDAMS!
7 pm show benefiting – 
9 pm show benefiting –
Thursday Night- November 30th-
Starring JOEL "69" & INGENUE!
Sunday Night- December 3rd-
Starring ROXY WOOD & JOEL "69"!
HAMBURGER MARY'S – WEST HOLLYWOOD
8288 Santa Monica Blvd- At Sweetzer
reservations for parties of 3 or more- 323-654-3800 
Full menu and bar
All ages welcome
Valet and street parking available
DOUBLE YOUR CARDS! DOUBLE YOUR FUN!

Present this coupon at Legendary Bingo on Tuesday, Wednesday,Thursday and/or Sunday night and receive DOUBLE THE AMOUNT OF REGULAR BINGO CARDS & ONE EXTRA GRAND PRIZE CARD!

Must make $20.00 donation to charity in order to use this coupon. One coupon per person. May also show coupon on your phone.

Offer Expires: 12/03/17
BINGO BOY INC. / LEGENDARY BINGO SOCIAL SITES