MORE NEWS, VIEWS & SPEWS
Same title as last week. Anyone notice? Okay.
The obvious thing to say is "it's too hot." But you already know that. Fortunately we are allowed in to places with pretty good air conditioning. I feel bad for anyone who works in a restaurant kitchen. Every time I go back in to the kitchen at Hamburger Mary's I want to throw ice chips at the cooks but I think they may take it the wrong way and stick me in the pizza oven. By the way Hamburger Mary's has great pizza.
Anyway, at Mary's on Wednesday night it was so crowded that I thought there may be a riot. For the 2nd show, all full inside and still a line around the block. Fortunately we cleared tables and threw out those who ordered less than $10.00 in food and drink. Kidding. I had to calm a few people down but in the end I think all had a good time.
For the first show we had a couple of fabulous ladies sitting right in the front.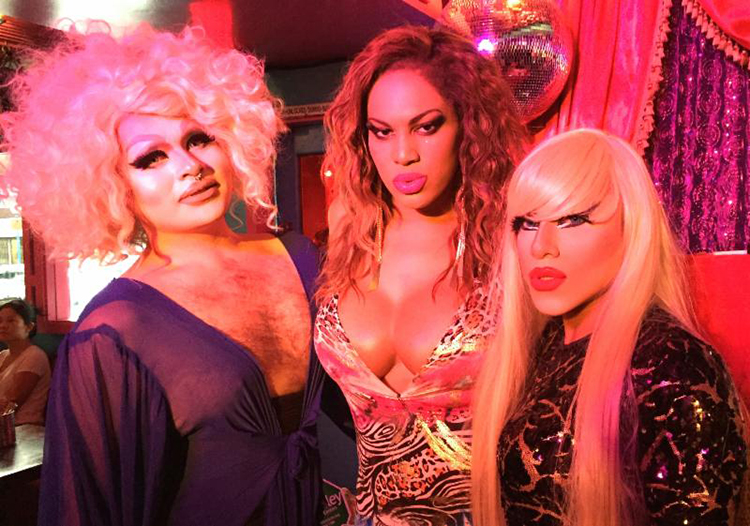 On the left is "Pinche" and on the right is "Moxie." Pinche doesn't shave in the chestal area. Moxie thinks it's gross. I think it's original. Roxy didn't care either way.
Our friend Dot Marie Jones (Glee) came to the 2nd show and was a delight.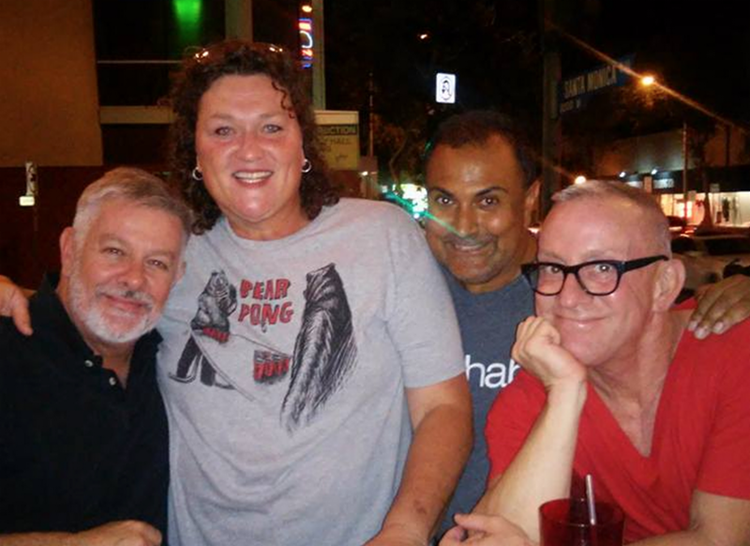 Did you know that she is a national arm wrestling champion? Yep.
On Tuesday night (I know, I am not going in order) we were in Pasadena at Edwin Mills and we finally snapped a photo with Teddy, the owner of the cafe.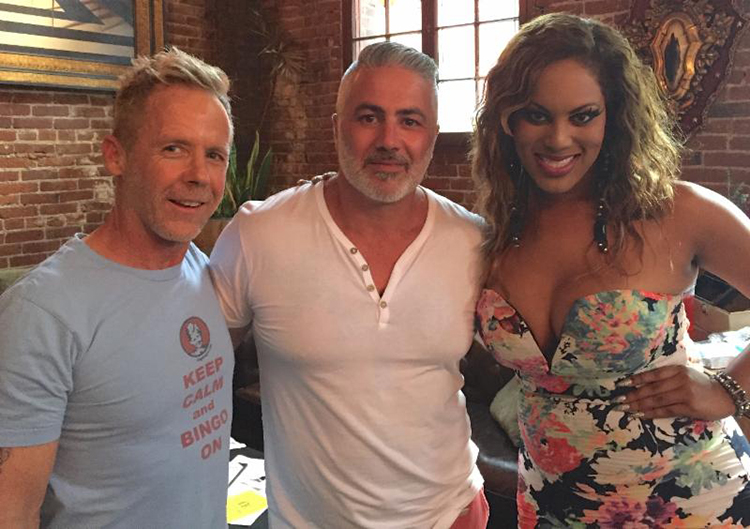 Bear Lovers? You know what I mean? Teddy is happily married (to a woman) and she has an accent so she kicks his ass all the time. I am just telling you what I have been told.
Later in the evening I found my long lost brother-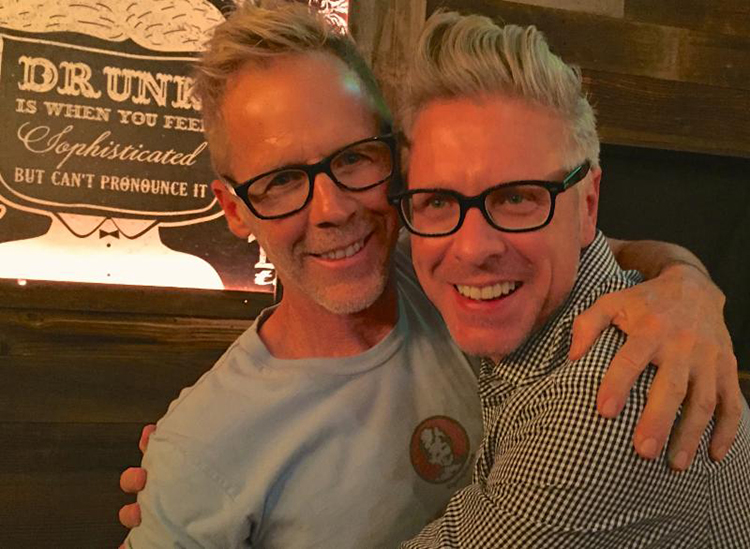 Separated at birth? No- this is Jimmy Pickering and he is also married (to a man) and someone just thought we looked alike when I put on my glasses. I would love to achieve that swoop that he does with his hair. Guess I would need to turn back time for that so never mind.
On Thursday night we were at Busby's East for the annual "Dirty Bingo" to benefit The Cancer Support Community. This was our 9th year and it just keeps getting bigger!
We were honored to see that we have our own brand of drinking water-
Are you unpopular? Do you pop out at parties? Try Dirty Bingo Water with the patented merkin screw top!
Available in a convenient 6 pack!
Merkin colors based on availability…
PASADENA BINGO
THIS TUESDAY NIGHT!
We are back in Pasadena again this week benefiting Avon 39 to End Breast Cancer! Make a reservation below and be sure to do it quick. I hate saying no to anyone.
And see you this week at BINGO!
xo, Bingo Boy
---
Here's what's coming up in Pasadena!
This Tuesday night!
September 1st!
7 pm show benefiting
Avon 39 to End Breast Cancer!
Click on charity name for reservation site-
EDWIN MILLS (formerly Equator)- Pasadena Ca.
22 Mills Place- in historic Mills Alley across from Burke Williams
Must make a reservation to attend! Click on links above!
Full menu and bar | All ages welcome | Pay lot and street parking available
---
Here's what's coming up in WeHo this week!
Wednesday Night- September 2nd
Starring Bingo Boy & Roxy Wood!
7 pm show benefiting – WeHo Elite Cheerleaders!
9 pm show benefiting – The Leukemia/Lymphoma Society!
Sunday Night- September 6th
Starring Bingo Boy & Roxy Wood!
6 pm show benefiting – Adopt Me Rescue!
8 pm show benefiting – Team In Training!
HAMBURGER MARY'S – WEST HOLLYWOOD
8288 Santa Monica Blvd- At Sweetzer
reservations for parties of 3 or more- 323-654-3800
Full menu and bar | All ages welcome | Valet and street parking available