Translation: We did an event for a school with Ahmet Zappa, son of Frank Zappa (kids- look it up).
But before that-
On Wednesday night, we had a visit from one of the hardest working women in Hollywood, Melanie Paxson! You may ask "who?" but trust me, you have seen her in every television commercial and tv show you have ever watched.
See what I mean? If you saw her on the street you would think you knew her and then realize (as I often do) "I have seen you on tv!" She is really great. Great I tell you!
Then on Saturday night we went to Ahmet Zappa's home for a fundraiser for his daughter's school. I wore a…..wait I forgot to tell you, we have new merch! And I wore our latest amazing t-shirt…
So I show up in my brand new " Bingo Makes Me Horny" shirt and then Ahmet comes downstairs in a 'Smile If You're Horny" shirt and I say "wow! We both have horny shirts!" And he says "I saw yours and ran upstairs and put this on." Because he just happens to have a horny shirt. That's the way he is. Incredibly funny and creative.
Speaking of that, the "prizes" for the winners were pretty creative and I wanted to show you a few so that you can get some early holiday ideas. In the event that you want to buy something really ridiculous for your loved ones.
Starting with-
I know- gross! And if you did only use egg whites- even more gross!
But wait- there's another one-
Hilarious! And how we all feel about many things these days!
How about this-
I sincerely hope that your job does not give you the runs but just in case.
I don't even know how to explain this one.
But this one I get! I totally get! Trump/troll! Troll/Trump! Note the small hands.
Speaking of hands. Get it? Hand Soap! And it's a hand! And it's soap!
And finally, just to remind yourself of small victories-
I am impressed that it is 3 ply! That's thick!
Guess what? We have a "Desperate Housewife" coming to see us on Sunday night!
Nicollette Sheridan who played Edie Britt on "Desperate Housewives" will be at the 8 pm show on Sunday! So cool! You know she is our firth or sixth "DH" regular to call our balls. We have also had Lesley Ann Warren who played Terri Hatcher's mom, Andrea Bowen who played Terri Hatcher's daughter, Kathryn Joosten who played Mrs. McClusky, Charlie Carver who played Felicity Huffman's son (one of them) (also Felicity has come to Mary's to see a show), Shawn Pyfrom who played Marcia Cross's son and Tuc Watkins and Kevin Rahm who played "the gay couple"! Whew! We could start filming the inevitable reboot of the show at Mary's right now! Roxy could play Vanessa Williams' sassy trans daughter! Oooooh- I can hear the screaming now!
PASADENA BINGO THIS TUESDAY NIGHT!
So exciting- join us, won't you? Info and reservation link below. Only a few seat left!
THURSDAY NIGHT BINGO IS SO FUN!
That's all.
Don't forget to print out your DOUBLE GAME COUPON below!
And see you this week at BINGO!
xo
Bingo Boy
Here's what's coming up in WeHo this week!
Wednesday Night- October 25th-
Starring ROXY WOOD & JOEL "69"!
Thursday Night- October 26th-
Starring BINGO BOY & INGENUE!
Sunday Night- October 29th-
Starring JOEL "69" & WILLAM BELLI!
6 pm show benefiting – 
HAMBURGER MARY'S – WEST HOLLYWOOD
8288 Santa Monica Blvd- At Sweetzer
reservations for parties of 3 or more- 323-654-3800 
Full menu and bar
All ages welcome
Valet and street parking available
THIS TUESDAY IN PASADENA!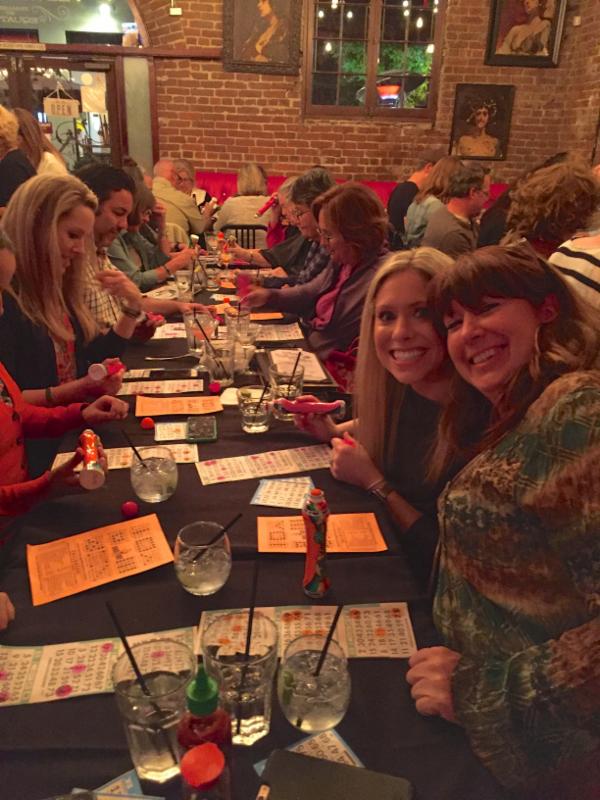 Tuesday Night-
October 24th!
Starring Bingo Boy & Roxy Wood! 
EDWIN MILLS RESTAURANT
22 Mills Place- in alley across from Burke Williams
Click on charity name for reservation site. Must make a reservation to attend this event! 
Full menu and bar
All ages welcome
Pay lots and street parking available
DOUBLE YOUR CARDS! DOUBLE YOUR FUN!

Present this coupon at Legendary Bingo on Tuesday, Wednesday, Thursday and/or Sunday night and receive DOUBLE THE AMOUNT OF REGULAR BINGO CARDS & ONE EXTRA GRAND PRIZE CARD!

Must make $20.00 donation to charity in order to use this coupon. One coupon per person. May also show coupon on your phone.

Offer Expires: 10/29/17