A Look Back at Our Beginnings
Forgive the above image but it is an election year and close to how I am feeling about all of the candidates at this point.
Moving on- one of my annual duties during the "two long weeks of holiday" is to clean out my office. I try to get rid of the piles of business cards given to me during the year and just generally come to terms with how much stuff I have. This year I came upon a box of photos. Actual photos taken with an actual camera that was not a phone- remember those? These photos go all the way back to the very beginning of Legendary Bingo. Eighteen years! I don't believe that you have seen any of them because I have never scanned them or put them in iPhoto (until now). In the past I may have shared photos of this time period from other bingo freaks but, trust me, these are quite virginal.
And what fun! I chose several from the first five or so years that meant a lot to me because I grew up in front of the television. Dinner was always better on a tv tray in front of the television and if I stayed home sick from school, the television kept me company and made me feel so much better.
Later on, when I met many of the people who were the stars of those shows that I loved (and I am talking about the original runs- not Nick At Night), I always felt like I was meeting a long lost friend. What do you mean we have never met before? I have known you for years, Mary Ann! I mean Dawn Wells!
So here is a sampling of photos, beginning from the first year of Legendary Bingo- 1998. I hope you enjoy and maybe you remember being at one or two of these events!
Our very first celebrity guest in 1998 was Jean Smart. We knew her from "Designing Women" of course but she had already done so many other great roles. For some reason I took a million photos of her- almost to the point of stalking. No wonder she has never come back.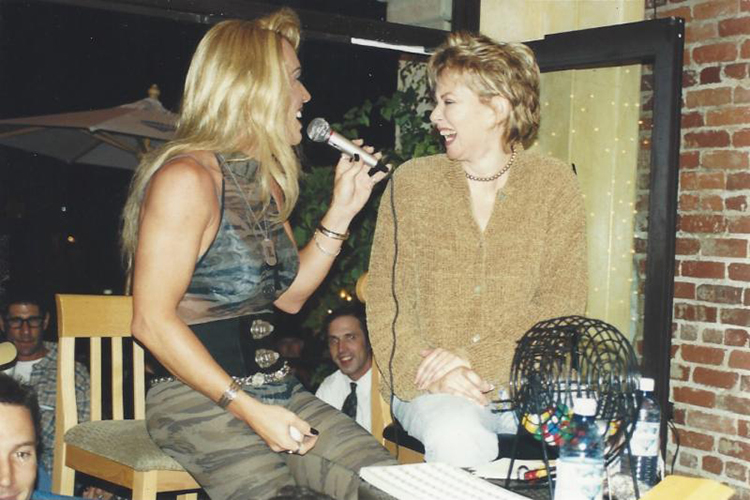 This one is not so bad. She is on the "stage" at Stonewall Gourmet Coffee (on Santa Monica Blvd and now a Quiznos I think) with The Fabulous Belle Aire (my first and only drag queen hostess for about the first 8 or 9 years). We only have one microphone and people had to sit behind us because the place was so small.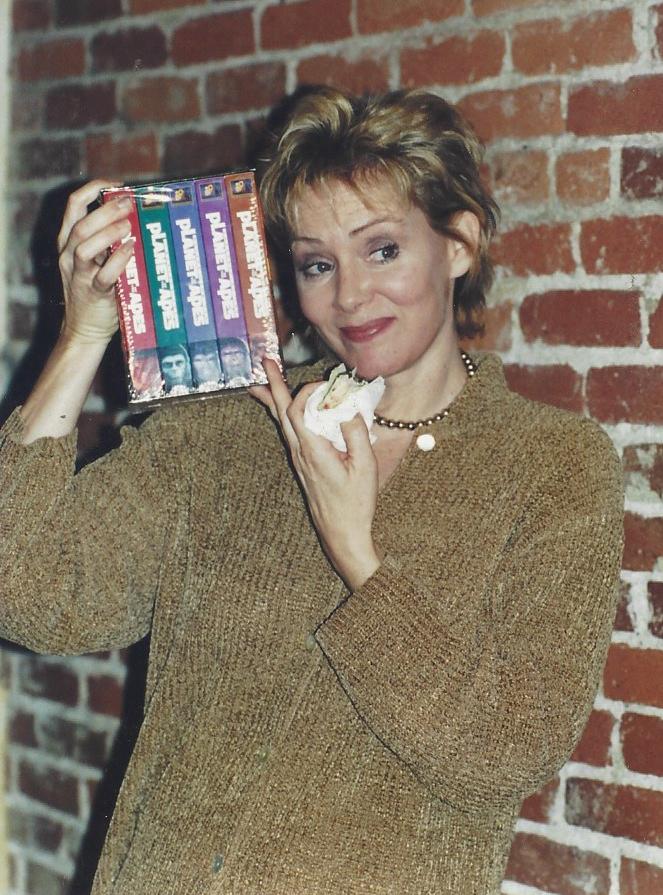 Ms. Smart is holding up a prize. This was it- just a boxed set of Planet of The Apes- on video. Back then the prizes were…let's say….simpler. Jean is also holding a sandwich which she ate onstage while hosting. She was so relaxed it was awesome.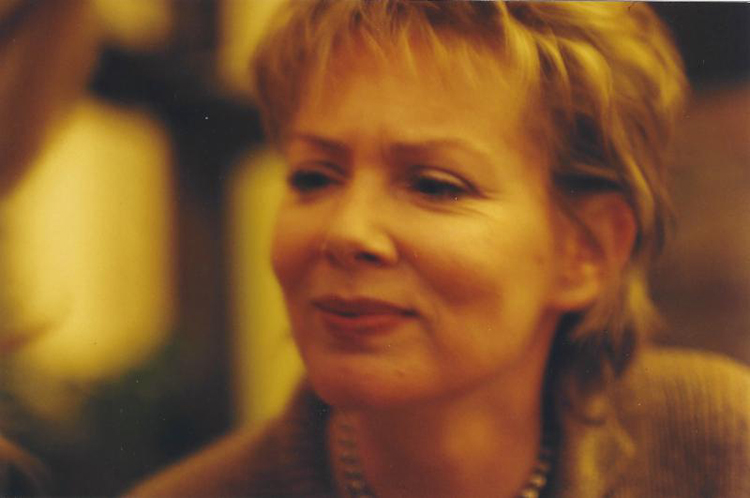 See? I was stalking her. I have about 100 shots of just her face. And I had them developed! Kids- that's what we used to have to do with photos in oder to see them…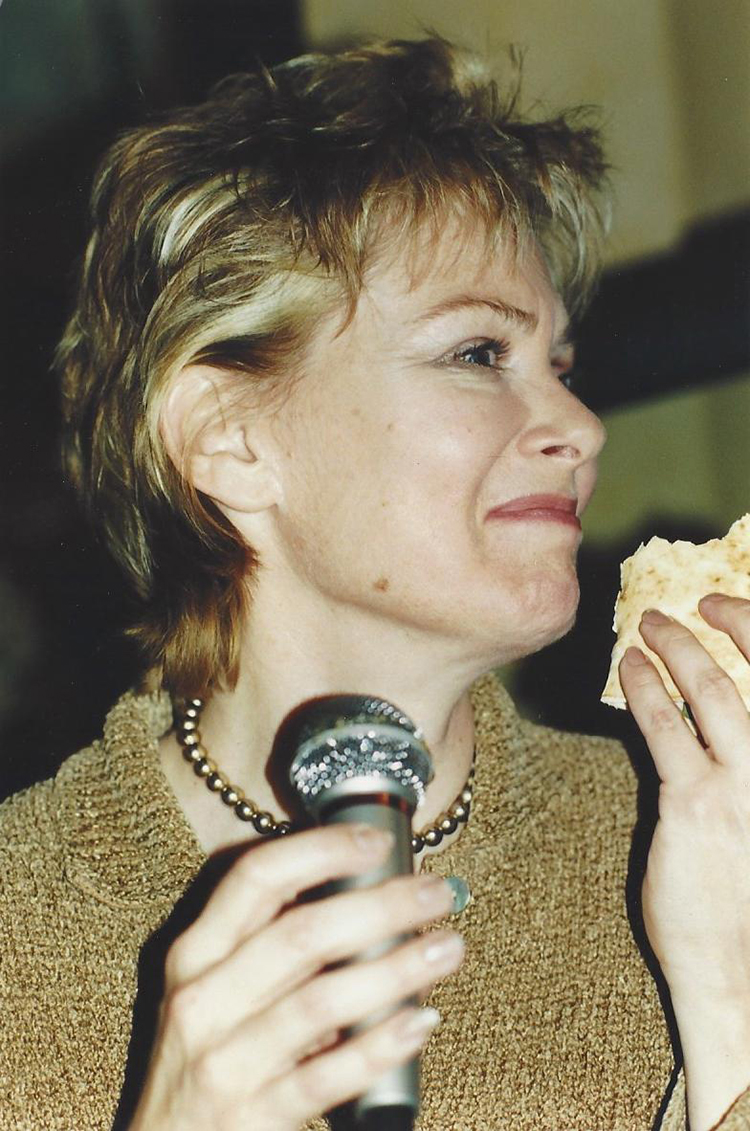 Um. Why did I take this picture? Thank God her mouth was closed. Ms. Smart- if you see these- please do not sue me. I am already in enough trouble from other celebs.
Let's move on- there were other celebs after Jean Smart.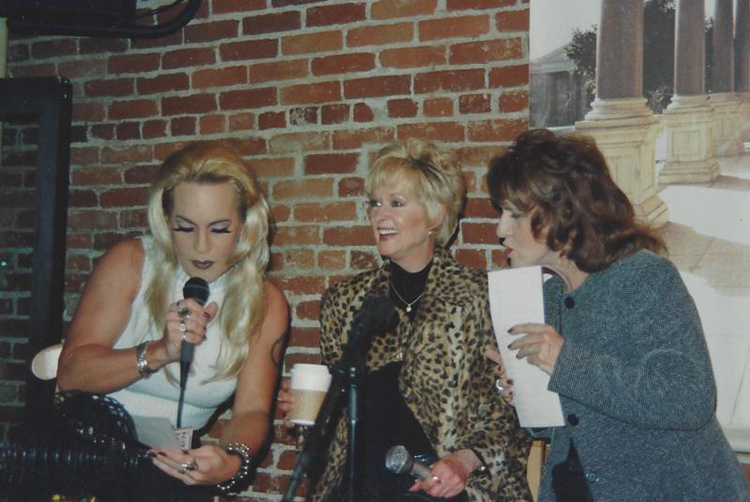 Still at Stonewall, one night Tippi Hedren was the guest and oddly enough Ruth Buzzi of "Laugh In" was in the audience and won. How amazing it was to see these two cool ladies together. Belle Aire just about threw a rod. She loved Ruth Buzzi. In later months, Ruth would come back as a guest and at one point she left me a message on my machine quoting "my friend Lucille Ball." Best message ever.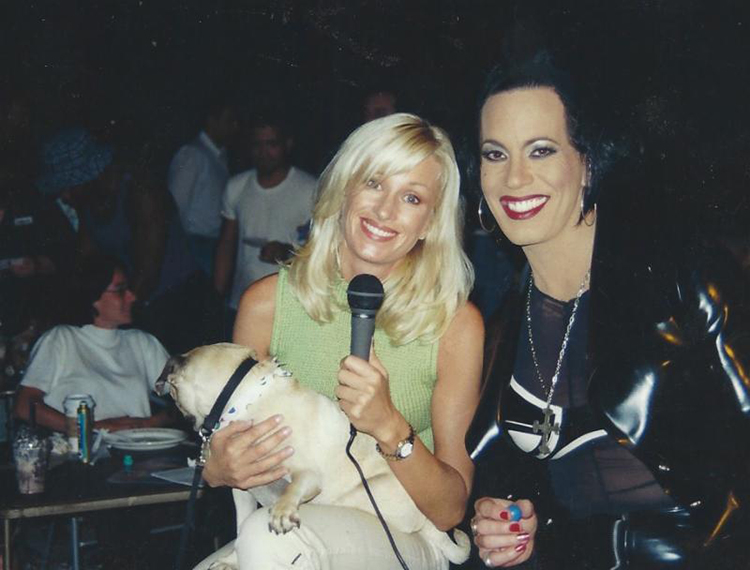 When Stonewall closed, we briefly moved down the street to The Coffee Bean (it is still there, on the corner). Can anyone guess who this is? I had to really do some research on this. This is Darva Conger who married a man on television that she had just met on the show "Who Wants To Marry A Multi-Millionaire?" Anyone remember this? The show was a total of one episode and is listed as #25 on TV Guide's top 50 worst shows ever. I don't believe they even made it to the honeymoon and I think it turned out he was a liar- not even a millionaire.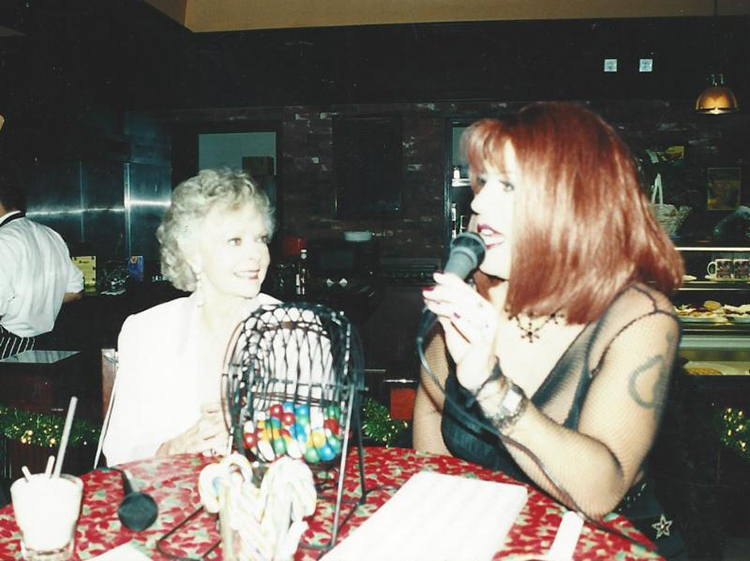 Soon after, we moved to Dupar's on Santa Monica Blvd (it is now a Wells Fargo) and stayed there for a few years. This lovely lady is June Lockhart who was Lassie's mom and also the mom on "Lost In Space." She was amazing and had quite the dirty mouth. At one point she sang a song about Lassie's balls.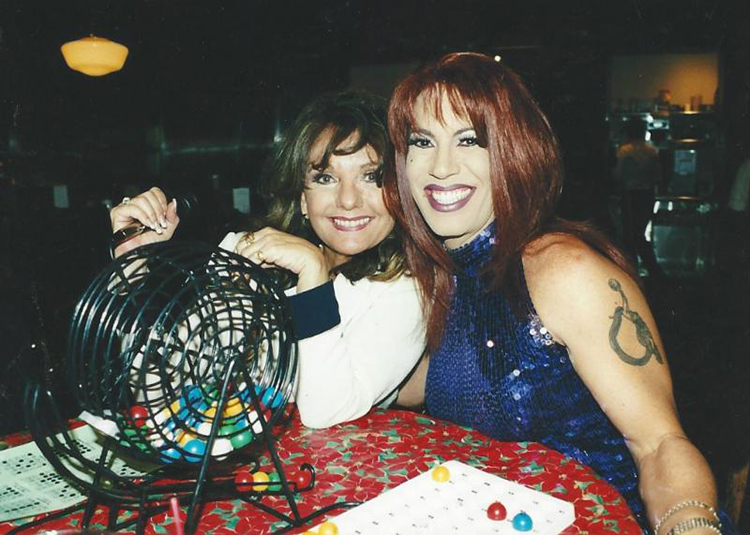 A three hour cruise indeed! One of my favorite guests was Dawn Wells who played Mary Ann on "Gilligan's Island"! God I loved that show and even cried when they did a follow up episode where they got off the island and it wasn't even the real Ginger.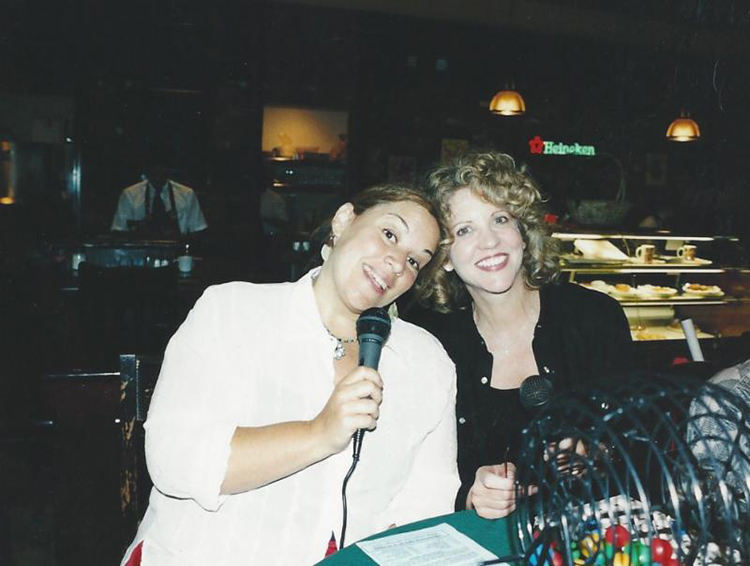 Sometimes we get interesting combos. This is Wendie Jo Sperber who starred with Tom Hanks on "Bosom Buddies" and was also in "Back To The Future"! She is with her pal Nancy Allen ("Dressed To Kill"). Wendie was diagnosed with breast cancer and founded weSPARK Cancer Support Center in the valley (we did several fundraisers for them). Wendie passed away in 2005 but left quite a legacy of generosity and spirit.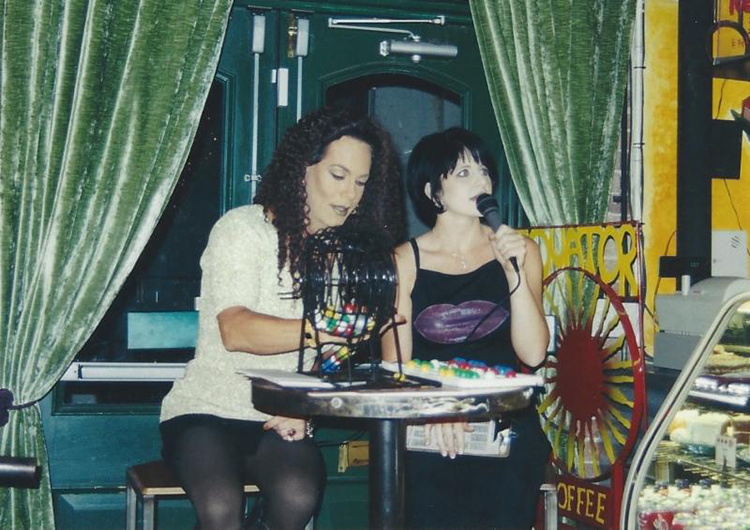 Pasadena people- do you recognize this place? Believe it or not, this is/was Equator Coffeehouse which became Edwin Mills which is where we still do bingo once a month! The place looked very different back in the day and we just did a one-off event for a charity and our pal Tina Yothers ("Family Ties") came to help out. Little known fact- I wrote a rock opera about Linda Lovelace and Tina played Linda in the 8 week workshop in New York. We were next door neighbors at our hotel and had a great time discovering the city and causing trouble wherever we went.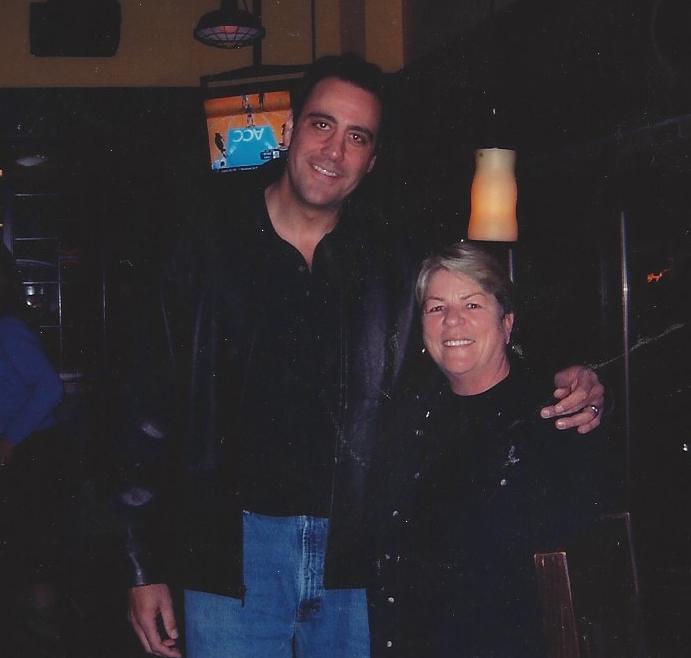 Recognize this big guy? It's Brad Garrett of "Everybody Loves Raymond." He was a fun but tough guest. He did not want to call bingo numbers, he just wanted to shout jokes at all of the guests and staff. At one point, he grabbed me and said "Look! One of Santa's elves escaped!" Trivia- Brad and I have the exact same birthday- even the year. One time he called me and asked me to call Tippi Hedren and have her rescue a bunch of ducks that had landed in his swimming pool. No kidding.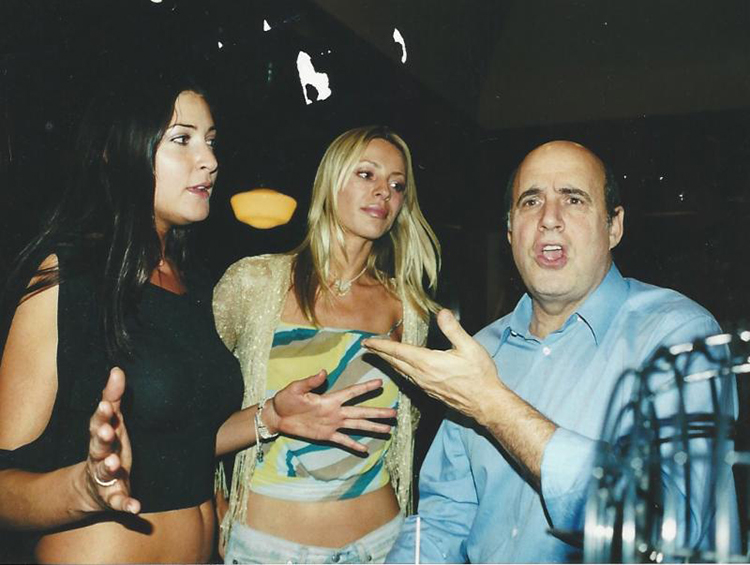 Look! It's the star of "Transparent," Jeffrey Tambor! I have no idea who the two babes are but he liked them very much. I actually took acting classes from Jeffrey for a time. One time, after I performed a monologue, he looked at me and said- in front of the whole class- "Was that supposed to be intentionally bad?" Sadly, I had also written the monologue.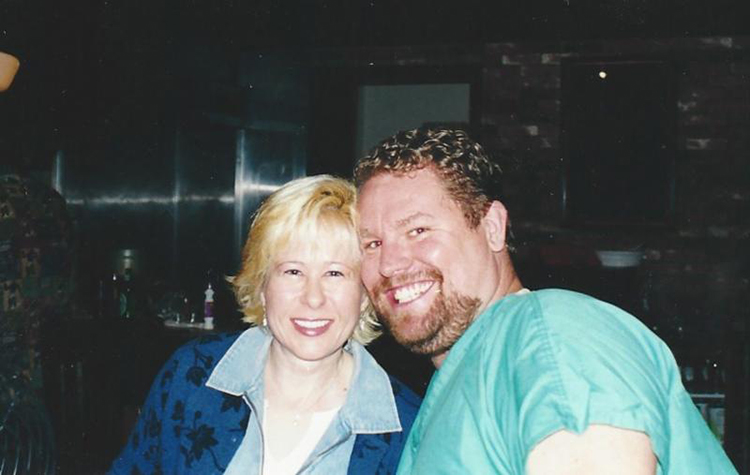 We have had a lot of "voice talent" as guests but one of my favorites will always be Yeardley Smith who is the voice of "Lisa Simpson" on "The Simpsons." Best thing ever- Lisa Simpson doing the callback for O-69. It happened.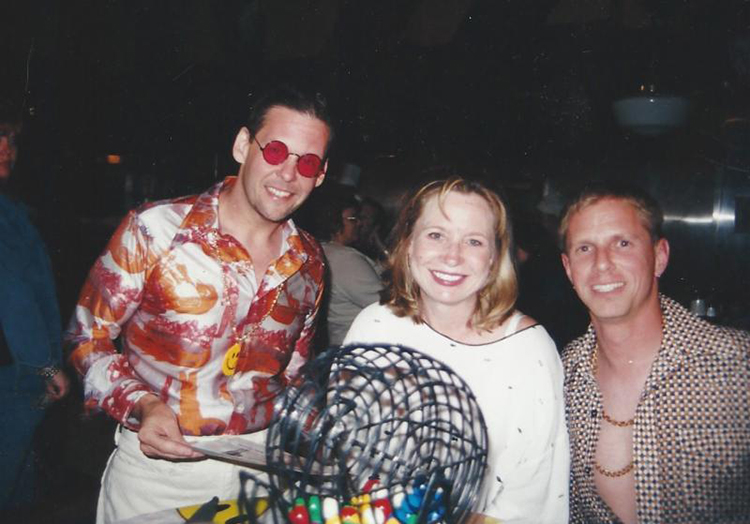 We are still at Dupar's at this point and one night we did a 70's themed bingo with our special guest Debra Jo Rupp of "That 70's Show"! Does anyone remember how hilarious she was as Jerry's manager on "Seinfeld" and also as Phoebe's brother's girlfriend on "Friends"?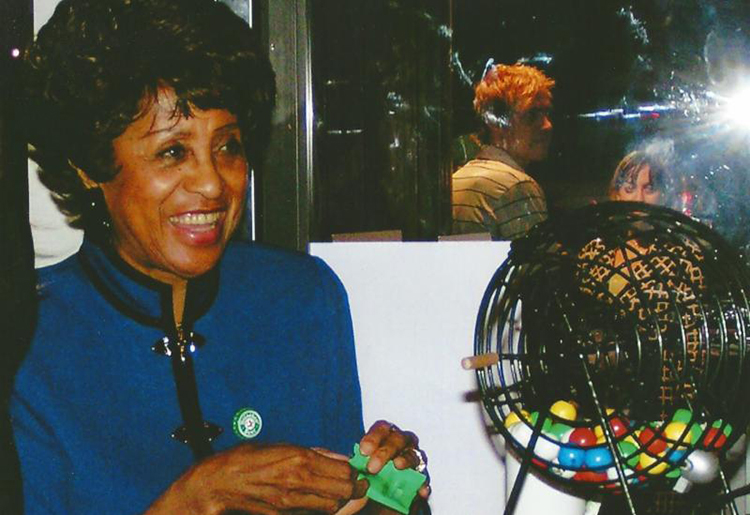 Believe it or not, I think this was taken at Hamburger Mary's. In the beginning we were shoved into a corner by the front door- not like the very elegant stage we have now. Marla Gibbs of "The Jefferson's" popped by for a visit and brought out her "Florence" voice for some of the callbacks. It was amazing.
Well that's it for now. We look forward to creating more wonderful memories in what is now our 18th year. Wow! If a baby was born on the year we started he or she can now vote! Sadly it would be in this upcoming election. Anyway, I will leave you with a photo of how young Bingo Boy used to be. Ready?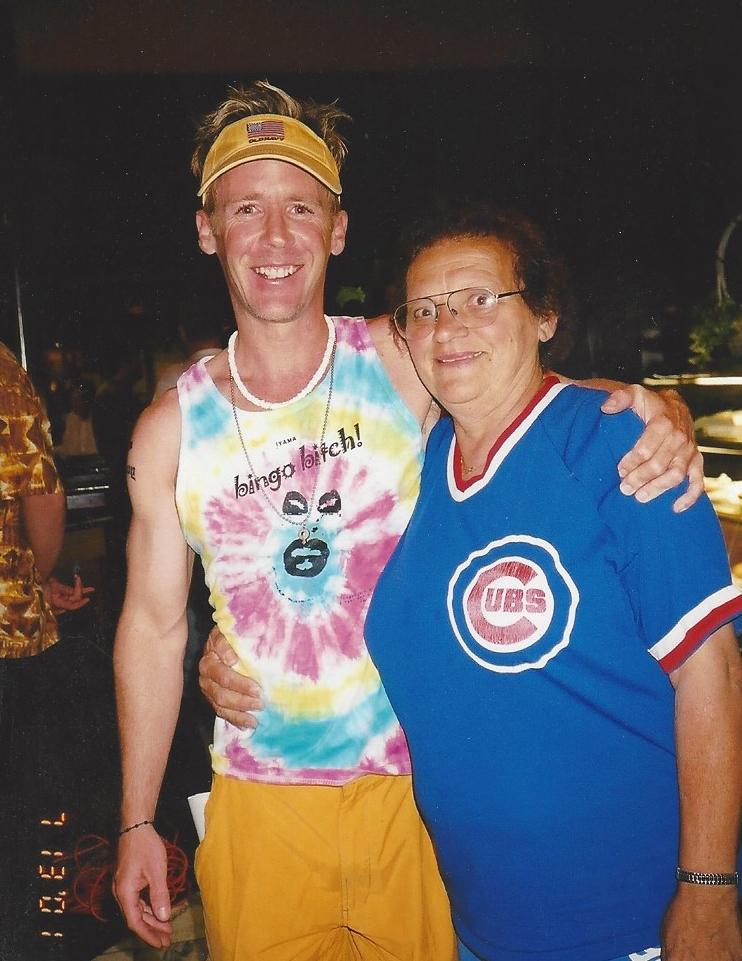 I don't know what I was thinking with the outfit. I think it was halloween and I came dressed as a surfer/douchebag. I have no idea. I believe the year is 2001 and now, 15 years later I can still call bingo numbers and pelt although I have thrown my arm out a few times recently. Oh well- as long as there are balls with letters and numbers on them, Bingo Boy will touch them. What?
ONLY ONE SHOW THIS WEDNESDAY!
7 pm only and then we are back to our regular schedule beginning on Sunday!
xo
Bingo Boy

Here's what's coming up in WeHo this week!
Wednesday Night- January 6th
Starring Bingo Boy & Roxy Wood!
7 pm show only – benefiting The Leukemia/Lymphoma Society!
Sunday Night- January 10th 
Starring Bingo Boy & Roxy Wood!
6 pm show – benefiting Beauty Bus!
8 pm show – benefiting The Leukemia/Lymphoma Society!
HAMBURGER MARY'S – WEST HOLLYWOOD
8288 Santa Monica Blvd- At Sweetzer | Reservations for parties of 3 or more- 323-654-3800
Full menu and bar | All ages welcome | Valet and street parking available