And here's an example of how smart they are-
As you may know, Olympic gold medalist Greg Louganis came to bingo this last Wednesday. To prove it- here's a photo-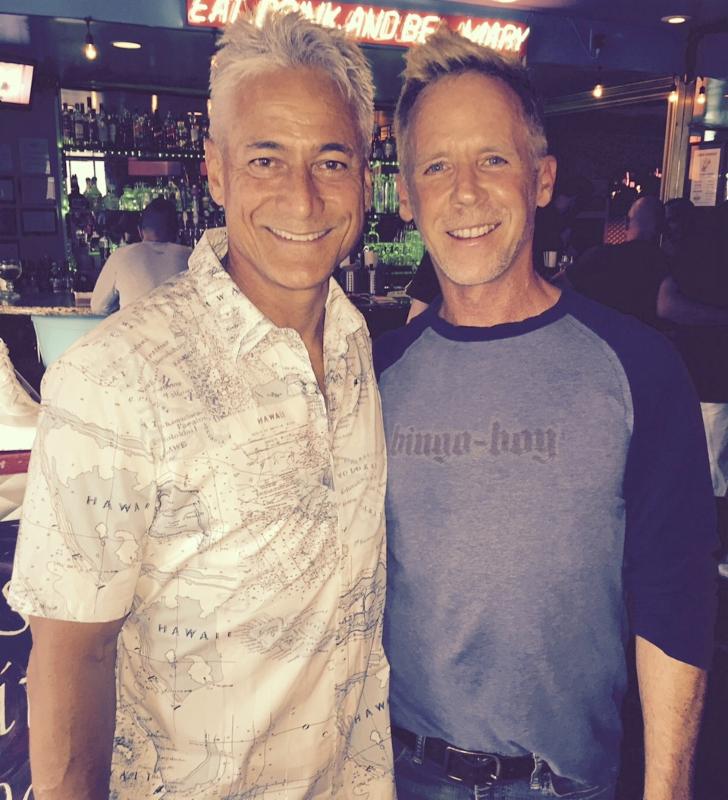 And isn't that Bingo Boy? Why, yes it is!
Anyway, I was in the middle of the first show, Greg had already finished on stage and I had hopped down to do something (I have no idea what) and a guy with a camera stops me. He says he is from TMZ and wonders if he can speak to me for a minute. I asked "you want to speak to me?" He repeats that yes he does. Of course I am wondering what TMZ would want to talk to me about but I finally agree and we head outside.
Once outside, he aims his video camera at me and says-
"So Mr. Louganis, what do you think about…"
Of course I stop him and tell him "I am not Greg Louganis."
He puts the camera down and says "you're not?"
I repeat that I am not and offer to find Greg for him but before we go inside I ask him "do you even know what Greg Louganis looks like?"
And of course he does not.
So my point is that TMZ sends a kid out to an event to interview Greg Louganis but doesn't even give the guy a photo or a description! Text it to his phone dumbasses!
Later I was wondering what they would want with Greg and then it occurred to me- bet they were going to ask his reaction to Caitlyn Jenner. How clever- ask the gay gold medalist what he thinks of the newly transgendered gold medalist. No wonder they make the big bucks.
Also on hand on Wednesday night was our good friend Jonathan Bennett (Mean Girls, DWTS) celebrating his birthday and he brought a famous friend with him!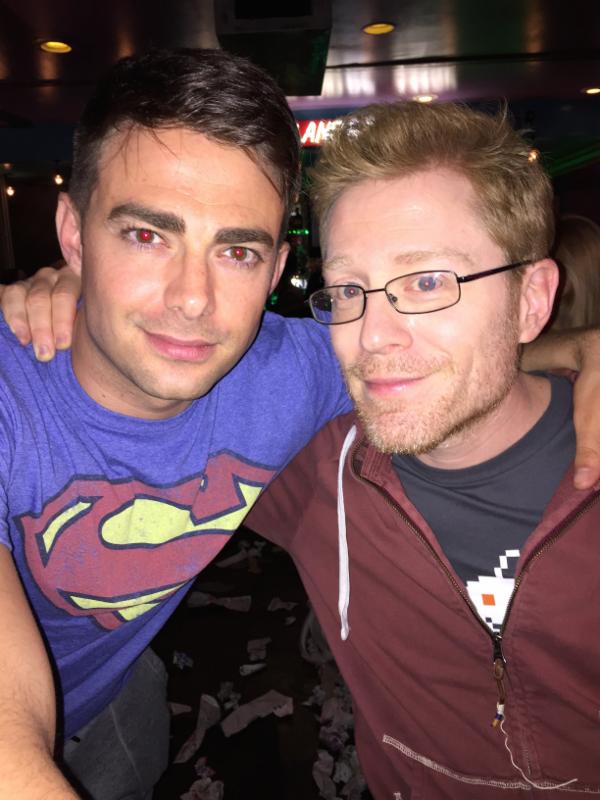 The guy on the right is Anthony Rapp! He originated the role of Mark Cohen in the Broadway production of "Rent" and also played the role in the movie! He was very cool and won a game of bingo! He immediately broke into "Seasons Of Love" as he ran around the room being pelted with bingo cards. Not really but that would have been cool.
Anthony is not our only "Rent" celeb. No sir.
Tracie Thoms who played Joanne in the film version of "Rent" has been to bingo several times. And while we are on a musical bent…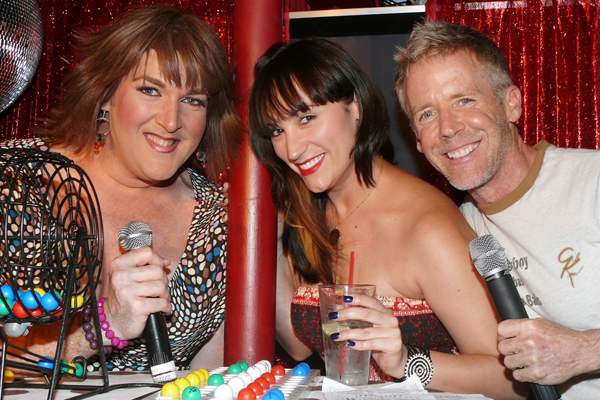 We've had visits from Eden Espinosa who played Elphaba in the Broadway, Los Angeles and San Francisco productions of "Wicked"!
Moral of this story? No need to go to the theater- just come to bingo to see your favorite musical stars! Just kidding. Go to the theater. And to bingo. Both.
xo, Bingo Boy
---
Here's what's coming up in WeHo this week!
Wednesday Night- June 17th
Starring Bingo Boy & Calpernia Addams!
7 pm show benefiting – West Hollywood Soccer Club!
9 pm show benefiting –  Inspire: LA!
Sunday Night- June 21st
Starring Roxy Wood & Joel "69"!
6 pm show benefiting – American Business Women's Association!
8 pm show benefiting – Zomp LA!
HAMBURGER MARY'S – WEST HOLLYWOOD
8288 Santa Monica Blvd- At Sweetzer
reservations for parties of 6 or more- 323-654-3800
Full menu and bar | All ages welcome | Valet and street parking available
---
Here's what's coming up in Pasadena!
Next Event with seats…
Tuesday Night- July 7th!
Starring Bingo Boy & Roxy Wood!
7 pm show benefiting – The Pasadena Jaycees!
EDWIN MILLS (formerly Equator)- Pasadena Ca.
22 Mills Place- in historic Mills Alley across from Burke Williams
For all reservations | Must make a reservation to attend!
Full menu and bar | All ages welcome | Pay lot and street parking available